While the big names in NASCAR will always draw most of the attention from fans and sponsors, people also love to root for the underdog.
Some would say that Carl Long, in fact, embodies the underdog. Even though he started his racing career later than most, he's been able to carve out a comfortable spot in the sport, racing sporadically in NASCAR's top events for nearly 20 years.
Long has dealt with issues such as questionable fines and spotty sponsorship.
Keep reading to learn more about Carl Long's journey from North Carolina to NASCAR.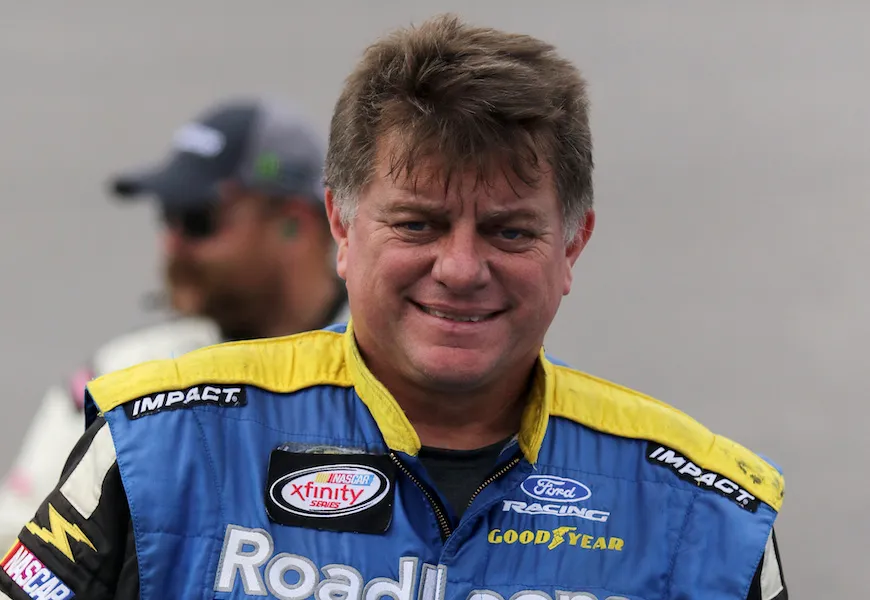 Fast Facts:
Full Name: James Carlyle Long
Born: September 20th, 1967
Birthplace: Roxboro, North Carolina
Current Home: Troutman, North Carolina
Spouse: DeeDee Long
Children: Carly Long, Nicole Long, Kierstyn Long
Height: 5'10"
Career Highlights:
Won South Boston Track Championship in 1987
Winston Racing Series Rookie of the Year in 1992
Made both Xfinity and Sprint Cup debut in 1999 (31 years old)
Career-high nine races in Sprint Cup Series in 2005
Career-high 25 races on Xfinity Series in 2011
49 career wins according to his biography
Carl Long Bio
Many race car drivers are inspired by their parents, and Carl Long was no different. He watched his dad race in the Baby Grand National Series back in the mid-1970s, and by the early 80s, he was behind the wheel of his own vehicle.
Long started out racing at the South Boston and Orange County Speedways, plying his craft racing Volkswagen Beetles in that circuit for a few years. He steadily improved and ended up winning the South Boston Track Championship in 1987.
In the 1990s, Long spent his time slowly climbing the ranks with nothing but a tight budget and a love for racing. He spent time on the Winston Racing Series, where he won Rookie of the Year in 1992. Long spent time on that series and others, including the Slim Jim All Pro Series, where he banked some more wins before making his NASCAR debut.
Long's Fulfills Childhood Dream
In 1998, Long fulfilled a childhood dream by racing in the Gander Outdoors Truck Series. Then, in 1999, he made his debut in both the Xfinify and Cup Series.
He failed to qualify for a number of races but his sportsmanship really shone through early in his NASCAR career. Long qualified for the Coca-Cola 600 but gave up his spot to Darrell Waltrip, a legend on the circuit who was about to retire.
As a fringe NASCAR driver, Long always bounced around from team to team. He wasn't always rewarded for his sportsmanship, with one example being a Cup Series race in Atlanta in 2005. Long qualified with a career-best 20th place finish, but was booted from the team after sponsors wanted Derrike Cope to race instead.
Long also suffered more bad luck in 2009, when he was fined $200,000 because his engine was 0.17 inches above NASCAR regulation. He was unable to pay and didn't participate for the rest of the season.
Long Finds Home in Xfinity
After a run of bad luck, things started to turn around for Long in this past decade. He competed in a career-high 25 races on the Xfinity circuit in 2011, with his best finish being a 28th overall finale at Bristol.
In 2014, Long ventured into the management realm as well, partnering with Derek White to found Motorsport Business Management. They created a team in Xfinity called MBM Motorsports.
Despite finding his niche on the Xfinity circuit, he did make his long-awaited return to the Cup Series after eight years away from NASCAR's top tier. He had some memorable results, most notably his 19th place finish in the Monster Energy Open.
2018 also brought about one of MBM Motorsports best seasons to date. The team had two top-fifteen drivers in the Daytona 500,
Big things are expected of Carl Long and MBM Motorsports, and it's touted as a year that could be the organization's best to date. Long added two more drivers to the team in Joey Gase and Timmy Hill to the team and purchased a number of items from Chip Ganassi Racing, which recently folded.