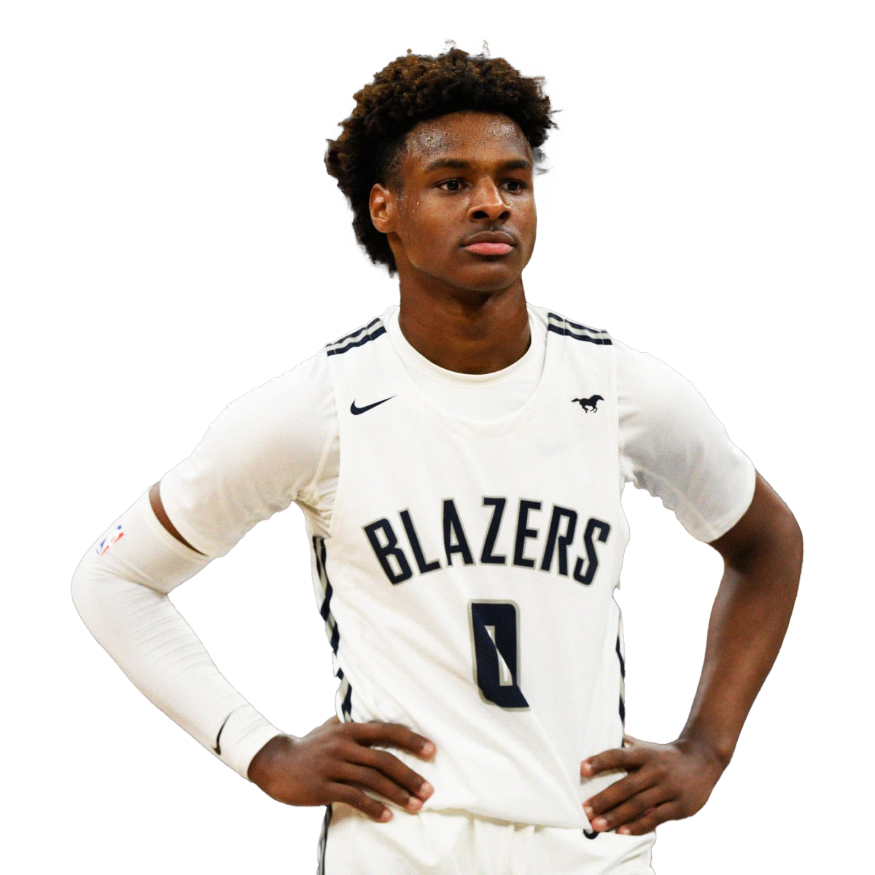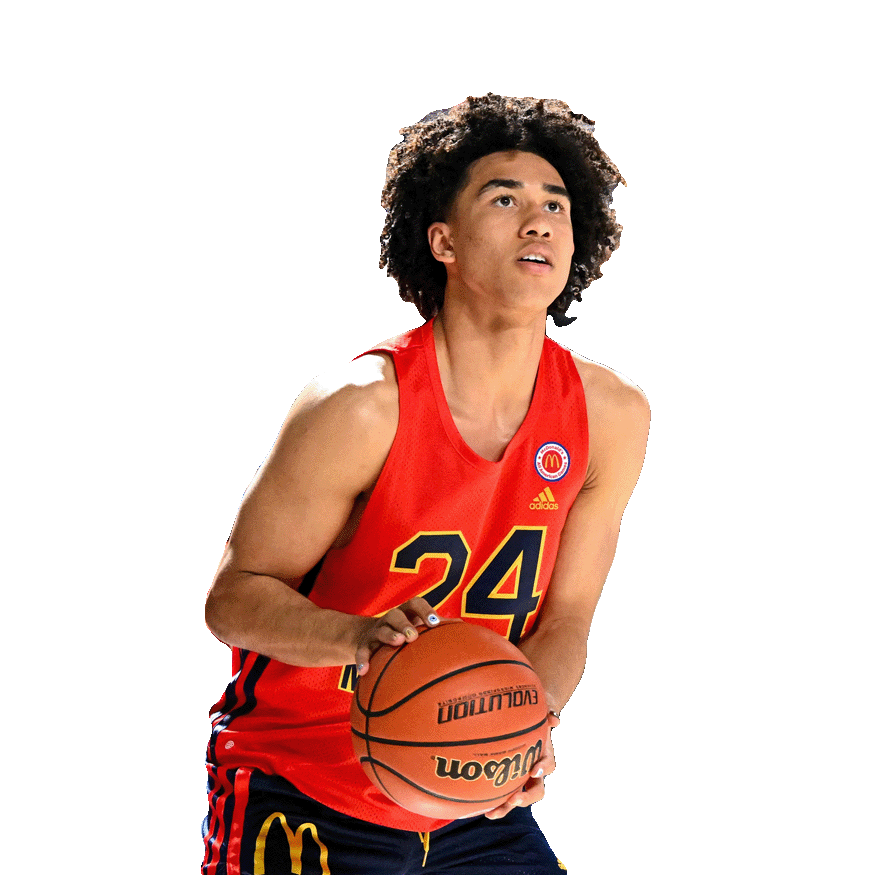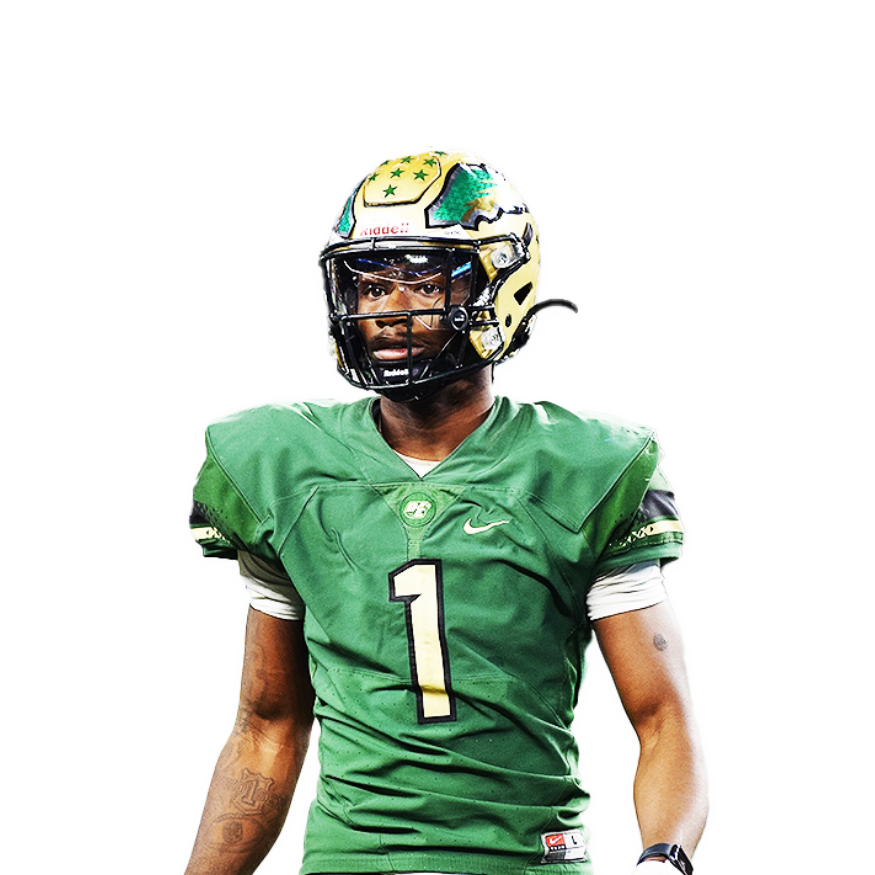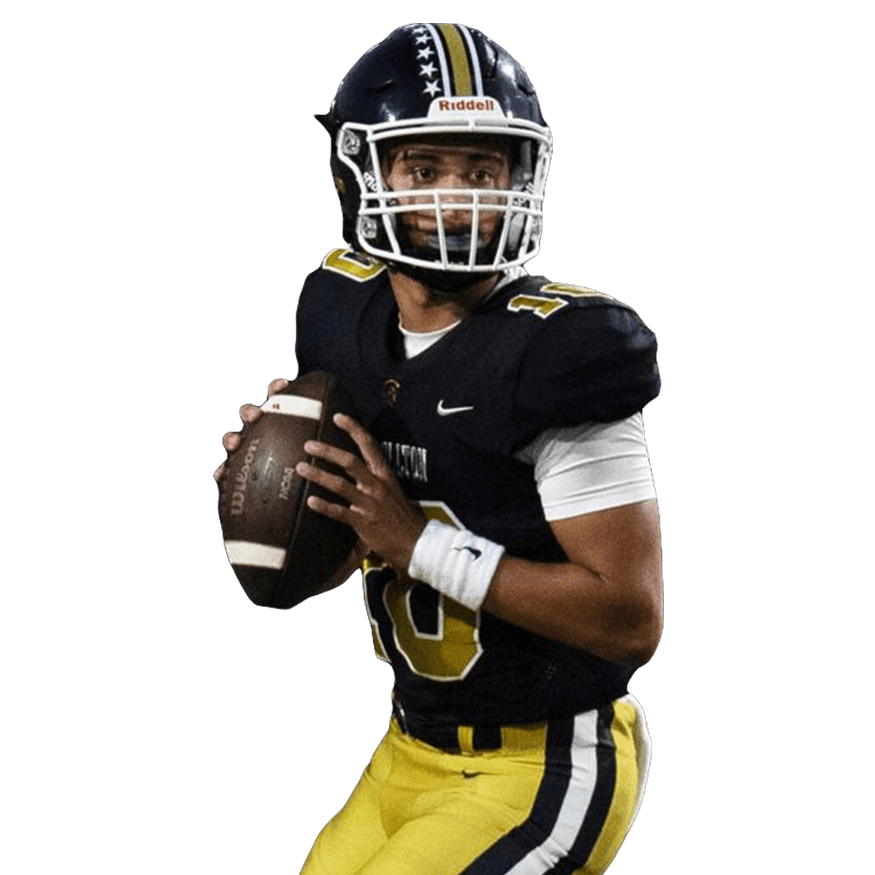 Show me the money:
High school stars

who could

make a

fortune

through

social media
In 2021, the NCAA relaxed its NIL laws allowing college athletes' to profit from their name, likeness and image which posed the question as to whether high school athletes should be able to profit from their profiles as well. Whilst high school endorsements remain on a state by state basis, the US has seen a huge shift towards allowing high school athletes to monetize their NIL, with 51% of states now permitting their athletes to participate in endorsement deals.
A seismic shift in the sporting landscape, NIL has given aspiring athletes the opportunity to earn big money in endorsements - and social media has become one of the driving forces behind the growing number of partnerships.
So, with big brands lining up to associate themselves with the next generation of stars, we asked the WSN researchers to crunch the numbers in order to find out which high school athletes have the most untapped earning potential when it comes to social media.
The
High School Athlete
Endorsement Index
Before the advent of social media high school stars played for two main audiences: local fans and scouts. But now, thanks to platforms like Instagram, TikTok and Twitter; a new generation of athletes has entered the mainstream, attracting millions of fans from across the globe.
Within this new ecosystem of athleticism and algorithms, high school players have the potential to not only curate their own fanbases but skyrocket their earning potential. Brands like Nike, Beats by Dre and Crocs are already lining up to hitch their wagons to these rising social media stars, offering the kind of endorsements and sponsorship deals that used to be reserved for the pros.
So in this new world of social media stardom, which high school stars have the potential to make it big under the new NIL rules?
Potential Yearly Earnings From Social
Bronny James
Sierra Canyon, CA
Mikey Williams
San Ysidro, CA
Jared McCain
Centennial, MD
Bryce James
Sierra Canyon, CA
Trey Parker
Overtime Elite, GA
Eli Ellis
Overtime Elite, GA
Robert Dillingham
Overtime Elite, GA
Gabe Cupps
Centerville, OH
Bryce Griggs
Hightower, TX
The three high school basketball stars with the highest earning potential from social media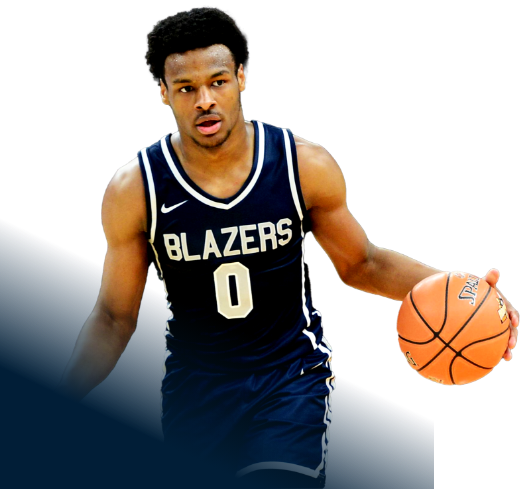 #1
Bronny James

Total social following
12.7 million
Yearly earnings
$4.1 million
NIL valuation
$7.2 million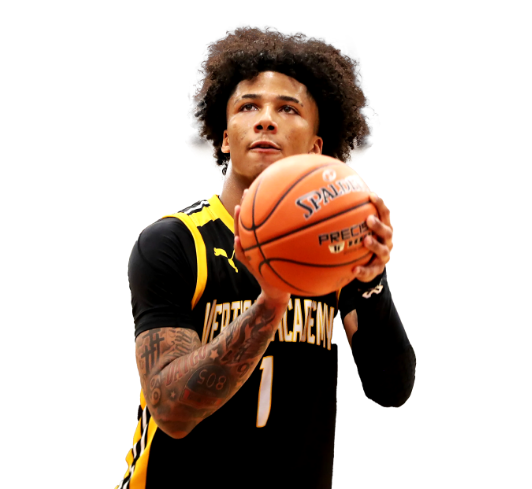 #2
Mikey Williams

Total social following
6 million
Yearly earnings
$1.8 million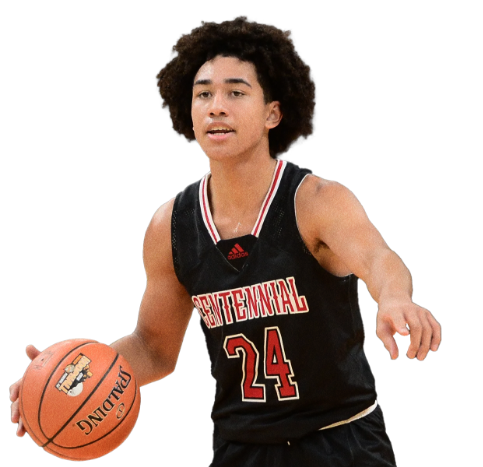 #3
Jared Mccain Total social following
2.4 million
NIL valuation
$1.2 million
The three high school basketball stars with the highest earning potential from social media
With one of the NBA's most famous names adorning the back of his jersey, Bronny James, a senior at Sierra Canyon School in Los Angeles, was always destined for greatness. But thanks to a combined social media following of more than 12.7 million fans, the young basketball star is beginning to emerge from his famous father's shadow.
Having already signed deals with Nike, PSD Underwear and Beats by Dre, it should come as no surprise that LeBron James' eldest son topped our ranking of the hardwood's most bankable high school stars with a NIL valuation at $7.2million and a huge social media following. Born in Ohio, where NIL laws are prohibited, James moved to California in 2018 which was one of the first states to allow NIL laws for high school. Even with no official Twitter account, Bronny has a hugely impressive following over on TikTok with 5.7million followers. Indeed our experts suggest that the young athlete could already command more than $79,000 per social media post, with the potential to rake in more than $4,100,000 in endorsements every year from social media alone. A sizeable sum at any age.
Bronny isn't the only member of the James household who's intent on following in his father's footsteps, however, his younger brother and high school colleague Bryce James is also set to enter the family business.
Thanks to his on-court heroics, the 15-year-old star is already attracting headlines, alongside an ever-growing social media following that landed him the fourth spot on our countdown of high school's most bankable stars. Having already inked a deal with Klutch Sports Group, Bryce is no stranger to endorsements. But his 2.8 million strong social media following could be worth a further $920,000 in annual income from social posts if he continues to attract sponsors. Despite having the same NIL valuation as 3rd place Jared McCain, Bryce comes in 4th due to only having 1.3million TikTok followers in comparison to Jared's 1.8million.
The 2nd highest earning player of our endorsement index is North Carolina native Mikey Williams. Aged just 17, the high school junior has already attracted more social media followers than some NBA stars (6 million) and signed a host of endorsements including a huge shoe deal with sportswear giant Puma. The $3.3million NIL valued point guard's star is clearly on the rise, but soon his bank balance could be shooting up too. Indeed, our experts predict that he could already command as much as $35,234 per post on his social media profiles with an annual earning of over $1.8million.
The three high school football stars with the highest earning potential from social media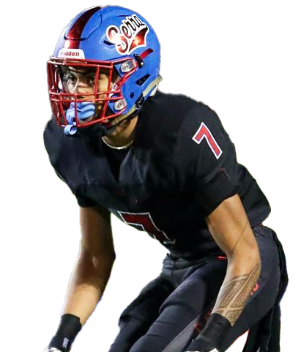 #1
Jason Mitchell
Total social following
412k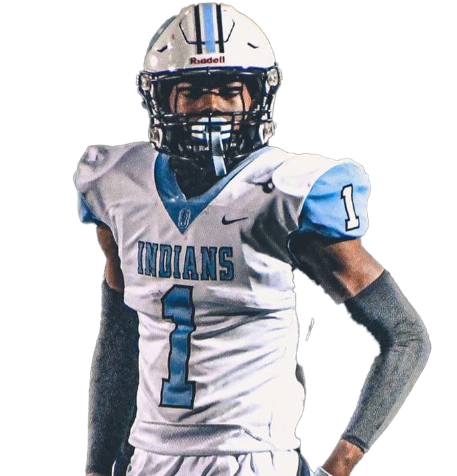 #2
DAEH McCullough
Total social following
389k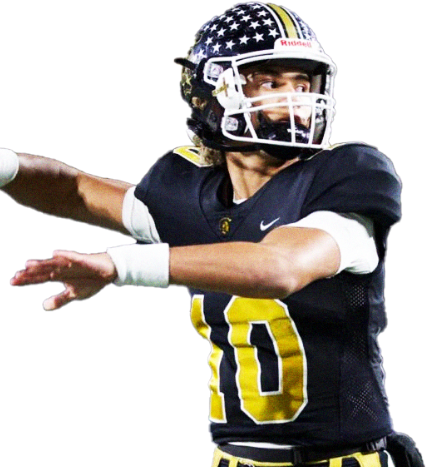 #3
Julian Lewis
Total social following
169k
The three high school football stars with the highest earning potential from social media
It's not just on the court that high school athletes are able to cash in on their social media followings, some of the nation's up-and-coming football stars are also attracting eye-watering endorsements.
Coming in top of our index is wide receiver Jason Mitchell. Even though Jason only ranks 70th in NIL valuation the young star has amassed 412,000 followers across all social platforms, including over 389,000 followers on TikTok which is more than any other footballer in the index. This leads our researchers to estimate an average of $187,647 per year in social media endorsement opportunities. This is on top of the rumored endorsement deals he may have already secured.
Taking the second spot on our index is cornerback Daeh McCullough, a savvy football player with heaps of potential. With more than 366,000 followers our experts estimate his potential social media earnings at just shy of $180,000 per year. Currently at a high school in Indiana where NIL laws are under consideration, Daeh may have to wait to cash in.
Coming in 3rd is QB Julian Lewis. Lower down the NIL valuation list at 55th, the young QB has amassed a total following of over 169,000 people across Instagram, TikTok & Twitter. With this following Julian could expect to earn $1,029 per social media post and $53,508 annually. However with the student-athlete currently attending high school in Georgia, where the NIL laws are under consideration, Julian may have to wait before earning money from his NIL.
Although ranked #1 in the NIL valuation with a vale of $801,000, Dylan Raiola ranked outside the top 10 of our research. This is due to his low social media presence of only 35,000 followers across all platforms. With social media now offering lucrative opportunities for young athletes, Dylan may want to utilise his sporting talent across the various channels.
Only
51% of states in the
USA have passed NIL laws
for high school athletes
Despite college athletes being able to profit from their name, image and likeness since 2021, many states in the US are still divided when it comes to high school athletes.
In December 2022, New Hampshire became the latest state to amend its NIL laws, joining 25 others in allowing their high school students to profit from their name, image and likeness. Although, as it stands 49% of states still prohibit NIL endorsements. States such as Florida, Ohio and 12 others still prohibit high school athletes from monetizing their NIL whilst 11 states like Michigan, Georgia and Texas have taken it 'under membership consideration', suggesting they may follow suit in amending their laws in the coming years.
The
brands betting big
on high school stars
They may only be starting out in their careers, but that hasn't stopped some of the world's biggest brands from investing in high school stars. From sportswear giants (Nike and Puma) to trading cards greats (Topps) via online apps (Cash App) - businesses are actively searching out tomorrow's stars for sponsorship opportunities.
Endorsements, like Nike's high-profile signing of Bronny James, show just how much the financial aspect of high school sports has changed. These deals are more in line with the kind of agreements we'd expect to see from some of the sport's top athletes, let alone teenagers who have yet to play a professional game.
The NIL-era has officially begun. Enabling athletes to monetize their name, image and likeness represents a fundamental shift in the high school sports landscape. One that looks set to transform the lives of players across the country.
Why high school
athletes should be paid
Critics of NIL had predicted that, like the scholarship model that had come before it, the new rules would only represent the top 1 or 2% of high school athletes. The reality, however, is that NIL has begun to level the financial playing field.
Every athlete has a Cinderella story, but previously only a select handful became well-known. Now, thanks to social media, every athlete from all-star quarterbacks to bit-part linebackers have the opportunity to tell their own story and utilize their profile for profit.
Nowhere is this more apparent than in the greater equality we're seeing between genders. Traditionally high school, like other sports, have been male-dominated. But since the advent of NIL, female athletes have been able to capitalize on their new rights, gaining access to investment and professional opportunities that have helped to close the gap. Stars like Jada Williams and JuJu Watkins are already attracting six-figure deals with brands like Nike and Spalding.
At a time when the cost of living is dominating society like never before, the opportunity for all athletes to ease their financial strain can only be welcomed. That's especially true for the high school stars who will never make it to the big show. Not every player is destined to make it. Indeed, for a variety of reasons, the vast majority are never able to reap the financial benefits of going pro.
The arrival of NIL not only means that players have the opportunity to earn some money during their short time in the spotlight, but it also provides a source of motivation - a financial incentive to continue to excel at their chosen sport.
NIL is far from perfect. Because legislation differs from state to state, the NCAA's rule changes have been a boon for some athletes while others are still yet to fully benefit. For example, in Iowa, California, New York and any one of 22 other states, NIL laws are already permitted, which is good news for high school stars. However, for athletes in states where the laws are still not in place - such as Florida, Alabama and Arizona - the situation is still far from certain.
Yet despite the teething problems, giving athletes agency other their own image is undoubtedly positive. And in a world where social media is king, the power to build their profile and profit from it, is now firmly in high school athletes' own hands.
Methodology: We took the NIL valuations of top high school athletes in Basketball and Football from www.on3.com and then worked out their social media earning potential using their Instagram, TikTok and Twitter followings. Potential social earnings were calculated using a rate of earning $0.004 for every insta follower per post, $0.009 for every TikTok follower per post and $0.0014 for every Twitter follower per post, and made the assumption they would post once a week (industry standard rates). Predicted earnings are solely from social media and do not include any brand endorsements already secured. NIL Laws by State were collected from https://biz.opendorse.com/blog/nil-high-school/02/03/2023