Ohio Sports Betting at a Glance
It is easy now to place sports bets in Ohio, a process we will walk you through so you can be sure to take advantage of that new market. The first step would be to get yourself to that midwestern state because you must be there in person to place bets with those sportsbooks.
No need to actually move to Ohio just to gamble – visitors can also partake as long as the geolocation software each sportsbook utilizes gives you the electronic thumbs up, a verification step that takes place without you having to do a thing.
In terms of gambling as a whole, Ohio has quickly gone from a relatively conservative state to having a number of full-service land-based casinos operating for bettors and Ohio residents in the state.
The change began in 2009 when the state finally voted in favor of allowing casinos. Prior to that time residents were limited to bingo, lottery, a few social poker games, and horse racing. The quick success of the state's four land-based casinos and seven 'racinos' will likely continue to play a crucial role in that emerging sports betting industry.
Now, whether you prefer betting in person or online, in Ohio you can do either (or both!) and you have plenty of options to choose from once you arrive.
Which Retail Sports Betting Sites are Legal in Ohio?
There are a dozen retail locations to choose from throughout Ohio, with ten casinos there plus two pro sports teams licensed to take bets at their venues: FC Cincinnati, an American professional soccer club based in that city, and the MLB's Cincinnati Reds.
For retail betting, follow the instructions at whatever kiosk you are using and be sure to ask whoever is handling your action whatever questions you might have – it is a new market so everyone will be learning so never be too timid to seek out the answers you might require.
Which Online Sports Betting Sites are Legal in Ohio?
According to the Ohio Casino Control Commission – the regulatory body in charge of the state's legal sports betting launch and market – there are sixteen mobile sportsbook apps that are licensed to operate in that state, with plenty of familiar names in the group:
Betfred

betJACK

Betr

Gamewise

SuperBook
For the mobile apps, shop around for the ones that you prefer and then download the ones you like to your phone or device and follow the steps they give you to sign up. Then set a limit, place your bets, and (finally) enjoy a legal activity in Ohio that over thirty other states have already begun to explore.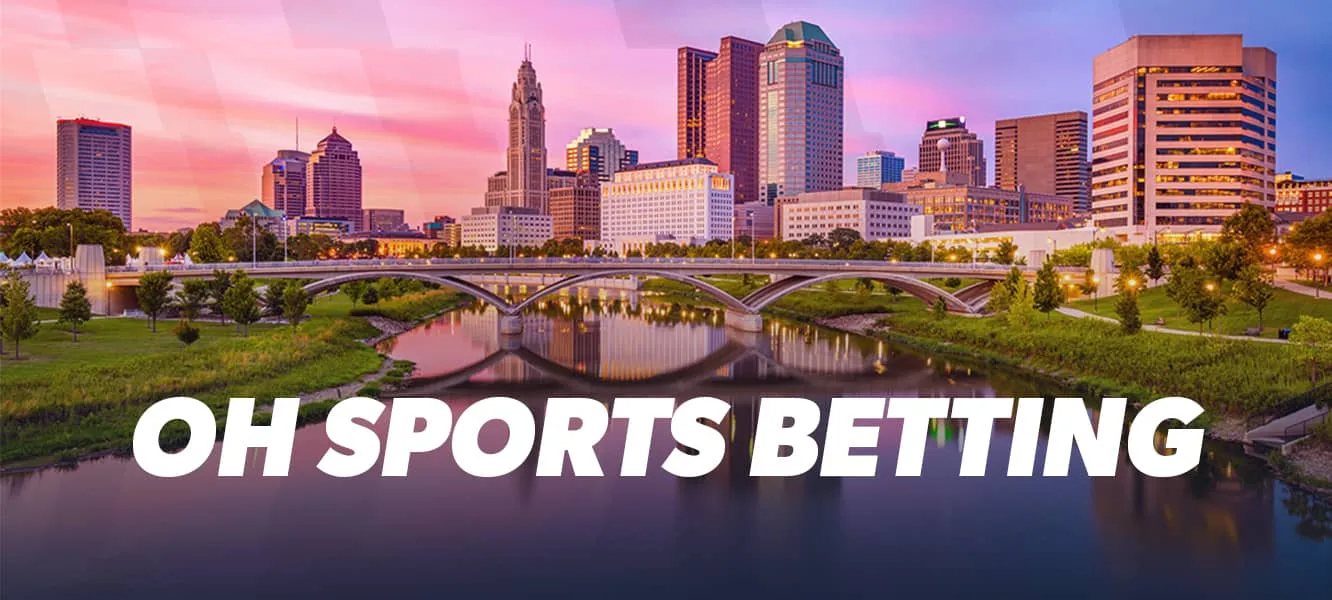 What Sports Can You Bet on Online in Ohio?
In addition to daily fantasy sports which we'll cover in more detail in the next section, Ohioans can now bet on any sport, whether it's using mobile apps or at any land-based casinos.
Gamblers in Ohio can now place a variety of bets on major North American leagues like the NFL, NBA, MLB, and NHL as well as tons of other teams and sports from the US and around the world.
Ohio has a fanatical sports culture and the major league franchises to back it up. Already there has been a ton of action focused on the local favorites.
Ohio is home to some of the world's most iconic teams and athletes.
Basketball
Ohio basketball fans definitely have something to cheer for with the Cleveland Cavaliers. Sadly, they were forced to watch their beloved superstar LeBron James move to LA, but he did bring the city of Cleveland a championship that they had been starving for since forever.
Football
The Cleveland Browns represent Ohio in the NFL and although they've never won a Super Bowl, they have won multiple NFL Championships and have earned a loyal following in the state and worldwide. Fans have now turned their attention to Browns controversial starting quarterback Deshaun Watson who is mobile with a powerful throwing arm once he knocks off the rust from not having played in a while.
Also, repping Ohio in the NFL are the former AFC Champions Cincinnati Bengals who are now led by talented QB Joe Burrow whose favorite deep-threat target is WR Ja'Marr Chase. They play out of Paul Brown Stadium in downtown Cincinnati.
Get the best bonus for NFL teams in Ohio on our NFL football bonuses page!
Baseball
The recently renamed Cleveland Guardians have re-established themselves as a force in Major League Baseball posting plus-500 seasons in nine of the last ten years including some exhilarating runs in the playoffs which included a trip to the World Series in 2016.
The Cincinnati Reds, meanwhile, have been playing ball in the state since 1882 and have a devoted fan base that will look forward to backing them in the form of big bets.
NCAA Sports
Collegiate football and basketball has a tremendous following as supporters go wild for the Buckeyes, Bobcats, Rockets, and Raiders.
The Ohio State Buckeyes, of course, being the biggest of the bunch as they are in NCAA football, the only Power 5 Conference program in the state and play in the Big Ten Conference
Is Betting on Fantasy Sports Legal in Ohio?
Yes. Betting on daily fantasy sports (DFS) is legal in Ohio but there are a few important stipulations.
When DFS became legalized in Ohio under House Bill 132, there were quite a few back and forth adjustments made to legislation before it could be licensed and sanctioned officially. Here are the main points to understand:
The Ohio Casino Control Commission (OCCC) has authority and control overseeing all activities.
No youth or collegiate level sports are allowed.
Entries limited to a maximum number per account.
Operators must acquire a license.
Operators cannot advertise to minors.
Must be 18 years of age or older to participate.
For your safety and well-being, it is helpful to know that House Bill 132 is supported by the Cleveland Indians, Columbus Crew, and Cincinnati Reds as well as the Fantasy Sports Trade Association.
All licensed DFS betting sites operating in Ohio are sanctioned by the US Gaming Commission.
Is There No Deposit Sports Betting in Ohio?
Yes. Online sports betting in Ohio includes a wide variety of bonuses, deals, and promotions.
The first thing to remember is that most bonuses come with conditions, you need to understand all the fine print.
What is the Revenue Potential of Online Sports Betting in Ohio?
Since the U.S. Supreme Court overturned PASPA in May 2018, over thirty states have launched their own legal markets and the results have been lucrative, so far that combined market having generated a $176 trillion handle and over $13 trillion in revenue.
According to industry insiders, the Buckeye State will "quickly rank among the biggest markets in the U.S." with a projected $8 billion handle in the first year alone, a total that would put them in the top four states in that market, a good sign this early in the process.
That Ohio legal sports betting market will evolve and grow the same way the others have since their launches, a new expanding tax revenue stream for that state that will be reinvested in programs that benefit residents, another potentially big win.
The History of OH Sports Betting
Ohio has a long and interesting gambling story that switches from slow to quick in a hurry.
When lawmakers finally decided to allow casinos in the state's four largest cities, it was due in large part to the huge amount of money leaving the state to be gambled away in casinos in Indiana and West Virginia, prompting the movement of sports betting legislation and eventual legalization in 2023..
The same thing was happening with Ohioans placing sports wagers on unlicensed offshore betting sites and it got worse once nearby states including West Virginia and Pennsylvania introduced legal sports betting options of their own.
The eleven casinos and racinos that Ohio now has are wildly successful and have proven the inherent gambling demand of the citizens.
Here are some of the stand-out moments in the Buckeye state's gambling history.
1790 – Gambling, for the first time, is made illegal in the state and carries a relatively large $200 fine.
1807 – Lotteries, which had been common at the time, were now legally banned.
1933 – For the first time horse betting, as Pari-mutuel wagers, is legalized.
1973 – Changes are made to the Constitution that allow Ohio to reinstate its lottery which includes scratch-off games, draws, and electronic terminals.
1975 – Constitutional amendment makes charity bingo and raffles legal.
2004 – Control of charity gambling is now controlled by the Lottery Commission.
2009 – For the first time, the state approves and licenses four commercial casinos in Cleveland, Cincinnati, Toledo, and Columbus.
2012 – Video lottery terminals are offered at racinos.
2012 – A new form of gambling at Internet Sweepstakes Cafes become a legal issue. The cafes offer games played on a computer that have randomized potential prizes and the legal issue discusses whether they need to be licensed under the gambling statutes or are exclusive and different.
2018 – Senators John Eklund and Sean O'Brien, on July 12, draft a new bill proposing legalized sports gambling in the state with hopes of having the issue brought to the table in early 2019 round table discussions at state legislature. This was done in conjunction with the repeal of PASPA (Professional Amateur Sports Protection Act) at the federal level.
2021 – On May 12, the Senate Select Committee on Gaming (SSCG) was introduced to Senate Bill 176, which, among other things, would make mobile betting sportsbooks and retail sportsbooks in Ohio-regulated markets.
2022 – In December, the Ohio sports betting law, HB 29, passed both chambers of the Ohio Legislature and was signed into law by Governor Mike DeWine.
2023 – On January 1, Ohio officially launched its legal retail and mobile sports betting markets.