Quick Facts about Online Sports Betting in MI
Population:
9,883,635
Median household income:
$54,909
Sports betting legal since:
December 20, 2019
Annual sports betting revenue:
TBA
Licensed sportsbooks:
Sportsbooks are open for business at most MI casinos but only for in-person betting. Look for mobile betting in late 2020 or early 2021.
On this page, we'll take a deep dive into sports betting legislation in the Great Lake State.
Michigan Online Sports Betting: Best MI Sportsbook Apps [Video]
Bill Krackomberger, professional sports bettor for more than 20 years, reviews the sports betting scene in Michigan. Have a look at the video below to see which sportsbooks in Michigan have the best bonuses, deposit options, and betting apps. For more sports betting tips from Bill have a look at our weekly sports betting podcast – Wise Kracks.
The Current Online Sports Betting Situation in Michigan
We're happy to report that sports betting is legal in Michigan. However, for now, mobile betting and online gaming is not an option since at the moment only physical sportsbooks can take bets. That means that you will have to travel to one of Michigan's casinos in order to place bets at the cage.
When Gov. Gretchen Whitmer signed the bipartisan Lawful Sports Betting Act into law she made Michigan the twentieth state so far to legalize sports betting, following states like New Jersey, Illinois, and Colorado.
"My top priority in signing this legislation was protecting and investing in the School Aid Fund because our students deserve leaders who put their education first," said Whitmer. "Thanks in part to the hard work and leadership of Senator Hertel and Representative Warren, these bills will put more dollars in Michigan classrooms and increase funding for firefighters battling cancer. This is a real bipartisan win for our state."

source: michigan.gov
The new law is projected to bring in an additional $4.8 million into the School Aid Fund. The law is also designed to help the state's First Nation communities by equalling the playing field between the three large Detroit casinos and the over twenty tribal casinos by allowing each entity to run one online sports betting platform each. In a state that has a large and robust tribal community the new law is designed to help since their casinos are a much relied upon revenue resource.
Let's look at the major developments in bullet form and then we'll dig into the details:
MI Sports Betting Laws Summary
Although online sports betting licenses have not yet been issued in the state, MI law does not outlaw the use of offshore betting sites if they are not located within state lines. No part of MI law states that it is illegal for residents to bet on sports online outside of Michigan.
Betting is not allowed on high school sports unless the majority of participants have a minimum age of 18 years.
Sports betting revenue will have tax rates of 8.4% for mobile and retail locations with Detroit casinos paying an additional 3.25% city tax going to the state's tax revenues.
Three physical casinos and over 20 tribal casinos can offer sports betting at their locations and online once they are licensed.
The fees to offer sports betting are steep including a $55,000 applications fee, $100,000 for the license itself, and a $50,000 annual renewal fee.
Additional legislation created the Fantasy Contests Consumer Protection Act in 2018, establishing the legal framework to regulate daily fantasy sports betting in the state. As a result, DFS is legal in the state.
Betting on all collegiate sports is allowed under the new law.
The Michigan Gaming Control Board (MGCB) oversees sports betting in the state and is responsible for issuing sportsbook licenses.
At the moment only physical sportsbooks are allowed in MI. This means that every sportsbook currently operating is located in a casino. Look for this to change in 2021 when the state's sports betting market is able to move to online gaming and sportsbook apps. Every retail sportsbook (commercial casino) will have the right to open one mobile sports betting sportsbook each when the time comes.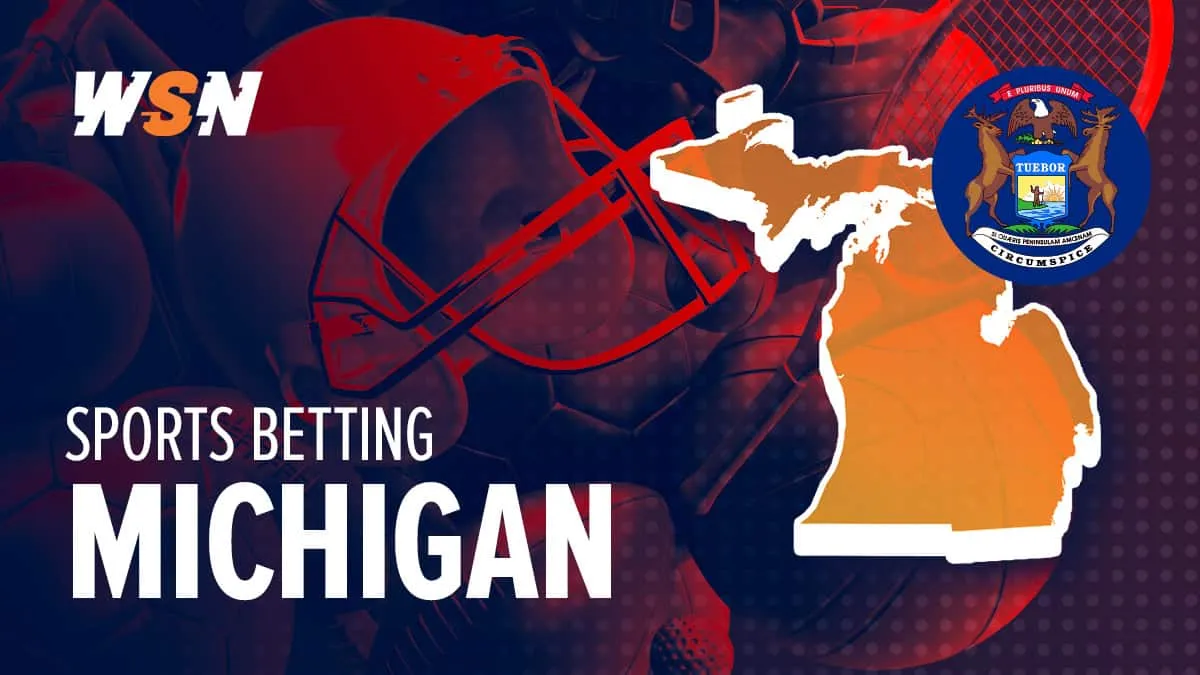 The History of Online Sports Betting in Michigan
Regulated sports betting in The Great Lakes State didn't happen overnight. Here's a blow-by-blow legal history of how we got here. The early 1990s saw Michigan enter several pacts with the state's Native American tribes, leading to over twenty tribal casinos in the state ran by several tribes.
Other forms of gambling are possible in Michigan too. The establishment of a state lottery was approved in 1972. The Michigan lottery has continued to evolve since then, with Michigan joining a new multi-state system in 1996. By 2002 the Big Game, as it was known, was comprised of nine states. In 2014 a bill was passed to make the Michigan lottery available online too, a good sign for the future of online sports betting.
Pari-mutuel betting has been legal in Michigan since 1993. Today the state has seven racetracks. Live poker is also popular in casinos throughout the state, with well over a hundred tables in play. Charitable gambling is legal.
Unlike some states where gambling is only allowed in certain areas, the casinos and tracks in Michigan are well dispersed throughout the state making it easy to bet in person at a retail sportsbook nearly wherever you are in the State.
But the ball really got rolling in 1996 with the passage of the Michigan Gaming Control and Revenue Act, which was narrowly approved. The Act had nothing to do with sports betting but laid down a framework that would eventually be expanded at the end of 2019 when Governor Gretchen Whitmer's signature legalized sports betting in the state.
The 1996 bill allowed for the creation of three Detroit casinos and was partially motivated by the grand opening of a casino across the water in Ontario. The idea being to keep gambling money in the state instead of letting it go across the water where it would be lost revenue.
June 2018 saw several bills pass relating to online gaming, which had an effect on sports betting. By the end of 2018, the main debate was around the potential of integrity fees being paid to major sports leagues as part of any legalization of sports betting.
But everything changed in 2019 with the Governor's signature on the Lawful Sports Betting Act. The Act legalized Michigan sports betting both in retail and mobile sports settings, allowing each of the state's 26-odd casinos and Tribal Casinos to have sports betting as well as one online gambling access point each.
Michigan's online sports betting market, which was hesitantly set to go live sometime in 2020 was set back by the coronavirus pandemic when widespread shut downs of many activities may have contributed to the delay of the rollout of online sports wagering in the state. Despite the covid pandemic Michigan sportsbook apps are set to go online in late 2020 or early 2021.
Which Online Sports Betting Sites Are Legal in Michigan?
The law allows for each casino in Michigan to operate one online sportsbook brand or "skin", making for a total of 26 possible sportsbooks in the state with most of those going towards Tribal Casinos outside of Detroit.
These commercial casinos will likely pair with major online sportsbooks like, bet363, DraftKings Sportsbook, and Caesars that are already widely trusted and established. As of yet, there are no operating online sportsbooks in Michigan, and it is unlikely that they will roll out before at least late Spring 2021. With three Detroit casinos, including MGM Grand Detroit, and over twenty Tribal Casinos, and with the law stating that each one shall be able to make its own online sportsbook there is bound to be a large amount of competition and choices soon to come.
However, until then it is legal to bet with offshore sportsbooks in Michigan. Offshore meaning that as long as the sportsbooks are not located in MI territory then they are allowed to operate since MI law states that sportsbooks can operate in MI only if they are licensed.
Utilizing these offshore sites, while not being against the law, can be dangerous. Since they aren't licensed in America and not subject to our laws and regulations, it's tough to resolve issues with your account or funds if something goes wrong. Since the future of online sports betting is bright in Michigan, we strongly advise waiting for the 100% safe and legal options that are coming soon.
Michigan Casinos Eligible to Offer Sportsbooks
The map below shows the location of the casinos in Michigan that are eligible to receive sportsbook licenses.

Here are some of the commercial casinos in Michigan that have in-person sportsbook cages where you can now bet at. In 2021 expect many if not all of these sportsbooks to open sportsbook apps that are accessible online via your mobile. In-person betting is a great way to do live betting since watching the game with friends is a lot more fun than placing a bet on a phone and checking later if you won or not.
When mobile sports betting is allowed to go forward each of these retail sportsbooks will be allowed to operate one online sportsbooks app each. When this happens you can expect for each online sportsbook to offer competitive sign up promos such as risk free bets. Unlike online casinos where you can play online poker, blackjack and other traditional casino games, online sportsbooks focus on activities such as live betting and odds. Check out our betting guides to get a leg up.
DraftKings Sportsbooks at Bay Mills Resort
FanDuel Sportsbook at MotorCity Casino Hotel
BetMGM Sports Lounge at MGM Grand Detroit
Four Winds Sportsbook at Four Winds Casino
River Rock Sportsbook at Little River Casino
Dacey's Sportsbook at FireKeepers Casino
Stage 131 Sportsbook & Lounge at Gun Lake Casino
Onyx Sports Book By Caesars Sportsbook at Turtle Creek
Onyx Sports Book By Caesars Sportsbook at Leelanau Sands Casino
BetAmerica at Island Casino
PointsBet Sportsbook at Northern Waters Casino Resort operated by the Lac Vieux Desert Band of Lake Superior Chippewa Indians, in Watersmeet
Fox Bet (The Stars Group) Sportsbook at Odawa Casino Resort, Mackinaw, Petoskey
Fox Bet (The Stars Group) Michigan at Little Traverse Bay Bands of Odawa Indians
Penn National Gaming at Greektown Casino Hotel. Greektown Casino Detroit has announced plans to launch a Barstool Sportsbook App when the option becomes available.
FireKeepers Sportsbook at FireKeepers Casino and Hotel, Battle Creek
Caesars Sportsbook at Turtle Creek Casino Williamsburg, and Turtle Creek Casino Leelanau Sands
Sportsbook sponsorships are agreements between licensed sportsbooks/casinos and individuals, sports teams, and leagues. Some states are more friendly to sportsbooks sponsorships than others and currently, only a couple of states allow them despite lobbying to the contrary.
Sportsbook sponsorships are more the exception and not the rule with few entities opting in for sponsorships. With that being said in late 2020 the Detroit Pistons signed a historic duel sponsorship agreement with FanDuel and DraftKings, making the Pistons the first pro team to sign two deals with major sports betting and fantasy sports venues.
What Sports Can You Bet on Online in Michigan?
In Michigan, nearly everything is available to be on including major leagues like MLB, NFL, NBA, and NHL. For the most part, college sports like NCAA are available too, but there are some exceptions.
To give you an idea of what's available, check out the following sports offered by DraftKings Sportsbook, which offers spread betting, live betting, moneyline betting, futures, prop bets, and more:
NFL
NBA
MLB
Golf
NHL
NASCAR
MMA
Soccer
CFL
CFB
LOL (League of Legends eSports)
EL (Euro League Fantasy Basketball)
Tennis
Fantasy football
We should also mention that it is possible to bet on daily fantasy sports in the state of Michigan, where the most obvious choice is FanDuel, a sportsbook specializing in daily fantasy sports. Internet gaming is the future and the future is bright for Michigan.
The State of Sports in the Great Lake State
The Michigan sports scene is very robust with multiple major league teams and many junior teams and collegiate teams. With sports betting in Michigan now a reality after the state government's new sports betting bill officially legalizes sports betting in the state. It will be some time before local betting apps fill the niche of online sportsbooks but when they do it will be a great day for Michigan sports.
Football
Unsurprisingly, all the professional sports teams in Michigan are based in Detroit. The Detroit Lions have been a member of the NFL since 1930 and have been in Detroit since 1934. The Lions had already made the playoffs 18 times and won the National Championship four times before the Super Bowl even came into existence. Ford Field, the home of the Detroit Lions, takes its name from the car manufacturer, perhaps the most iconic brand associated with Detroit. Check out the best sportsbook promos for Detroit Lions!
Michigan Stadium in Ann Arbour, where the Michigan Wolverines college football team plays out of, is the third-largest stadium in the world with a capacity of 107,601. The program also has the most all-time wins in college football history.
Basketball
The Detroit Pistons began life in Fort Wayne, Indiana before moving to Detroit in 1957. Since then, they have represented Michigan in the NBA. The Pistons have three NBA Championships, the most recent one coming in 2004. College basketball is also popular in the state, with the Wolverines and Michigan State University teams both competing in the NCAA Big 10 Conference.
Baseball
The Detroit Tigers can be found in downtown Detroit representing the state in the MLB. The Tigers picked up four World Series titles between 1935 and 1984. The franchise has been in existence for over 120 years but hasn't seen the world series since 1984. Baseball is popular in Michigan, with minor league teams scattered throughout the state including the West Michigan Nightcaps in Grand Rapids and the Lansing Lugnuts out of Lansing.
Hockey
The Detroit Red Wings represent Michigan in the NHL. The Red Wings were founded in 1926 and are one of the Original Six teams of the league. The Red Wings are also the most successful NHL team based in the US, with an extremely impressive 11 Stanley Cup victories. Only the Toronto Maple Leafs and Montreal Canadiens have more. With a couple of other hockey teams around the state, it's little wonder hockey fans and commentators alike refer to Detroit as Hockeytown. It's a no-brainer that fans in Michigan will be excited to bet on the NHL.
Other Sports
Perhaps the most successful son or daughter of Michigan is Serena Williams, owner of an astonishing 39 Grand slam titles across a series of events. Her sister Venus is not too far behind with 23. Soccer is popular in Michigan, although the state does not currently have a professional team competing in MLS. Michigan is also friendly to horse racing, with several well-known tracks in the state including Northville Downs, and Triple Force Race Track. Unsurprisingly, given the motor history of the state, motorsports are also popular. The Michigan International Speedway hosts NASCAR races, and formerly hosted a Formula One World Championship Grand Prix. All in all, Michigan has a diverse array of sports. The state has the highest number of golf courses in the US, roller derby is popular, and skiing and snowboarding when they are available in the winter. If you're only just starting out and would like to learn more about sports betting, we encourage you to read our sports betting guide.
Is Betting on Fantasy Sports Legal in Michigan
The end of 2018 saw a huge victory for fantasy sports players in Michigan. The legislation was passed to create a regulatory framework for fantasy sports contests in the state. Until then, there had been thousands of fantasy players betting real money in the state, but they had been doing so in something of a legal grey area.
Companies offering daily fantasy sports will now have to pay a license fee and submit to the regulation of the state, in exchange for offering fully legal daily fantasy sports.
Michigan legalized daily fantasy sports betting with the passage of the Fantasy Contests Consumer Protection Act in 2018, establishing the legal framework to regulate fantasy sports betting in the state. At the moment betting on daily fantasy sports is only possible through the use of offshore betting sites and visiting the native American casinos that offer physical sportsbooks.
How to Bet on Sports Legally in MI
Although sports betting is currently legal in the State of Michigan the sportsbooks have yet to open online sportsbooks, so you may be forced to wait until the Michigan Gaming Control Board (MGCB) and get out mobile betting licenses to sportsbook apps. If you're a sports betting beginner, make sure to check out our guides to betting for tons of valuable information.
The second way to place bets is to physically go to a casino or sportsbook at the cage, casino sports betting kiosks, or the sports lounge. There are lots of different options including the ones we listed above that are an affiliate with the online betting sites.
Going to a live sportsbook is a great experience since you can watch the games with a big group of other gamblers. Inside a sports lounge, the atmosphere is electric, especially when live betting, and it adds a different dimension to the gambling experience. Live betting is one of the best ways to take advantage of betting in person since sports lounges are almost always equipped with large TVs. Using offshore sportsbooks to place bets is not illegal in MI.
What Is the Future of Online Sports Betting in the Lake State?
The future of online sports betting, and online gambling in the State of Michigan is bound to be a bright one. The system that legislators have set in place ensures that a robust marketplace of sportsbooks will be in competition with each other.
This competition will likely drive the user experience. The Wolverine State has a rich gambling tradition and lawmakers are well aware of the money that can be generated for public funds by legal and regulated gambling. Throughout 2018, momentum has been slowly building.
As the debate among legislators continues and the discussions with Native American tribes are completed. Look in the coming months for retails sportsbooks to begin opening followed by the rollout of their internet gaming partnerships in early 2021 when Michigan sports betting sites are expected to go live.
Michigan's betting scene is likely to be one of the most robust in the nation when legal betting comes to local casinos by Spring 2021, meaning you'll be able to bet on local legal online sportsbooks in the near future.
Once the Supreme Court sided with New Jersey in May 2018 to overthrow PASPA the decision to legalize sports betting became one for individual states to make.
First up was New Jersey and they quickly legalized the activity. After NJ came a myriad of states deciding to legalize including the State of Michigan. As of now, there are over twenty states with legal sports betting. To learn more about New Jersey's legal struggles to gain the right to sports betting click here.
Michigan Online Sports Betting FAQs
Here are answers to the Michigan sports betting questions we're asked most frequently:
Is sports betting legal?
Yes. Sports betting is legal in Michigan, with the rollout of physical sportsbooks in Detroit coming Spring 2020 and mobile betting licenses coming early 2021.
If you can't wait for those developments, then it is not against the law to place bets using offshore sportsbooks.
Do you pay taxes on sports betting in Michigan?
Yes. Tax rates of 8.4% is applied to all income from gambling, which is relatively low compared to other states.
Where can I bet on sports?
At the moment, MI residents can place sports bets with sportsbook operators outside of the state. The lawmakers thought process is that these offshore sportsbooks are under the jurisdiction of gambling authorities in their home regions therefore they are regulated.
Also, some Native American casinos are offering sports betting at physical sportsbooks. With over 20 Native American casinos across the state there is most likely one near you.
What sports can I bet on in MI online?
Michigan's new sports gambling laws allow wagering on all pro sports and most collegiate sports. It also allows for betting on e-sports and fantasy sports.
What sports are illegal to bet on?
Betting on high school sports is not allowed if the majority of participants are under the age of 18.
Is it illegal to bet using offshore sports betting websites?
No, offshore betting is actually encouraged in Michigan at the moment since the approval to legalize sports betting has just occurred there is not a market of localized sportsbooks available if you are a Michigan resident. Lawmakers have gotten around this by allowing the giving shore betters the legal go-ahead to operate in the state, at last until there is a robust market of local sportsbooks.
What other states is sports betting legal in?
Online gambling is currently legal in New Jersey, Nevada, and Pennsylvania, while other forms of sports betting are currently legal in West Virginia, Delaware, Rhode Island, Mississippi, and New Mexico.
For more information on nearby Indiana sports betting check out our Indiana state page here.
Michigan Problem Gambling Help Resources
The Michigan Department of Health and Human Services has created a Get Help page in order to bring resources to those who are suffering from problem gambling.
The Michigan Problem Gambling Helpline is toll-free, confidential, and discreet with trained counselors available 24 hours a day. The line is available to Michigan residents, 1-800-270-7117
Other resources are also available including the Gamblers Anonymous support group. Visit the website for more information on these programs and others if you or a friend/family member is struggling with problem gambling.
References