If you're not subscribed to our weekly sports betting podcast yet, then go ahead and check out Wise Kracks for betting tips from expert Bill Krackomberger and co-host Jon Orlando.
In the latest episode, ESPN gambling writer and special guest David Purdum shares his opinion on how the legalization of sports betting in NY will influence the betting market in general. Don't miss it!
The History of Online Sports Betting in New York
Up to recently, online betting has been illegal in New York. But that's not to say there's no history of gambling. There are seven tribal casinos in the state which offer slots and other forms of gambling. Daily fantasy sports and betting on horse racing are legal, and days out at the racetracks are a popular pastime for New Yorkers. There is also a state-wide lottery.
A lot of people thought legalized online sports betting would happen in 2018 but mainly due to opposition from tribal casino operators, the final legislative session of the year failed to get it done.
The New York Senate actually passed a law back in 2013, legislators agreed to allow online sports betting at a number of on-site locations, such as those upstate Albany area casinos, pending the removal of the federal ban on sports betting by the Supreme Court.
The decision to repeal the Professional and Amateur Sports Protection Act (PASPA) arrived in May 2018, and by October 2019 in person bets were being placed at commercial casinos by Native American interests such as the Seneca Tribe. In April, 2021 the long-awaited mobile legislation received approval. Former Gov. Andrew Cuomo and fellow Democrats and lawmakers in the assembly included mobile state-wide sports betting in an official state budget deal, deals like these require agreements between multiple levels of government like assemblymen and embers of the executive branch. This has paved the way for the legalization of sports betting and online gambling in New York in early 2022 with Governor Andrew Cuomo's signature. This happened after the legalization of retail sportsbooks in the state.
The Current Online Sports Betting Situation in New York
There are six sportsbooks open at seven on-site locations for legal sports wagering in New York today. Each of the six operators are present in the recently approved group of brands for mobile betting.
New York, uncharacteristically lagged behind when it came to legal online sports betting, especially compared to their close neighbor New Jersey.
Now that legislation has passed and licenses have been awarded, the betting apps are undergoing server installations which also require approval from state regulators. Senator Addabbo has said the process is progressing well and is on target for January 2022.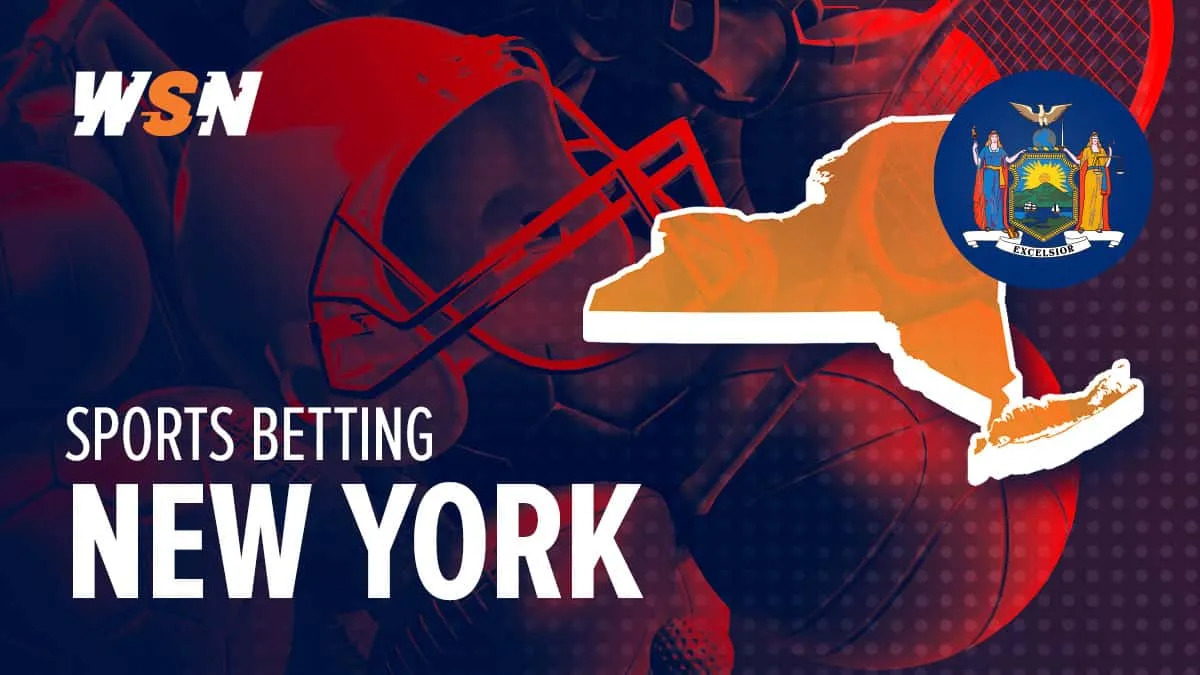 What Sports Can You Bet on Online in New York?
Now that the Empire State has opened up there is a whole wealth of New York sporting events to bet on and a quickly growing list of sports betting operations are rushing to have the best features anywhere including deposit matches to be competitive when they launch.
New York City is home to the national headquarters of the NFL, NBA, MLB, NHL, and MLS. The city has some of the most iconic stadiums and venues in sports and has played host to many of the biggest nights in sporting history.
New Yorkers are able to bet on teams and sports from around the country and the world but here's a look at the local options people in the state are sure to put action on once sports betting is legalized.
The New York legislation restricts residents from betting on in-state collegiate teams. Collegiate sporting events that take place in state are okay, as long as residents are not betting on in-state teams. New Yorkers interested in placing bets on college sports can travel to Pennsylvania, New Jersey, or Connecticut.
NY Football Teams
Despite making their home in the MetLife Stadium in nearby New Jersey, both the New York Giants and New York Jets are unmistakably part of the Empire State sporting heritage. The Giants are one of the most iconic football franchises in the country and are currently the oldest team in the National Football Conference East, having been formed in 1925.
The Jets are only a little more recent, making their American Football Conference debut in 1960. These two teams will be the subject of a lot of bets now that sports betting has come to New York, just in time for the Super Bowl.
Further afield of New York City, the Buffalo Bills make up the final NFL team in the state. There are plenty of college football teams throughout the state too. Football fans won't be short of games to bet on.
NY Baseball Teams
Over to the MLB, where New York City is home to one of the most successful expansion franchises in the history of the sport, as well as one of the most successful teams in any sport.
Although they haven't won it in nearly ten years, the New York Yankees claim an incredible 27 World Series titles. Heading south from Yankee Stadium in the Bronx, the New York Mets can be found down in Queens, with a couple of World Series titles of their own.
Throw in a bunch of minor league teams and some of the MLB teams who left New York, like the former New York now San Francisco Giants, and you get an idea of what baseball means to New Yorkers.
NY Basketball Teams
At the iconic Madison Square Garden, New Yorkers can watch the NBA's New York Knicks play right in the heart of Manhattan.
Cross the Brooklyn Bridge to find the Brooklyn Nets, the other NBA team in New York. Madison Square Garden also hosts the National Invitation Tournament for college basketball.
Like in MLB, there are a number of NBA teams that started out in New York before finding their home elsewhere, like the Los Angeles Clippers.
NY Hockey Teams
Again, New York has an embarrassment of riches in the NHL, boasting three NHL teams in the New York Rangers, New York Islanders, and the Buffalo Sabres.
If that wasn't enough, just across the Hudson are the New Jersey Devils. Of all those teams, the Rangers have the longest history in the NHL, having been one of the original six franchises and having claimed four Stanley Cups championships.
Other Sports in the State of NY
You just will not be caught with anything to bet on in New York. In Soccer you've got a couple of MLS clubs in New York City FC and the New York Red Bulls. You can find professional rugby and lacrosse teams. Out in Flushing Meadows, the US Open Tennis Championships is one of the most illustrious competitions in all of the sports. In Golf, New York regularly hosts PGA tour events, including the PGA Championship and the US Open, most recently at Shinnecock Hills in 2018. Lake Placid has hosted the Winter Olympics twice. The city that never sleeps also never stops watching sports.
Of course, there are also a lot of college teams that call New York home and this will be a point of interest for sportsbook apps users.
MMA (UFC) and Boxing are available as well as some niche sports like Aussie rules football, cricket, cycling, darts, handball, snooker, and table tennis.
Is Betting on Fantasy Sports Legal in New York?
Yes.
Legislation to formally legalize fantasy sports in New York was first signed into effect in 2016. Since then both DraftKings and FanDuel have both been offering sports fans in the Empire State the chance to bet on fantasy sports. In October 2018, a New York Supreme Court judge ruled that the law violated the state constitution.
Since the ruling, it appears that the New York State Gaming Commission is no longer overseeing Fantasy Sports in the state. However, both DraftKings and FanDuel have confirmed that they will continue to operate in the state alongside Monkey Knife Fight and WinView.
The New York Court of Appeals heard arguments again in October 2021 but did not arrive at a decision after one of the seven judges recused himself from the case. Judge Eugene Fahey is set to retire before the court argues the case again next year, so the 2016 ruling could stand which considers DFS a game of skill and legal under state law.
So while the legalities are pending, you can still bet on fantasy sports in New York at the moment.
Is There No Deposit Sports Betting in New York?
Sports betting is new to New York and you can expect the offers and bonuses to be changing in the coming days and months. Check back on this page for the best bonuses and promotions which will hopefully include no-deposit bonuses.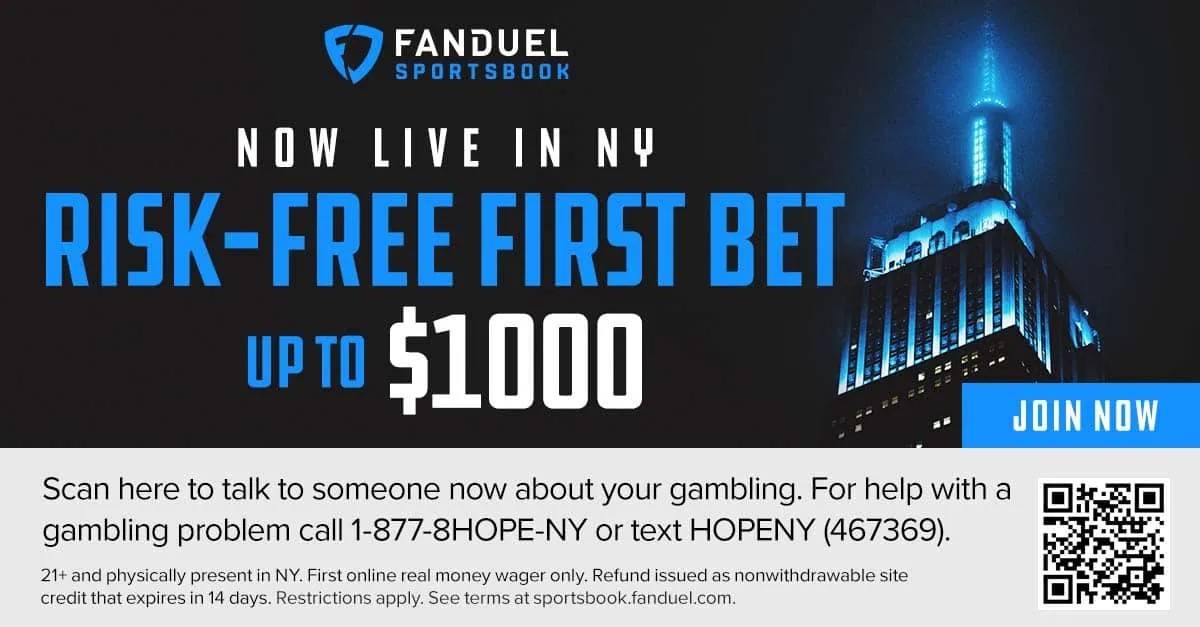 What Is the Future of Online Sports Betting in New York?
There is some concern about the impact of the 51% tax rate on sportsbook operators and whether bettors will experience any burden-sharing in the form of fewer promotions or less favorable lines. It will be interesting to watch trends and behaviors of sports bettors as the state aims to keep residents betting in New York as opposed to commuting over state lines as many have been to date, with the operators searching for a profit in the equation.
The state could become one of the largest sports betting markets in the US at full bloom, with a projected $500 million in annual tax revenue directly to the state.
The notably high state tax rate might not deter other brands from joining the scene in New York considering its size. A new Fanatics Betting and Gaming entity, vice-chaired by Jay-z, partnered with Barstool in an unsuccessful bid. Also missing from the current nine books are Fox Bet, bet365 and theScore Bet.
A bill was introduced by Senator Joe Addabbo in November 2021 to allow fixed-odds horse race wagering and for kiosks at racing tracks, off-track betting and professional sports facilities in New York.
Get Ready for Legal Sports Betting in New York State
There really is nowhere else like New York. New Yorkers eat, sleep and breathe sports. They have hosted some of the most amazing stories in sports history, the biggest names, the greatest players and the most iconic events.
New Yorkers are now able to combine their love of gambling with their love of sports.
Since the overturn of PASPA, plenty of states around the country have wasted no time in introducing legal sports betting, with New York now having joined them. If you know how New Yorkers feel about sporting competitions, you'll know that sports betting has now truly taken off in the Empire State.
Keep an eye on this page for major developments in New York sports betting laws now that sports betting is legal in the State, make sure to use our comprehensive site reviews and our guide on how to place online bets in New York.
For more information about other parts of the country, browse our state by state guide to sports betting laws in the US.