Georgia, just like every state in the country except Nevada, had been banned from offering sports betting by the Professional and Amateur Sports Protection Act which was signed into effect in 1992.
PASPA prevented all states from regulating and taxing sports betting. A few notable exceptions existed like Nevada but overall legal sports betting across the US has been held back by the act.
Some states offered various other forms of gambling, like casinos or betting on horses or dogs, but Georgia has kept even these kinds of gambling off the books.
There is a state lottery which has been in place since 1992, the proceeds of which help to fund education services, but unlike many of its neighboring states, Georgia does not even have any Indian casinos or slots.
Despite these strict laws on sports betting, sports have a big place in the state's culture. Georgia hosted the 1996 Olympic games, and plenty of professional sports franchises make their home in the Peach State.
So while betting has a modest history, sports have always been a big part of life in Georgia. With states across the US relaxing betting laws, it might not be too much longer before the two meet.
The Current Online Sports Betting Situation in Georgia
PASPA was finally overturned by the Supreme Court in May 2018. This effectively ended the nation-wide ban on sports betting, online and offline.
Now, for the first time, each state in the US has been given the opportunity to determine their own laws around gambling. Plenty of states have wasted no time, recognizing that this is an opportunity to access a multi-billion dollar industry.
The simple answer to what this has meant for Georgia? Unfortunately, not much up until March of 2021.
That's when the Georgia Senate Judiciary Committee passed legislation meant to legalize mobile sports betting in the state. With this step completed, now House Bill 93 will go to a full vote in the Senate. Both chambers need a two-thirds vote in order for it to move on to Governor Brian Kemp's desk. Once he signs the bill, then the matter needs to be approved by two-thirds of the Georgia voters in order to pass into law.
Sen. Jones, who filed the bill, believes legal online sports gambling can generate upwards of $60 million annually in revenue for the state, with the money going towards the HOPE Scholarship fund and various stated pre-kindergarten programs.
So far, many other states have already joined Nevada in offering full legal sports betting to residents. These include Delaware, New Mexico, West Virginia, Rhode Island, and more. The list is growing all the time as more and more states get in on the action. Even more states are at various stages of the process of legalization.
After prior failed attempts at legalizing online sports gambling in Georgia, the potential revenue stream has finally become too tempting to ignore anymore and peach state citizens could soon be able to place a bet on their favorite teams, like the Falcons, Hawks, Braves, Bulldogs and Yellow Jackets.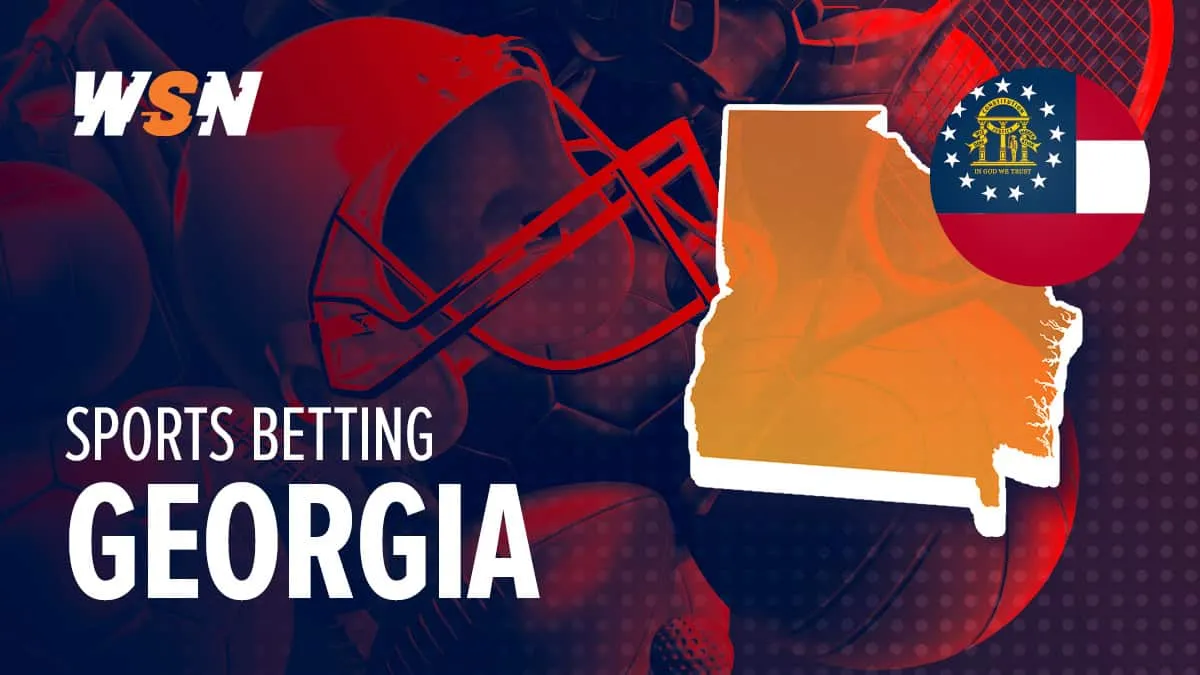 Which Online Sports Betting Sites Are Legal in Georgia?
At the moment, there are no legal online sports betting sites in Georgia. It should be noted that it is technically possible to bet online while in Georgia by using offshore betting sites. Since they are not hosted in the US, they are not strictly illegal to use.
However, this can be described as at best a legal grey area, and at worst a big risk. Since offshore casinos and sportsbooks aren't located in the US and they're not subject to US laws and regulations, you're definitely putting your money and personal information in jeopardy by using them.
We recommend keeping an eye on this page for future changes to this situation and supporting initiatives in your state to introduce legalized online sports betting.
---
Related articles
Risk Free Bet Offers, Bonuses and Promo Codes
Best Sports Betting Bonuses and Promotions
---
What Sports Can You Bet on Online in Georgia?
Right now, you can not bet on any sports legally in Georgia. However, when legal sports betting does finally arrive in Georgia it will be to a state with a rich sporting heritage.
Gamblers in Georgia will be free to bet on teams and sports in tons of different leagues in the US and around the world but we expect an especially large concentration of the action to focus on the teams that Georgians love the most.
Here's a look at the biggest teams in the state that are sure to attract a lot of bets:
Football
Atlanta is one of the most culturally diverse cities in the US and boasts a top-tier array of sports teams and stadiums. The Atlanta Falcons have picked up a couple of Conference titles since they joined the NFL as an expansion team in 1965. Their most recent win came in 2016, but their record in the playoffs reads 0 and 2.
College football is big in the state too. The Georgia Bulldogs play at the huge 92,000-person Sanford Stadium in Athens and have a couple of national championships to their name. The Southern Eagles, the Georgia State Panthers and the Georgia Tech Yellow Jackals also play in the NCAA Division 1.
If sports betting makes it to Georgia, you can expect some big money to drop on football.
Basketball
If you love betting on basketball, the Atlanta Hawks, with one NBA Championship to their name, represent the Peach State in the NBA. The Georgia Grizzlies and the Atlanta Wildcats also compete in the ABA, while college basketball is popular around the state too.
Baseball
Baseball remains one of the state's biggest loves, and in the MLB the Atlanta Braves were one of the stories of the '90s and early 2000s. The Braves put together a sequence of 14 consecutive division titles, as well as a World Series win in 1995.
In the minor leagues, the Rome Braves, the Gwinnett Stripers, and the Augusta Green Jackets round off a very healthy baseball culture in the state.
Hockey
Although it is currently without an NHL franchise, Atlanta does have a history of hockey. Currently, the Atlanta Gladiators represent the state in the minor leagues.
In the past, NHL franchises like the current Calgary Flames (formerly Atlanta Flames) and Winnipeg Jets (formerly Atlanta Thrashers) have made their home in the state.
Other Sports
In soccer, Atlanta United FC represents the state in the MLS Eastern Conference. The State has plenty of top-level college teams across a variety of sports. Motorsports is very popular in Georgia, with some iconic tracks located in the state.
Georgia plays host to arguably the biggest tournament in golf with the Masters Championship taking place at Augusta National every year. There is no golf course more recognizable anywhere in the world.
Atlanta even held the 1996 Summer Olympic Games. Georgia residents have got a rich sporting tradition to draw on when sports betting finally makes its way to the state
Is Betting on Fantasy Sports Legal in Georgia?
Fantasy sports betting and Daily Fantasy Sports (DFS) is something of a grey area but many Georgia residents already gamble with fantasy sports sites with no problems.
Although sports betting in the state is technically illegal, fantasy sportsbooks argue that betting on fantasy sports is a game of skill. So far, the state has made no attempt to shut down fantasy sports, and actually recently tried to introduce legislation to help regulate fantasy sports.
So at the moment, although not explicitly legal, fantasy sports betting is possible in Georgia.
Is There No Deposit Sports Betting in Georgia?
At the moment, there is no online sports betting of any kind that is legal in Georgia. It may be that offshore betting sites offer no deposit betting, which can be accessed from Georgia.
However, since these are not legally recognized by the state and not regulated, this can be considered a risky move. The best bet is to wait for sports betting to arrive in Georgia.
What Is the Future of Online Sports Betting in Georgia?
The immediate future of sports betting in Georgia is not clear. What is clear, however, is the direction the winds are blowing across the country regarding legalization.
Since PASPA was repealed, every day it seems like another state is introducing a bill to legalize sports betting. Seven states have already gone through with full legalization and even more are awaiting the final pieces of legislation necessary to do so. Still more are at various earlier stages of the process.
Right now, Georgia has not done any of this. As the laws around sports betting, both live and online, are being relaxed around the country huge new industries are being created and massive amounts of money generated. Georgia's state lottery, which helps to fund education, shows that the Peach State is open to some form of gambling if it is in the best interests of the state.
The repeal of PASPA has given Georgia the chance to decide its own fate. So far, there have not been many public calls in the state to legalize. However, there is a lot of money to be made by legalizing sports betting, and in the coming months and years, as sports betting becomes more normalized across the US, Georgia will not want to be left behind.
Will Online Sports Betting Ever Be Legal in Georgia?
We don't know. What we do know is that many states are moving to legalize sports betting and that there is a lot of money to be generated by doing so.
Georgia Will Have to Wait for Legal Sports Betting
Georgia is one of the few states where there hasn't been much noise about legalizing sports betting since the big US Supreme Court decision of 2018.
However, sports fans in the Peach State have cause to be optimistic. The repeal of PASPA has created a multi-billion dollar opportunity. Georgia is home to some of the biggest events in US sports, with multiple professional franchises and a big market of people who would welcome sports betting.
As more and more states move to legalize sports betting, it becomes more publicly acceptable, and more popular. The tide is turning across the US. Let's see how Georgia reacts.
Check back on this page for major developments on the state's progress and for more information on other parts of the country, browse our state by state guides to legal US sports betting.