Indiana Sports Betting Facts [Video]
What are the best sports betting options in Indiana? What sports can you legally bet on? Find the answers to these questions and much more in our short video presenting the sports betting situation in Indiana.


The Current Online Sports Betting Situation in Indiana
Legal sports wagering has come to the state of Indiana!
In October 2018 a legislative study commissioned to provide lawmakers with more information before they vote on a bill recommended that Indiana join the seven US states that have already legalized sports wagering.
Finally, we'll look into which sports are likely to attract the most gambling action when legalization does come to the Hoosier state for when betting is legalized, and we also answer the question of whether it's legal to bet on fantasy sports and DFS in Indiana right now.
This page is packed with everything related to sports betting, and mobile sports betting in Indiana.
To find out more about other parts of the country, read our comprehensive US legal sports betting guides for each state where you can learn about fast withdrawal betting sites for each state and have access to betting odds and information concerning payout processes and banking methods for the sportsbooks legally allowed to operate in your area.
Here is a break down of the laws applicable in IN.
IN Sports Betting Laws Summary
Sports betting is allowed at racetracks and casinos.
Mobile sportsbooks are allowed but must be tied to a brick and mortar casino.
Mobile betting and cell phone betting is allowed.
No betting on esports or amateur athletes under the age of 18.
Betting on pro sports and most collegiate sports is allowed.
You can bet on college games happening in IN.
No betting is allowed on games that include participants under 18
Gaming revenue is taxed at 9.5%
Indiana Gov. Eric Holcomb who signed the state-wide law legalizing sports betting was the first person to place a legal bet when he visited the Indiana Grand Racing & Casino in Shelbyville. He placed several $10 bets on various Indiana teams and promised to donate any winnings.
Source: nbcchicago.com
"…[The legalization of sports betting] will bring in new revenue and create hundreds of new jobs – both permanent and in construction. I will direct the Indiana Gaming Commission to monitor for potential effects of this bill so that we can make [the] necessary changes in future legislative sessions."
Source: Gov. Eric Halcomb of IN
Since then, casinos and racetracks operating in Indiana have been able to offer sports betting to people in Indiana legally, both at their land-based establishments and through online sportsbooks sites.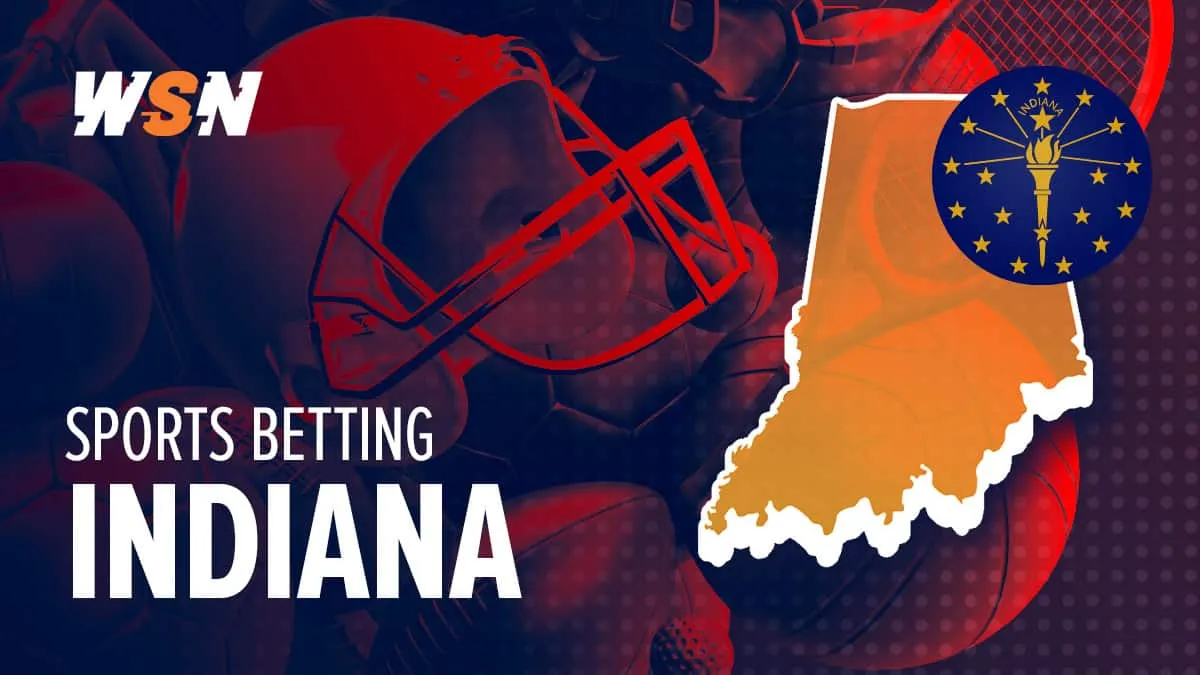 The History of Online Sports Betting in Indiana
Sports betting came to Indiana only because of the repeal of PASPA and the coming of legal sports betting to New Jersey. Below is a quick overview of the history of sports wagering in Indiana.
For awhile sports bettors from Illinois had to head into the Hoosier State and most notably East Chicago to place bets since Illinois had not yet legalized. However, as of June 2019 Illinois sports bettors have been able to place legal sports bets in their own state, thusly, cutting off the extra revenue that Illinois residents were siphoning into Indiana sportsbooks.
For a short while, Michigan sports bettors were also making the short trip into Indiana as sports betting wasn't legal in Michigan until December 2019. However, Indiana's strategy to legalize early is still paying off as border state Ohio has still yet to legalize and it is highly likely that Ohio residents interested in sports wagering are traveling across the border to place legal bets, especially those living near the border.
Indiana is blessed by its central location from where they can draw revenue from players from other nearby states such as Kentucky that has yet to legalize.
2011 Referendum on Sports Wagering
New Jersey flung open the door to legal sports betting when they challenged the Supreme Court PASPA ruling and got it overturned making it so that each state was given the choice to legalize or not.
In October 2018 a legislative study commissioned to provide lawmakers with more information before they vote on a bill recommended that Indiana join the seven US states that have already legalized sports wagering.
Which Online Sportsbooks Are Legal in Indiana?
Online sportsbooks wanting to be present in Indiana must operate a land-based partner. An online sportsbook may not do business in the state without a brick and mortar establishment.
This rule has made it so that all offshore sportsbooks are now illegal since they can not come and set up shop in the state. If you're like some people and live in a state that has not legalized sports betting you may be tempted to use a VPN to spoof your location. This is not only a crime but you may also lose out on your winnings and or deposit. Sportsbooks are using location validation apps to find out if you are where you say you are.
Click on any of the sportsbooks below to read more about them and the sign up offers they run. All of the sportsbooks on the table are real legal sportsbooks available in Indiana. Read our best sportsbook apps guide to find the best sportsbook app in Indiana.
When looking at sportsbooks you have choices so it is important to know what is offered and whether or not there are incentives like sign-up bonuses and the methods used to deposit and withdraw money. Some sportsbooks make you wait for your payout but others are faster, check out our fast payout and sportsbook payouts guide.
| | | |
| --- | --- | --- |
| Sportsbook | Land-Based Partner | Launch Date |
| DraftKings | Ameristar Casino Resort | 10/3/2019 |
| FanDuel | Belterra Casino Resort; Blue Chip Casino | 10/26/2019 |
| BetRivers | French Lick Resort Casino | 7/12/2019 |
To deter competition from illegal betting sites Indiana has commissioned the Gaming Control Division with powers to police gaming in the state of Indiana.
The Gaming Control Division is the law enforcement arm of the Indiana Gaming Commission.
The Division was established during the 2007 legislative session and became operational on September 10, 2007.
The Division has 16 officers that are certified by the Indiana Law Enforcement Academy. All officers have received specialized training in investigating illegal gambling.
Source: in.gov
Indiana Land-Based Casinos with Sportsbooks
This is a map detailing the locations of the brick and mortar locations for the online bookmakers inside of Indiana in case you would like to go sign up or bet in person.

Since the legalization of sports betting sportsbooks and casinos have sought to make partnerships with individuals, teams, and leagues that they are wagering on.
Indiana may be new to the Sportsbook scene but they've already got a full complement of sportsbooks available through their brick and mortar partnerships.
No direct sponsorships between teams and sportsbook have been announced in Indiana but teams in other states have already done so. In New Jersey, the NHL team the NJ Devils have partnered with several sportsbooks.
Indiana Sports Betting Laws – What Sports Can You Bet on Online in Indiana?
There isn't much that you cannot bet on in Indiana. State law says that you can bet on almost anything with the only major restriction being on sporting events with minors.
In Indiana, mobile betting is allowed. Most sports betting apps are available on android and ios mobile devices so there is no problem getting started making your first bet. Placing bets from a mobile app has quickly become the most popular form of sports gambling with around 90% of sports bets being made on sports betting apps.
In Indiana, you can bet on the major leagues but you can also bet on small-time sports like eSports and even ping pong. Check out the sportsbook apps to see what sports you can bet on now.
Bettors in Indiana can officially bet on horse racing, a sport that has traditionally been very popular in the state.
For an example of what you can bet on check out the following leagues you can bet on with DraftKings Sportsbook, which offers spread betting, live betting, moneyline betting, futures, prop bets, and more:
NFL
NBA
MLB
Golf
NHL
NASCAR
MMA
Soccer
EL (Euro League and Euro Cup Basketball)
Tennis
And many more.
The state of sports in the Hoosier State
Football
The Indianapolis Colts represent the Hoosier State in the NFL. The Colts have won two Super Bowls in their time, in 1970 and 2006. Their most recent triumph was in a rich vein of form for the Colts when they were led by star quarterback Peyton Manning.
The Colts form has been a little more patchy in recent years, but they are one of the most recognizable franchises in the NFL, check out our guide to the best Indianapolis Colts promo codes and get started!
College football is also popular in Indiana, who of course is home to the world-famous Notre Dame college football team, check out your legal college football betting options in Indiana.
Basketball
Indiana is represented in the NBA by the Indiana Pacers so we expect a lot of players in Indiana to be betting on the NBA. The Pacers moved from the ABA in 1976, where they won three Championships. They are yet to win an NBA Championship but do have several Division titles to their name.
The Indiana Fever represents the state in the WNBA and the Fort Wayne Mad Ants play in the Minor Leagues. Indiana is also considered the home of high school basketball, meaning the state has strong basketball roots. In college basketball, the Indiana Hoosiers have won five NCAA National Championships. To get started wagering on the NBA in IN check out our guide on where to bet on the NBA legally.
Baseball
Indiana is currently without any MLB teams, but many minor league baseball teams make their home in the state. The Indianapolis Indians, formed in 1902, are one of the oldest minor league teams in the US. The Indians currently play in the International League. IF you want to place wagers on the MLB in IN check out our where to bet on MLB legally guide to find your sportsbook options.
Hockey
Indiana does not have a major league team in the NHL but there are several highly competitive teams in lower leagues.
Motorsports
Auto racing is probably the sport Indiana is most associated with. Every year over 250,000 people attend the Indianapolis 500 Mile Race on Memorial Day weekend, making it one of the most popular racing events in the world.
Indianapolis Motor Speedway, where the race is held, is one of the most loved tracks in the country. It previously played host to the United States Grand Prix. Drag racing is also popular in the state, which hosts the NHRA US Nationals, probably the most illustrious drag race in the world.
If you're only just starting out and would like to learn more about sports wagering, we encourage you to read our sports betting guide.
Is Betting on Fantasy Sports Legal in Indiana?
It is a little complicated but the short answer is yes. All the major DFS sites including FanDuel and DraftKings accept players from Indiana and for all intents and purposes, it is legal.
While there is no law that explicitly states DFS is legal, at the end of October 2018 the Indiana Supreme Court found in favor of fantasy sports providers in a case against former college football players. The result was seen as a major boost for fantasy sports in the state.
As the legal sports betting movement grows in Indiana, expect more clarity on this issue.
How to Bet with Indiana Sportsbooks Legally
If you're a resident of Indiana or visiting the state, you can bet legally as long as you are standing within the boundaries of the Hoosier State.
As competition is stiff, sites usually offer lucrative bonuses and offers to entice customers to their site. Deposit and withdrawal options also differ between sportsbooks so be sure to take that into consideration too.
WSN has provided a complete guide to sports betting bonuses and promotions in Indiana, be sure to take a look to make sure you don't miss out on any amazing offers. These offers come in many forms such as promo codes, deposit match offers, risk-free bet promotions, and many others. The sports betting market is new across the USA and sportsbooks use promos to try to get your business.
If you're in Indiana, check out our list of legal sportsbooks and compare them against each other as they are slight variations.
The signup process to a sportsbook is made very quickly, after you've chosen your sportsbook of choice you can must fill out the registration in order to start betting.
If you're just getting into sports betting, make sure to check out our guides to betting so that you can start wagering with an edge from the get-go.
Remember that just because we are living in the age of online sports betting that doesn't mean that you can't still go and bet in person at a real-life sportsbook cage.
Visiting a live sportsbook can be really fun with large TVs with multiple sports playing constantly. It's fun to go with friends or alone and these establishments almost always offer food and drink.
Here are some of the casinos in Indiana with the sportsbook partners since online sportsbooks need to have a physical location in the state. These physical locations are often casinos or riverboats. Here are a few of the locations and their sportsbook partners.
Rising Star Casino Resort – BetAmerica Sportsbook
French Lick Resort Casino – BetRivers Sportsbook
Tropicana Evansville Casino – Caesars Sportsbook
Horseshoe Hammond Casino – Unibet Sportsbook
Horseshoe Hammond Casino – Caesars Sportsbook
Hollywood Casino Lawrenceburg – Pointsbet Sportsbook
Check below under 'Where Can I Bet on Sports in Indiana' to view more locations.
What Is the Future of Online Sports Betting in the Hoosier State?
When sports betting was first officially legalized in Indiana, the state didn't have all the necessary provisions to regulate it. That didn't slow them down though.
Not wanting to miss out on early action, Indiana lawmakers followed New Jersey's lead and put into place many temporary procedures.
For example, many of the laws and provisions have been phrased a "temporary" in order to allow for immediate legalization while more permanent laws are being fine-tuned. This may have been done in order to beat neighboring states like Illinois, Michigan, and Kentucky, to legal sports betting so that residents of those states could come and enjoy legal Indiana betting.
This does not mean that the legalization of sports betting will be temporary but rather that lawmakers have responded quickly to the desire of Indiana residents and those from border states mentioned before.
Upon legalization, the first two options available to people wanting to wager on a game was to do it:
Online through a legal sportsbook.
At a counter in the casino or racetrack's brick-and-mortar sportsbook.
A third addition will be through sports betting kiosks at land-based casinos and racetracks. This will provide the public with the opportunity to bet without having to wait in line at a counter.
That being said, the convenience of a kiosk can't compete with the convenience of mobile betting.
The ideal sports betting scenario will allow sports fans to find their seat at a venue, sit down, and bet on their team through an app.
Monitors could always be used to accommodate this, but providing the public with free access to WiFi is a cheaper and easier option.
Live betting (also known as play betting) is when you make wagers on the fly as the game plays out and includes traditional bets like money lines and spreads as well as more exciting proposition bets like who will score the next point.
Advances in live betting make this prospect even more exciting meaning bettors can use their mobile devices while watching a match up live and be engaging in live betting as the odds and moneyline are continually shifting on-screen.
What Are some Indiana Sports Betting Withdrawal Options?
As of now, there are nine sportsbooks operating in the state.
Every sportsbook has a slightly different way of doing things including different withdrawal and deposit methods. For instance, most mobile sportsbooks take paypal but it is still worth checking beforehand if that is your deposit/withdrawal method of choice.
WSN made a guide on Fastest Payout Sportsbooks so that you can find the ones with the shortest wait time so that you can get your winnings faster than ever.
In May 2018 the US Supreme Court repealed the previous ban on sports betting in the US known as PASPA.
The repeal of this ban was led by a New Jersey based lawsuit and put the decision to legalize sports betting in the hands of the individual states rather than the federal government. This repeal opened up the US to a multi-billion dollar industry that had previously been operating in the shadows with shadowy offshore sportsbooks leaching millions of dollars out of the country every year.
Every year more states are joining the growing list of places where sports betting has been legalized with the taxable revenue going to state projects like funding for schools.
Before the legalization of sports betting a poll was conducted in New Jersey to determine the attitude towards the activity with 90% of those polled in New Jersey saying they approved of legalization.
Indiana Problem Gambling Help Resources
The Indiana Gambling Commission (IGC) has launched a website to help problem gamblers in the state.
On the website, you can find various resources to help you if you are suffering from gambling addiction, including an anonymous self-assessment test.
There is also a hotline number available for immediate and confidential assistance: 1-800-9-WITH-IT (1-800-994-8448).
The Hoosier State also has a state-funded problem gambling treatment provided network. You can see a full list of treatment providers here.
Indiana Online Sports Betting FAQs
Have questions about legal sports betting in IN? We've got you covered, here are many of the most commonly asked questions for sports betting in IN.
Is Indiana Sports Betting Legal?
Yes. Sports betting has been legal in land-based casinos and their mobile partners in 2019. Indiana Gov. Eric Holcomb signed IN sports betting bill H 1015 into law thus bringing sports betting to Indiana's more than 6 million residents.
Do you pay taxes on sports betting in Indiana?
Yes. A tax rate of 9.5% of adjusted gross revenue will be levied on gambling with a portion of the revenue generated going towards helping those who develop gambling problems. The Indiana Gaming Commission located in Indianapolis is in charge of overseeing Indiana sports betting and ensuring that sportsbooks are accurately paying their revenue tax rate.
Where can I bet on sports in Indiana?
There are many sportsbooks, sports betting apps, and casinos that offer sports betting in the state.
Sportsbook in IN must operate a physical sportsbook in the state such as DraftKings Sportsbook (Ameristar Casino Resort)
FanDuel Sportsbook (Belterra Casino Resort and Blue Chip Casino)
Caesars Sportsbook (Tropicana Evansville Casino)
Rush Street Interactive (French Lick Resort Casino)
Scientific Games (Harrah's Hoosier Park, Horseshoe Hammond Casino, Horseshoe Southern Indiana Hotel & Casino, Indiana Grand Racing & Casino, Winner's Circle Clarksville, Winner's Circle Indianapolis, and Winner's Circle New Haven)
Kambi (Hollywood Casino Lawrenceburg)
USA Sports Gaming (Majestic Star Casino)
What sports can I bet on online in IN?
Indiana residents can bet on just about anything as long as minors are not involved. Sports, where participants are under 18, are not allowed in the state. This effectively means that all major leagues are available.
For a complete list of approved sports visit Indiana.gov for their comprehensive list approved by the Indiana Gaming Commission.
What sports are illegal to bet on in Indiana?
Betting on high school sports is not allowed but you can be on collegiate games as long as everyone is over 18 years old.
Is it illegal to bet using off-shore sports betting websites?
It is considered a felony to use bookmakers that are not licensed in the state.
If you are in IN and participate in gambling with a non-licensed sportsbook you face the possibility of getting a $1,000 fine or a 180-day prison sentence.
Using offshore sportsbooks may appeal to some individuals but there are more dangers than it just being illegal. You risk losing your money to an offshore sportsbook since there is no oversight of these operations. Licensed sportsbooks are regulated by state authorities and must payout winning when they lose.
What other states is sports betting legal in?
Sports betting is now legal in 14 states including:
New Jersey
New York
Indiana
New Mexico (certain tribes have opened up sports betting in NM)
Oregon (some tribes are operating sportsbooks and it is anticipated that the state lottery will offer a sports betting option in the future.)
References