The importance of supporting your home state in nationally syndicated sports is extremely overlooked.
For some states, they have a wide range of teams based on locational significance.
California for example has four teams, the most of any state in the country.
However, there is a severe lack of state representation. Specifically, twenty-nine states have no NBA representation throughout the country.
This is not necessarily a bad thing, as often regions tend to support the neighbouring teams as their own state team by proxy.
And perhaps the lack of representation boils down to public interest and proper investment, it still doesn't change the fact that there is some potential for improvement.
Here are some states and regions WSN thinks should have their own NBA teams.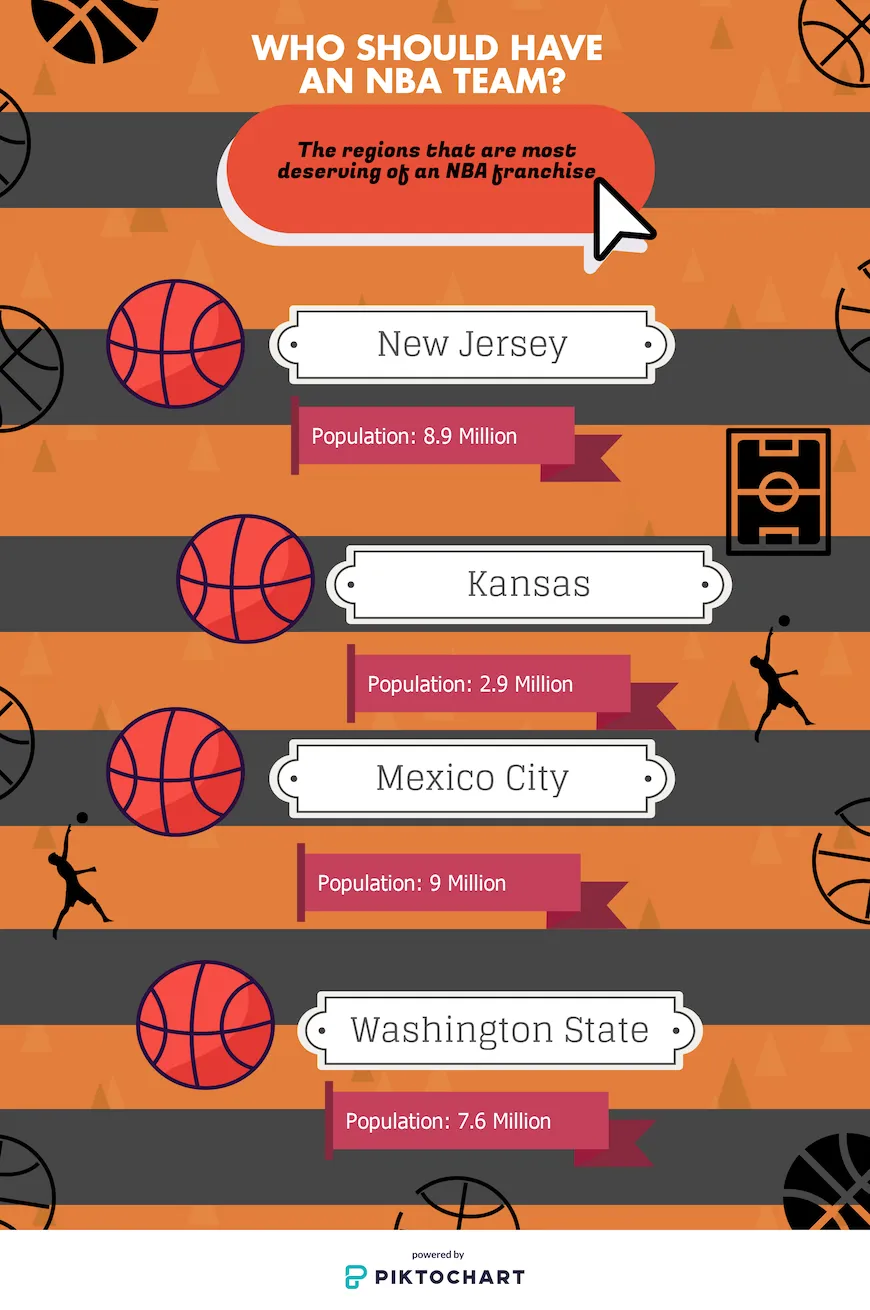 New Jersey
In 2012, the beloved New Jersey Nets moved to Brooklyn and changed the name in their move.
It can be said that from the 70s to the early 2010s, the Nets faced many trials and tribulations but ultimately they made a name for themselves playing under that moniker.
It seems only fitting that New Jersey are given another team.
New York and Pennsylvania, the two neighboring states, have potential rivalries with New Jersey and having representation in the NBA could enthuse the locals akin to their own NHL representation.
More reason to: New Jersey is also the largest state in terms of population without an NBA team.
Kansas
An NBA-ready arena? A history of a successful franchise in the past?
Kansas needs to have their own franchise. Since The Kings migrated to Sacramento, Kansas has had a lack of tenant presence with the Sprint Center.
This, coupled with the growing popularity of the NBA on a global level, means it's time for more states like Kansas to get their own team.
Mexico City
Latin representation has been sorely missed in the NBA and Mexico City presents a unique global popularity for the region.
It may be cheating to choose but consider this: 9 million people in the city alone, a massive pull for Latin representation.
It could mark a deeper unity between Mexico and the US, as well as unify and draw in Latin audiences.
The potential is massive and the obvious revenue that might be generated is all the more reason to have a team based in Mexico.
Washington State
There may not be a single team in the history of the NBA that sparks frustration among Seattle locals than when the Supersonics moved to Oklahoma City.
Since then, Washington State natives have been yearning for their beloved Supersonics to return.
For over forty years, Washington State had this team as their claim to the NBA and the team's move is still a sob story for many fans.
Much like the New Jersey Nets, it only makes sense for Seattle to get back their beloved team or at the very least, a variation of the Supersonics.
What happens next?
As each state moves to regulate sports betting, it wouldn't make sense that specific states are depriving potential fans of betting on their favourite teams.
New Jersey in particular is at the forefront of regulation and it seems like the lack of a local NBA team is sorely missed throughout the state.
Even still, state representation is an opportunity for neighboring states to challenge each other and not having any representation dwindles the possibility to settle scores.
The NBA is the best-run professional sports league in the US and it's about time that they choose to expand and extend opportunities to other states to start their own franchises.