Note: Our list of recommended operators differs depending on which state you are in.
How We Rate Betting Sites
WSN is comprised of individuals that have dedicated their professional lives to understanding the sports betting industry and everything it has to offer, whether that be legislative developments, the race to create the latest and greatest products, or how to find the most profitable odds.
All of that led to the development of our BetEDGE rating system, which is a comprehensive but streamlined approach to evaluating and ranking the major online U.S. sportsbooks. But before we tell you more about BetEDGE and how each sportsbook performed, let's discuss the factors that we considered when developing our ratings.
Visual appeal
Responsiveness
Processing Speed
Betting markets
Ease of access
Simplicity and effectiveness
User experience
Promotions and special deals
Unique features
Profitability
Plus more qualities…
Here's the million-dollar question: How can you distinguish a top betting site from another? What if one performs extremely well in most categories but lacks in others, while another candidate does the exact opposite?
The simple answer is that there is no sportsbook that is best suited for every single bettor. If there was, there would be no competition, and there would only be one or two sportsbooks that were even in business.
Instead, our BetEDGE methodology provides a general idea of what to expect from each sportsbook to give you a general idea of what each site has to offer before you actually visit it. All bettors will still want to test at least a couple of options before settling on a long-term sportsbook to ensure their needs and desires are met.
With all of that being said, let's dive into the top sportsbooks, where they are available, and how to choose which one is the best for you.
Find the Best Online Sportsbook in Your State
Sports betting has been legalized in some form in a majority of the United States plus Washington D.C. Although each state follows the same general principles with their respective sports betting markets, there are differences and different options for sports bettors in each one.
To figure out what your state's stance on sports betting is, what the laws are, and what sportsbooks are in operation, check out our state guides which can be found on the betting in the USA page. They are your ticket to getting off the starting block as a sports bettor and can even help you unlock a variety of promotions and prize opportunities.
Tips for Choosing an Online Sportsbook
We touched on this earlier, but picking the perfect sportsbook for you as an individual is not the same as googling what the best sportsbook is.
This page provides you with a list of what we believe the best options are, but that does not mean they are all perfectly suited for you. We advise you to pick a few sites and poke around to see what they have to offer before conclusively deciding on your sports betting home.
Here are a few examples of considerations that can be made. Let's pretend that you are someone who travels a lot for work and/or works long hours. Because you won't have a ton of time to place your bets and are on the go frequently, you'll want a sportsbook that loads quickly and makes it easy to locate specific odds.
On the other hand, someone who has nothing but time on their hands and prefers to watch games with their sportsbook open in the background will probably want access to the most betting markets possible, along with information such as betting insights and live stats.
Another example would be someone who bets on sports to be social. That person will presumably want a sportsbook with a social section, and one with a nice visual layout that feels like a treat to open.
Make sure you understand what type of bettor you are and what you are using your sportsbook for.
A Closer Look At Our Top-Rated Betting Sites
#1: bet365
bet365 is unequivocally one of the best options for true sports bettors. It does not have the most inviting color scheme or visual appearance, but it has everything else in spades.
On top of recurring promotions, the simple betting odds on bet365 are usually some of the most profitable among the major U.S. sportsbooks. It also has a plethora of betting markets in all sorts of leagues and sports, especially the major ones like the NFL, NBA, and MLB.
Another huge plus with bet365 is that the cash-out values, like the betting lines, are usually favorable for the customer. That leads to greater long-term profitability and doesn't make it feel as if the bettor is at the house's mercy.
bet365 isn't available in many states, but it is the second-largest sportsbook in the entire world and figures to bring that influence to America and expand quickly. Users of this sportsbook will never be starved for options and will enjoy rapid responsiveness and fat internal updates. Our BetEDGE rating system regards this as the top sports betting option in the U.S. in the states that it is available in.
Read our full review of bet365.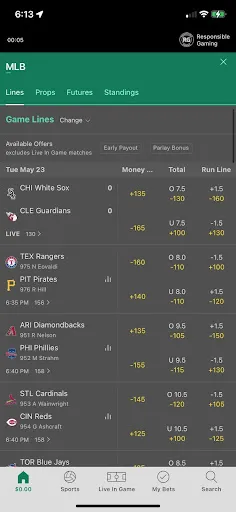 Pros:
Great betting odds and markets
Easy to navigate
Cons:
Sign-up offer:
bet365 Sportsbook User Ratings
| | | |
| --- | --- | --- |
| Review Site | Rating | No. of Reviews |
| Apple App Store | 4.7/5 | 213,700 |
| Google Play Store | 4.6/5 | 1,630 |
| Trustpilot | 1.3/5 | 3,589 |
#2: FanDuel Sportsbook
FanDuel is the leader in American sports betting. All it takes is turning on a television and tuning into a sports game to see the company branding on the outfield wall, inside the arena, in a commercial, or during a live odds read by the commentators.
What makes FanDuel so popular is how easy it is to use. Although the color scheme is somewhat basic, it has arguably the best visual appeal of any sportsbook, and every section of the betting menu is laid out in a pleasant but simple manner.
FanDuel gets a slight dock because its odds are not quite as profitable as a book like bet365, but it makes up for that with tons of betting markets, including same-game parlay-plus, top-notch promotions, and other special deals for customers.
FanDuel also has the most responsive sportsbook on the market, which is quite impressive given the size of its player base. That makes it an elite destination for mobile bettors.
FanDuel users will also find live gamecasts and visual displays that illustrate what is happening in different games. Its odds are constantly updated in accordance with what is transpiring on the field, court, or course, which makes live betting a great enjoyment as well.
Check out our complete review of FanDuel Sportsbook.
Pros:
Extremely fast processing speed and updates to odds
Sleek layout makes it easy to use
Cons:
Sign-up offer:
FanDuel Sportsbook User Ratings
| | | |
| --- | --- | --- |
| Review Site | Rating | No. of Reviews |
| Apple App Store | 4.8/5 | 1.1 million |
| Google Play Store | 4.7/5 | 209,000 |
| Trustpilot | 1.3 | 182 |
#3: BetMGM Sportsbook
BetMGM is one of the biggest sportsbooks in America. It has the infrastructure and support of the MGM Entertainment brand and created its sportsbook in that same mold of elegance and extravagance.
The white, gold, and black trim make every win feel like you've just discovered a treasure chest. And with BetMGM's expansive markets and betting odds, the opportunities to win are high.
One of the best selling points of BetMGM is its parlay builder. Once you have loaded a game or event that you are interested in, you can load the parlay menu and see all of the options available to you in a series of grids. That makes it easy to pick the betting lines you are interested in without having to scroll through each individual market and piece them together. In our testing, we found BetMGM to be one of the top parlay betting sites due to features like this.
BetMGM has a bit of input delay compared to other top sportsbooks and doesn't have visual effects to the same degree as live gamecasts and scores that are found on other sportsbooks, but it covers all of the bases nicely and never disappoints. We recommend this sportsbook to bettors of all levels of experience.
Explore our comprehensive review of BetMGM Sportsbook here.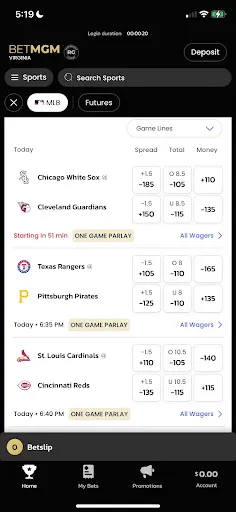 Pros:
Great visual aesthetic
Parlay builder makes it easy to splice bets together
Cons:
Sign-up offer:
BetMGM Sportsbook User Ratings
| | | |
| --- | --- | --- |
| Review Site | Rating | No. of Reviews |
| Apple App Store | 4.8/5 | 152,500 |
| Google Play Store | 3.6/5 | 19,200 |
| Trustpilot | 1.2/5 | 379 |
#4: DraftKings Sportsbook
DraftKings is the second-largest sportsbook in America, and although our BetEDGE review has it positioned as the fourth-best sportsbook option, don't let that convince you that it is anything other than an elite destination for sports bettors.
Because DraftKings has such a large support base, it is able to offer all sorts of special deals and promotions. A unique opportunity it offered for new customers was a three-part welcome bonus that included a guaranteed bonus bet, a deposit match, and $1,000 of first-bet insurance.
Returning bettors will be able to find tons of betting markets, more than most other competitors, and an especially robust futures betting section. One of DraftKings' specialties is its record-breakers market, where bettors can wager on whether players will eclipse records such as the most touchdown passes in an NFL season or the most points in an NBA game.
The sportsbook also ditches the usual white background for a black and lime green color scheme that is aligned with the internet era the world is in. DraftKings, like BetMGM, also has a slight amount of input lag, and it does not do a great job laying out the different sections for sports and events, but it is still one of the best options for U.S. sports betting.
Find out more in our in-depth DraftKings Sportsbook review.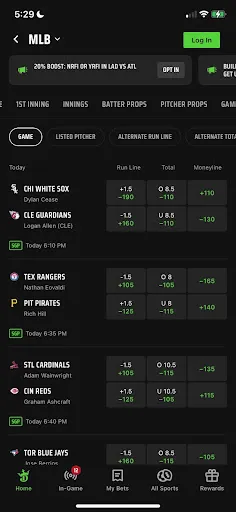 Pros:
Robust betting markets
Odds are laid out effectively
Cons:
Slight lag
Poor home-page placement of different sports/leagues
Sign-up offer:
DraftKings Sportsbook User Ratings
| | | |
| --- | --- | --- |
| Review Site | Rating | No. of Reviews |
| Apple App Store | 4.8/5 | 543,700 |
| Google Play Store | 4.6/5 | 87,900 |
| Trustpilot | 1.3/5 | 300 |
#5: Caesars Sportsbook
Caesars is the fourth of the major sportsbooks that dominate the sports betting market in the United States. It also has the background of a global entertainment brand and used that to quickly grow an elite destination for sports bettors.
Caesars has a very basic look and layout, which makes it easy to use but not as enjoyable to stay on for a long duration. Regardless, the betting markets here are also expansive, and the odds are usually very fair. At the end of the day, the goal of sports betting is to win, and Caesars makes that easy.
What we like about Caesars is that once you have selected a sport or league, the different types of bets are broken down into subheadings at the top of the page. Those include featured games, live games, the upcoming schedule, and futures bets.
Caesars doesn't have the same plethora of parlay options as a site like FanDuel, but that does not mean that it skimps out on this area. There are also frequent promotions and deals to spice up your betting endeavors.
This is becoming a common criticism, but Caesars also doesn't load as quickly as the other top competitors. It's only the slightest inconvenience, but it is part of why it is fifth on our list and not any higher.
Discover more in our detailed review of Caesars Sportsbook.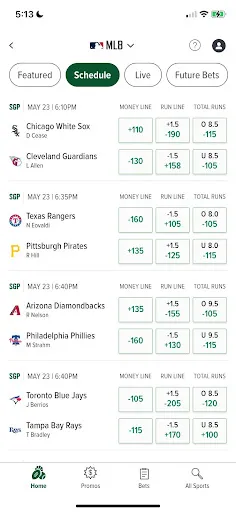 Pros:
Odds are easy to find
Simple but clean layout
Cons:
Input delay
Not as many betting markets or opportunities as top competitors
Sign-up offer:
Caesars Sportsbook User Ratings
| | | |
| --- | --- | --- |
| Review Site | Rating | No. of Reviews |
| Apple App Store | 4.6/5 | 42,400 |
| Google Play Store | 4.3/5 | 20,500 |
| Trustpilot | N/A | 0 |
#6: PointsBet
PointsBet is one of the most unique betting options currently on the market—but before we dive into more about the sportsbook, there is something very important we have to address, which is that PointsBet is selling its North American assets to focus on business in other areas of the world. The sportsbook and app are still in operation, but their future is not completely certain.
With that understanding, let's talk about the beauty that is PointsBet. Users can expect a nice and comfortable interface with betting markets that are easy to spot. On top of that, the betting markets are vast and diverse, which ensures that there is never a dull moment.
PointsBet also has methods of betting that are not found anywhere else in the sports betting industry. An example of this is their points betting model, which turns game units into financial units.
Think of it this way: if the Philadelphia Eagles are favored to beat the Minnesota Vikings by four points and they win by seven points, that's a three-point differential. A bettor that picked a spread bet will have their wins or losses multiplied by three to match that differential. So, an Eagles bettor that risked $50 would win $200 ($150 profit).
Even if you prefer to stick to more traditional and mainstream betting, PointsBet will be a safe landing space for you. It covers leagues and sports all over the globe and has a rapid response time. Odds aren't updated as quickly as other sportsbooks, but the updates are still regular.
Take a look at our full PointsBet review right here.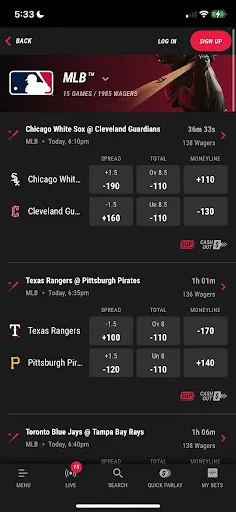 Pros:
Betting markets
Unique opportunities
Cons:
Sign-up offer:
PointsBet User Ratings
| | | |
| --- | --- | --- |
| Review Site | Rating | No. of Reviews |
| Apple App Store | 4.8/5 | 39,600 |
| Google Play Store | 4.4/5 | 10,900 |
| Trustpilot | 3.8/5 | 2,762 |
#7: Betway
Betway does not have the same name-brand recognition as other competitors on this list, but that does not mean that it is not a serviceable solution for sports bettors. Allow us to explain.
We were fond of the daily opportunities that exist for Betway bettors. Those opportunities don't necessarily come in the plethora of prop markets that are available on other large-scale sites, but in the way of boosts. For example, Betway previously ran a rivalry boost, where users could win more money if bitter rivals, the Boston Red Sox and New York Yankees, both won their games that day.
While that is the case, it is also the case that Betway does not have an overflowing betting sheet in relation to promotions or markets within games. But for the games that it does have, betting is a treat. Betway utilizes a live scoreboard and game cast to show users all of the pertinent information such as stats, weather, the last event, the time, and much more.
Betway also has an easy-to-use interface that is great for novice and intermediate bettors. The deeply experienced crowd may not find this to be the most optimal betting platform, but it is a great catch-all for everyone outside of the top 1%.
If you want to learn more, our detailed Betway review contains everything you need to know.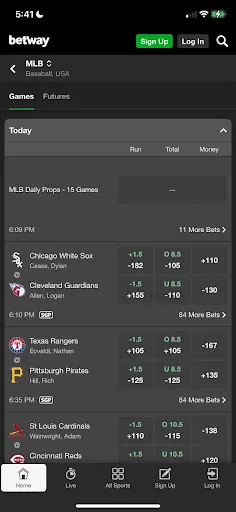 Pros:
Nice layout
Gamecast and live view
Cons:
Sign-up offer:
Betway User Ratings
| | | |
| --- | --- | --- |
| Review Site | Rating | No. of Reviews |
| Apple App Store | 4.3/5 | 10,600 |
| Google Play Store | 4.7/5 | 47,000 |
| Trustpilot | 1.4/5 | 14,751 |
#8: BetRivers
BetRivers has all of the requisite components that go into fielding a sports betting platform. However, we found that its general proficiency stood in place of excellence in certain areas. Let's dive into that.
BetRivers has a layout and appeal that are, well, not as amazing as its competitors'. There is also input lag that delays the betting process more than a sportsbook like FanDuel.
That being said, it is extremely easy to locate sports and leagues, the games within them, and the markets that are available. In that sense, the actual betting process is fairly streamlined and easy to hold onto.
BetRivers also gets its biggest nod of approval in its live-game stats and analysis for every available game. Bettors can use this to see, for example, in a baseball game, each team's batting average, slugging percentage, ERA, runs scored, strikeouts, and much more. Bar charts illustrate each team's performance in each category and are color-coded to show which has the advantage.
BetRivers also has live betting and micro-betting but lacks prop betting markets. Generally, it lends itself to live bettors the most but is still suitable for nearly all bettors. If live betting is your thing, take a look at our recommendations for the best in-play betting sites.
You can find out more in our full BetRivers review.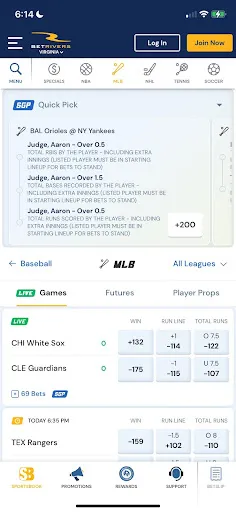 Pros:
Live betting proficiency
Live display, stat-tracking, and game score
Cons:
Input delay
Lacks diverse betting markets
Sign-up offer:
BetRivers User Ratings
| | | |
| --- | --- | --- |
| Review Site | Rating | No. of Reviews |
| Apple App Store | 4.4/5 | 1,400 |
| Google Play Store | 3.3/5 | 653 |
| Trustpilot | 1.7/5 | 58 |
#9: Unibet
Unibet, to be completely honest, is not a "looker." The base layout is not as polished as what you find at many rival sportsbooks.
Getting into the sportsbook itself also takes time as bettors must first click "sports" once the app is launched. The loading process can also take a bit of time, even once the sportsbook is already open.
Moving around the sportsbook is mostly simple and straight-forward. It is easy to find different sports and leagues, but moving from game to game or just market to market can be difficult because of the hidden back button and input delay.
Unibet is similar to BetRivers in that it has a live display and will even show you what is going on in your game of interest. Sticking with the baseball example, Unibet will show you if the last pitch was a ball or a strike, where the base runners are, and what the score is.
So, what's the bottom line here? It's that Unibet most certainly works as a sports betting outlet, but it is not the best option both because of its looks and its functionality.
Read more of our thoughts in our Unibet review.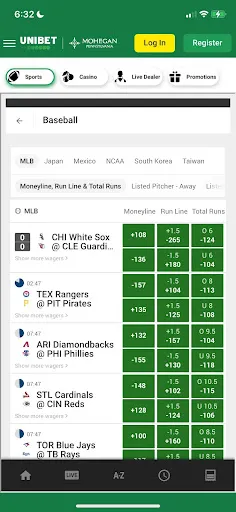 Pros:
Cons:
Clunky, unappealing layout
Slow navigation time
Sign-up offer:
Unibet User Ratings
| | | |
| --- | --- | --- |
| Review Site | Rating | No. of Reviews |
| Apple App Store | 2.5/5 | 183 |
| Google Play Store | 4.2/5 | 3,910 |
| Trustpilot | 1.5 | 1,250 |
#10: WynnBET
Let us reassure you that every sportsbook on this list is a more than capable outlet for sports betting. However, of the books we reviewed, WynnBET was one of the less impressive ones.
Right off the bat, the color scheme and layout are plain and lack the flair and polish you find at most modern online sportsbooks. The pages also do not load with great speed, and there aren't engaging visual features to pass the time.
Most of the betting markets you would expect can be found here, although some more specialized markets that the bigger online sportsbooks have are missing. Markets such as futures can also be a little tough to track down.
WynnBET does have a live game view and will highlight changing odds with green and red text, which makes it easy to follow along.
All in all, WynnBET might not be the most sophisticated sports betting option but it has plenty going for it. It's more than enough to get a betting career started but shouldn't be viewed as the premier destination in sports betting.
We shared more thoughts in our full WynnBet review.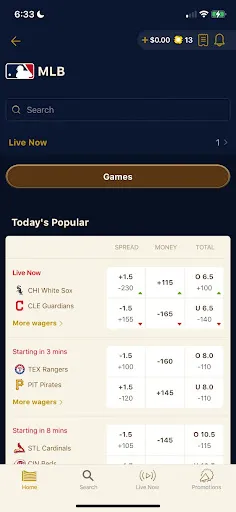 Pros:
Cons:
Lack of betting markets
Outdated look
Sign-up offer:
Wynnbet User Ratings
| | | |
| --- | --- | --- |
| Review Site | Rating | No. of Reviews |
| Apple App Store | 4.5/5 | 2,900 |
| Google Play Store | 4.4/5 | 1,340 |
| Trustpilot | 2.3/5 | 7 |
#11: SI Sportsbook
SI Sportsbook is part of the famous Sports Illustrated brand that is known for providing the latest and greatest sports magazines, collectors' cards, and much more.
This sportsbook is also only available in a few states—three to be exact. One of its best features is the BetFeed, which shows the most popular betting markets for the day so bettors can see where the money is going. This could be in a particular game, sport, or bet.
SI Sportsbook also has a nice layout and visual appeal and offers live betting services. Unfortunately, it does not have a live chat option or phone support, which is why it is docked a few points.
SI Sportsbook also doesn't offer the fastest payouts, although it has daily odds boosts to spice things up. This sportsbook has tons of potential to grow but is already a nice choice for bettors.
Check out our complete SI Sportsbook review for more information.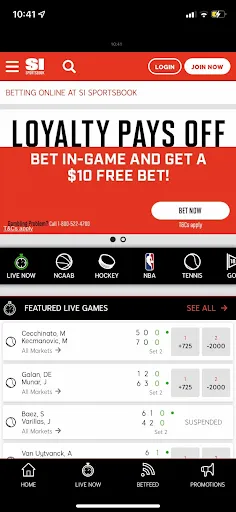 Pros:
Intriguing betting features
BetFeed
Cons:
Slow payouts
Lack of customer support
Sign-up offer:
SI Sportsbook User Ratings
| | | |
| --- | --- | --- |
| Review Site | Rating | No. of Reviews |
| Apple App Store | 4.0/5 | 1,300 |
| Google Play Store | 4.3/5 | 570 |
| Trustpilot | N/A | 0 |
#12: Tipico
Tipico sportsbook has a strong European presence and is attempting to grow its customer base in the U.S. It is available in Iowa, Colorado, Ohio, and New Jersey, and is eyeing expansion.
Users will notice that the Tipico mobile app is well-built and runs smoothly—partly why it is so successful in Europe. It also covers a wide range of sports and has betting markets to match each.
Unfortunately, Tipico did not put much emphasis on the visual appeal of the sportsbook, but it still has a clean feel. Live betting is also a plus here.
There aren't a ton of banking methods, but users who can get around that minor roadblock won't find any issues with the deposit and withdrawal systems.
There isn't a ton to talk about otherwise. Tipico is a basic but well-built sportsbook with room to grow. Discover more in our Tipico sportsbook review.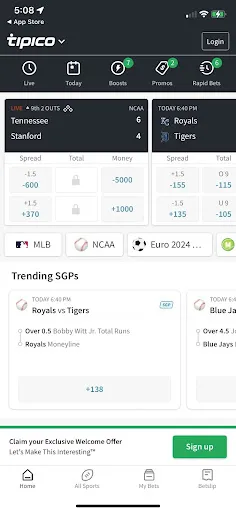 Pros:
Clean layout
Good coverage of events, especially in Europe
Cons:
Sign-up offer:
Tipico User Ratings
| | | |
| --- | --- | --- |
| Review Site | Rating | No. of Reviews |
| Apple App Store | 4.6/5 | 5,800 |
| Google Play Store | 4.5/5 | 1,830 |
| Trustpilot | 1.3/5 | 854 |
#13: PlaySugarHouse
BetRivers is the sister brand of SugarHouse, but the actual SugarHouse brand is only available in two states: Pennsylvania and Connecticut. It switched to BetRivers in New Jersey.
There are pros and cons that come with betting at PlaySugarHouse. Some of the pros are live streaming services, which the platform offers for a variety of events. There are also frequent odds boosts to make betting not only more enjoyable, but also profitable.
On the downside, the sportsbook is not the most well-developed platform in the world. It looks and feels like the company put more effort into designing the casino platform (which makes sense) and app crashes are not uncommon.
One of the things we loved about PlaySugarHouse was the "starting soon" section that makes it easy to identify games that will soon begin. The betting markets for major events are expansive and comparable to top-of-the-line brands.
All things considered, SugarHouse is a nice place to bet, though it is only available in two states. Read our detailed review of PlaySugarHouse for a full breakdown of the sportsbook.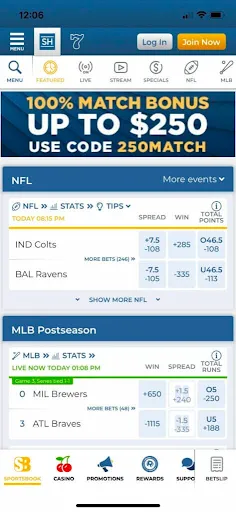 Pros:
Odds boosts and special deals
Great "starting soon" section to find upcoming events to bet on
Cons:
Limited availability
App crashes
Sign-up offer:
PlaySugarHouse User Ratings
| | | |
| --- | --- | --- |
| Review Site | Rating | No. of Reviews |
| Apple App Store | 3.9/5 | 81 |
| Google Play Store | 3.2/5 | 84 |
| Trustpilot | N/A | 0 |
#14: Borgata
Borgata sportsbook is also restricted to users in one state, this time New Jersey. It is the sister company of BetMGM, which we already established as one of the best-performing sportsbooks.
The sportsbook might have a small jurisdiction, but it has a vast array of games and leagues to bet on. The betting opportunities within each are also abundant and give bettors plenty of opportunities.
Borgata also has live streaming services for different events to make it even better. The downside is that Borgata's betting lines do not stand out in uniqueness or profitability, which means that it falls behind other sportsbooks. It also does not have a ton of engaging promotions.
Still, the layout is simple and easy to follow. Users could do worse than Borgata but may prefer one with more distinguishable features once they get their feet wet. Check out our complete Borgata Sportsbook review here.
Pros:
Live betting and live streaming features
Good coverage of sports
Cons:
Sign-up offer:
Borgata User Ratings
| | | |
| --- | --- | --- |
| Review Site | Rating | No. of Reviews |
| Apple App Store | 4.7/5 | 2,200 |
| Google Play Store | 3.9/5 | 88 |
| Trustpilot | 3.1 | 4 |
What Is the Most Popular Betting Site in the US?
Sports betting in the United States is dominated by four top brands: FanDuel, DraftKings, BetMGM, and Caesars. The first three of that list comprise 83% of the nation's gross gaming revenue over the trailing 12 months through April 2023, per a June 2023 Eilers & Krejcik Gaming report.
In order, FanDuel is the most popular of those, followed by DraftKings, and then BetMGM, and ultimately Caesars. Other online sports betting sites such as PointsBet, WynnBET, bet365, others already mentioned in our review and plenty more represent a much smaller share of the market.
Just because sportsbooks are not among the most popular does not mean that they are not suitable for betting on individual sports or on a broader basis—however, it does reflect general market sentiment and momentum.
Best Betting Site By Sport
NFL
The NFL is the most popular professional sports league in America, so it's only fitting that FanDuel, the most popular sportsbook in America, is the leading source for NFL betting. The same-game parlay plus deals combined with the rapid odds updates and recurring promotions make FanDuel a must during football season.
See our detailed review of the best NFL betting sites for a comprehensive breakdown of the top online sportsbooks for betting on football.
NBA
DraftKings has a track record of offering profitable betting odds during the NBA season, especially when it comes to futures. It also has tons of deals on everything from first-basket scorer plus to parlay insurance to keep bettors on the edge of their seats.
Explore our comprehensive guide on the best NBA betting sites for 2023.
College Football
College football is one of the most frantic times in America for sports fans. The tension is so thick that you can basically feel it with every passing game. For college football betting, check out BetMGM, which often has great deals.
College Basketball
Nothing says college basketball (and March Madness) betting like a little bit of bet365 action. Because bet365 is so generous with its cash-out values and because college games can change at a moment's notice, sharp bettors will be able to take advantage of the platform during college basketball.
MLB
MLB betting is great on a number of sportsbooks, but especially ones such as Unibet and BetRivers which have live game displays, stats, and other pertinent information. Both are also great for live betting baseball because of the same factors.
Discover the best sportsbooks for MLB betting in our detailed guide.
NHL
NHL betting is often reserved (not literally, but metaphorically) to a diehard crowd of fans. Opportunities like those on PointsBet can be exciting here because of their unique markets that spice up the thick atmosphere of hockey.
UFC
Plenty of sportsbooks are great for UFC. One of the major sites that we are yet to mention is Caesars, which does a great job covering everything inside the Octagon and often offers fair prices in major and minor markets.
Soccer
The best soccer betting sites can vary depending on the region. European books like bet365, Tipico, and others may be more well-suited for games on the continent, whereas a typical American provider may be better for MLS games, or even the World Cup.
Golf
Golf betting is great on a sportsbook like FanDuel because of the diversity of betting markets that are available, including ones that are often not found on other books.
Looking for the best golf betting sites? Check out our top picks for 2023.
Best Online Sportsbook for Bonuses
Almost every sportsbook is going to offer different bonuses and promotions, especially during the sign-up process. The more dominant sportsbooks, meaning the more popular ones, often have the luxury of offering better deals for customers, though those may be manifested in different forms.
Certain sportsbooks offer "bet x to win x" deals, while others will have first-bet insurance, deposit matches, and other deals for new customers. Recurring deals once an account has been created are more expansive, and sportsbooks often reward customers with promos just for being legacy customers.
To find out what deals are active on various sportsbooks, check out our page for the best sportsbooks promo and bonuses. Make sure that the proper steps have been followed to activate the deals once you have found the ones you like (you may consult the sportsbook's terms and conditions for additional information). We have also compiled a comprehensive list of the best "risk-free" bet offers, which are now more commonly referred to as "second-chance" bets.
Best Sportsbook for Mobile Betting
The legal sports betting market is dominated by online sports betting, and in many instances, mobile betting. As a result, sportsbooks place heavy emphasis on rolling out a top-level mobile betting platform for their customers.
While there is a wide array of suitable mobile platforms, sportsbooks such as FanDuel and DraftKings have found the most success. The WSN team dove into the mobile betting experience on a variety of sportsbooks in our best betting apps guide, which we also encourage you to check out if you fit the description of a mobile bettor.
Best Sportsbook for Odds
Sports betting is not only about finding the winning teams, but finding the sportsbooks that are going to offer the most favorable payouts and odds. Doing so will allow you to take home more money, which will help lessen the impact of your losses when you take them.
Sportsbooks such as bet365 and BetMGM, as noted as part of our BetEdge review process, are examples of betting sites that consistently produce profitable odds for customers. The practice of line shopping will always lead to users finding the best odds, so be sure to check out our sportsbook review pages to get a better idea of which sites perform well historically.
Best Sportsbook for Fast Payouts
Each sportsbook has a different turnaround for withdrawals. FanDuel and DraftKings, for example, offer instant payouts, whereas smaller sportsbooks do not. That should be a consideration taken during the initial process of choosing a sportsbook.
We could go into more detail here, but we have already created a guide for withdrawal speeds at the top sportsbooks in the industry. Consult that page if you want to know what to expect from your betting site of choice.
Safest Online Sportsbook
The safest way to ensure yourself as a legal sports bettor is to avoid using offshore sportsbooks. Those sites are not protected and could result in you losing your money with nowhere to turn to. Offshore sportsbooks are also thought to exist in a gray area of law but are not permitted unless they have been granted an operator's license.
You can gather more information about the safeguards that are in place at every betting site by consulting their information pages or speaking to their customer support staff. Many sportsbooks have live chat options to help accelerate that process.
Here at WSN, we only recommend legal sports betting sites that have the appropriate licenses to operate in each state they are present in. Security is one of the seven pillars of our BetEdge rating system and all online gambling operators must meet our high player safety standards in order to be featured on WSN.
That's to say, all of the sportsbooks listed on this page are on-par when it comes to safe online betting.
Best Horse Racing Betting Sites
Horse race betting is one of the more popular (and historic) forms of sports betting.
Picture this: You're at the Kentucky Derby (or taking it in from the comfort of your own home) and have a sudden inclination that this is the year of the underdog. All you have to do is fire up your sportsbook and look for the market frequently titled the "win" bet. This is essentially a moneyline bet, where the user picks which horse they think will win the race, regardless of anything else that happens.
Bettors can also try their hand at picking the exact finish of one or multiple horses in the race. This doesn't have to be first, or even on the podium, as long as there are betting odds available.
A "show" bet is basically a wager for a horse to finish on the podium. That means they finish first, second, or third place in the field.
An "exacta" bet tests the mettle of even the most experienced horse race bettors. It is like a parlay for the top two finishers, who must be named and listed in the correct order of finish. If this bet cashes, the payouts are usually fairly large.
There are plenty of other horse race bets and formats for users to explore and try their hand at. One of the best places for horse race betting is TwinSpires, which has a $200 sign-up offer for anyone that uses a TwinSpires promo code.
Best Daily Fantasy Sports Sites
Anyone who has played fantasy football, fantasy basketball, or any fantasy sport will know that doing so requires months of investment and attention. The most die-hard competitors will wake up in the dark hours of the morning just to have access to the waiver wire before their fellow league-mates can.
Imagine if you could become the general manager of a team for just a day—well, that's exactly what Daily Fantasy Sports entails, just like the name suggests. DFS is an opportunity for bettors to navigate the pressure of inflated prices and fill out their rosters and then compete against other users to accumulate points.
Users can cut all ties to their team as quickly as they want and can only enter a DFS contest once if they so choose. The alternative is that they can redraft their teams frequently and continually compete against the sportsbooks, adjusting rosters daily or weekly to account for opponents, circumstances, new developments, and much more.
DFS is especially popular during the football season, which is in line with football being the most popular sport for sports bettors. Market leaders FanDuel and DraftKings are top-tier sources for DFS players, while OwnersBox is a lesser-known but also a great source for fantasy players.
New OwnersBox users that sign up with an OwnersBox promo code will receive a $500 deposit match.
Sportsbooks to Avoid
As we just mentioned, offshore sportsbooks are examples of betting sites that are not permitted in the United States. A few examples of sites that have caused issues for customers (and been known as scam artists) are BetOnSports, FreeSportsbook.us, TopBet.eu, WSEX sportsbook, and more.
There are many ways to protect yourself against bad and fraudulent sports betting operators. First, don't bet on offshore books. Second, check your state (or consult our state pages) to see which sportsbooks are licensed to operate there. All licensed sportsbooks are required to comply with laws and regulations and can be punished if they illegally harm customers.
Third, conduct proper research before choosing to bet on a particular site. Read sportsbook review pages and customer reviews to get a gauge of the site's legitimacy.
Legal vs Offshore Betting Sites
We've broached the idea of offshore betting, but let's fully dive into the topic.
First, legal sports betting involves transactions between customers and licensed sports betting operators in states with legal sports betting markets. Companies can be legal in the U.S., but if they are not licensed in the state you reside in (or are visiting), then you cannot place a bet through their platform legally.
Bettors also must be in states that have legalized sports betting to place bets legally, again, regardless of if the company is licensed elsewhere in the United States.
Offshore sportsbooks have managed to cause mass public confusion. They exist in an area of federal law that makes it so that although individual offshore bettors are not punished, they are still committing an illegal act. There are also no consumer protections, and every bet submitted with an offshore book is a crime.
If the U.S. government blocks an offshore sportsbook, a bettor will lose all of the money they have in the account. Bettors also have nobody to turn to if they are scammed or hacked since the sportsbook is not regulated.
This is why we only feature legal sportsbooks on WSN, so you can ensure you are betting with a trusted operator when you follow our recommendations and links.
Which States Offer Legal Online Sports Betting?
Sports betting was legalized federally via the PAPSA decision in 2018. Since then, states have had the opportunity to legalize and establish local markets through their own legislative processes.
At the time of writing, 38 states plus Washington D.C. have legalized their markets. Many of those that have not are in the process of undergoing legislative debates, some already more successful than others, with the ultimate goal of joining the majority of states that have.
Nearly the entire East Coast has legalized sports betting as of September 2023. Starting from the northeast corner of Maine, states as far south as South Carolina and as far west as Minnesota have adopted legislation.
Despite the overwhelming national support, heavy hitters such as California, Texas, and Florida are yet to establish legal betting markets. Only New York of the majorly populated states has a market, and unsurprisingly, it is the most productive in the country.
Updates in the legal space related to sports betting are constantly happening. We provide news coverage on these events to keep you as in tune with the national and local market trends as possible.
To find the best sportsbooks in your state, check out our state guides:
Best Online Sportsbooks in Canada
The sports betting landscape in Canada is not all that different to the United States.
Just like what happened in America, the national government made a ruling that allowed provinces to legalize sports betting within their jurisdictions. Those areas all then had to go through processes similar to what the states did for local sports betting markets to pop up.
Betting in Canada used to be restricted to parlays, but that regulation is no longer in effect. There are a variety of sportsbooks available to Canadians and passers-by of the country, including FanDuel, BetMGM, bet365, Caesars, BetRivers, and many others.
But with the similarities also come differences, which is why we have created a guide to sports betting in Canada. All of the information you need to get your betting career off the ground can be found there.
Ontario Betting Sites
Ontario is one of the Canadian provinces where sports betting is legal. We have a full betting guide that reviews the best betting sites in Ontario that will help users track down the best places to bet online.
Gamble Responsibly
Always gamble responsibly whenever deciding to indulge in sports betting. Remember that betting is for entertainment purposes and not a viable or sustainable form of long-term income and should not be treated as such.
Also, remind yourself to take breaks and rejoin reality whenever you notice that you have had your sportsbook open for an extended period of time. Set deposit limits to control how much you are taking out of your account to gamble, and contact any of the following resources if you have questions or would like to speak to someone about how to counteract the negative effects of gambling.
1. The National Council on Problem Gambling (NCPG)
Call: 1-800-522-4700 (24-hour confidential national helpline)
Text: 1-800-522-4700 (24-hour confidential national text service)
4. Gam-Anon