The BetMGM welcome bonus guarantees that all new users will be able get a first bet offer up to $1000 paid back in bonus bets.
Risk-free bets are promises that any missed bets—first bets, in this case—will be protected against in full up to a certain amount. Every bet is insured by free bets, which are tokens of native currency that can be used to place bets and win cash prizes.
So, here's how it all works: a user signs up using the BetMGM bonus code and places their first bet of up to $1,000. If that bet misses, they will recoup free bets worth 100% of the amount they risked. Customers can place bets larger than $1,000 but will not receive protection beyond the $1,000 maximum.
Customers who qualify for the free bet prize will be able to redeem them anywhere on the BetMGM sportsbook menu.
Key Terms and Conditions
After signing up with the BetMGM bonus code, customers must deposit at least $10 into their account and bet at least $10 to activate the deal.
Any free bets unlocked through the promotion will be accredited within 24 hours (in most cases) and must be used within seven days, or else they will expire. Customers who qualify for at least $50 in free bets will receive them in five equally-weighted increments, while those who qualify for $49 or less will receive a single free bet.
Free bets cannot be used to activate other ongoing promotions. Customers who claim the welcome bonus will also not be able to redeem future welcome bonuses.
Interested players must be at least 21 years old and in any state where the BetMGM welcome bonus is active.
How to Use the BetMGM Sportsbook Bonus Code
Registering with BetMGM sportsbook is simple—just visit the website and then click "Register" at the top right of the screen.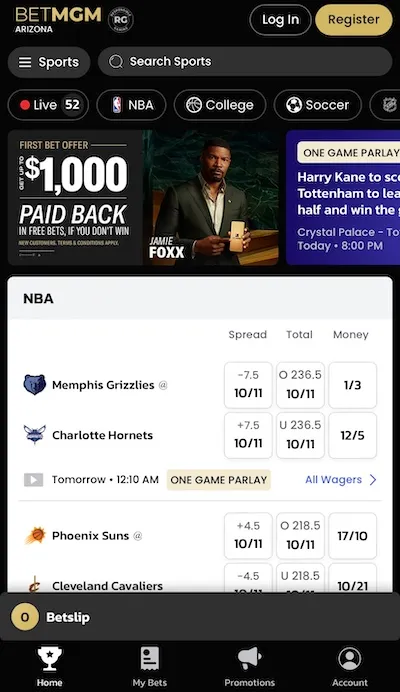 You should be directed to a new page—there, you will find your state and then enter your information into the boxes.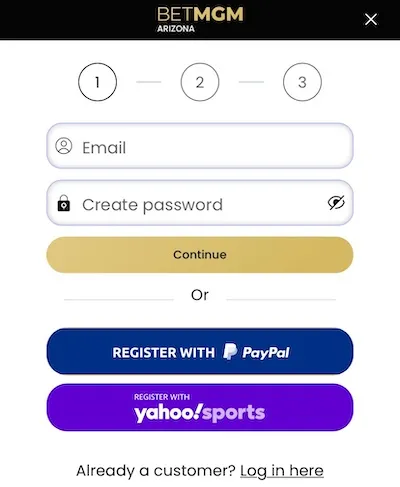 Once you finish submitting your personal details, review all of your entries and finalize your account. You will then be asked to make your first-time deposit which, to trigger the welcome bonus, must be at least $10.
Do all of the above and you will not only have a brand-new account, but you will also be ready to win up to $1,000 in prizes.
BetMGM has a variety of ongoing promotions separate from the welcome bonus that returning customers can redeem. Offers are constantly changing and some last longer than others, and you can see what is available by checking out the "promotions" section of the sportsbook.
Here are the deals that are active right now.
First Touchdown-Scorer Insurance
One of the many NFL betting markets is the first touchdown-scorer. With this deal, users can win recoup up to $25 in free bets if they miss a first touchdown-scorer wager on any Monday or Thursday Night Football matchup.
NFL One-Game Parlay Insurance
Throughout the 2022 NFL season, BetMGM players will be able to receive up to $25 in free bets if parlays of four or more legs miss by just one leg.
First Basket-Scorer Insurance
Similar to the first touchdown-scorer, BetMGM will grant up to $25 in free bets to users who miss their first basket-scorer bets throughout the 2022-23 NBA season.
NHL One-Game Parlay Insurance
Hockey bettors, fear not, BetMGM will also protect you against missed parlays by promising up to $25 in free bets for parlays of four-plus legs that miss by one leg.
EPL One-Game Parlay Insurance
Sensing a trend? BetMGM is extending its parlay insurance to English Premier League (EPL) bettors, allowing them to receive up to $25 in free bets for four-or-more-leg parlays that are off by one leg.
Refer-a-friend
BetMGM is always looking to reward its customers, which is why both you and a friend can earn $50 in free bets by signing up with a referral code. Customers can refer up to 20 friends, meaning they can earn an extra $1,000 of free bets just by helping someone create an account.
Cash Out
At the best of times or the worst of times, BetMGM will let users cash out from their bets. This can be used to recoup small margins in imminent losses, back out of a deal the user is unsure about, or guarantee a profit if the cash out value is greater than the stake but the bettor is unwilling to ride it out until the final whistle.
Edit My Bet
Customers will be able to increase their stake and swap out or remove bets and parlay legs with the "Edit My Bet" feature. This means that customers never lose full control of their bets and money.
Where is BetMGM Sportsbook Legal?
BetMGM is legal in 19 states plus Washington D.C. Customers in these states can find betting odds for professional and amateur sports, with some restrictions depending on state laws.
Customers in certain states will be treated to a welcome bonus offer, which is a reward for registering with BetMGM. These rewards can vary depending on the time of the year and the state that the user is in—details can always be found in BetMGM's terms and conditions.
Here, we have listed every state, as well as the welcome offers that are currently available there.
| | | |
| --- | --- | --- |
| State | Bonus Offer | Launch Date |
| | $1000 First Bet Offer | September 2021 |
| | $1000 First Bet Offer | May 2020 |
| | $1000 First Bet Offer | June 2021 |
| | $1000 First Bet Offer | March 2022 |
| | $1000 First Bet Offer | February 2020 |
| | $1000 First Bet Offer | January 2021 |
| | $1000 First Bet Offer | September 2022 |
| | $1000 First Bet Offer | January 2022 |
| | $1000 First Bet Offer | November 2022 |
| | $1000 First Bet Offer | January 2021 |
| | $1000 First Bet Offer | September 2021 |
| | $1000 First Bet Offer | March 2020 |
| | $1000 First Bet Offer | June 2018 |
| | No offer | January 2022 |
| | $1000 First Bet Offer | January 2023 |
| | $1000 First Bet Offer | December 2020 |
| | $1000 First Bet Offer | November 2020 |
| | $1000 First Bet Offer | January 2021 |
| | $1000 First Bet Offer | January 2020 |
| | $1000 First Bet Offer | September 2021 |
BetMGM Sportsbook Upcoming States
BetMGM is due to go live in Massachusetts once the state gets its sports betting market to operational status (it is targeting a launch in March 2023). The company has already received initial approval through its alliance with MGM Springfield Casino, which has also been approved.
The Massachusetts market adds to a growing Northeastern sector, with Vermont lawmakers also pondering the idea of adding sports betting market. Nearby New York and New Jersey are already dominating revenue totals and have laid the groundwork for Massachusetts to hit the ground running.
Oher key states could also be on the horizon, depending on how legal situations unfold. Florida representatives are currently taking the federal government to task in federal court as they seek a resolution to their sports betting dilemma, which saw Washington shut down an agreement between Florida Governor Ron DeSantis and the Seminole tribe that gave them full control of the market.
Texas is another state that could be looking to approve legislation despite vehemently opposing all related measures in the past. Former Governor and Texas politician Rick Perry has declared his support for the movement by joining a pro-gambling group despite previously penning a letter warning of the effects of widespread online gambling.
California looked like it was on track to legalize sports betting, but after resounding failures from Proposition 26 and Proposition 27 at the polls, they are back to square one. Several top operators combined to put hundreds of millions of dollars into sports betting campaigns, and that could be part of the plan moving forward once again.