A Closer Look at the Best Sports Betting Apps in 2023
Just about every top sportsbook out there these days has developed a betting app, or at the very least optimized their site for mobile betting.
This is great news for us, since it means we have our pick of the very best operators in the US and from around the world.
No two sports betting apps are exactly the same, and there is no simple answer when it comes to choosing which one to use.
One app may have a deeper betting market than another, but fewer banking options. Certain types of welcome bonuses are more valuable to some players than others, depending on what your betting habits are like. Some players like simplicity in their apps, others love modern graphics and technology.
This section is all about making the selection process as easy as possible.
We've got our experts to put together a list of the very best real money mobile sports betting apps available to players in the US. Every single app on our list has got something that made it stand out to our experts, and any one of them would be a solid choice.
Remember that the availability of all of these apps also varies depending on the state.
Settle in and check out our top picks.
1. Caesars Sportsbook
Caesars Sportsbook sports betting app has its identity firmly tied into a traditional New Jersey casino. Caesars Casino originally opened in Atlantic City back in 1979, and is one of the most recognizable brands in US online gambling.
The Caesars sports betting app is in truth evenly split between the mobile sportsbook and the mobile casino. For players who are interested in both, it's an excellent platform. You can easily flip from the casino to the sportsbook at the touch of a button. If you have no interest in casino games however, you might prefer not to see them on the app at all.
The Caesars Sportsbook app is user friendly. The customer support – which includes a live chat option inset on the screen at all times – is top notch. In-play betting works really well on the app, and the range of markets is impressive. Placing bets is also very easy. This app is great both for beginners, and for players who love both sports betting and casino gaming.
Get up to $1,250 on Caesar when signing up. Click here to claim.
User Ratings:
iOS: 4.6/5
Android: 4.4/5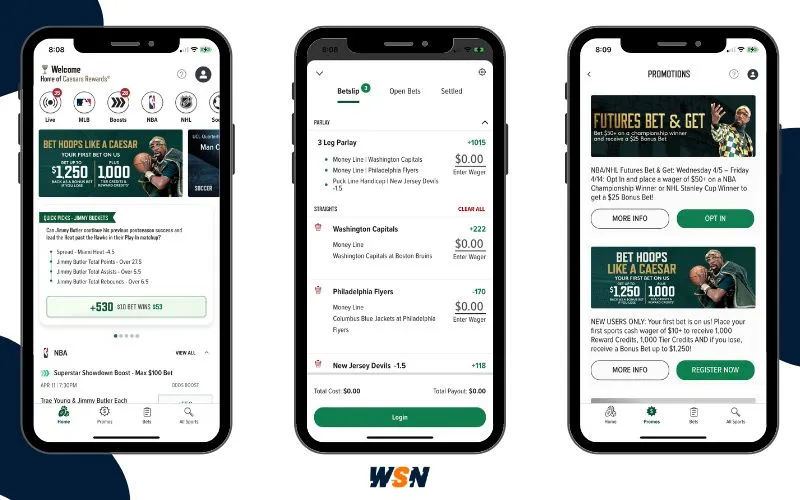 2. FanDuel Sportsbook
The yin to DraftKings' yang, FanDuel capitalized on already having a nationwide reputation and customer base through Daily Fantasy Sports to quickly become one of the top sportsbooks in the country, once online sports betting began to arrive in the US.
If many players choose to try FanDuel Sportsbook because they already have DFS accounts, they will stay because of the sheer quality of the sportsbook and mobile app.
FanDuel just has no weaknesses. The range of sports and betting markets is second to none, and the app is so well designed that it never feels like a chore to browse through them. The app is also full of extra features that make the betting process more fun and interactive. There are form guides for all major sports, which give you background information before you decide how to bet.
Some sportsbooks have a habit of neglecting promotions for existing players, instead focusing on welcome bonuses. This is not the case at FanDuel, who really put the time and effort into creating interesting on-running promotions – which can be claimed on the app. It's a great choice. Check out our full FanDuel Sportsbook review here.
Bet $5, get $150 in bonus bets when you sign up to FanDuel Sportsbook. Claim the offer here.
User Ratings:
iOS: 4.8/5
Android: 4.7/5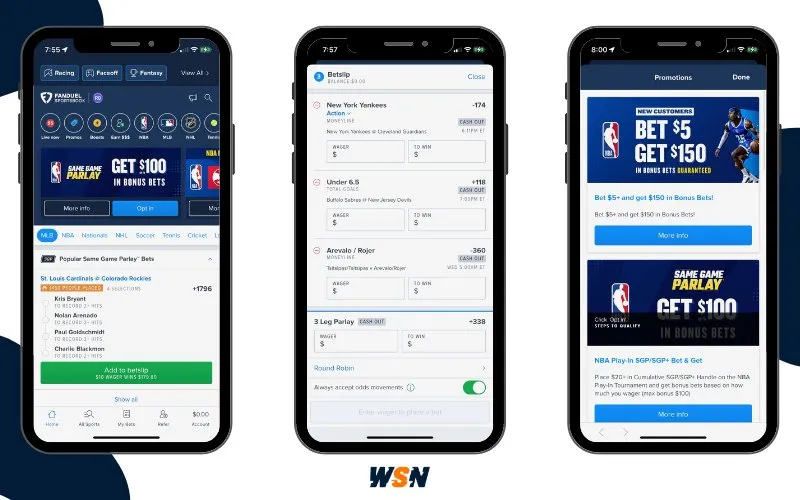 3. BetMGM Sportsbook
BetMGM had plenty of experience in the sports betting market to draw on when its betting app was launched around the US in late 2018 – the company has had a similar platform available in Nevada for a few years previously.
BetMGM's sportsbook app, just like the desktop site, typically has a huge variety of sports available to bet on.
In fact, during our full review of BetMGM, our experts unanimously decided that they preferred BetMGM's app to the desktop site. While the website feels a little old and clunky, the app is much smoother and more modern. It's available for both iOS and Android in a number of states.
BetMGM's sportsbook app is powered by GVC as part of a partnership with the European mobile sports betting giant. You may not recognize the name, but you certainly know some of the sites it owns, including Coral and Ladbrokes – both huge in the UK.
BetMGM are currently offering new customers a first bet offer up to $1,000 when they sign up. Claim your $1,000 bonus now!
User Ratings:
iOS: 4.8/5
Android: 4.2/5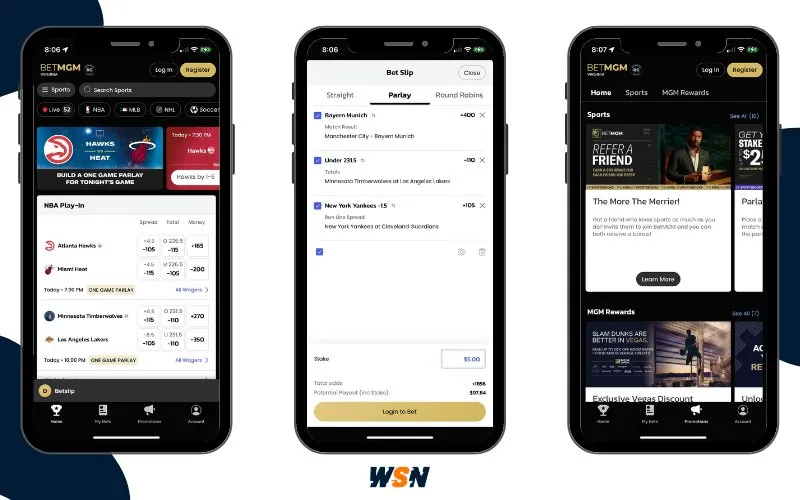 4. DraftKings Sportsbook
DraftKings has its roots in Daily Fantasy Sports, where (along with FanDuel) it has been the biggest name in the US for a decade. As the potential for legal sports betting arrived in the US, DraftKings moved quickly to widen its scope from DFS and became the first sportsbook in the US outside of Nevada to book a bet in the Autumn of 2018.
Today, DraftKings Sportsbook is one of the best sportsbooks in the US, and has one of the best mobile betting platforms.
DraftKings' app is available in Arizona, Colorado, Connecticut, Illinois, Indiana, Iowa, Kansas, Louisiana, Maryland, Massachusetts, Michigan, New Hampshire, New Jersey, New York, Ohio, Oregon, Pennsylvania, Tennessee, Virginia, Washington, West Virginia, and Wyoming - making it the most widely available sportsbook app in the US.
The app is filled with all the functionality of the website. That means full access to DraftKings' frankly mammoth list of betting markets on tons of sports, and live streaming in association with Sportradar right on the app. DraftKings' app is also very well designed, so even with all its features it never really feels overstuffed. Read our full review of DraftKings Sportsbook here.
You can get up to $1,000 free when signing up to the DraftKings app. Claim your bonus now!
User Ratings:
iOS: 4.8/5
Android: 4.6/5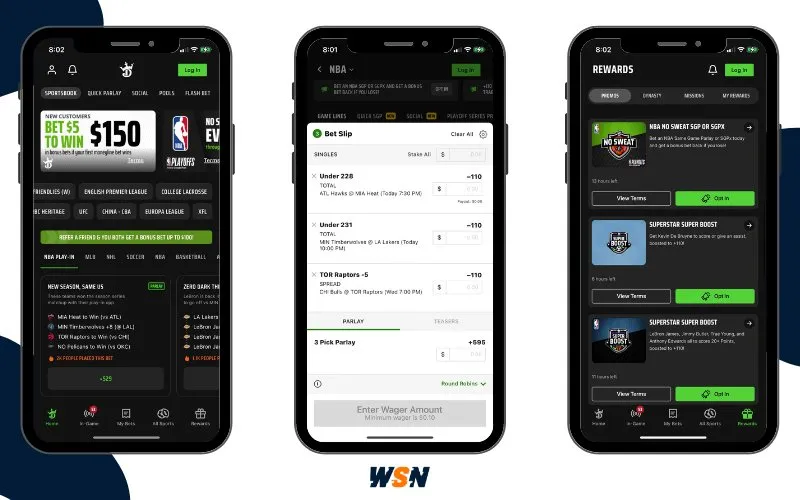 5. PointsBet Sportsbook
PointsBet is an exciting book out of Australia that adds a twist to traditional online sports betting. Launching in the United States in 2019, PointsBet differentiates itself in the market with its unique PointsBetting platform, which introduces a new high-risk, high-reward approach to betting. You can read more about this in our PointsBet review.
PointsBet's mobile app, which can be downloaded on iOS and Android devices, is sleek and smart. The user interface is very easy to navigate and provides a very fluid experience. We were very quickly able to find what we were looking for on the app and add our desired wagers to our betslip.
There are tabs at the top of each betting screen which allow you to switch between fixed odds and PointsBetting. This works well as it provides users with the option of using the innovative PointsBetting system, but if you just want a traditional sports betting experience it doesn't get in the way.
This may be personal preference, but we found that the contrast between the black, red, and white used throughout the app made it very easy to quickly scan the platform and navigate through different pages. Sportsbook apps often contain a lot of information and buttons on the screen which can sometimes feel cluttered and confusing, but PointsBet uses color to draw your attention to important areas and signpost navigation elements.
Making deposits and withdrawals was also a pain-free experience on the app, although PointsBet doesn't offer a wide range of withdrawal options as some other sportsbooks do.
The PointsBet app is available in Colorado, Illinois, Indiana, Iowa, Kansas, Louisiana, Maryland, Michigan, New Jersey, New York, Ohio, Pennsylvania, West Virginia, and Virginia.
PointsBet are offering new customers 5x $50 in bet credits. Sign up here.
User Ratings:
iOS: 4.8/5
Android: 4.5/5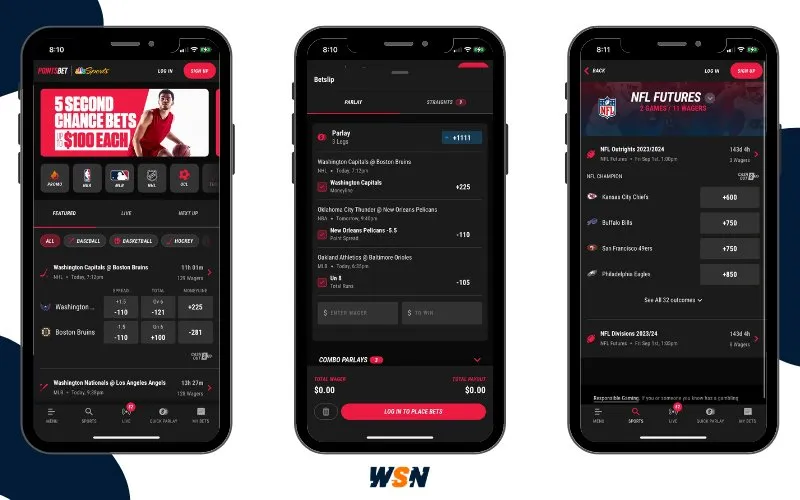 6. bet365 Sportsbook
bet365 is as good as it gets. The sportsbook is one of the most recognizable in the world, with its signature green and yellow design, and its reputation is built on being one of the most detailed and multi-functional platforms you can find.
Formed in the UK in 2000, bet365 has expanded to become a leader in both the Australian and European markets – and now it's turning its attention to the US.
bet365's mobile app is incredibly detailed and well designed. The number of different sports available to bet on is as good as you will find, as is the variety of bets on offer. You can live stream all kinds of content directly on the app, and for sports without a video feed you can find graphics and updates. Live betting is easy and fun. There are also whole sections dedicated to sports news and stats.
Despite the huge amount of options and information, bet365's app never feels cluttered – a mark of how well it's designed. That said, beginner players may prefer a more simple platform with fewer options to choose from. Check out our bet365 sportsbook review for more information.
While we didn't run into any problems using the app, it should be noted that it has a low score on the Google Play store. Many users have complained about crashes and glitches on the app. While we didn't run into any problems during our testing this is something to keep in mind.
Bet $1, get $200 in bonus bets when you sign up at bet365 using promo code WSN365. Claim the offer here!
User Ratings:
iOS: 4.8/5
Android: 2.4/5
7. BetRivers Sportsbook
BetRivers' online platform originally comes from Rivers Casino in Pittsburgh and was launched in June 2019. The site has grown in popularity since then, and currently accepts players from New York, Pennsylvania, New Jersey, Ohio, Indiana, Maryland, Michigan, Iowa, Colorado, Arizona, Louisiana, Virginia, and West Virginia. It is also available in Ontario, Canada.
For BetRivers' online platforms, both the website and app, the sportsbook has chosen to focus on simplicity and ease of use over flashy software and graphics. BetRivers is perfect for players who like to keep things simple and logical, and place their bets with no fuss. That said, it's not without some interesting features.
The parlay building tool is great for systematically creating bespoke parlays, and BetRivers live streams certain events right on the platform. It's also nice to have a betting platform with a slightly more local feel, in comparison with so many multinational betting companies opening up shop in the US. Read our BetRivers review for more details.
Use promo code SPORTS to get a 100% deposit match bonus up to $250 on your first deposit at BetRivers right now. Claim your bonus here.
User Ratings:
iOS: 4.5/5
Android: 3.6/5
8. Unibet Sportsbook
Unibet is another big name in European betting, having been founded in London in 1997. The company has expanded considerably since then – acquiring rival European sportsbooks under the name Kindred Group – and finally made its first steps into the US market in September 2019.
Unibet's mobile app is very well designed, and incorporates all of Unibet's signature features, including the Bet Builder tool and characteristic live betting platform. The in-play section of the app in particular works extremely well, with live graphics available from every game and notifications sent to your phone in real time. There's also a tracker showing all the live events available at any time.
Unibet has been slightly slower to launch in the US than many of its European competitors, but its mobile app more than matches up to the other options out there. Read our full Unibet sportsbook review for all the details.
The Unibet app has a low average user rating on the App Store compared to the other options in this list. Many users appear to have had issues with the app crashing or freezing on certain screens, which has made it difficult for them to place bets or withdraw their money. We're happy to report that we did not run into any such issues during our testing, so hopefully the developers have released a subsequent fix for these issues.
Get a $100 Bonus Bet with Unibet! Claim the offer here.
User Ratings:
Unibet has a separate app for every state so we have taken the median score across all states
iOS: 2.8/5
Android: 3.6/5
9. PlaySugarHouse Sportsbook
SugarHouse Casino in Philadelphia is one of the most well loved casinos on the East Coast, and after the Supreme Court decision in 2018 it moved to expand into online sports betting in nearby New Jersey. The PlaySugarHouse app is currently available exclusively in Connecticut and Pennsylvania.
PlaySugarHouse's platforms tend to overlap a lot and players on the app are encouraged to engage with other services like casino gaming or the physical casino resort. If you're a regular at the casino or like to play online casino games online, you'll love the promotions that PlaySugarHouse has dreamed up. You can win things like trips to the casino and tickets to exclusive events.
The app also gives you automatic access to casino games, in addition to the sportsbook. On the other hand, if this kind of thing doesn't interest you the promos might not be too valuable.
The range of sports and bets on offer at the PlaySugarHouse app are excellent, although the software does feel a little older than the most modern apps out there. Check out our complete PlaySugarHouse Sportsbook review for a more in-depth look.
Use bonus code SPORTS for a second chance bet up to $500 at PlaySugarHouse. Claim the offer here!
User Ratings:
iOS: 3.8/5
Android: 3.7/5
10. Borgata Sportsbook
Borgata Sportsbook is the online sports betting platform of the world famous Borgata Hotel and Casino in Atlantic City. When legal sports betting was launched in New Jersey, lots of existing multinational betting companies jumped at the chance to set up shop in partnership with local casinos. Borgata on the other hand opted to develop its own signature online platform to complement the physical sportsbook launched in the resort, complete with 40-foot video wall for watching live sport.
Borgata's software is very well designed. The app interface is simple and clean, and very friendly for beginners. Placing bets is easy and intuitive, and players aren't overwhelmed with options. Borgata also likes to encourage players to check out its casino games too, so you may see ads for them popping up in the sportsbook.
If you're a fan of Borgata's resort in Atlantic City, you'll like this app. You can even deposit money into your account right there at the cage in the casino if you're not a fan of modern payment methods like PayPal. Get the full scoop by reading our Borgata Sportsbook review.
Borgata are offering new customers $100 in free bets. Claim the offer here!
User Ratings:
iOS: 4.7/5
Android: 3.9/5
How We Rate Sportsbook Apps
When reviewing sports betting apps we take a slightly different approach to our regular sportsbook reviews. As we already do a deep dive on the sportsbooks themselves on our review pages, these tests are much more focused on the functionality and usability of the apps.
We test every application rigorously; spending at least a few days with each platform to enable us to have a complete and fair picture of the highlights and the shortcomings. Here are the key things we consider when testing the apps and writing up our recommendations:
User experience: We assess the overall design, layout, and ease-of-use of the app. A well-designed sportsbook app should have an intuitive interface that allows users to navigate and interact with the platform effortlessly. The app should be visually appealing and provide a smooth experience without glitches or crashes.

Features: Does the app do everything we expect it to do? Is it missing any key features? Does it have any unique features that add value to the user?

Performance: The app should be stable, fast, and responsive with minimal lagging or crashing. We consider how well the app handles various devices, screen sizes, and operating systems, ensuring that it performs consistently across different platforms.

User reviews: In addition to our own hands-on testing, we also look at the app's user reviews on both iOS and Android. This provides insight into the overall day-to-day experience of real users and may highlight things that we overlooked.
What is a Mobile Sports Betting App?
A real money sports betting app is a version of a sportsbook designed especially for mobile use, which sports bettors can download onto their device. Since they are available on your cell phone, mobile betting apps can be used on the go, at home or anywhere you have an internet connection.
With sportsbook apps, the software is designed especially for the small screen and can adapt to devices of different sizes. Browsing through online sports betting apps is much more like playing on your phone – swiping and tapping – than searching on a traditional sports betting sites.
Sportsbooks generally make their betting apps available for both iOS and Android devices, although occasionally this is not the case.
You can think of online sports betting apps as simply another way of accessing your favorite sports betting sites and wagering on your favorite sports leagues, such as the NFL or NBA. Going to a physical sportsbook and placing a bet in person is one option. Another is using the company's website via your laptop or computer. Downloading a mobile app is just another way to access the sportsbook.
What is the Difference Between a Sports Betting App and a Mobile Sportsbook?
Sometimes a bookmaker won't have an app, but will have their website optimized for mobile access.
That means you can search for the website via your device's browser (just like you would with a laptop) and when you access the site it will be designed for the smaller screen, and feel similar to an app.
Since you have to manually search for the site and sign in, it's not quite as convenient as an app. However, it can be a good option if you have limited space on your device.
How is an App Different From a Regular Online Sportsbook?
The two platforms share similarities, since they are just different versions of the same sportsbook.
The biggest difference in practical terms is that you can access your mobile app at any time or place (as long as you have your cell phone), while traditional online sportsbooks are accessed via laptop or desktop computer.
This means you can place bets practically anywhere, at any time.
Apps are great for betting while at live sporting events for example, or if you get a hot tip in the bar. You can use them at home, on the train or at work – although maybe be careful with that last one!
In aesthetic terms, sports betting apps are specifically designed for the small screen, which means the platform feels a little different to a website. Space is at a premium, so mobile apps tend to be more economical with the information they display and make efficient use of things like hidden menus.
For the most part, anything you can do on a regular online sportsbook you can also do on a mobile app. There are occasional exceptions to this – promotions that are exclusive to one platform or banking options that aren't supported for example – but the vast majority of the time the functionality is the same.
Since your mobile app is available at the touch of a button, it tends to be faster to use than a website.
Advantages of Betting Apps
24/7 access to betting. This is the biggest advantage betting apps have compared with other ways to bet. Having a betting app installed on your phone means you never need to miss an opportunity to bet – you can bet whenever and wherever you want. It also makes line shopping very convenient as you can quickly compare lines across multiple sportsbooks even if you're not sat at your laptop.

Speed and convenience. Not only are apps available at all times, they are also so easy to use. One touch of a button is all you need, instead of searching for the website and trying to remember your login details.

Entertainment. Apps have all kinds of fun extra features that make them even more appealing. You can set notifications to let you know when your favorite team scores, or updates on how your bets are getting on. Lots of apps stream live updates or even video feeds from top sports. Apps are just more fun.

Exclusive promos. Some sportsbooks create bonuses and promotions that can only be accessed via their apps.
Disadvantages of Betting Apps
More compact. A smaller screen necessarily means less space, and some users may find apps a little crowded compared to a website. In truth, this is more an indication of bad design than anything else – but it's fair to say some bettors find desktop sites easier to navigate around.

Oversaturation. Some players may not like having constant access to a sportsbook in their pocket. Like all gambling platforms, betting apps should be used responsibly.

Phone space. Apps take up space on your mobile device.
How to Install a Betting App
Installing a betting app is very straightforward, and similar to installing any other type of app on your phone. It's worth noting that some apps are only available in certain states, but generally if you are using a sportsbook that's legal in your state the app should be too.
Sports Betting Apps iPhone/iOS
If you use an iPhone, iPad or other iOS device, you can head to the App Store and search for the name of the sportsbook. You'll need to be logged in using your Apple ID and password.
Once you've found the app, you can click "get", confirm that you want to install the app, and your download should start automatically.
Most apps are quite small so they don't take long to download, and you should see it on your phone's home screen along with your other apps.
Sports Betting Apps Android
In the US, downloading betting apps on Android used to be a little more complicated. This was because the Google Play Store blocked gambling apps, so you couldn't just search for them like on iPhone.
In 2021 Google removed this restriction which made the process of installing betting apps just as straightforward as on Apple devices. Simply head to the Google Play Store and search for your favorite sportsbook there.
Is Mobile Betting Legal?
It depends on where you are playing from. Mobile betting is totally legal in many US states, with new states legalizing it all the time. Since mobile betting is just another version of betting online, it's often legal anywhere you can legally bet online.
However, there are some states that either explicitly don't allow real money betting apps, or just outlaw mobile sports betting altogether.
Sports betting in the US is right in the middle of something like a revolution. After decades of it being totally illegal everywhere in the country, states have been entitled to determine their own US sports betting laws since 2018.
That's thanks to the removal of the Professional and Amateur Sports Protection Act (PASPA) by the Supreme Court in May 2018. PASPA had acted as a federal ban on US sports betting for all states except Nevada since 1992. Once it was removed, the scene was set for each US state to set its own laws.
This means that since then, state by state laws have been changing on a regular basis, with legal online betting arriving to new states all the time.
Even if mobile betting isn't currently legal in your state, chances are it might be before too long.
---
Suggested Reading
---
What Bets Can I Place on a Betting App?
For the most part, any bets you are used to placing either in person or via a website are also available on betting apps. There may be the odd exception to this, with fewer markets appearing on some apps, but this is rarely the case.
A betting app is just another platform. It makes sense that sportsbooks want to have their full range of betting options available via their apps, not offer any kind of reduced version. This means sports bettors can also wager on all the same sports leagues that they can on the website; NFL, NBA, MLB, NHL, college football – you name it.
Depending on the sportsbook, you can expect to find all the classic betting options on mobile apps including the following:
Can I Claim a Bonus on a Betting App?
Yes. Whatever bonuses you can claim on the website can generally also be claimed on a betting app. Still, we always recommend checking in advance to make sure this is the case.
Some sportsbooks even create exclusive promo codes that can only be claimed on their apps, to encourage users to migrate to mobile betting. Most sportsbooks offer new customers bonuses in the form of a deposit match or a free bet on their first bet with real money deposit, check out the best sportsbook bonuses and promo codes here.
Final Verdict
There you have it. Our list of the best sports betting apps available in the US right now. Each one is different, and brings its own unique spin to the table. For each one, you can also read our full reviews to get a more in-depth picture of every single facet of the sportsbook as a whole.
If you sign up via our links, we'll also hook you up with a valuable welcome bonus to get started on the right track.
The choice is yours.
We really are getting spoiled for choice for top class sports betting apps in the US at the moment. We recommend you take your time and read through our reviews of all the different options. Figure out what you value most in a sports betting app, and chances are you'll be able to find your perfect platform among our favorites above.