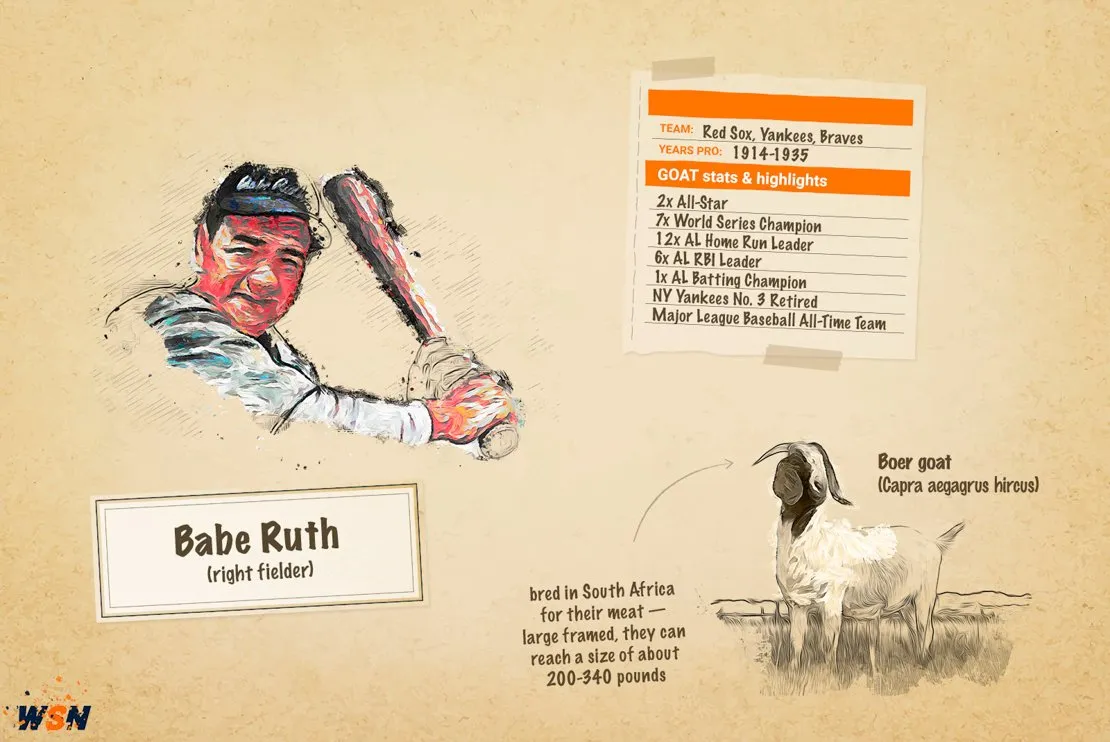 There will never be a baseball player again like the Sultan of Swat, a loveable lug who would call his home runs (he hit 714 of them in the dead-ball era) and pitch the ball just as well as he could play right field, setting records most of which wouldn't be broken for well over half a century.
Name: Babe Ruth
Team(s): Boston Red Sox, New York Yankees, Boston Braves
Position: Right fielder
Years Pro: 1914-1919 (Red Sox)
1920-1934 (Yankees)
1935 (Braves)
GOAT stats and highlights:
2× All-Star
7× World Series champion
12× AL home run leader
6× AL RBI leader
1x AL MVP
1x AL batting champion
1x AL ERA leader
New York Yankees No. 3 retired
Yankee Stadium Monument Park honoree
Boston Red Sox Hall of Fame
Major League Baseball All-Century Team
Major League Baseball All-Time Team
Inducted into the Baseball Hall of Fame in 1936
And the list goes on and on…
Description: While most of Ruth's records have been broken at this point in time, two remain intact: his lifetime slugging percentage (.690) and on-base plus slugging (OPS) (1.164) still stand as of last season.
Actual goat most like Ruth: Boer goat, bred in South Africa for their meat – large framed, they can reach a size of about 200-340 pounds.
NHL GOAT: Gordie Howe – Tobago Racing Goat
Canada is known for its hockey players, and the best ever is no exception, this eventual Red Wing born in Floral, Saskatchewan was known for his scoring prowess, physical strength, and career longevity.
Name: Gordie Howe
Team(s): Detroit Red Wings, Hartford Whalers
Position: Right-wing
Years Pro: 1946-1971 (Red Wings)
1979-1980 (Whalers)
GOAT stats and highlights:
4x Stanley Cup Winner
12x NHL First All-Star Team
8x NHL Second All-Star Team
6x Hart Memorial Trophy Recipient
5x NHL Goal Scoring Leader
6x Art Ross Trophy Recipient
Multiple record holder, including most regular-season games played (1,767), most NHL All-star game appearances (23) and most NHL regular-season goals by a right-winger (801).
Inducted into the Hockey Hall of Fame in 1972
Description: Howe was the only player to have competed in the NHL in five different decades, and he became the namesake of the Gordie Howe Hat Trick, which was a goal, an assist and a fight in the same game.
Actual goat most like Howe: The only goats that can match the speed of ice skating Gordie Howe live on a Caribbean island named Tobago, where, for the last 85 years, the "fastest goats on the planet" have raced every Easter Monday in a town called Mount Pleasant.
MLS GOAT: Landon Donovan – Saanen Goat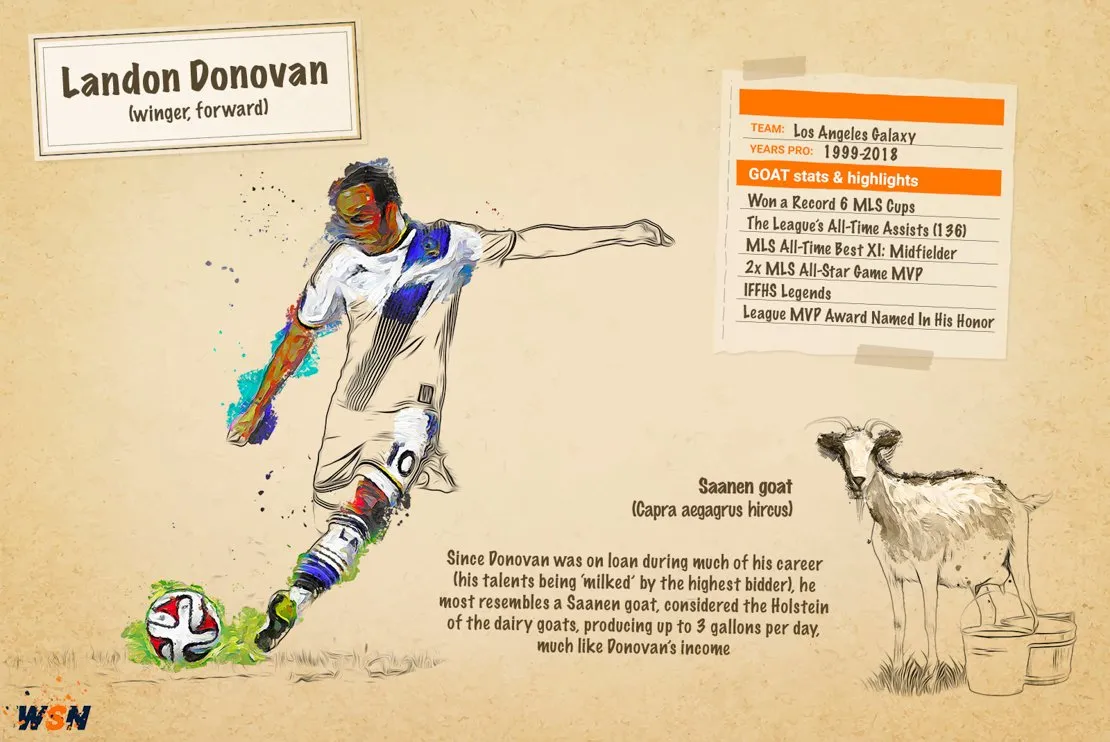 When it comes to American soccer, this Californian and MLS multi-record holder is said to be (arguably) the greatest U.S. soccer player of all time.
Name: Landon Donovan
Team: Los Angeles Galaxy
Position: Winger, forward
Years Pro: 1999-2018
GOAT stats and highlights:
6x MLS Cups.
The league's all-time assists leader with 136.
MLS All-Time Best XI: Midfielder
2x MLS All-Star game MVP
IFFHS Legends
The league MVP Award has been renamed the Landon Donovan MVP Award in his honor.
Description: In 2019, Donovan joined a private ownership group that eventually brought an expansion team to San Diego, California, the San Diego Loyal, and since then he has been named the team's manager.
Actual goat most like Donovan: Since Donovan was on loan during much of his career (his talents being 'milked' by the highest bidder), he most resembles a Saanen goat, considered the Holstein of the dairy goats, producing up to 3 gallons per day, much like Donovan's income.