How We Rated the Arizona Sportsbook Offers: Our Approach
Every reputable sportsbook is going to offer some sort of promotion for new bettors. However, it can be tough to pick through the weeds and determine which offer is the best.
Luckily for you, our expert team of industry experts has spent hours and hours pouring over the details of every offer, researching the sportsbook, and reading the terms and conditions to produce a report on every sportsbook promotion.
Here's what we came up with.
Feasibility: This category is all about understanding how easy or likely it is that you will actually receive the bonuses promised by the promotion. A lot of this comes from a general understanding of the industry and key terms, but it also requires a review of the fine print to see who is excluded and what standards must be met for the promotion to be triggered.
Monetary value: Simply put, we want sportsbooks to put their money where their mouth is. If one sportsbook promo is as easy to access as another, then the one that's worth its weight in gold is going to be the more attractive option. So, although there are other factors, we paid special attention to this one.
Ingenuity: Sports betting is and always will be a form of entertainment, not a means to replace steady long-term income. Following that train of logic, we wanted to see which promos were more advanced than the others, since those can offer more entertainment. You'll be surprised by how inventive some of these sportsbooks were, and we're excited to share more details about individual offers later on.
Assuredness: The final consideration in our list deals with how likely it is that bettors receive the bonuses promised by the offer. For example, certain offers say that "if this event happens, then you win this"; that's obviously less guaranteed than a "sign up and win x" promo, which plays into how attractive the offer is.
Why You Should Trust Us
WSN is a team of gambling industry veterans that pride themselves on standing on the front line of innovation, research, and overall awareness of the gaming scene. We put in our hours of research and analysis to help determine which sportsbook offers are the best for new bettors and are here to share that information with you.
You can also check out our betting guides, state reviews, and sportsbooks analysis for more information on how to place legal sports bets, which sites to use, and much more.
A Closer Look at the Top Arizona Sports Betting Promotions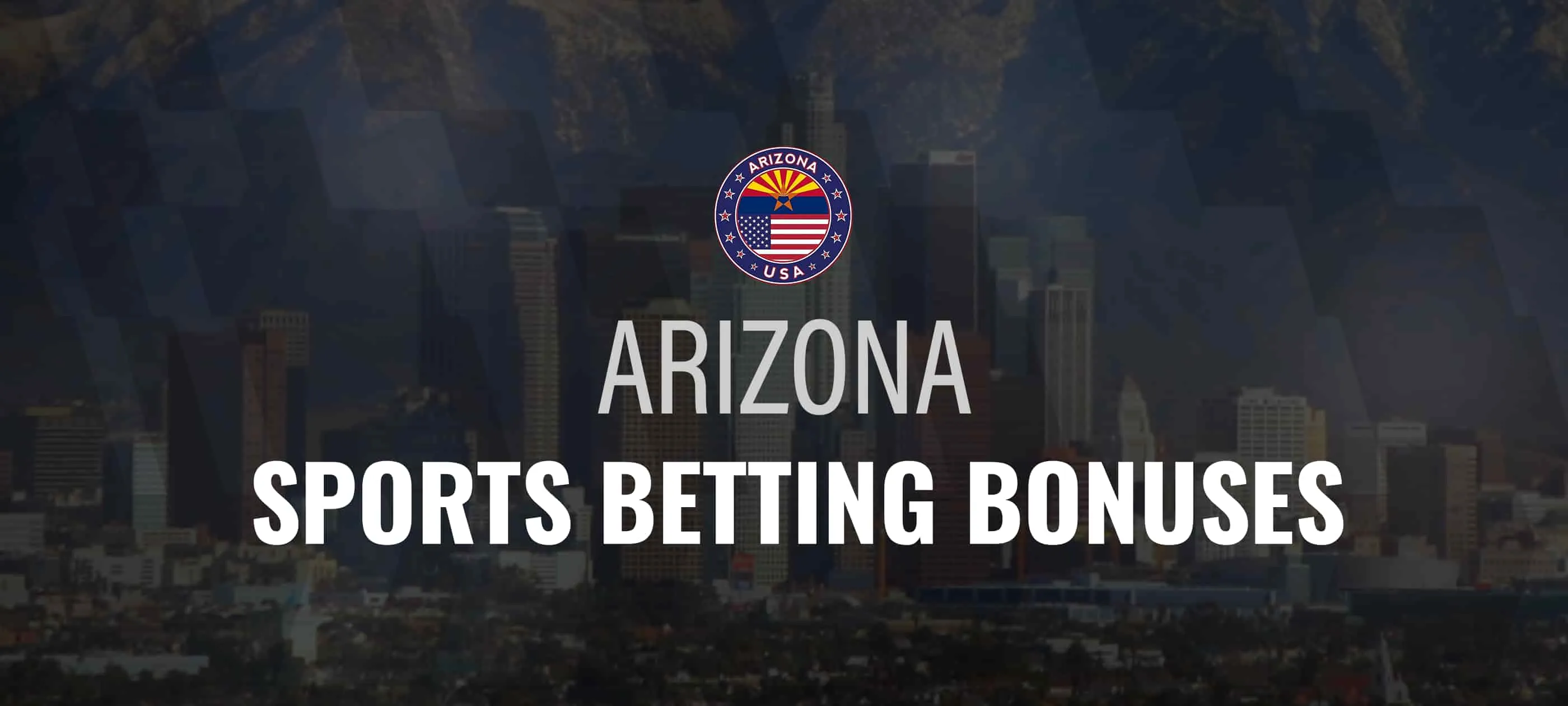 No matter if you are a first-time sports gambler, experienced but new to the Arizona scene, or just looking to change sportsbooks, we have all of the top offers listed below. Let's dive right in!
1. Caesars Sportsbook Arizona Promo - $1,000 First Bet
All of the sportsbook offers that we will mention start with a few standard requirements. First, customers have to be 21 or older; second, they must be located in Arizona, no matter if they live there full-time or not; and third, they may not already have an account at the sportsbook they are using, which, in this case, is Caesars.
The Caesars offer promises up to $1,000 in bonus bets back for bettors who miss their first bet. Think of it this way: if you bet $400 and lose, you will instantly receive $400 in bet credits to ensure that you don't have to make another deposit to place your next wager.
This offer applies to 100% of bettors' first stakes up to $1,000. The offer does not need to be maximized to be redeemed but is only available for the first bet.
Bet credits have no direct cash value but can be used to win cash prizes in any qualifying markets on the Ceasars sportsbook.
Caesars customers will also receive 1,000 Caesars rewards credits and 1,000 Caesars tier credits upon sign-up. These can be used to redeem real prizes at various Caesars Entertainment properties.
2. BetMGM Sportsbook Arizona Promo - Up to $1,500 in Bonus Bets
The BetMGM Arizona offer is very similar to Caesars', just for $1,500. Customers can make their first bets with the promise that if they miss, they will receive 100% refunds in the form of bet credits.
Bet credits only go to bettors who make failing first wagers. Those who win will receive full cash compensation just as they would for any other winning bet.
Bet credits have no direct cash value but can be used to win cash in any eligible markets on the BetMGM sportsbook.
3. DraftKings Sportsbook Arizona Promo - Get a Two-Part Welcome Bonus Worth up to $1,150
DraftKings sportsbook has an excellent two-part bonus.
The first part guarantees $150 in bonus bets to customers who bet at least $5, no matter if that bet is successful or not. If it hits, then they will also win the regular cash prize associated with the betting line.
The second part is a 20% deposit match (with a 25x playthrough requirement) up to $1,000. This will multiply bettors' betting capital by 120% and gives them a way to gamble even more than they deposited. All earnings in this part of the offer come in bonus bets.
This is the only three-part welcome bonus of the major Arizona sportsbook promotions.
4. BetRivers Sportsbook Arizona Promo - Get up to $500 in Prizes
Meet the qualifying criteria and you will be able to win back up to $500 in bonuses if your first bet misses at BetRivers Sportsbook.
Full terms and conditions for all of these offers can be found on the sportsbooks offering them. Be sure to check them for any qualifying standards before redeeming the offer.