A Closer Look at the Safest Online Betting Sites
DraftKings Sportsbook
DraftKings is one of the leaders in American sports betting and has cultivated a sleek and robust sportsbook with tons of betting options. It covers betting markets from sports all over the world, has live and parlay betting, futures odds, and plenty more.
DraftKings has also introduced innovative features such as a social tab that helps bettors stay connected to their closest friends and trusted betting allies.
This sportsbook is one of the most trusted in the industry for numerous reasons. First of all, it is so large that it has developed enough of an infrastructure to douse nearly all fires before they start and to immediately address any small ones that pop up. It also has all of the basic safety features from a tech perspective and has a 24/7 customer support team ready to help with any issues.
DK also offers rapid, sometimes instant payouts, depending on the method of withdrawal. In a similar vein, it allows bettors to make deposits via numerous resources, all with consumer protection.
DraftKings didn't grow to occupy its market share without having one of the most trusted sports betting sites in the industry. Our BetEdge review system highly recommends it for bettors of all levels, and we firmly give it the WSN stamp of approval.
Find out more in our detailed DraftKings Sportsbook review.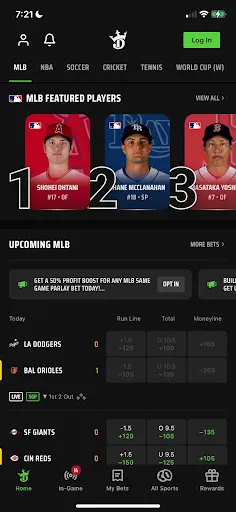 Pros:
Numerous safety features, fast payouts, licensing in numerous states
Tons of betting markets and opportunities
Cons:
Sign-up Offer:
DraftKings Sportsbook User Ratings
| | | |
| --- | --- | --- |
| Review Site | Rating | No. of Reviews |
| Apple App Store | 4.8/5 | 543,700 |
| Google Play Store | 4.6/5 | 87,900 |
| Trustpilot | 1.3/5 | 300 |
Caesars Sportsbook
Caesars Sportsbook is another top and trusted betting site. It is part of the "Big Four" sportsbooks that dominate American sports betting and has been able to do so because of its highly-developed mobile and web apps, promotions and opportunities, diverse betting markets, and consistency.
This site is also a mainstay for not just betting in major markets, but parlays, exotics, futures, in-play betting, and more. Bettors have access to betting odds from tons of different sports and leagues and can do so under the elegance of the Caesars brand.
Caesars processes withdrawals 24 hours a day and can have funds transferred to your preferred location within an hour in some circumstances. It is licensed to operate in most states with legal sports betting markets and has basic custom protections and safety features that everyone should expect from a top sports betting site.
Caesars has occasional issues with slow processing times in the mobile app, but it never crashes, and the delays are not because of fraudulent activity in any form. This is another highly recommended app that will suit new and experienced bettors alike.
For more information, read our Caesars Sportsbook review.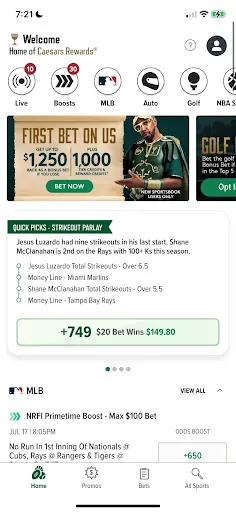 Pros:
Great layout with an array of betting markets plus a lucrative sign-up bonus
Fast withdrawal speeds and great customer support
Cons:
Sign-up Offer:
Caesars Sportsbook User Ratings
| | | |
| --- | --- | --- |
| Review Site | Rating | No. of Reviews |
| Apple App Store | 4.6/5 | 42,400 |
| Google Play Store | 4.3/5 | 20,500 |
| Trustpilot | N/A | 0 |
FanDuel Sportsbook
FanDuel is the leading operator in American sports betting. According to a recent study, it occupies as much as 45% of the online sports betting market's GGR.
FanDuel has been so successful because of its variety of betting markets, well-developed mobile and web apps, and responsiveness. Bettors are not only treated to all sorts of betting odds, but those odds are also regularly updated and often at a greater speed than other sportsbooks.
Because FanDuel is the biggest domino in the sports betting world, it naturally has tons of safeguards and safety procedures to ensure that bettors are protected. It is also licensed to operate in 22 states, which means that it has one of the widest ranges of jurisdictions.
Anyone that is still unsure or encounters any issues can contact FanDuel's customer support team at any time through a variety of methods. This sports betting site is as trusted as they come and also provides one of the best sports betting experiences of any platform, which makes it perfect for users of all experience levels and backgrounds.
Read our full FanDuel Sportsbook review for a deeper analysis.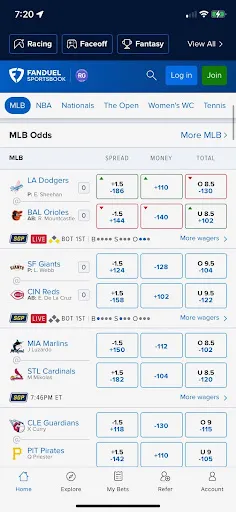 Pros:
Highly-developed and functional app
App basically never crashes, customer support team is available 24/7
Cons:
Sign-up Offer:
FanDuel Sportsbook User Ratings
| | | |
| --- | --- | --- |
| Review Site | Rating | No. of Reviews |
| Apple App Store | 4.8/5 | 1.1 million |
| Google Play Store | 4.7/5 | 209,000 |
| Trustpilot | 1.3 | 182 |
BetMGM Sportsbook
BetMGM is another member of the "Big Four" and occupies the third-largest market share in American sports betting. It has a treasure trove of experience and a strong infrastructure because of its MGM Entertainment brand and has quickly become one of the best outlets for online sports betting.
What makes BetMGM special is the elegant aesthetic and clean layout that makes bettors feel like they are experiencing lavishness with every bet. The mobile and web app also load different pages quickly and without issue and don't have some of the lag that other sportsbooks, even the top ones, do.
As is the case with the other dominant sportsbooks in the industry, the likelihood of encountering problems with BetMGM is as low as it is with any online betting site. And in the event that there is even a slight issue, it also has multiple ways for customers to get in contact with a customer support team that will help resolve the issue.
At the risk of repeating ourselves, BetMGM is a suitable and trustworthy resource for all sports bettors in states where it has licensing. These are, after all, the best and most reliable sports betting sites. Feel free to place your parlays, live bets, or anything else in complete comfort at BetMGM.
You can read our BetMGM review for a deep dive into the sportsbook.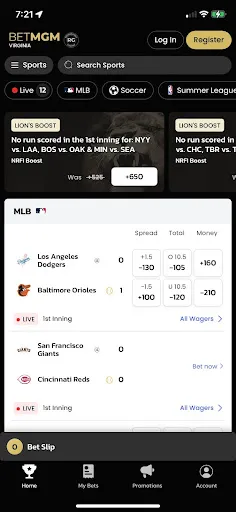 Pros:
Clean aesthetic, app is easy to follow
Expansive betting markets that never crash
Cons:
Sign-up Offer:
BetMGM Sportsbook User Ratings
| | | |
| --- | --- | --- |
| Review Site | Rating | No. of Reviews |
| Apple App Store | 4.8/5 | 152,500 |
| Google Play Store | 3.6/5 | 19,200 |
| Trustpilot | 1.2/5 | 379 |
PointsBet
PointsBet is the fifth and final entry on our list of the most reliable sportsbooks. Don't take that to mean that these are the only five, they are just five that we chose to highlight because of their popularity, reliability, and level of development.
PointsBet is known throughout the industry as one of the most innovative online sports betting sites, one that constantly creates new opportunities for bettors. For example, they pioneered a new form of betting called points betting, which turns game units into financial units.
So, if a user bet $10 on Team A -3 and Team A won by five points, that user would win $20 [(5-3) x $20]. They also have other engaging promotions and even allow bettors to request betting lines if they cannot find them on the sportsbook.
However, PointsBet agreed in 2023 to sell its North American assets to Fanatics for $225 million, and it is only a matter of time until those are fully converted. But in the meantime, PointsBet has the basic safety features needed to keep it on our list of the most trustworthy betting sites, and one of the best online sportsbooks in general.
Take a look at our full PointsBet review right here.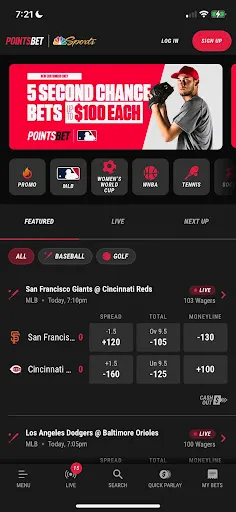 Pros:
Creative betting markets and promotions
Basic customer protection features
Cons:
Sign-up Offer:
PointsBet User Ratings
| | | |
| --- | --- | --- |
| Review Site | Rating | No. of Reviews |
| Apple App Store | 4.8/5 | 39,600 |
| Google Play Store | 4.4/5 | 10,900 |
| Trustpilot | 3.8/5 | 2,762 |
Untrustworthy Sportsbooks To Avoid
Now that we have listed and detailed a few of the best and most reliable sportsbooks in the industry, we are going to dive into sites that we advise all bettors to avoid.
Note that this is not a comprehensive list and that there are plenty of other bad apples floating around. Always go through the basic steps we discussed above and do plenty of research before choosing a sportsbook, especially if you notice it has any red flags, was recently established, or sets off any internal worry.
Again, read plenty of customer and expert reviews about the site as well before you deposit any money or provide any of your information. With that being said, here is a list of sites that you should avoid.
105Vig
21k
Bet1128
Paradise Bet
Alliance
BetCSI
BetRevolution
BetIslands
FreeSportsbook.us
Mobibet
HitItBet
Odssmaker
WSEX
Sportsbook.com
BetOnUSA
Bettingexpress
Canbet
Carib
Enterbet
InstantActionSports
Wagertonight
Topcatcasino
AllStarviacasino
Vegasthrill
Truebet
Thevalleyokings
Sportshustler
And more…
Are Offshore Bookies Safe?
We talked about offshore betting sites earlier in this guide, but allow us to use this space to clear up any confusion.
Offshore sportsbooks advertise themselves as a legal alternative to sports betting in states where it is not illegal, or even in states with legal markets. That is mostly because prosecutors (usually) won't directly come after players who use these sites.
However, offshore sportsbooks—which as the name implies are not based in the U.S.—that are not licensed to operate in the country are acting illegally. In the event they are shut down, hacked, or the operator simply decides to defraud its users, there is nothing that can be done to protect the customer or refund any lost money.
If your bank discovers that you have wired money to an offshore sportsbook, it can shut down your account if it wants to because of the illegality of the act. So even if you succeed in breaking the law and survive the risk of the sportsbook defrauding you or it being hacked and your account being drained, you may still lose access to your legal funds.
Find a regulated sportsbook that you trust for your sports betting endeavors instead of breaking the law and creating numerous problems for yourself.
Tips for Staying Safe When Betting Online
Assuming you have gone through all of the steps to picking a safe betting site, there are still steps that you can take to ensure that you are as protected as possible against any wrongdoing.
One of the most basic tips is to create a complicated password that is hard to break (we're talking to you, the person that puts "password" as the password). After that, enable two-factor authentication to add another layer of security.
You can also turn on email notifications to see whenever someone logs into your account which will help you know if someone else tries to access your account. Add security questions to your account too so that would-be hackers have yet another layer to break through before they can enter your account (which will be next to impossible if you follow all of these steps).
Once you have done all of that, make sure that you are only using reliable banking methods to transfer your money to your sportsbook. If you want to use a card, use a credit card instead of a debit card because credit companies can do more to get your money back than they could if a person steals funds from your debit card.
Also, avoid using public wifi when placing bets as that puts your personal details on the public radar, and you don't want that.
Sportsbooks will also have additional tips to help protect your account either in the fine print or during your account registration. Take them seriously and make your account as safe as possible.
How We Rate Betting Sites
The WSN team that worked on this review of the safest betting sites has years of experience in the sports betting industry and compiled the information with no agendas other than wanting to keep you as safe as possible.
The team also used information from our BetEdge review system, which is a method of evaluating and rating sportsbooks based on a multitude of factors. That led to FanDuel, DraftKings, BetMGM, Caesars, and PointsBet being mentioned as some of the best and most trusted sportsbooks in the industry (though again, that is not a full list of every safe betting site).
We highly recommend following every step that we outlined when determining where you are going to spend your time as a sports bettor. We also want you to know that it is okay to make mistakes, but it is also vital that you address them as quickly as possible if you recognize that you made one. Shut down your account and unlink any banking methods as quickly as possible if you realize that you have ended up on an unsafe or even illegal betting site.
There are plenty of considerations that should go into choosing a sportsbook other than safety, including: betting markets, visual appeal, promotions and opportunities, ease of access, jurisdiction, processing speed, deposit and withdrawal time, unique features, mobile app, and more.
However, choosing a legit and reliable sportsbook should always be central in your process. If you aren't safe and can't trust your sportsbook, you're not only set up for failure but will never have peace of mind during your betting endeavors.
Final Verdict
If there's anything that we would like for you to take away from this guide, it is that keeping yourself secure is of the utmost importance. There's a ton of money at play in sports betting, and there are plenty of illegal outfits and scammers waiting to defraud you of your hard-earned money.
Follow our steps, stay smart and vigilant, and protect yourself against any wrongdoing. Read customer and expert reviews to help determine which sites are safe and which are not.
Gamble Responsibly
Nobody's perfect. If you experience any problems associated with or that you think could be tied to a gambling addiction, please reach out to someone you trust along with any of the following resources (or other alternatives that can help you).
Many gamblers suffer from an addiction. It's only a problem when you refuse to realize it or refuse to seek help, so don't do yourself a disservice and bury it inside.
You can help prevent addictive behaviors and impulses by taking frequent breaks from your sportsbook and setting deposit limits. If that still isn't enough, you can put yourself on the self-excluded list of gamblers to disable your access to sportsbooks.
Here are five resources that can help you deal with gambling addiction and provide helpful insight.
1. The National Council on Problem Gambling (NCPG)
Call: 1-800-522-4700 (24-hour confidential national helpline)
Text: 1-800-522-4700 (24-hour confidential national text service)
4. Gam-Anon