Launched in 2020, BetRivers is a brand new online sports betting platform offered by Rivers Casino in Pittsburgh, and it's available in Pennsylvania, Indiana, Colorado, Iowa, Michigan, Illinois, Virginia, Arizona, Louisiana, New Jersey, and New York.
For this in-depth BetRivers review, our team of wagering experts pulled out all the stops. We took a close look at absolutely everything: the betting markets, promo codes and bonuses, online banking and depositing options, mobile betting, security, and much more.
We found out exactly what works and what doesn't. Overall, we think BetRivers is a fantastic option for legal sports betting. Read the full BetRivers online sportsbook review to find out why.
BetRivers Sportsbook Legal States
BetRivers gets its name from Rivers Casino in Pittsburgh. The owners operate a number of other casinos in the northeast, and launched the BetRivers online platform in 2019, around a year after the federal ban on sports betting was removed. BetRivers sportsbook is a result of a $5m revamp of Philadelphia's SugarHouse Casino.
Not content to operate in its home state of Pennsylvania only, BetRivers has instead set its sights on expanding to multiple states. Today the site is available for players in Pennsylvania, Indiana, Illinois, and Colorado with very tentative plans to expand further in the future.
Here are the biggest headlines about BetRivers:
BetRivers has a solid range of betting options, including a truly excellent live betting menu.
BetRivers is fully legal in Pennsylvania, Indiana, Illinois, and Colorado, and has received separate licenses from the gambling commissions in each state.
The sportsbook and online casino at BetRivers are closely linked, and you can also make transactions in person at Rivers Casino.
BetRivers is fully loaded up with a welcome bonus for new players, and a loyalty rewards program for regular players.
With so many generic multinational sportsbooks available in the US these days, it's nice to have a more local option. Plenty of players at BetRivers will be regular visitors to the physical casino. This is a brand with a well-earned reputation in that part of the US.
BetRivers is a solid online sportsbook. There are good betting options, a valuable welcome bonus, reliable customer support, and excellent security. During our review, our experts also found some areas with room for improvement.
We cover every single aspect of the sportsbook in the following sections.
BetRivers Sportsbook Video Review (from expert bettor Bill Krackomberger)
Professional sports bettor Bill Krackomberger reviews the BetRivers sports betting app. He looks at the pros and cons: app interface, reward program, deposit/withdrawal methods, bonuses, and more!


BetRivers Software and Mobile Betting App
BetRivers' software is simple and easy to use. The BetRivers website designed by the Kambi Group uses a blue and white color scheme and divides the screen into three neat sections. On the left-hand side is the sports and bets menu, with the most popular betting markets and special offers appearing first on the list. When you scroll down, you find an A-Z of all the sports on the menu.
Clicking into a sport will show you all the competitions and markets associated with it in the middle section of the site. Our experts were happy with the organization of the site. We had no issues with quickly finding exactly the bets and markets we were looking for.
We also like the little numbers that appear in the sport menu, which indicate the number of different markets currently live without having to click into the section.
The final panel on the right-hand side of the site is the newsfeed, showing all the bets being won in real-time. This is somewhat interesting but does take up a lot of real estate on the screen. The interactive bet slip pops up from the bottom of the screen whenever you click on a bet.
You can also navigate to the different parts of the site (Promotions, Help Center, Casino Games) using the main menu bar at the top of the home page.
BetRivers also has a dedicated mobile app and a fully accessible mobile site. The app uses a similar structure to the desktop site but scaled down to fit comfortably on the smaller screen of your mobile device.
Just like SugarHouse, BetRivers PA doesn't have a mobile sports betting option for iPhone users, only an Android app. The wagering requirements under Pennsylvania law state that you need to be within state lines to bet at BetRivers Sportsbook & Casino. This can be verified through a browser plugin or location services on your mobile device.
BetRivers invites Apple users to download the GeoComply Location Validator app. This allows Apple users to access BetRivers PA from their mobile browser.
The BetRivers sports wagering app is available on both iOS and Android in Indiana, Colorado, and Illinois. Browse our other sportsbook app reviews here.
Software and App Highlights
The website and app are both very beginner-friendly – the layout is simple and logical and bets are easy to place.
BetRivers streams live events right on the site, which really takes live betting to the next level. You can see the live streaming schedule on the betting menu.
We love the form guide that is included in the markets for loads of the most popular sports.
The parlay building tool is excellent.
You can choose your preferred odds format sitewide.
Things to Improve
Although the site and app are easy to use, they are definitely not the most visually impressive we have seen. If you like ultra-modern design and graphics, you won't find them here.
We don't love that the newsfeed, which shows winners in real-time, takes up so much space. We would like the option to hide it on the website.
It's a minor issue, but you can't access the website if you have an ad-blocker running on your browser.
When it comes to bonuses, we like to see a combination of valuable welcome bonuses for new members, and loyalty programs and regular bonuses to keep existing players happy. Too often we see a sportsbook only focus on a type of promotion, so our experts were happy to see BetRivers has both.
BetRivers has an entire "Promotions" section of the site, which allows you to keep track of all the offers running at any time.
You can expect new promos to become available regularly, so it's worth checking this section often. Below are the main bonuses and promotions our experts found. Risk-free bet offers are the new frontier of sportsbook promotions, check out our risk-free betting guide to see what is available in your state.
Free Bet up to $500 Promo Code 'SPORTS'
BetRivers' welcome bonus for new members is a good one. Get up to a $500 free bet when you sign up with BetRivers!
Make a $10 first deposit using promo code 'SPORTS'
If you are in New York, the bonus limit is up to $100.
Overall a very generous bonus!
iRush Rewards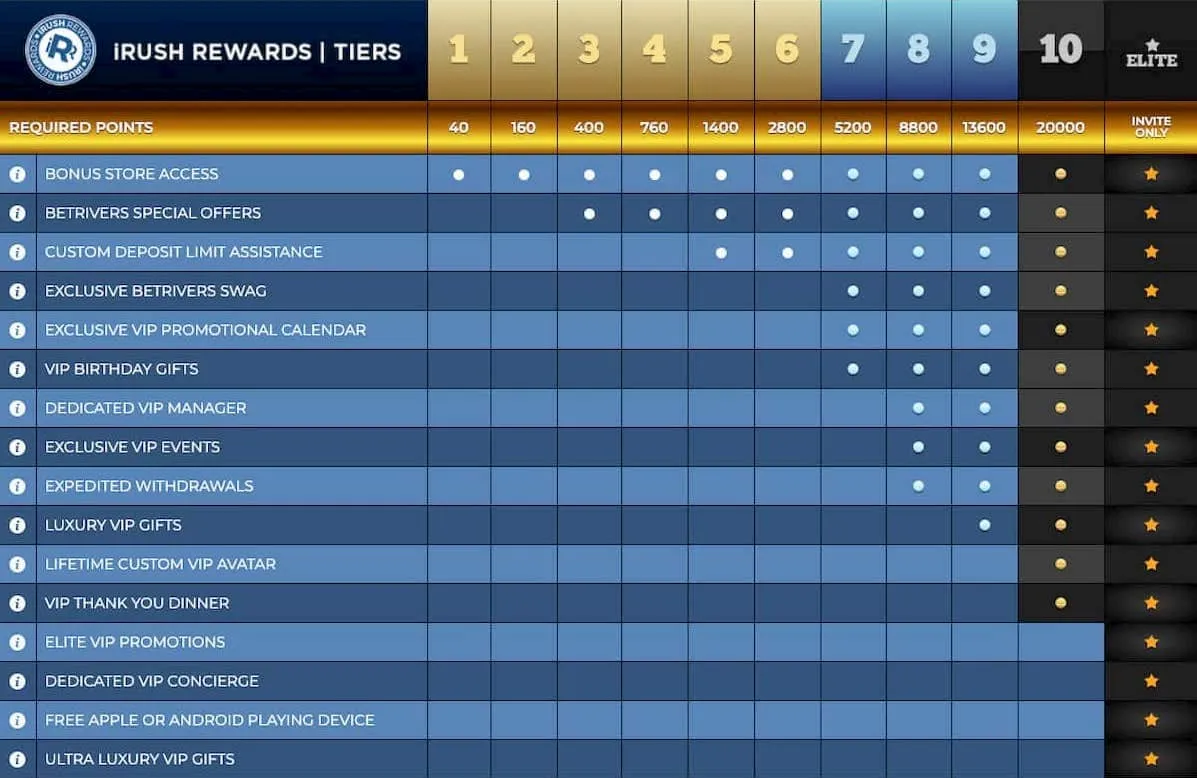 Bonuses for existing players at BetRivers come via the iRush Rewards loyalty scheme. Every real money wager you make, either on the BetRivers sportsbook app or casino, you earn both Loyalty Level Points (which help you climb the tiered rewards ladder) and Bonus Store Points (which can be used to purchase rewards in the bonus store).
The bonuses you can buy in the store vary a lot. You can get Bonus Money, the chance to spin a prize wheel, or free bets. The rewards available as you climb the ladder are even more extravagant – they start off with simple promotions like access to special offers and go all the way up to free tablets, dinner vouchers, and a personal account manager.
We like the iRush Rewards scheme. There is a lot going on, and it's fun to see your points tick up as you gamble.
However, it is true that the value is heavily weighted in favor of high volume and high-frequency players. If that doesn't describe you, regular bonuses from BetRivers might be thin on the ground.
We'd love to see the sportsbook add some bonuses that are not contingent on earning reward points or playing regularly, like a weekly free bet or deposit bonus.
BetRivers Bonus Bank
BetRivers offers full control over your Bonus Money. The Bonus Bank is a reinvestment program meant to give you control over deciding how much of your Bonus Money you want to play until you cash out.
BetRivers Bonus Store
The Bonus Store allows you to decide what to redeem and when to redeem it. If you want guaranteed Bonus Money it's easy to choose from a variety of Wheel Spins or other Bonus Money prizes. The Bonus Store reward makes it easy for you to purchase the prizes you want by redeeming your Bonus Store Points.
Head to BetRivers Sportsbook for more details on Rewards.
BetRivers Bonus Code
Claim BetRivers Promo Code "SPORTS" to get a free bet of up to $500.
Take advantage of sportsbooks' bonuses and promotions. Find the best bonuses in your state below.
Click here for the latest sports betting promotions and bonus codes in PA.
Click here for the latest sports betting promotions and bonus codes in IN.
Click here for the latest sports betting promotions and bonus codes in Colorado.
Click here for the latest sports betting promotions and bonus codes in Illinois.
Other BetRivers Sportsbook Bonuses
BetRivers has a great selection of promotions and offers to choose from.
Odds Boosts
BetRivers has a great "Daily Odds Boost Special". Choose your bet type from money lines to spreads, prop bets, or parlays, they offer the best prices in the industry.
Place bets with these odds boost specials and you have a higher chance of winning.
Kinds of Bets and Odds
The different types of bets and odds available are the heart of every sportsbook. More so than welcome bonuses, more so than banking options, if your sportsbook drops the ball in this category it's already game over.
The best sites around these days have loads of betting options. Every site is going to have classics like money lines and point spread betting, but we want to see plenty of variety beyond that – a wide range of futures, interesting props, live betting, and more.
BetRivers does well across the board, with a really balanced and interesting betting menu.
Here are our expert's main takeaways on the betting menu at BetRivers:
The most popular types of bets are all available and, thanks to the simple design of the site, they are really easy to locate and place.
The most popular sports have tons of betting options beyond the obvious, including plenty of exciting prop bets. This goes for both US and European sports.
There tends to be a good selection of topical specials, which you can find in the menu on the left-hand side.
BetRivers' odds are competitive with the other top sportsbooks in both Pennsylvania and Indiana.
BetRivers' live betting options are great, and the live-streamed games and events are amazing.
Next up we're going to take a closer look at the different types of bets you can find at BetRivers.
Popular Bets
We've been in the game long enough to know that the vast majority of bets placed with any sportsbook tend to be a combination of money lines, point spreads, and totals.
All of these are available at BetRivers, and are given the most prominence on the screen. Placing them is really easy too, thanks to the intelligent Betslip which pops up from the bottom of the screen.
If you like to keep things simple with these types of bets, BetRivers makes it easy.
Live Betting
Our experts loved the live betting section at BetRivers Sportsbook and rated it as one of the top 10 best live betting sites.
You can access the section easily from the menu on the left-hand side of the page, where you can see a list of all the live games currently available to bet on. When you click into one, BetRivers displays minute-by-minute stats from the game which help to inform your bets.
The betting options for live games are naturally more restricted than when betting on them in advance, but there are still loads of ways to bet live. Moneylines, spreads, and totals are all typically available, and the more popular sports have a full menu of live props too.
Most impressive of all, BetRivers streams many live sporting events right on the site. This makes for an ultra-convenient live betting experience, with everything you need to watch, enjoy and bet on live sport in one place.
Prop Bets
Prop bets or proposition bets can be really fun but also really profitable, and BetRivers has got a deep menu of them available for major sports like NFL, NBA, MLB, NHL, and MLS.
Place your bets on rushing yards, throwing yards, rebounds, three-pointers, the number of yellow cards, and way more. Props are great for when you can predict how some aspect of a game is going to pan out, but you're not totally confident about the result.
Futures
Plenty of more casual bettors like to stick to futures bets: things like the winner of the Super Bowl, the MVP in the NBA finals, or the winner of the US Open in golf or tennis. BetRivers lets you place futures for basically all the sports on the menu.
Futures are great for those more interested in the long haul, to add a little intrigue over the course of the season.
Other Betting Options
Our experts were happy to see some interesting specials on the menu when we conducted our review. BetRivers has a habit of picking a topical event, like when a top player transfers to a new team or the final of a major tournament and creating a special menu of bets for the topic. You can find the specials menu above the sports list on the left-hand side of the page.
Parlays are also really easy to place at BetRivers thanks to the Jackpot Parlay tool. This feature is excellent: it allows you to filter different sports, timeframes, and types of bets to build your own parlay, all the while displaying your potential winnings as you edit.
It's perfect for quickly creating a parlay using only upcoming matches or sports. Of course, you can also build parlays in the more traditional way – by manually searching through the full sports list and adding them to your betslip.
Sports You Can Bet on at BetRivers
Our experts were satisfied with the list of sports available at BetRivers.
If you're looking for some particularly obscure sport, it might not be here. However, the vast majority of sports you expect to see are available, with plenty of markets for each.
NFL, NBA, MLB, NHL, and soccer have tons of options, as do the likes of tennis, golf, and motor racing.
BetRivers sports menu also changes depending on the time of year and public interest, so you can expect to see plenty of additions to the below list over time.
Cricket
Snooker
Table Tennis
Netball
Squash
Volleyball
Boxing
MMA
Remember to also look out for plenty of markets for big annual or one-off events, like the Olympic Games.
Options for Deposits and Withdrawals
When fully legal and licensed sportsbooks got bigger throughout the US it meant that not only could residents legally bet on sports, but they could be sure that their online transactions were safe and protected.
BetRivers has got a decent selection of options for both deposits and withdrawals, with some room for improvement there too.
The full list is here:
Deposit Options
PayNearMe
BetRivers Play+ Prepaid Card
ACH Payments Bank Transfer
Cash at Casino Cage or VanillaDirect
Wire Transfer
Online Banking
VIP Preferred E-check
Discover
Withdraw Options
BetRivers Play+ Card
ACH Payments Bank Transfer
Cash at Casino Cage
Check via Mail
The most popular online transaction method is always going to be bank cards, and BetRivers lets users deposit using them. Bank transfers are also very popular, and you can both deposit and withdraw via ACH.
Neither the deposit nor the withdrawal list is the most comprehensive we have come across. The main thing missing in the opinion of our experts is some e-wallet options. Adding the likes of Neteller and Skrill for both deposits and withdrawals would really improve the banking experience at BetRivers.
Even without e-wallets, the banking options should be sufficient for most players.
We've collected the main info about banking methods in the table below:
| Method | Deposit | Withdrawal | Processing Time | Minimum Deposit | Max Deposit | Fees |
| --- | --- | --- | --- | --- | --- | --- |
| Mastercard | Yes | No | Instant | $10 | $500 per transaction, $2,000 per week | Not from BetRivers |
| Visa | Yes | No | Instant | $10 | $500 per transaction, $2,000 per week | Not from BetRivers |
| PayNearMe | Yes | No | Instant | $10 | $500 every 24 hours | Not from BetRivers |
| ACH PaymentsBank Transfer | Yes | Yes | Instant for deposits, 2-5 business days for withdrawals | Depends on bank | Depends on bank | Not from BetRivers |
| BetRivers Play+ Card | Yes | Yes | Instant for both deposits and withdrawals | $10 | $500 per transaction, $2,000 per week | Not from BetRivers |
| Cash at Casino Cage | Yes | Yes | Instant for both deposits and withdrawals | none | none | Not from BetRivers |
| Check via Mail | No | Yes | 10-14 business days | – | – | Not from BetRivers |
Signup and Registration
The smartest legal online sportsbooks try to make the sign-up process as fast and easy as possible. The last thing they want is to lose a customer because registering was too complicated.
BetRivers is no exception, and our experts are happy to report they had no trouble signing up during our tests.
Users are allowed to create an account from anywhere. However, whether you are playing from Pennsylvania, Indiana, Colorado, or Illinois, you need to be physically located within the state to legally place your bets.
We've put together this quick guide which covers the 3-step sign up process:
You can start by clicking the orange "Join Now" button in the menu at the top of the page.
Step one involves your screen information. You'll need to put in your email address and create a username and password.
There is also a box for an optional "Affiliate Code", which is basically a way of telling BetRivers why you decided to sign up. This is NOT the same as your Bonus Code, which you can enter later. When you're ready, you can click "Continue".
The second step is personal information. You'll need to provide your name, full address, date of birth, and gender. This information is needed to verify your identity, and BetRivers doesn't share it with any non-associated third parties. When you've entered all the information, click "Continue" again.
Finally, step three is dedicated to security information. First, you'll need to create 2 security questions and answers. You'll also need to provide your mobile phone number, and 4 digits from your SSN. Again, this is required for security reasons, and will not be shared.
Before you finish, you'll need to check a box to confirm your age, identity, and that you agree to the terms and conditions. You also have the option of turning on "two-factor authentication", which means you need to enter an emailed security code every time you sign in.
When you're ready, click "Complete" and you're all done.
During our tests, our experts were able to sign up in just 2 or 3 minutes.
Unlike some sportsbooks, you don't need to enter your welcome bonus code during the sign-up process. Instead, you can do it later using the cashier.
Security and Gaming Licence
The arrival of fully legal online sports betting in many US states after 2018 was an absolute gamechanger. Finally, players could legally access betting sites they were certain were fair and secure.
BetRivers is available in Pennsylvania, Indiana, Colorado, and Illinois and it is totally compliant with all the legal requirements in these states.
Pennsylvania – regulated by PA Gaming Control Board
Indiana – regulated by the Indiana Gaming Commission
Colorado – regulated by Division of Gaming
Illinois – regulated by the Illinois Gaming Board
Holding multiple licenses and being subject to regulation from different bodies is a sure sign of top security.
Our experts have no concerns about BetRivers from a security point of view. The sportsbook's licenses are solid, as well as the geolocation software used to make sure users are gambling in legal states and the company's privacy policy.
Customer Support
In our opinion, top-level customer support is undervalued in sportsbooks. You probably won't notice it until you run into an issue, and suddenly you really need help fast.
Our experts were very happy with the customer support they found at BetRivers.
You can find the Help Center at the top of the page, which has a large menu of FAQs. There is an interactive support tool always visible at the bottom of the page, which directs you to articles when you type in keywords.
If you can't find what you're looking for, you can use Live Chat to talk to support staff directly. Whenever we had a quick question during our review, it was answered immediately.
There is also an email option, but we recommend sticking to the Live Chat.
BetRivers Sportsbook also promotes responsible gaming on their platform. In case you or someone you know has a gambling problem, BetRivers offers useful links and sources to contact.
Things BetRivers is Doing Right
Our experts found loads to like about BetRivers. With so many of the online betting options in the US-dominated by huge multinational sportsbooks, it's good to see a more local name in the mix. But BetRivers isn't just here to make up the numbers.
Check out our highlights from the sportsbook below:
The software is clear, simple, and easy to use. Even absolute beginners should have no trouble placing bets on either the desktop site or mobile app.
The live betting options are highly impressive – from the number of bets available to the in-play stats and updates to the ability to stream games right on the website. We love BetRivers' live betting.
The welcome bonus, worth up to $500 in free bets with reasonable terms and conditions, is very good.
We love the parlay building tool and the topical specials section in the betting menu.
The customer service is top-notch.
Things BetRivers Could Work On
Sports betting is a very competitive world, and our experts also came back with a few things we think could be improved. If BetRivers made a few tweaks based on these selections, it would make it a truly excellent sportsbook.
Although easy to use, the software is a little boring and old-fashioned. We'd love to see both the site and app jazzed up a little while retaining its simplicity of use. We would get rid of the "Newsfeed" for a start.
The banking experience at BetRivers is pretty good, but it's not the most comprehensive list of options we've seen.
We would like to see some regular bonuses and promotions for players that don't require you to earn reward points. At the moment, the regular bonuses are heavily weighted in favor of high-volume players.
BetRivers Company History
BetRivers sportsbook is named after Rivers Casino in Pittsburgh, which opened in August 2009. Today the casino is operated by parent company Rush Street Gaming, a gaming company originally based out of Chicago which runs a number of casinos in the northeast, including in Illinois, New York, and Pennsylvania.
The move online was preceded by the Supreme Court's decision to strike down PASPA, which acted as a federal ban on sports betting in the United States, in May 2018. Each state was given the power to determine its own sports betting laws, leading Indiana and Pennsylvania (among others) to introduce legal sports betting within the following year.
Rush Street Gaming wasted no time, launching BetRivers online sportsbook in June 2019 almost exactly a year after the Supreme Court decision. Initially available to Pennsylvania residents, BetRivers soon became the first online sportsbook available in Indiana's history thanks to a deal with French Lick Resort.
At the Rivers Casino in Pittsburgh, you also can find the 5,500 square-foot luxury BetRivers sportsbooks.
The Final Word on BetRivers
With the number of online betting options seemingly growing by the day, BetRivers has managed to carve out a place for itself in the market.
We have no doubt that BetRivers is a perfect sportsbook for lots of users.
Pittsburgh locals who play in person at the excellent Rivers Casino will love the chance to take their experience online and have the bonus of making their transactions in cash at the casino cage.
If live betting is your thing then BetRivers is absolutely the place for you, with its excellent platform for streaming and betting on games in real-time.
Although the software doesn't always feel like the most modern outside of live betting, there are still lots of customizable options that make the overall experience smoother – like the ability to choose your preferred odds format and the parlay building tool.
From a customer experience point of view, BetRivers is totally secure and has excellent customer support.
Adding a few e-wallets would beef up the banking options, and better regular bonuses would be great too. We'd also love to see the site and app redesigned, to look a bit more modern and slick.
Ultimately though, our experts are more than happy to recommend checking out BetRivers for yourself if you live in one of the legal states it operates in. It's a solid choice.
Sportsbook
BetRivers
DraftKings
BetMGM
Rating

⭐ 9/10

⭐ 9/10

⭐ 8/10
Bonus
$500 Free Bet
$1000 DEPOSIT
BONUS
$1000 FIRST BET OFFER
Top
Features
✔ Wide range of
betting options
✔ Top notch
customer service
✔ Promo Code
'SPORTS'
✔ Great banking
options
✔ Access to
fantasy sports
✔ Beginner friendly
✔ Parlays with
enhanced odds
✔ Impressive range
of bets
✔ $10 free bet
every week
States
License In
Currently licensed
in 11 states.
Currently licensed
in 14 states.
Currently licensed
in 19 states
Payment
Methods
Visa
MasterCard
ACH Transfer
Online Banking
BetRivers Play+
card
Visa
MasterCard
PayPal
American Express
Discover
Online Banking
Play+
Wire Transfer
VIP Preferred
e-cheque
Cash
VIP Preferred
e-cheque
Visa
PayNearMe
Discover
Electronic Transfer
Online Banking
PayPal
MGM Rewards
Mastercard
Support
Live Chat
Email
Phone
Email
Phone
24/7 Live Chat
Email
BetRivers FAQs