A Closer Look at the Best Online Casinos in New Jersey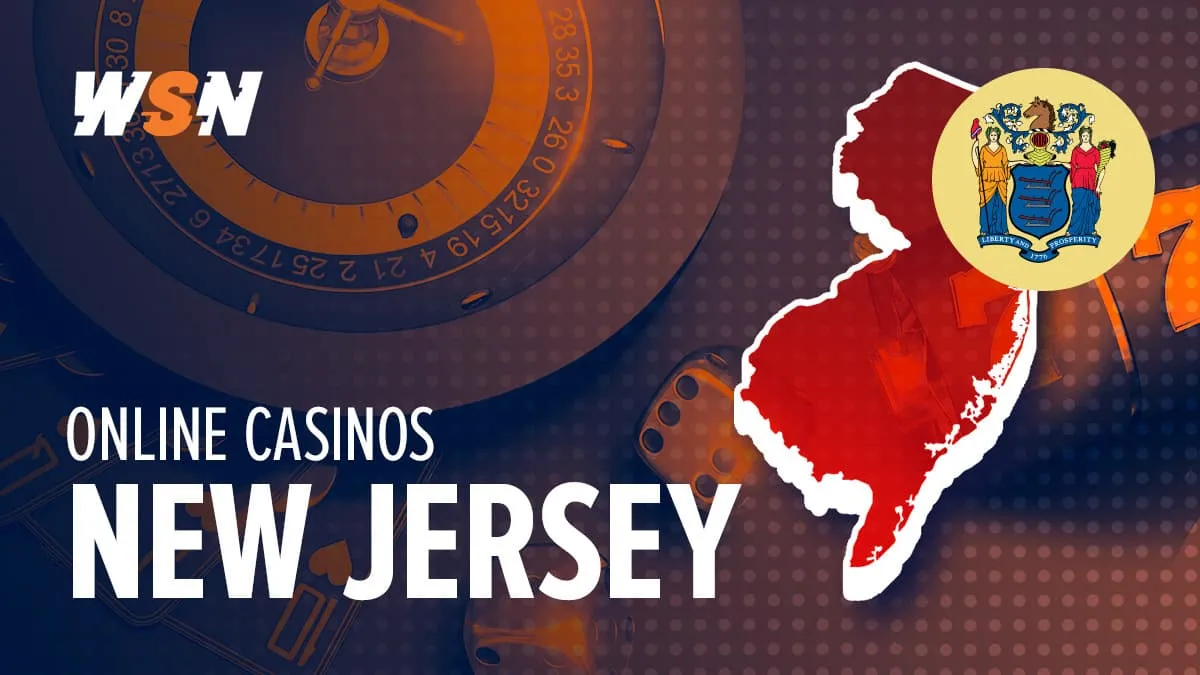 BetMGM Casino
WSN Review Rating: ⭐ 9/10
Welcome Bonus: $25 Freeplay On Sign Up & 100% Deposit Match up to $1,000.
Best for: Progressive Jackpots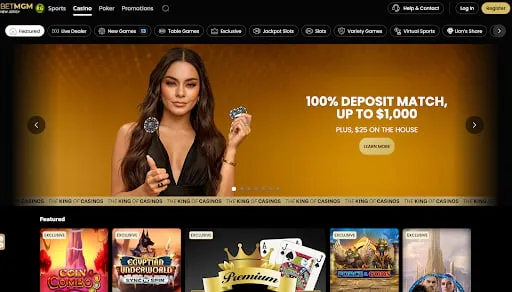 BetMGM is a premier online casino that stands out for its exceptional welcome bonus and ongoing promotions. When you sign up with BetMGM, you'll instantly receive $25 as a no-deposit bonus, allowing you to explore their games without dipping into your own funds.
It's a great offer and gives you an easy introduction to their platform and a chance to play with no pressure. If you do decide to deposit, there's a 100% match bonus waiting for you, worth up to $1,000.
Caesars Casino
WSN Review Rating: ⭐ 9/10
Welcome Bonus: 100% DEPOSIT MATCH on Deposits Up To $2,000. Plus, a $10 sign-up bonus.
Best for: In-person rewards at Caesars locations
Caesars is a leading online casino that excels in providing a user-friendly experience through its intuitive app. With a well-designed interface, navigating the platform is a breeze, allowing players to effortlessly explore the vast array of slots and table games on offer.
Whether you're a seasoned player or new to online gambling, Caesars' app ensures a seamless and enjoyable gaming experience, catering to a wide range of preferences and skill levels. You can also win real-life benefits at in-person Caesars resorts.
Sign up at Caesars Casino today to get up to $2,000.
FanDuel Casino
WSN Review Rating: ⭐ 9/10
Welcome Bonus: $2,500 back in bonus bets for new account holders.
Best for: Mobile Gaming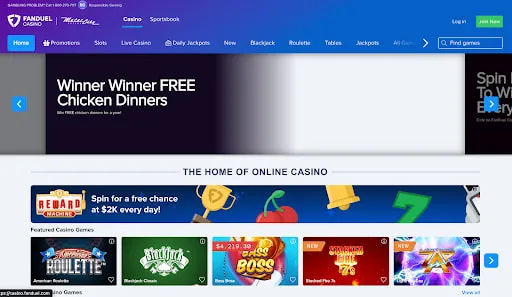 FanDuel stands out as a prominent market leader in New Jersey, capturing an impressive market share of nearly 40%. The attention paid to every aspect of the site is evident throughout the site, including an array of exclusive offers for both new and existing customers.
Whether you're a first-time user or a loyal player, FanDuel goes above and beyond to deliver enticing promotions that enhance your gaming experience and provide additional chances to win. The FanDuel app is where the platform really stands out. It's regularly the highest-rated casino app in any state, sitting at 4.8/5 on the App Store.
Use our exclusive link to sign up for FanDuel Casino and get up to $2,500 in bonus bets.
DraftKings Casino
WSN Review Rating: ⭐ 9/10
Welcome Bonus: Choose between a deposit match of up to $2,000 or up to $100 with only a 1x playthrough.
Best for: Exclusive Games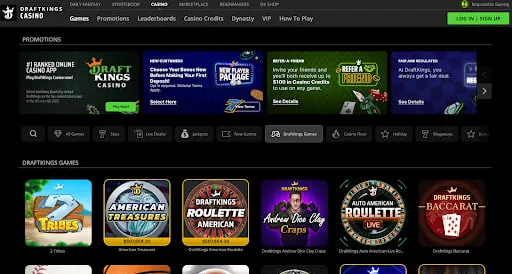 DraftKings sets itself apart from the competition through its innovative game studio and an extensive range of casino games. With an impressive collection of nearly 800 casino games at their disposal, players are spoiled for choice. Boasting over 700 individual slot titles alone, DraftKings has a solid selection of exclusive games too - which really helps the platform stand out in an industry where a lot of the same games appear on different sites.
Shout out to hosting two potential welcome bonuses too, so you can choose which one you prefer.
Sign up at DraftKings Casino for a bonus of up to $2,000!
Golden Nugget Casino
WSN Review Rating: ⭐ 8/10
Best for: New players
Welcome Bonus: Get up to $1,000 Instant Casino Match + 200 Free Spins on 88 Fortunes Megaways with your first deposit of $30 or more.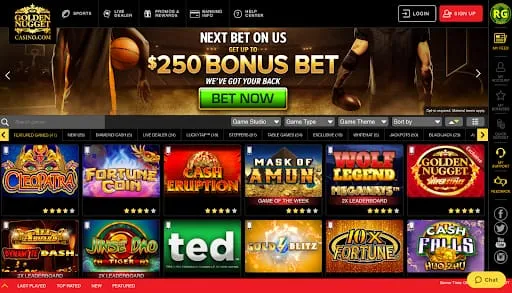 What helps to set Golden Nugget apart is their incredible promotions and focus on customer satisfaction. This begins at sign-up, with your first deposit of $30 or more, you can enjoy a generous welcome bonus. You'll receive up to $1,000 as an Instant Casino Match, meaning the casino will match your deposit amount with bonus cash. On top of that, you'll also receive 200 Free Spins to use on the popular game 88 Fortunes Megaways. It's a fantastic opportunity to kickstart your gaming experience at Golden Nugget and maximize your chances of winning big right from the start. The design of the website is simple and beginner friendly too, making it a great option for new players.
Sign up at Golden Nugget today for a $1,000 instant casino match.
Borgata Casino
WSN Review Rating: ⭐ 8/10
Welcome Bonus: 100% Deposit Match up to $1,000 + $20 Bonus Dollars.
Best for: Slots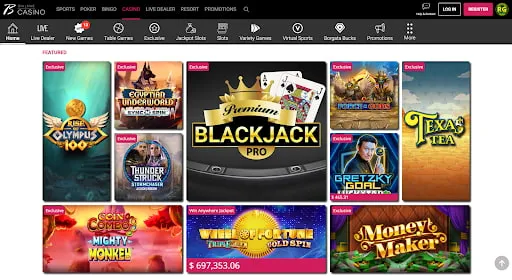 Borgata is the go-to place for players who want the best variety of slots, thanks to hosting games from lots of different software providers like NetEnt and IGT to name just two, as well as exclusive in-house games. There are also tons of jackpots, Megaways games, Slingo games, and more. In an industry that can sometimes feel a little repetitive, the range and diversity of slots is really impressive. They also have a selection of table games like blackjack, roulette, baccarat, and a lot more.
Sign up with Borgata Casino using our exclusive link and get a 100% deposit match up to $1,000.
PartyCasino
WSN Review Rating: ⭐ 7/10
Welcome Bonus: 100 bonus spins on deposit and a 100% deposit match up to $500
Best for: Jackpot Leaderboards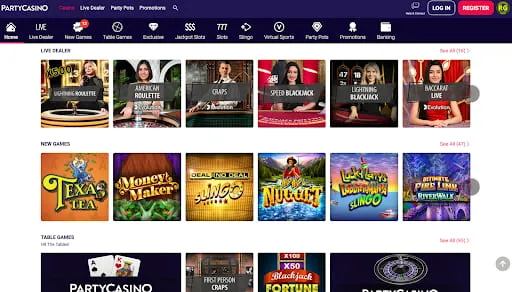 PartyCasino is a sister casino to BetMGM and therefore the two share a lot of similarities, from the gaming menu to the banking methods. It's a bright and fun platform, flashy and easy to use and appreciate for beginners. One area that stands out is the Party Pots feature, which is the Party Casino equivalent of leaderboard contests. Every single day that you play on selected slots you are in with a chance of winning a mystery jackpot. There are payouts for both micro-stakes players and high rollers too, which we always like to see.
Party Casino also has an exciting bonus offer of 100 bonus spins upon deposit and a 100% deposit match up to $500. Claim your PartyCasino bonus here.
Pala Casino:
WSN Review Rating: ⭐ 8/10
Welcome Bonus: 100% Up to $250 On 1st Deposit, 50% Up to $200 On 2nd Deposit, 25% Up to $50 On 3rd Deposit
Best for: Interesting welcome bonus
Pala Casino is an online casino platform that's all about giving you tons of games to choose from. They've got a wide variety of themes, so you can find something that suits your style and interests. They work with top-notch software providers to make sure their games are top-quality, with state-of-the-art graphics and cool features that keep you hooked from the moment you start playing. It's all about creating an immersive gaming experience that you won't want to put down.
To get you started, they offer one of the most original welcome bonuses on this list. When you make your first deposit at this casino, they'll match it 100% up to a maximum of $250. So if you deposit $100, they'll give you an additional $100 to play with, giving you a total of $200. On your second deposit, you get a 50% boost up to $200. And on your third, you get a 25% boost up to $50. Having your welcome bonus spread out over three separate deposits is a great idea, and means you won't use up all your bonus cash too quickly.
Sign up at Pala Casino today to take advantage of this welcome offer.
Bally's Casino
WSN Review Rating: ⭐ 8/10
Welcome Bonus: Up to $100 cash refund on your first deposit
Best for: Customer Service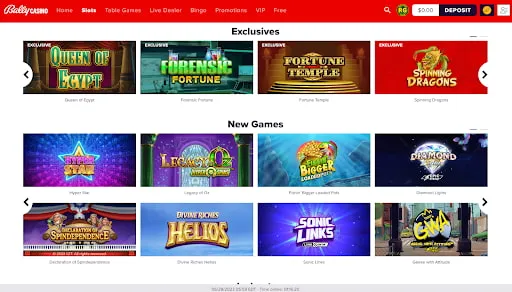 Bally's Casino stands out in the online casino industry due to its commitment to excellent customer service, offering multiple channels for support and assistance. The collaboration with top game developers ensures a diverse and engaging selection of games that cater to various preferences. While the availability of a wider range of payment options could be improved, Bally's Casino excels in security measures, user-friendly interface, and overall dedication to player satisfaction.
The welcome bonus is pretty novel too, which lets you reclaim up to $100 in cash based on your first deposit. It's pretty rare to see casinos actually offering cash refunds (rather than free bets or bonus cash), so this is a promising development.
Sign up at Bally Casino and get up to $100 cash refund.
PlayStar Casino
WSN Review Rating: ⭐ 7/10
Welcome Bonus: 100% up to $500 + up to 500 Free Spins
Best for: Software Design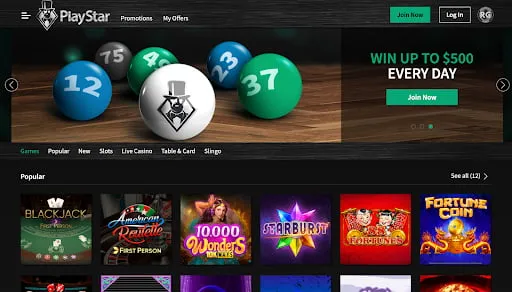 PlayStar Casino has emerged as a compelling player in the New Jersey online casino landscape, enticing players with its no-deposit bonus and risk-free betting options. While they continue to establish their position in the market, PlayStar Casino recognizes the need for ongoing improvements to further compete with established industry giants.
So far, the design of the desktop site is where PlayStar really stands out. It's one of the most modern platforms out there, with very impressive 3D animations and videos across the site. At the same time it doesn't feel overwhelming or overly gimmicky either, and equally usable for beginners as more experienced players.
Sign up with PlayStar Casino and get a welcome bonus of up to $500.
How We Rated the Top NJ Online Casino Sites
At WSN, we employ a comprehensive set of criteria to evaluate and rate the top NJ online casino sites. These criteria cover various aspects of the online casino experience to ensure that players have access to the best platforms. Here are the key factors we consider:
Sign-up offers: We assess the quality and attractiveness of the welcome bonuses and promotions offered by online casinos. Generous sign-up bonuses can enhance the initial gaming experience for players.
Regular promotions: Ongoing promotions and rewards for loyal players are crucial to keep the excitement alive. We evaluate the frequency and value of promotions to ensure that players have ongoing incentives to play.
User experience: We examine the user interface and overall experience of the online casino platforms on both mobile and desktop devices. A seamless and intuitive interface contributes to a positive gaming experience.
Game selection: The availability of a diverse range of games is paramount. We consider the quantity and quality of games offered, including popular slots, table games, live dealer options, and specialty games.
Payment options: We evaluate the availability, convenience, and variety of payment methods for deposits and withdrawals. Fast and secure transactions are essential for a smooth gambling experience.
Payout times: Timely and efficient payout processing is crucial for player satisfaction. We assess the speed and reliability of payout times to ensure that players can access their winnings promptly.
Customer support: Accessible and reliable customer support is a key consideration. We examine the availability and responsiveness of customer support channels such as live chat, email, and telephone.
Trustworthiness: We prioritize online casinos that are licensed and regulated by reputable authorities. The reputation and track record of the casino operators are important factors in assessing their trustworthiness.
Software interface: The software interface of the website and mobile app is crucial for providing a seamless user experience. We evaluate the performance, responsiveness, and ease of navigation in our ratings.
Legal compliance: Ensuring that online casinos comply with relevant laws and regulations is essential for player security and safety. We verify the licensing and regulatory compliance of each casino.
By considering these criteria, we aim to provide players with accurate and reliable ratings of the top NJ online casino sites. Our goal is to empower players with the information they need to make informed decisions and have a rewarding online gambling experience.
Why You Should Trust Us
Why trust us? Here's why:
Extensive industry experience: With a team of seasoned professionals, we have a deep understanding of the online gambling industry and its evolution.
First-hand experiences: We personally play and test games to provide genuine insights into gameplay, features, and overall quality.
Passionate team: Our enthusiastic members stay up-to-date with trends, exploring games and features with genuine enjoyment.
Honest opinions: Our unbiased assessments highlight the strengths and weaknesses of online casinos, offering balanced perspectives.
Unbiased information: We provide trustworthy content based on our own personal experience, not advertisements or press releases.
Reader-centric approach: Tailoring reviews and recommendations to individual preferences, we prioritize the needs of our readers.
Community engagement: We value reader feedback, fostering discussions and incorporating opinions into our evaluations.
Commitment to quality: Thorough research ensures our content maintains high standards for reliability.
Trustworthy reputation: With years of providing accurate and unbiased reviews, we have earned the trust of online gambling enthusiasts.
With our experience, transparency, and dedication to quality, we are your trusted source for maximizing your online gambling journey.
Is Online Gambling Legal in New Jersey?
Yes, online gambling is legal in the Garden State, boasting some of the more lenient gambling laws in the country. Legislation to legalize online casinos was passed in November 2013, and currently, only gambling websites regulated and licensed by the New Jersey Division of Gaming Enforcement (NJDGE) are legal. As of 2023, there are 32 legal online casinos in the NJ online casino market.
In addition to online casinos, online sports betting and online poker is also legal in NJ.
How to Get Started Playing Online Casino in NJ
Getting started with online casino gambling in New Jersey is a simple process for both beginners and experienced players alike. To help you begin your online casino journey, here are the steps you need to follow:
Research and Choose a Reputable Casino: Start by researching reputable online casinos that offer the games you enjoy playing. Look for licensed and regulated casinos that have a positive reputation among players. Consider factors such as game selection, user experience, promotions, and customer reviews to make an informed decision.
Create an Account: Once you have chosen an online casino, visit their website and click on the "Sign-Up" or "Register" button to create a new account. Fill in the required information accurately and ensure that it matches your legal identification documents.
Provide Personal Information: During the account creation process, you will be asked to provide personal information such as your full name, date of birth, email address, phone number, residential address, and Social Security Number (SSN). This information is necessary for age verification and to comply with the state's regulations.
Enter Promo Codes (Optional): Some online casinos offer promotional codes that provide additional bonuses or rewards. If you have a promo code, enter it during the signup process to claim any available offers. Make sure to read and understand the terms and conditions associated with any promotions before redeeming them.
Deposit Funds: To start playing for real money, you'll need to fund your online casino account. Most online casinos offer a variety of secure payment methods, including credit/debit cards, e-wallets, and bank transfers. Choose a suitable payment option and follow the instructions provided by the casino to deposit funds into your account.
Explore the Game Selection: Once your account is funded, you can explore the wide range of casino games available. Popular options include slots, table games like blackjack and roulette, poker, and live dealer games. Take your time to familiarize yourself with the game rules, features, and betting options.
Set Limits and Gamble Responsibly: It's important to gamble responsibly and set limits for yourself. Determine a budget for your gambling activities and stick to it. Set limits on your deposits, losses, and the amount of time you spend playing. Online casinos often provide responsible gambling tools, such as deposit limits, self-exclusion, and reality checks, to help you maintain control over your gambling habits.
By following these steps, you can confidently start playing online casino games in New Jersey. Remember to choose reputable casinos, provide accurate information, and always gamble responsibly. Enjoy your online casino experience and have fun!
New Jersey Online Casino Bonuses
There are lots of different types of bonuses available to casino players in New Jersey. However, it is crucial to read the fine print and understand the terms and requirements of each offer. Some common bonuses include:
No Deposit Bonus: These bonuses are completely free, requiring no deposit of cash. However, they often come with strict wagering requirements.
Free Spins: These bonuses provide a specific number of free spins on selected slot games but are subject to wagering requirements.
Deposit Bonus: These bonuses match some or all of your first deposit with bonus cash, which you can use to play games.
VIP Programs: Many casinos offer VIP or loyalty programs where players can earn points, rewards, and participate in exclusive events and prizes.
Reload Bonus: Similar to a deposit bonus, a reload bonus is applied to future deposits.
Here are some of the top casino sign-up offers in New Jersey:
DraftKings Casino: 100% Match Up To $2,000 and $35 Casino Credits on Sign Up.
Caesars: $10 On Sign Up and 100% Up To $2,000 On Deposit.
BetMGM: $25 Freeplay® On Sign Up and 100% Deposit Match up to $1,000.
What Casino Apps Are Available in NJ?
All the big players in the online gambling industry - including those on our list of recommended sites above - offer their casino apps in New Jersey, catering to both iOS and Android users. The user experience is a key consideration, with a focus on interface and navigation that provides a good look and feel.
FanDuel is regarded as a standout app due to its user-friendly nature and comprehensive features. With over 1 million reviews and a current rating of 4.8 in the App Store, it has gained an excellent reputation among players.
Popular Casino Games in New Jersey
New Jersey has a great variety of online casinos, offering a diverse range of popular games to cater to different preferences and interests. Let's explore some of the most popular types of games you can find in NJ online casinos.
Slots
Slots dominate the online casino scene, drawing in players with the sheer number and variety and for their potential for big wins. NJ online slots offer a wide array of themes, options, and styles to keep you entertained. From classic fruit machines to visually stunning video slots, there is something for everyone. There's also the excitement of progressive jackpots, where the prize pool accumulates until a lucky player hits it big. Popular NJ slot titles include NetEnt's Divine Fortune and IGT's Triple Red Hot 7s.
Table Games
Online casinos in New Jersey replicate the atmosphere of brick-and-mortar casinos by offering an extensive selection of table games. Say goodbye to planning trips to Atlantic City and enjoy the classic casino experience from the comfort of your own home. Popular table games such as roulette and blackjack are readily available, allowing you to test your skills and strategies against virtual dealers. Additionally, you can explore other options like baccarat, video poker, craps, keno and many more.
Live Dealer Games
Experience the best of both worlds with live dealer games, a fusion of online convenience and the authentic casino environment. These games utilize high-definition video streaming to connect you with real dealers, tables, and cards. You can interact with the dealer and fellow players through live chat, adding a social element to your online gambling experience. Enjoy the immersive gameplay of live roulette, blackjack, baccarat, and other popular games, as if you were physically present at a casino table.
Other Games
NJ online casinos offer a selection of additional games tailored to every player. Dive into the virtual poker rooms and showcase your skills in online poker tournaments. Try your luck at specialty games like Keno or Scratch Cards for some instant excitement. And don't forget about the ever-growing selection of innovative and unique casino games, like game-show style live dealer tables.
New Jersey Online Casino Facts
[State] Sports Betting Quick Facts

Slots tax rate

24%

Table games tax rate

24%

Poker tax rate

24%

No. online casino brands

17

No. online poker brands

7
Regulated by the Division of Gaming Enforcement (DGE): Online casinos in New Jersey are regulated by the Division of Gaming Enforcement, ensuring a safe and fair gambling environment for players. The DGE oversees licensing, compliance, and enforcement to maintain the integrity of the industry. This regulatory body ensures that online casinos operate with transparency and adhere to strict standards, giving players peace of mind while enjoying their favorite games.
Age and Location Requirements: To gamble legally in New Jersey, players must be at least 21 years old. This age restriction applies to both online and land-based casinos in the state. Additionally, you must be physically located within the borders of New Jersey to access and play at NJ online casinos. Geolocation technology is used to verify your location, ensuring compliance with state regulations.
Abundance of Online Casino Brands: New Jersey boasts a thriving online gambling market, with a total of around 32 online casino brands operating in the state. This diverse range of operators provides players with a wide selection of options to choose from, each offering unique features, game libraries, and promotions. Whether you're a seasoned gambler or a newcomer, you'll find a suitable online casino that matches your preferences and gaming style.
Growing Gambling Revenue: The online gambling industry in New Jersey has experienced significant growth in recent years. In March 2023, gambling revenue in the state increased by 15.0% year-on-year, reaching $487.4 million. This upward trend is a testament to the popularity and success of online casinos in New Jersey. The state's robust regulatory framework, combined with the convenience and variety offered by online gambling, has contributed to this continuous growth.
These factors collectively contribute to the dynamic and thriving online gambling landscape in New Jersey. The stringent regulation by the Division of Gaming Enforcement ensures player protection and fair play. Age and location requirements are in place to maintain legal and responsible gambling practices.
History of Online Gambling in NJ
New Jersey has a rich history when it comes to gambling, and the legalization of online gambling within the state has further contributed to its vibrant gambling culture. In this section, we're going to delve into the history of gambling in New Jersey, from its earliest roots to the introduction of online gambling.
The origins of gambling in New Jersey can be traced back to the early 19th century when Freehold Raceway, located in Freehold Borough, was established. Freehold Raceway is the oldest racetrack in the United States and has been hosting horse racing since the 1830s. This marked the beginning of New Jersey's association with the gambling industry.
In 1970, a significant milestone was reached in New Jersey's gambling history with the creation of the New Jersey Lottery. This initiative was supported by an overwhelming 81.5% of New Jersey residents who voted in favor of a referendum. The introduction of the lottery provided a legal and regulated platform for individuals to participate in games of chance.
The evolution of gambling in New Jersey continued in 1975 with the introduction of Pick-It, which became the first legal lottery game in the United States where buyers could choose their own numbers. This marked a shift in the way lotteries were conducted and offered greater autonomy to players in selecting their preferred numbers.
Fast forward to January 2011, when the New Jersey Legislature made a significant move by passing a bill sponsored by Raymond Lesniak to legalize online gambling for New Jersey residents who were at least 21 years old. This legislation opened the doors to online gambling within the state's borders, enabling residents to participate in a variety of casino games and online poker from the comfort of their homes.
Despite the passage of this bill, there remained an obstacle at federal level. The Professional and Amautuer Sports Protection Act effectively represented a ban on both sports betting and various forms of online gambling in almost every state in the US. In a landmark decision in 2018, in the face of a legal challenge led by NJ, the Supreme Court struck down PASPA paving the way for the introduction of online gambling around the US.
Since the legalization of online gambling, New Jersey has witnessed substantial growth in the industry. The state has become a trailblazer, with online gambling revenue consistently increasing year after year.
The legalization of online gambling has brought numerous benefits to New Jersey. It has created a safe and regulated environment for residents to engage in online gambling activities, promoting responsible gambling practices and player protection. Furthermore, it has generated substantial tax revenue for the state, contributing to funding various public initiatives and programs.
How Are Online Casinos Regulated in NJ?
Online gambling in New Jersey falls under the regulation of the New Jersey Division of Gaming Enforcement (DGE). The DGE is responsible for vetting license applicants, ensuring the fairness of games, and assuring the honesty, good character, and integrity of casino owners, operators, employees, and vendors. Casinos that are licensed and regulated by the DGE are generally considered legitimate and trustworthy.
Casinos to Avoid in New Jersey
There are a few blacklisted casinos in New Jersey that engage in unethical acts and should be avoided, as well as offshore sites that do not have NJ gambling licenses but accept players from the US anyway. Examples of such casinos include Pure Vegas Casino and Atlantic Casino.
It is crucial to choose casinos that have received the seal of approval from the DGE and are licensed by reputable regulatory bodies to protect your sensitive personal and financial information.
Responsible Gambling in NJ
New Jersey emphasises responsible gambling and encourages players to maintain healthy attitudes and know their spending limits.
Casino operators have guidelines in place to make the gambling experience fun and safe.
Information and resources are available through organizations like the Council on Compulsive Gambling in New Jersey, a nonprofit that provides statewide services.
They operate a 24/7 helpline (1-800-Gambler) where gamblers can seek free, confidential counselling and assistance. Gamblers Anonymous meetings are also held throughout the state for those seeking support.
Final Verdict
New Jersey is one of the least restrictive states when it comes to online gambling, offering a wide range of options to gamblers.
With its rich gambling history and the growth of the online gambling industry, the state has taken the gambling industry by the horns. When choosing an online casino, it is important to consider licensed and regulated casinos that offer a variety of games and attractive bonuses.
By following these recommendations and gambling responsibly, players can have an enjoyable and safe online gambling experience in New Jersey.
Best Sweepstake Casinos in New Jersey
If you want to be social while playing casino-style games then have a look at all the best social casino options available in the US. See some of our favorites below.