Stake.us Quick Facts
Stake.us Social Casino
Welcome Bonus
10,000 GCs + 1 5% rakeback
Promo Code
None
States Available
46 (not NY, NV, ID, WA)
Games Available
350
Payment Methods
Cryptocurrencies (BTC, ETH, LTC, DOGE, BCH etc)
Where Is Stake.us Social Casino Available?
Stake.us is open to anyone in the US over the age of 21, with the exception of players in New York, Washington, Nevada and Idaho. Anyone from the other 46 states is free to sign up and play totally free.
Since it's a social casino rather than a more old-school real money online casino, Stake.us doesn't require a regular gambling license to operate. Social casinos are still somewhat new in the US, and new sites take care to operate under sweepstakes laws rather than actual gambling laws. They are steadily growing in popularity and availability around the country, thanks to sites like Chumba Casino and LuckyLand Slots.
With that in mind, we wouldn't be surprised to see Stake.us also launch in one or more of the four exception states in the future.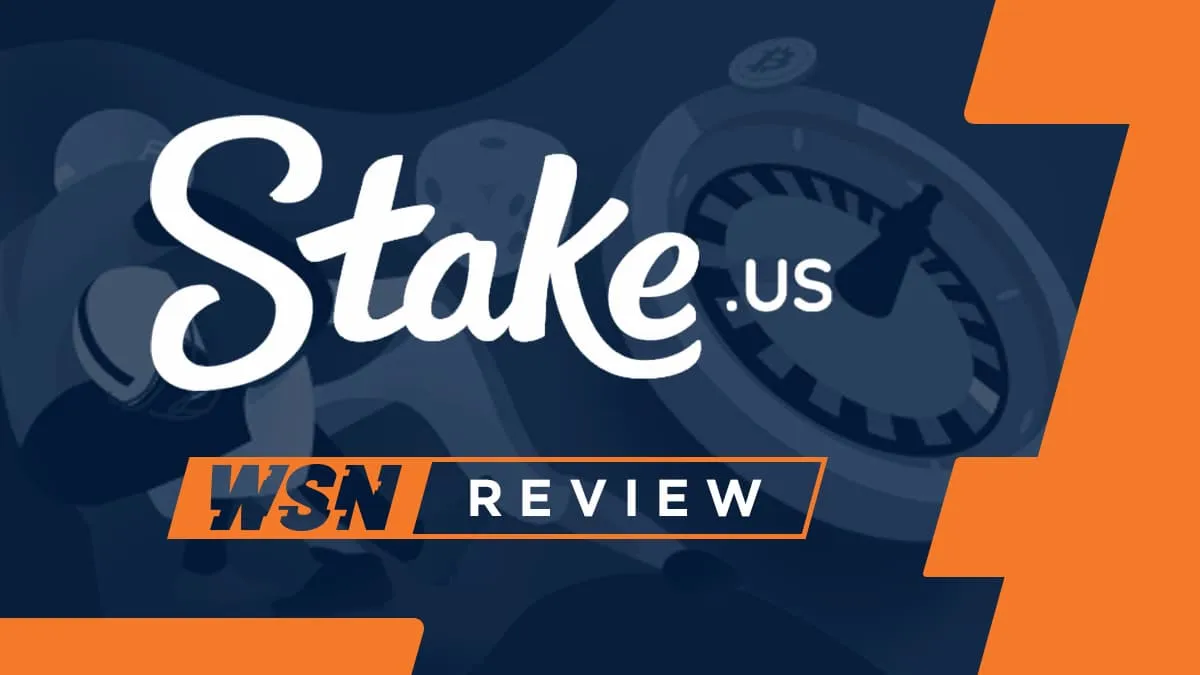 The games at Stake.us are played using one of two virtual currencies: Gold Coins or Stake Cash. Stake Cash is basically the equivalent of what is often called Sweeps Coins at other social and sweeps casinos.
Gold Coins can only be used to play games at Stake.us and never to claim prizes, but Stake Cash can be redeemed for prizes that get sent to you in the form of cryptocurrency.
You can get both Gold Coins and Stake Cash for free as part of various bonus offers from Stake.us.
As a welcome bonus, you'll be given 10,000 GC as well as a 5% rakeback as soon as you create your account, with no promo code required. Even better, you can claim the exact same bonus once every 24 hours, simply by logging into your account.
You can also sometimes get free Gold Coins and Stake Cash through various promotional activities, like interacting with Stake.us on social media. For this reason, it really pays to follow the platform on the likes of Twitter and Facebook, so you don't miss out.
Finally, you can also buy additional Gold Coins. If you do, you'll normally receive some Stake Cash for free as a special bonus with the purchase. The exact offers can change up over time, but you should always have the option to get free SCs if you decide to buy GCs.
And of course, there's no obligation to buy them, and the games at Stake.us are available to play totally free. You can check out more details about purchasing packages, and redeeming prizes, in the banking section below.
In addition to the regular GC and SC bonuses on offer, Stake.us also have lots of other interesting promos. You can hit up the Promotions section in the menu on the left-hand side of the site to see what's up for grabs. We've also included a sense of what's happening below.
Weekly 10,000 SC Giveaway
This is a straightforward lottery, which runs every week. You'll receive an entry for every 1,000 SC you gamble on the site per week, with multiple entries available. At the end of the week, Stake.us hands out 5,000 each to two lucky customers, along with 5,000,000 GCs.
The event is also live-streamed, adding an extra element of tension and interaction with the Stake.us community.
Although it's true that this promo skews towards the higher stakes or higher volume players, it's still a great offer.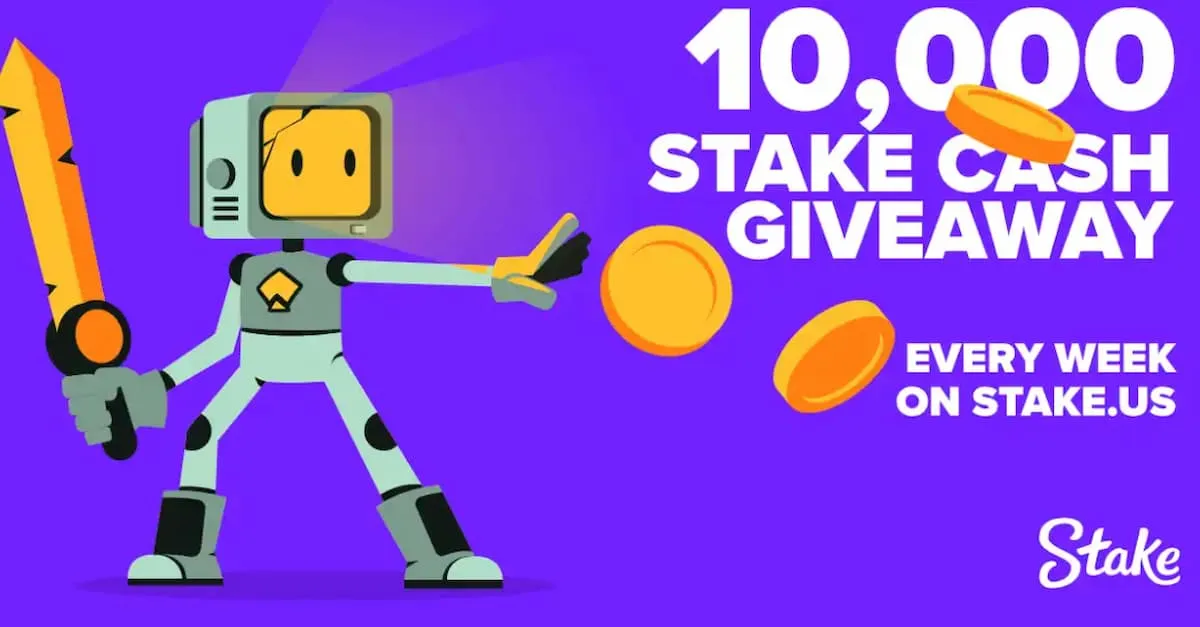 1,000 SC Slot Battles
Stake.us hosts regular opt-in tournaments, battles, and races where they share out a top prize between members who win the most on a selected game over a period of time. It's a fun way to get some friendly competitiveness going between players.
You'll find both weekly and daily promotions like this.
Tournaments can be a lot of fun, although it's also important not to get carried away with trying to climb the leaderboard at the expense of your GC or SC wallet!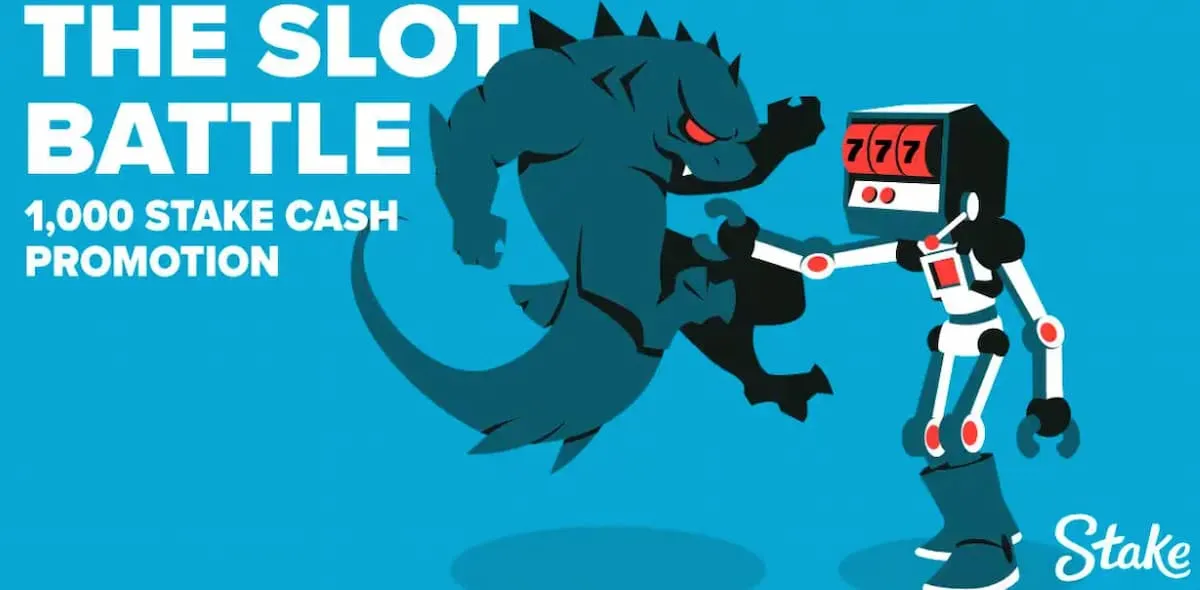 Stake.us Compared to BetRivers.net and Chumba Casino
The social casino scene in the US is basically transforming on an almost daily basis, with new sites appearing all the time and the originals adapting to the new competition.
In this section, we're checking in with how Stake.us compares with two of the other top social sites in the US – Chumba Casino and BetRivers.net.
All three sites have their own strengths and weaknesses, and you can get a general sense of how they stack up in the table below:
Casino
Stake.us
BetRivers.net
Chumba Casino
Welcome Bonus
10,000 GCs + 5% rakeback
Random ($10VC – $1,000VC)
2,000,000 GC + 2 SC
Bonus Code
None
None
None
Number of Games
350
500+
100
Win Real Cash / Crypto Prizes?
Yes
No
Yes
Payment Methods

Cryptocurrency (BTC, ETH, LTC, etc)

Credit Cards (Visa/MasterCard/American Express)
Debit Cards
ACH Transfer
Rapid Transfer

Live Chat Support
Yes
No
No
States Licensed In
46 States (not New York, Nevada, Idaho, or Washington)
50 States + Ontario
49 States (not Washington) + Canada
Stake.us Usability, Mobile App, Look and Feel
The software and general usability at Stake.us is some of the most impressive we've seen at any social casino in the US. The European-facing sister site has been around since 2017, offering a variety of real money online gambling services with a crypto twist, and it feels like Stake.us has really benefited from those years of experience.
The platform is full of little touches and interesting features that help it stand out from competitors.
There's an ongoing chat box on the right-hand side of the page which can also be popped out or hidden altogether. It's a great example of how the site encourages players to interact and keep the whole experience fun and communal.
The menu on the left-hand side lets you navigate to different parts of the site, and browse through games. Even the game filter is well-designed – allowing you to filter and sort the list by a variety of criteria or search for games using the search bar.
When you open a game you'll have the option to play in regular, widescreen or video mode.
The live chat is well-designed too. First, you get directed toward some FAWs based on your query, but you can also talk to a real person if you need additional support.
The one black mark we have from a software perspective is the lack of a mobile app. This is something we imagine Stake.us has in store in the future, but for now the only option to play on mobile is via the regular site. It still looks good and makes sense on the smaller screen, but it would be nice to have an app.
Games Available at Stake.us
The selection of games at Stake.us is impressive, with a great mix of slots and table games from a range of high-quality software providers like Pragmatic Play and Hacksaw Gaming. There is also a small group of exclusive games designed by Stake themselves, which is a cool addition. In total, there are around 350 games on the menu – a very solid variety for a social casino.
Slots make up the largest section of the menu, with more than 300 different games available. The menu is varied and interesting, with classic themes like Ancient Egypt, Fantasy, and vintage slot machines mixed with fun original concepts, like Zombie Carnival.
While the variety of slots is great, the actual format of the games is pretty uniform – mostly 4-6 reels and plenty of scatters, wilds, and bonus games are thrown in. There are also lots of high RTP games, often over 97%, which we always like to see.
Apart from slots, Stake.us has a separate section for table games. You can play roulette, blackjack, video poker, blackjack, and hilo. Stake also has exclusive dice games, wheel games, and a fun Crash game.
Overall, we're definitely impressed with what's on offer. And, of course, all the games can be played either for Gold Coins or Stake Cash – it's up to you.

Registration at Stake.us
Signing up is a breeze. You can either fill in your details manually or sign up via Twitter, Google or Twitch if you have existing accounts with any of those platforms. Either way, the whole process takes just a minute or two. You can start playing more or less right away.
Here's the info you'll have to provide:
Name
Username
Password
State
Date of Birth
There's also a space for a bonus code, which you can use to unlock certain offers for new members. Once you've confirmed your details are correct, you just need to click the signup button and your account will be created.
The final step involves verifying your identity. The simplest way to do this involves sending Stake.us a photo of your original ID document (a copy or a photo of a photo won't work). Follow the instructions and you should have no trouble.
Payment Methods Available at Stake.us
One of the big appeals of Stake.us is the site's focus on cryptocurrency – both for purchasing coin packages and receiving prizes from Stake Cash. Compared with other popular social sites like Chumba Casino and LuckyLand, it's a real USP.
At the moment, the only way to purchase Gold Coins is with crypto – and Stake.us supports a lot of different crypto coins. You can use Bitcoin, Ethereum, Litecoin, Doge and dozens of others. Traditional payment types like bank cards, bank transfers or e-wallets are not supported.
Basically, if you're into crypto or looking for an alternative to using traditional payment methods to social casino games online in the US, Stake.us has to be your number one choice.
The flipside to this is that, if crypto isn't your thing or you'd prefer to use more familiar payment methods (like bank cards), you might be better off choosing an alternative site.
Redeeming Prizes at Stake.us
Another thing we love about Stake.us is that, when you redeem prizes, it gets sent right to your crypto wallet in a cryptocurrency of your choice. No middle man, no gift cards – just a simple and smooth process.
You'll find the redemption option in your Stake.us Wallet. Before you can redeem any prizes using your Stake Cash, you need to gamble with it at least 3 times – effectively playthrough requirements of 3x.
To take an example, if you receive 20 SC as part of a free bonus, you would need to place bets with it totaling 60 SC before it's eligible to be redeemed for a prize. Remember, you can keep an eye on your redemption progress in your Wallet.
Is Stake.us Legit?
Yes. Stake.us operates totally legally in the US, and (taking into account its sister site in Europe) has a longstanding reputation for safety and legitimacy.
It's worth revisiting the concept of social casinos in this section, and what seperates them for real money gambling websites.
Regular online casinos and sportsbooks are legal in a handful of US states, and require a gambling license from the state to operate, just like a physical casino. The games are played with real money: you place bets in dollars and get paid out in dollars when you win.
Social casinos – like Stake.us – are very different. You can play every game on the site totally free. Both Gold Coins and Stake Cash are free to obtain, and have no intrinsic monetary value.
While you can purchase optional additional GCs, you can only ever receive SCs for free as part of a bonus. You also can't "withdraw" SCs, but you can redeem them for prizes in the form of cryptocurrency.
Stake.us License & Security
The Stake.us model is totally distinct from regular online gambling sites. The stake is not subject to gambling laws, and doesn't require state gambling licenses to operate in the US.
That said, you shouldn't assume that Stake.us is light on security or safety. The platform is obligated to verify the identity of every player, which it fulfills diligently.
All the information stored on Stake.us is protected by encryption, and the site also enables Two-Factor Authentication (2FA) for extra privacy.
All in all, we are more than satisfied with Stake.us from a safety and security perspective.
Stake.us Social Casino Customer Service
The customer support at Stake.us is close to being excellent, with just a couple of areas that need to be improved. First the downsides. During our Stake.us review, there were a couple of cul-de-sac pages in FAQs, or certain sections of the help section that couldn't be accessed.
It basically felt like a few gremlins in the system, which we imagine will be ironed out over time. A good bit of the site (including some fairly basic info about how the coins work) is also unavailable until your account is created and verified, which is awkward initially.
On the positive side, the live chat support is really excellent. It's clear you are talking to real customer support staff (rather than a robot), and in our experience, they give really detailed expert info. Best of all, the chat automatically saves your old conversations, so you can go back and revisit the info later.
It's probably the best live chat support we've come across.
Stake.us Overall Conclusion – Pros & Cons
There really is a lot to like about Stake.us. But our experts also found a couple of downsides too, or at least a few reasons you might want to choose a different social casino.
We've summarized all the pros and cons below.
Stake.us Pros
Let's start with the thing that really sets Stake.us apart: cryptocurrency. By choosing to focus on both payments and prize redemption in crypto, Stake.us has carved out a niche for itself in the world of US social casinos. Both the payment process for Gold Coins and prize redemption for Stake Cash is very smooth, coming straight into and out of your crypto wallet. There are also loads of types of crypto coins supported. If crypto and web3 is your thing, Stake.us is a no brainer.
The selection of games is great. We always love to see multiple software providers represented, and the exclusive, in house designed games are a nice touch too. With around 350 different games – including slots, table games, scratch cards, crash games, game shows and more – Stake.us is already ahead of the likes of Chumba.
Apart from a couple of hiccups (which we'll come to below), the software and general design of the site is very impressive. Some social casinos can feel a bit rudimentary, but Stake.us really feels like a full, well rounded experience.
We are absolutely sold on the live chat support, which is just about the best we've ever seen. The level of detail we got from the staff, including screenshots, was certainly above average. The idea of saving all your previous chat sessions makes a lot of sense too. Plenty of social casinos – and regular casinos for that matter – could learn a thing or two.
Stake.us Cons
The cryptocurrency focus undoubtedly helps Stake.us stand out, but it would be naive of us not to also point out the potential drawback to this. Simply put, lots of people still prefer traditional, familiar payment methods and will be turned off by having to use crypto. Traditionalists might struggle.
While we're fans of the software in general, there are a couple of places the site feels unfinished or glitched – specifically in the help and FAQ sections. We imagine this will be fixed before too long.
In our opinion, too much of the site is inaccessible until you've created an account and had it verified. It's not an issue if you know you're happy to sign up, but it feels exclusionary towards casual players and browsers, who are hoping to explore the platform before deciding whether or not to create an account. We'd like to see a bit more transparency in general.
Stake.us Social Casino FAQ