Social casinos and sweepstakes casinos are exploding around the US and Canada, providing people with a safe and free way to play casino-style games online. In this review, we're checking out one of the most exciting social casinos to hit the market, WOW Vegas.
Even though it only launched in 2022, WOW Vegas already feels like one of the most complete social casinos out there.
The gaming menu is varied and comes fully stocked by excellent providers like Betsoft and Pragmatic Play. The software and usability of the platform are very strong, modern, and sleek but not overly complicated either. The general user experience is great too, with solid customer support and easy-to-use purchase systems.
We're going to get into all of that and more below in our WOW Vegas review.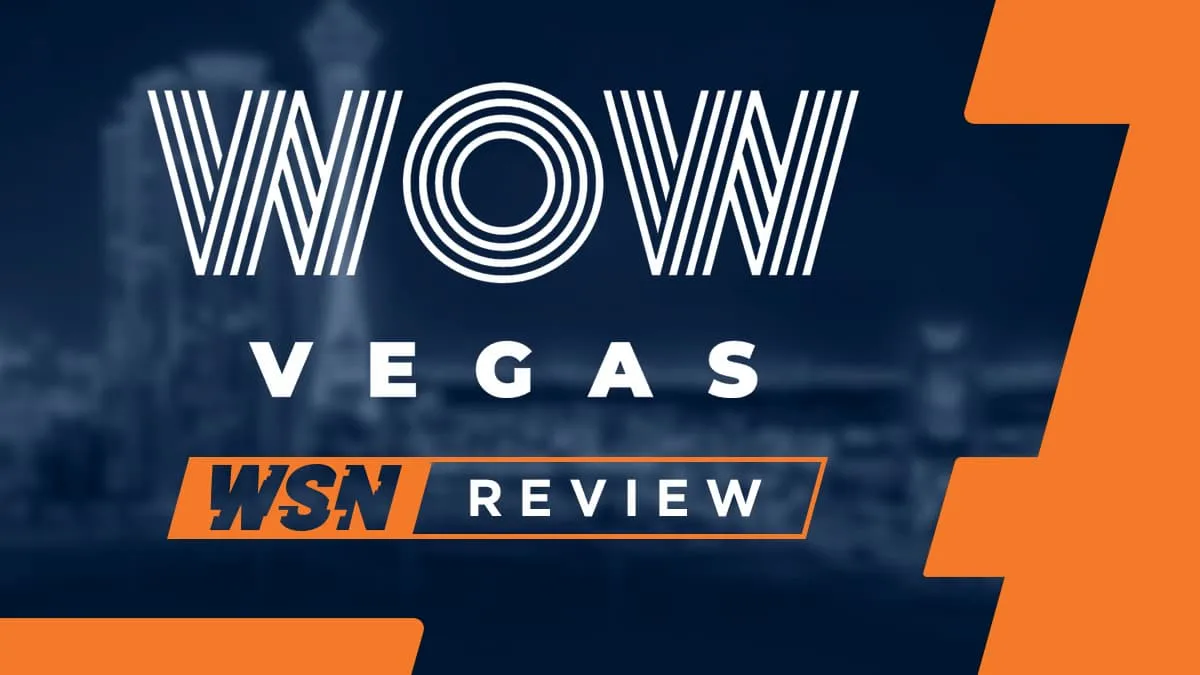 WOW Vegas Quick Facts
WOW Vegas Social Casino
Welcome Bonus - No Purchase Necessary
4.5 Sweepstakes Coins + 8,500 WOW Coins
First Purchase Discount
Get 1.5M WOW Coins for only $9.99 (discounted from $29.99) + 30 Free SC
Promo Code
None Required
States Available
45 (Washington, Idaho, Michigan, Nevada, and Idaho excluded)
Games Available
700+
Payment Methods
Skrill, Trustly Online Banking, Visa, Mastercard, American Express, Apple Pay
Payout Speed
1-5 days
Legal Age
21+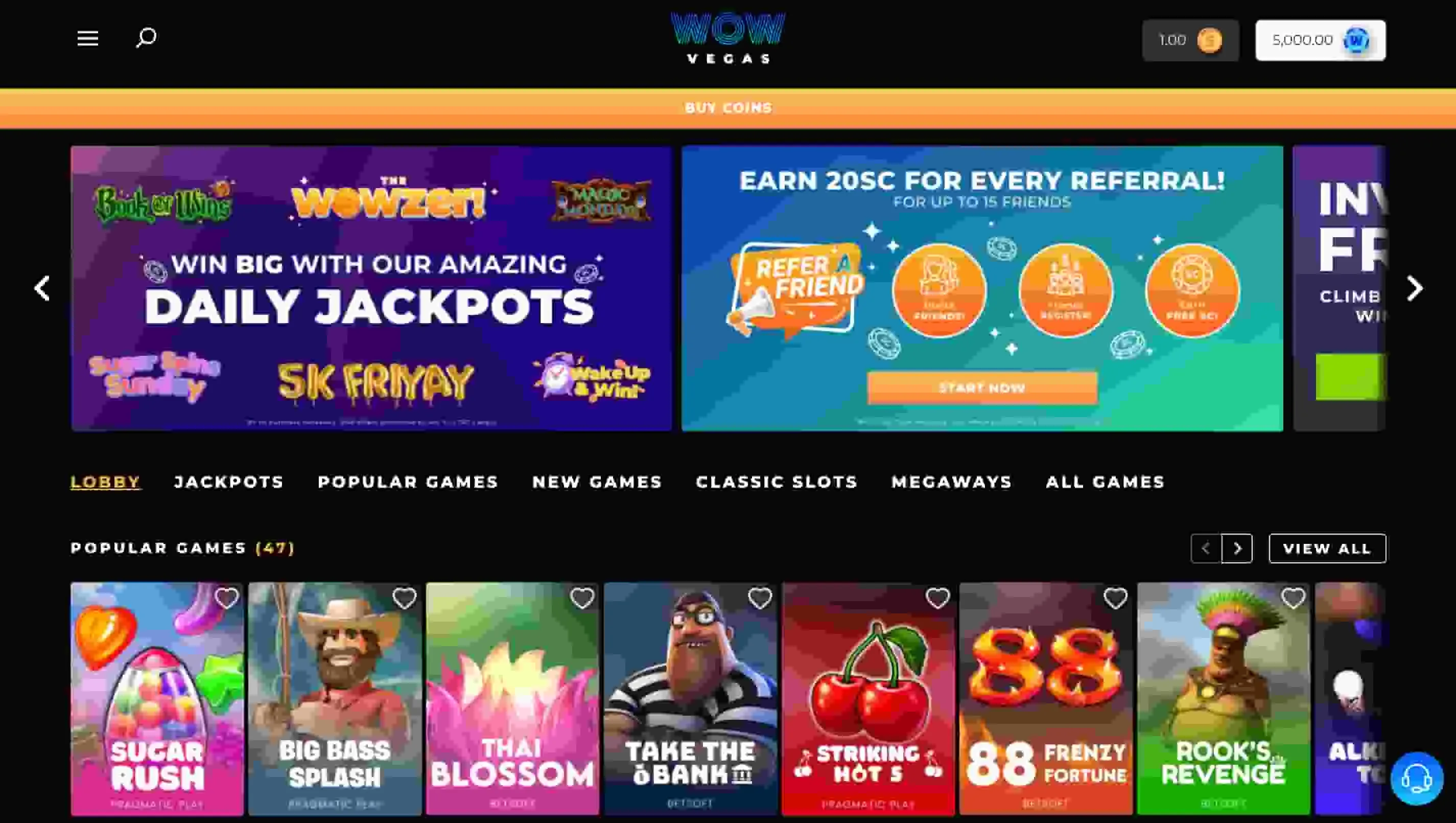 How Does WOW Vegas Work?
WOW Vegas is a social casino. If you want to play the games totally free, with no need to worry about bankrolls or wins and losses, it's a great choice for you. As opposed to real money casinos, there's a much greater focus on simply enjoying the gameplay and sharing your experiences with other WOW Vegas members on social media.
The majority of the games are slot machine style, but you can also find social versions of blackjack, roulette, and other casino classics.
The whole format is based on two types of virtual currency, known as WOW Coins and Sweepstakes Coins.
WOW Coins and Sweepstakes Coins
In order to play WOW Vegas games, you'll need WCs and SCs. You can play with either of them and neither have any inherent value outside of WOW Vegas. There are some slight differences between the two, however.
WOW Coins' sole use is for playing games at WOW Vegas. They can't be cashed in or redeemed for prizes. You can also purchase additional WOW Coins if you want to top up your balance.
Sweepstakes Coins can never be purchased, only received as part of a free bonus. Unlike WOW Coins, however, they can be redeemed for cash prizes, at a rate of $1 per SC.
How to Get WOW Coins and Sweepstakes Coins
As soon as you sign up, you'll get 30 Sweepstakes Coins on your first purchase along with 4.5 Sweepstakes Coins for FREE. You can also get more of each thanks to WOW Casinos' daily login bonuses.
While both WOW and Sweepstakes Coins can be gotten for free, only WOW Coins can be purchased. When you do, you normally receive some extra SCs as a free bonus. But there are other ways to claim free Sweepstakes Coins too. You can enter giveaways on WOW Vegas' social media, or even send a request via mail.
However, you can never simply purchase SCs.
This is very important: it's a legal requirement for social casinos and sweeps casinos and the promotional sweepstakes model is what enables sites like WOW Vegas to offer their games to so many people around North America.
WOW Vegas Available States
WOW Vegas is available in every state in the US, with the exception of three: Washington, Nevada, and Idaho. It's also available in Canada except for the province of Quebec.
Availability is one of the areas in which social casinos like WOW Vegas have a huge advantage over traditional real-money casinos. Real-money online casinos are only available in a handful of US states. Social casinos are far more widespread, and overall arguably a more welcoming and low-pressure option.
Remember that sites like WOW Vegas ARE NOT legally considered gambling sites. Instead, they offer free games using a promotional sweepstakes model, with the possibility of redeeming prizes.
WOW Vegas has quite a few casino bonuses and promos up its sleeve. We're going to do a rundown here, but you can always head to the "Promotions" section of the website to see what interesting offers are going on.
WOW Vegas Welcome Bonus 30 Sweepstakes Coins + 4.5 Sweepstakes Coins for FREE
Everyone that signs up to WOW Vegas receives 30 Sweepstakes Coins at first purchase and 4.5 Sweepstakes Coins totally free, with no deposit or promo code required.
New players also qualify for a special introductory offer for purchasing WOW Coins. $9.99 will get you 1.5 million WCs along with 30 free SCs. The same package for non-new members costs $29.99, saving you 200%!
It's a great offer for anyone looking to boost their WC and SC bankroll right off the bat.
Daily Login Bonus
WOW Vegas also gives you a free SC every single day you log in. There's no opt-in or playthrough required, you simply need to log into your account.
Refer a Friend
The refer a friend program rewards you when you get more people to sign up to WOW Vegas.
You'll receive a unique referral link, which you can send to your friends. If they use the link to sign up and subsequently purchase WOW Coins worth $15 or more, you'll receive 20 Sweepstakes Coins totally free.
Best of all, you can use your link for up to 15 friends, meaning you could earn up to 300 SCs.
Daily Promos
WOW Vegas runs tons of daily promos, giveaways, and leaderboards where you can nab some free SCs. You'll have to check out the Promotions section of the WOW Vegas website since they change all the time, but you're pretty much guaranteed to find something every day.
WOW Vegas on Mobile
At the moment, there is no WOW Vegas app for either iPhone or Android.
However, if you want to play on mobile, the platform is still very mobile-friendly and has been optimized for access by all kinds of devices. You can simply search for WOW Vegas using your device's browser - just as you would on a laptop - log in and start playing.
The software naturally adapts to the smaller screen and it feels intuitive to browse through the menu by swiping and tapping. The gaming software providers at WOW Vegas have loads of experience creating games for the smaller screen, and it shows.
Overall, we would like to see a dedicated mobile app down the road, which could live on your phone's home screen for easy access. But for now, the mobile-optimized site is a good compromise.
WOW Slots: Vegas Online Casino User Ratings
| Review Site | Rating | No. of Reviews |
| --- | --- | --- |
| Apple App Store | N/A | N/A |
| Google Play Store | N/A | N/A |
| Trustpilot | 4.1/5 | 717 |
Software and Games at WOW Vegas
The software of WOW Vegas is modern and smooth without being too busy or trying to push the boat out too much.
That's a welcome change from the often unfinished or rudimentary layout of other social casino sites.
The majority of the platform is taken up with the games, but a hidden menu directs you to various other sections - Promotions, FAQs, Contact Links and more. The platform for purchasing WOW Coins is great too, quick and easy to use just as any online purchase should be.
The games at WOW Vegas are provided by Pragmatic Play and Betsoft, both of which have decades of experience creating innovative games in the iGaming industry.
The vast majority of the games here are slots, and the variety is impressive. We were particularly pleased to see the number of Megaways games and games with progressive jackpots attached. With slot games, it really feels like social casinos are narrowing the gap with the options at traditional real money casinos - and WOW Vegas is great example of this.
WOW Vegas also advertises other casino-style games, like roulette and blackjack, but the options were thin on the ground during our WOW Vegas review.
This is something the site could work on: we'd love to see the gaming menu keep expanding to include games like video poker, craps, bingo, scratch games, and more.
Getting Set Up at WOW Vegas
Creating an account at WOW Vegas is incredibly straightforward. You only need some very basic information and the whole process can take under a minute.
As soon as your account is up and running, you'll receive your free WOW Coins and Sweepstakes Coins, ready to start playing. You'll also immediately qualify for WOW Vegas introductory WOW Coin purchase offer if you decide you want to top up your GCs too.
All you need to sign up is a username, email, password, and date of birth. Click the confirmation link in your email and you're done. It's that simple.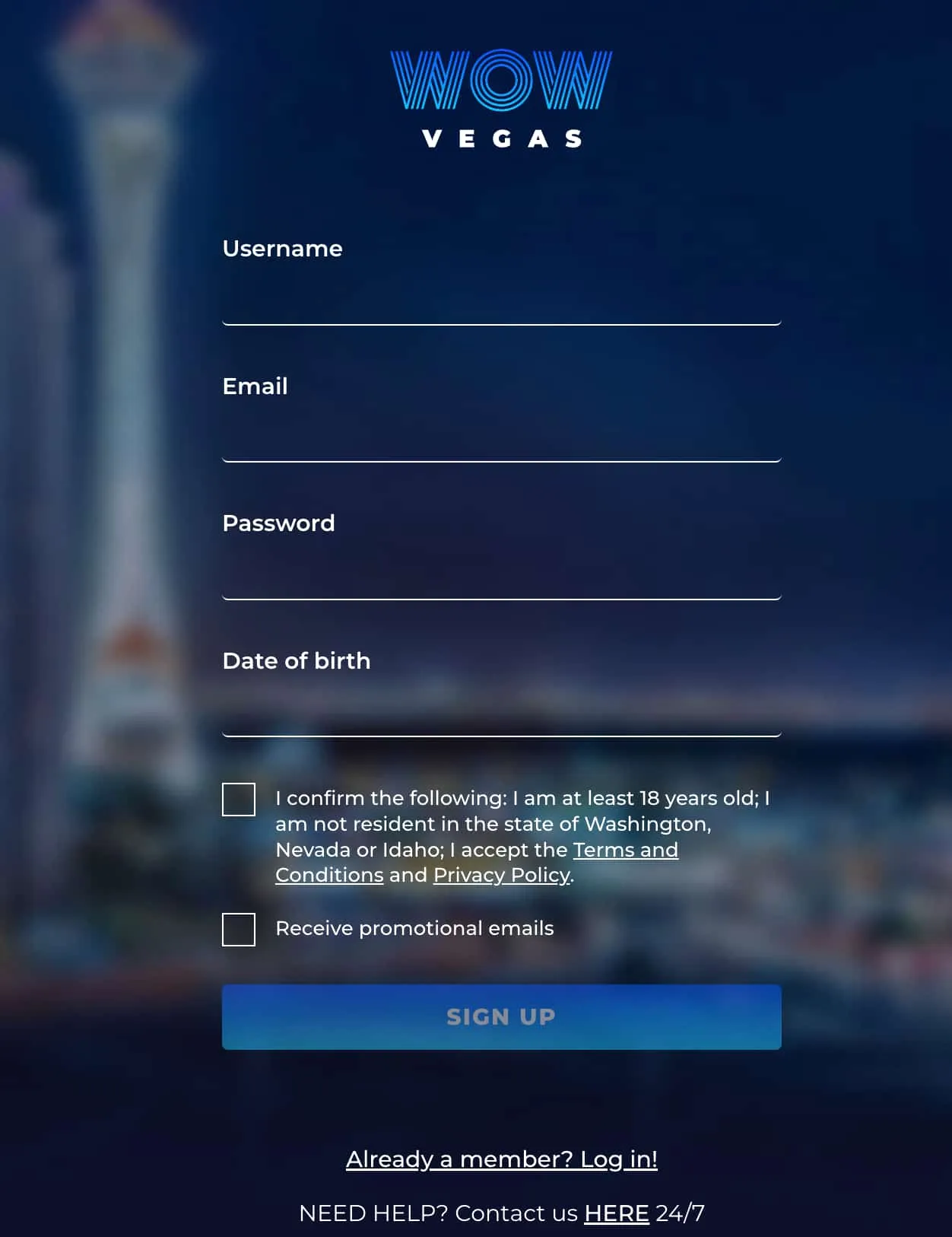 However, it's worth noting that even though this is all the info you need to sign up, the bureaucracy is not quite done yet.
Before you can redeem any Sweepstakes Coins for cash prizes, you need to verify your identity with WOW Vegas. The process is very straightforward and only needs to be completed once, but it does take a little time.
You'll have to send WOW Vegas support team a copy of some documents that verify your address and identity. You'll be prompted and guided through this process as soon as you make a redemption request.
This verification process is a legal requirement all social casinos need to fulfill. It can be a little time-consuming at first, but it's a one-time-only requirement. And, of course, we're happy to see WOW Vegas diligently fulfilling its regulatory requirements.
Payments and Prize Redemption
Purchasing additional WOW Coins is very simple. In fact, it's more or less exactly like making any other type of online purchase.
Once you make a purchase, your WOW Coins, and any free Sweepstakes Coins you stand to receive, will hit your account immediately.
The following purchase methods are available:
Skrill

Trustly Online Banking

Visa

Mastercard

American Express

Apple Pay
It really is as simple as hitting the "Buy" button, choosing your package, and typing in your details. It is notable that PayPal is not an accepted payment method here, if that is a dealbreaker for you then take a look at our best PayPal casinos for more options.
Redeeming SCs for prizes is similarly straightforward if admittedly a little more time-consuming and with a few conditions to be aware of.
First up, you have two options to receive your cash prize:
Skrill

Trustly Online Banking
If you already used either of these methods to purchase WOW Coins, your prize will automatically be sent back via the same channel.
You need to have a minimum of 100 SCs to qualify for a prize redemption. As we covered in a previous section if this is your first redemption, your account needs to be verified.
Once verified, there is an additional processing time before you'll receive your prize money. For your first redemption, this is 5 business days. For subsequent redemptions, it's 3-5 business days.
All of this means that you might be waiting a little while for the money to hit your account - at least for your first redemption.
A wait like this is not exactly out of the ordinary for the industry, but this is still something we'd like to see WOW Vegas work on. Receiving your prize redemption within a couple days seems reasonable to us.
Is WOW Vegas Safe and Legit?
Yes!
WOW Vegas operates under a promotional sweepstakes model, meaning it's in a completely different category from traditional real money casinos. All the games are free, and while you can redeem Sweepstakes Coins for cash prizes, you can never purchase SCs or play the games for real money.
It's the exact same model used by sites like Chumba Casino, Luckyland Slots, and Global Poker, and it's the reason why these sites operate totally legal in almost every state in the US.
To dig a little deeper, WOW Vegas is operated by WOW Entertainment Limited, which is located on the Isle of Man and licensed and regulated by the Isle of Man Gambling Supervision Commission. Although the platform doesn't require a gambling license, it is still subject to close regulation from every state.
The site is fully encrypted so you can rest assured that your personal data is safe and secure. They also have a page dedicated to responsible social gaming which details how users can set spending limits and self-exclude or close their account.
WOW Vegas User Reviews
While WOW Vegas doesn't have app reviews we can look into, their Trustpilot rating speaks for itself. The service has a rating of 4 stars with 601 total reviews. The staff is quick to respond to feedback and provides constructive responses to any complaints.
Here's what customers are saying about WOW Vegas on Trustpilot:
Excellent customer service. Honest company. I have had only great experiences with them. The games are soooo much fun. Thank you!
- Stacie
This is a legit site with a great selection of games. I had no problems cashing out my 1st winnings 2 months ago and I just cashed out my winnings again!! Directly to my bank account. It does take a couple of days, which is fine by me!!
- Kelly
Had a little problem with verification sent them an email they responded right away and took care of the problem I was impressed. It seems like a good casino with good customer service. I just recently redeemed some winnings and I will do another review with the results on how long it took.
WOW Vegas Customer Support
The customer support at WOW Vegas is impressive.
The sweepstakes model is still new for lots of people, which means clear communication and information is essential. WOW Vegas does really well at this, with three separate FAQ sections which do a great job of explaining exactly how the model works.
If you need to get in touch with the customer support team directly, you can do so by clicking the "24/7 CUSTOMER HELP" button.
Now, this is a little misleading. It sounds like a live chat service, but it's simply an email messaging service which means you'll receive a response via email within 24 hours. Nevertheless, during our tests, we received a response much quicker than that.
A true live chat service would be preferable, but this version is still good.
Where Can WOW Vegas Improve?
For every single site we review, we always include a list of pointers that we think could be worked on. Here's what we came up with for WOW Vegas:
Outside of slots, WOW Vegas could certainly work on the range of games. We'd like to see multiple versions of roulette, blackjack, video poker, bingo, and other casino games. At the moment, it's very weighted towards slots and is lacking in table games.

For now, there is no WOW Vegas mobile app. In truth, we're very happy with the playability of the mobile-optimized site but it's always nice to have the option of downloading an app.

No live chat. Again, the existing customer support is good in general - but live chat is the best and it's not available.

The wait time for redeeming prizes is on the long side. Five business days just seems like overkill, and it's something we'd like to see improved.

WOW Vegas does not currently support PayPal as a payment method for deposits and withdrawals. As this is quite a popular deposit/withdrawal option for casino players, it is surprising not to see this.
If any of these sound like a dealbreaker to you, then check out our list of the best Wow Vegas alternatives to see what other sweeps sites we recommend.
Why Choose WOW Vegas?
Now that those minor negatives are out of the way, we're happy to say we're big fans of WOW Vegas overall. Here's what we love about it:
The software is great. Whether on mobile or desktop, it just feels fun and easy to use. Even simple things like the layout of the home screen - it looks good and makes you want to explore. We're big fans.

The range of slots is definitely among the best at any social casino. We love the inclusion of jackpots and leaderboards and the great selection of Megaways.

WOW Vegas does great with promos. Every day there's some kind of contest or giveaway, and there's plenty happening on social media too. It feels dynamic and exciting.

Notwithstanding the redemption waiting time, the process both for purchasing WOW Coins and redeeming SCs for prizes is very smooth. The range of payment methods is great too, something that can't be said of every social casino.
WOW Vegas FAQs