Sign up today and get a first bet offer up to $1000 paid back in bonus bets if you don't win!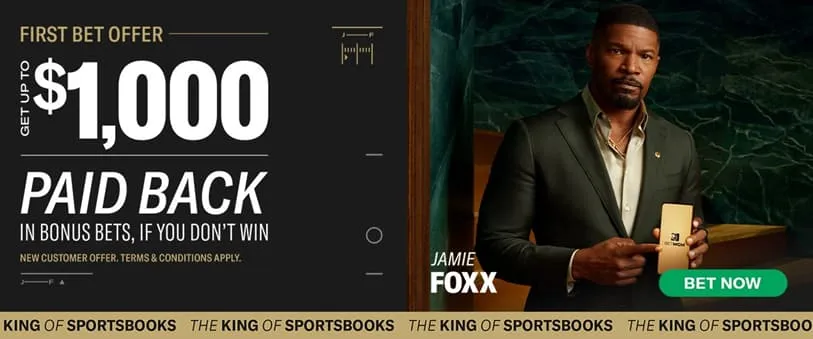 If you want to sign up to BetMGM sportsbook but need more information before you make a decision, you're in the right place.
The bottom line is BetMGM is a great choice for sports bettors in New Jersey, Indiana, Iowa, Pennsylvania, Illinois, Colorado, Arizona, West Virginia, Tennessee, Michigan, Virginia, Wyoming, Washington D.C., Louisiana, and New York.
Our experts have conducted a thorough review of the entire sportsbook and this guide will tell you exactly what they liked about it, as well as the things they thought could be improved.
BetMGM has both a website and a fully functional app, both of which our experts spent time using to really understand what customers can expect.
We go over everything in detail including if BetMGM is a good sportsbook, the kinds of bets you can make and the sports you can bet on, the app and software plus the kinds of bonuses and promotions on offer.
We even include a guide to signing up and detailed information about how to deposit and withdraw money.
This review will tell you everything you need to know to make an informed decision about whether BetMGM is the right legal online sportsbook for you.
BetMGM Sportsbook at a Glance
BetMGM Information
BetMGM bonus promo code
N/A
Welcome bonus
First Bet Offer up to $1000
Available states
NJ, WV, IN, IL, PA, CO, TN, IA, MI, VA, AZ, DC, WY, LA, NY
Website URL
https://www.betmgm.com/
BetMGM Review From Expert Sports Bettor Bill Krackomberger
Seasoned sports bettor, Bill Krackomberger reviews BetMGM and shares his expert opinion about the betting app, bonuses, betting lines, live betting section, and much more.


Sports betting, both online and offline, was legalized in New Jersey in June 2018, not long after the Supreme Court repealed the Professional and Amateur Sports Protection Act. PASPA had acted as a federal ban on sports betting since 1992.
Once legal, the Borgata Hotel Casino & Spa in Atlantic City wasted no time in opening a sportsbook. The Borgata is owned by MGM and the company developed a dedicated online sportsbook to go along with the physical one in the casino.
Borgata also now has its own sportsbook active in NJ. Check out the Borgata Sportsbook to see their deals and promotional offers.
Here are a few of the most important things you should know about BetMGM sportsbook:
BetMGM has a full range of betting available, as well as an impressive variety of sports.
Signing up at BetMGM sportsbook through WSN.com's links will guarantee you the best possible bonuses and promotions.
In order to bet on BetMGM, you must be physically located in New Jersey, Colorado, Indiana, Nevada, or West Virginia.
The BetMGM sportsbook is fully legal in the five states mentioned above.
BetMGM comes with a platform already fully formed from MGM's existing sports betting app from Nevada.
BetMGM is a really valuable addition to the online sports betting scene. Our experts found that the sportsbook scored highly in virtually all of our sections, with no major weaknesses in the user experience.
Read on for an in-depth discussion about every aspect of BetMGM sportsbook.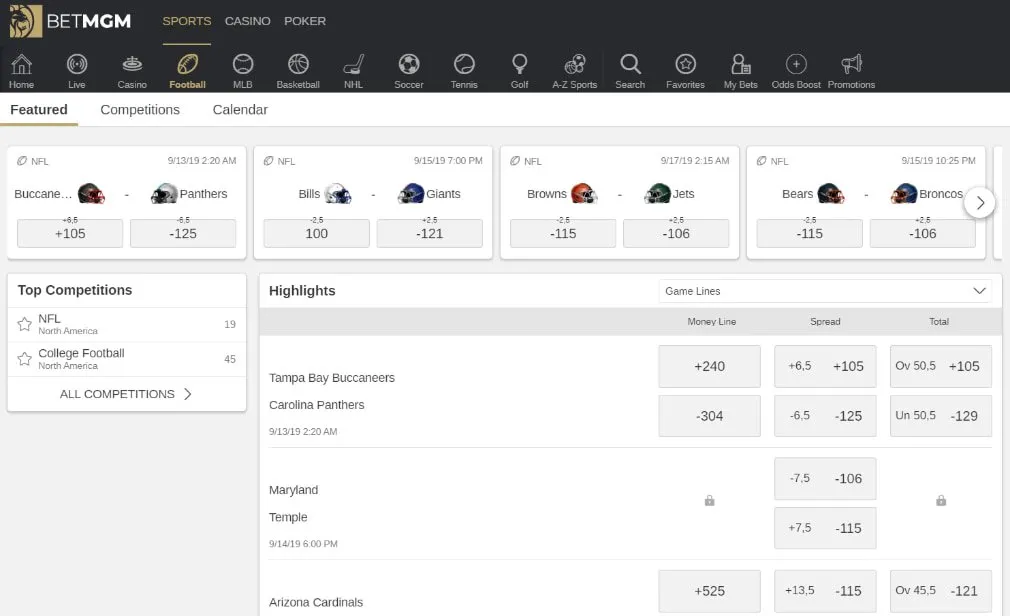 Where Is BetMGM Legal?
BetMGM is currently available in the following US states. This list is likely to grow, so if your state is not currently included don't forget to check back in the future to check if it's been added:
| | | |
| --- | --- | --- |
| US States | BetMGM Online | BetMGM Retail |
| Alabama | x | x |
| Alaska | x | x |
| Arizona | ✓ | ✓ |
| Arkansas | x | x |
| California | x | x |
| Colorado | ✓ | x |
| Connecticut | x | x |
| Delaware | x | x |
| D.C | ✓ | x |
| Florida | ✓ | x |
| Georgia | x | x |
| Hawaii | x | x |
| Idaho | x | x |
| Illinois | ✓ | x |
| Indiana | ✓ | x |
| Iowa | ✓ | x |
| Kansas | x | x |
| Kentucky | x | x |
| Louisiana | ✓ | x |
| Maine | x | x |
| Maryland | x | ✓ |
| Massachusetts | x | x |
| Michigan | ✓ | ✓ |
| Minnesota | x | x |
| Mississippi | ✓ | ✓ |
| Missouri | x | x |
| Montana | x | x |
| Nebraska | x | x |
| Nevada | ✓ | ✓ |
| New Hampshire | x | x |
| New Jersey | ✓ | ✓ |
| New Mexico | x | x |
| New York | ✓ | x |
| North Carolina | x | x |
| North Dakota | x | x |
| Ohio | ✓ | x |
| Oklahoma | x | x |
| Oregon | ✓ | ✓ |
| Pennsylvania | ✓ | x |
| Rhode Island | x | x |
| South Carolina | x | x |
| South Dakota | x | ✓ |
| Tennessee | ✓ | x |
| Texas | x | x |
| Utah | x | x |
| Vermont | x | x |
| Virginia | ✓ | x |
| Washington | x | ✓ |
| West Virginia | ✓ | x |
| Wisconsin | x | x |
| Wyoming | ✓ | x |
BetMGM Software and Mobile Sports Betting App
BetMGM has both a dedicated website and an app available on iOS and Android. Our experts were happy with both, but were particularly impressed with the app. The website hosts the BetMGM online casino, online poker and sportsbook all together, so when you sign up for one you gain access to all.
Although the home page of the sportsbook is a little cluttered, it is easy to navigate around once you get the hang of it. There is a list of sports at the top of the screen, which you can click through to find a wide variety of bets associated with that sport.
Browsing the different bets and sports is really easy.
On the right hand side, you have a "Betslip" feature, where you can test out different bets before you place them. Beside this is a menu called "My Bets" which lets you easily keep track of all your in-progress bets. Both of these are neat and tidy additions to the sportsbook.
The functionality is even better on the app. Because space is more limited, BetMGM does not include unnecessary information. In the opinion of our experts, the app is smoother to use than the website. The graphics on the app give it a really slick finish.
The BetMGM app can be downloaded for iOS and Android from app stores or directly from the BetMGM website. See how the BetMGM app stacks up against WSN's top rated real money sportsbook apps here.
BetMGM Software and App Highlights
It's easy to navigate between sports, leagues and bets.
The intelligent Betslip and My Bets features are really convenient.
The homepage includes a section for "Boosted Parlays" which helps users find special offers and high-value bets.
The BetMGM mobile app is slick and easy to use.
Players get automatic access to BetMGM casino and poker when the sign up for the sportsbook.
Things to Improve
The home screen of the website has a lot going on, with collapsible menus which automatically open when you land on the page. Our experts would have preferred a more streamlined homepage to navigate from.
We found that the order that bets were presented for some sports could be a little confusing. We'd like more simplicity and consistency in the way leagues and bets are organized, especially outside of the biggest sports.
Having more betting subheadings would mean less scrolling and searching for specific bets.
The Help and Contact Us sections could be featured more prominently.
Since the sportsbook has close ties to the casino business, it's no surprise that BetMGM has incorporated lots of bonuses and promotions into its online sportsbook.
As an added incentive, when you sign up for the sportsbook you also get bonuses than can be used at the casino. Although you will have to download a separate app if you want to use the BetMGM casino, you can use the same account for both.
We have listed the current range of promotions and bonuses available at BetMGM below. Check out also the latest bonuses available at BetMGM Tennessee.
Welcome Bonus – First Bet Offer up to $1000
BetMGM will give new customers a first bet offer up to $1000 paid back in bonus bets. Only new players are eligible for this bonus and it must be claimed within seven days of signing up.
Once you create an account and make your first deposit, place any real money sports bet between $10 and $1000. If your bet loses, you will be refunded the full value of the bet in free bets.
Remember, it must be your first bet and the outcome of the bet must be determined within seven days after you make your account. There are no other conditions or wagering requirements. If you lose your first bet within seven days, you will get up to $1000 back.
$10 Free Bet Every Week
Who doesn't like to start the week with a free wager? If you opt in to BetMGM's Monday Money Club they will give you a $10 free bet every week when you place a total of $50 in qualifying wagers during the previous week.
Blue Mondays just became Green Mondays!
Bet $50 In-Play on the NFL and Get a Free $20 In-Play Bet
The NFL is the most popular league to bet on in the US and BetMGM have a really exciting offer for football fans.
The offer is really simple. Make a qualifying in-play bet of $50 or more on any NFL game (minimum -200 odds) and BetMGM will credit your account with a $20 free in-play wager.
The best thing about this offer? You can claim it once a day! That adds up to a lot of free bets over the course of a season.
Check out our latest NFL picks to make the most of your free bet! If you're looking for more NFL-specific promotions then take a look at our collection of the best NFL betting bonuses.
Multi-Sport Parlay Profit Boost
If you like to spread your parlays across multiple sports then BetMGM is the sportsbook app for you.
BetMGM will reward you with up to a 40% profit boost on your winning parlays. To qualify, simply opt in and place a 4-7 leg parlay on any combinations of sports.
Pick 3 TD Challenge – Win Up to a $100 Free Bet Every Week
BetMGM loves giving its customers the opportunity to earn free money. Play the free-to-play Pick 3 TD Challenge and you can win up to $100 in free bets every week!
To play the game you simply need to guess who will score the first touchdown in the three featured games. The more you guess right, the more you win.
1 correct scorer = $5 free bet
2 correct scorers = $10 free bet
3 correct scorers = $100 free bet
This is a no-brainer for football fans and a fantastic opportunity to win free bets with no risk.
Did you know WSN has its own free-to-play NFL Pick 'em Contest where you can win up to $200 in Amazon vouchers each week?
BetMGM Bonus Code
No BetMGM bonus code is needed in order to claim the sign-up offer. Simply register here, deposit a minimum of $10 in to your BetMGM account and place your qualifying bet.
To see what promotions and bonus codes other sportsbooks are offering in your state check out our comprehensive bonus guides:
NJ sportsbook bonuses
Illinois sportsbook bonuses
Colorado sportsbook bonuses
Pennsylvania sportsbook bonuses
Indiana sportsbook bonuses
West Virginia sportsbook bonuses
Iowa sportsbook bonuses
Kinds of Bets and Odds
The range of bets available is an important consideration when reviewing a sportsbook, and our experts were happy to report that BetMGM has a very extensive variety of wagers for customers.
Here are some things that jumped out at our reviewers:
BetMGM features all the most popular bets including moneylines, point spreads and totals bets. Even better, they're available for all sports.
Our experts were impressed with the depth of prop bets available on the most popular sports.
We found that the odds and betting lines were comparable with the other top sportsbooks.
Great live betting options.
We love the Boosted Parlays section.
Let's take a closer look at some of our experts' observations:
Popular Bets
Generally, the majority of the bets placed are the same few kinds – moneylines, point spreads, totals or maybe futures.
BetMGM has all of these covered, and they are displayed prominently for each sport. Other bets are generally easy to navigate to, but the basics are front and centre.
If you're looking for the most popular and common kinds of bets, BetMGM has it covered in basically any sport.
Live Betting
BetMGM has a great range of live betting options if in-play wagering is your thing. There are a wide variety of market available to bet on in-play across a number of sports.
Our experts were very impressed with this section of the site and could find no faults when trying to quickly place in-play wagers on the fly. BetMGM also has some juicy in-play promotions so be sure to keep your eyes peeled.
Prop Bets
Our experts loved the range of prop bets available.
While some bettors prefer to focus on the basics, we love having the option of placing more creative bets with longer odds. Most of the big games have a deep section of interesting props based around things like player statistics or the timing of points scored.
Boosted Parlays
This was another one of our favorite features. On the homepage you'll find a section called Boosted Parlays which are parlays that have been given enhanced odds. The Boosted Parlays are available in a variety of sports and can offer great value.
Cash Out
BetMGM has a cash out feature which allows bettors to cash out of their bet early and safeguard their winnings. The cash out feature is great for parlays when you have a few legs under your belt and want to take the winnings.
When you cash out of a straight bet or parlay, you take a smaller portion of the potential winnings but you are locking in profit when it is available.
Other Betting Options
Overall, our experts were happy with the range of betting options. BetMGM certainly has enough on offer for users to try loads of different kinds of betting, and really get into different strategies.
BetMGM also includes a section for bets on non-sports related entertainment, such as the next Oscar winning films. This is another fun little extra.
Sports You Can Bet on at BetMGM Sportsbook
The range of sports available to bet on is pretty comprehensive.
All the most popular sports, like NFL, NBA, MLB and NHL are covered, including major sports events such as the Super Bowl, as well as a variety of other sports from around the world.
College sports are included (provided the team is not from New Jersey), and so are minor league games. Whatever sport you want to bet on, chances are BetMGM has you covered.
Although you can expect markets to open and close depending on the season, here is a full list of sports available to bet on with BetMGM:
NFL Football
NCAA Football
NBA Basketball
NCAA Basketball
NHL Hockey
NCAA Hockey
MLB Baseball
NCAA Baseball
Australian Rules
Boxing
Cricket
Formula 1
Golf
MMA
Nascar
Rugby
Soccer (MLS, Premier League, Champions League, La Liga, International Competitions and more)
Tennis
Non-sports Entertainment
Options for Deposits and Withdrawals
As BetMGM is fully licensed and regulated in each state, the transactions you make are protected and secure.
Our experts were happy that BetMGM has a fairly comprehensive range of methods available for depositing and withdrawing funds. In our tests we all the options proved to be quick, convenient and secure.
Chances are your preferred method of transaction will be available with BetMGM but if you're options are limited, check out the list below to make sure the site has something that works for you.
Deposit Options
ACH Payments Bank Transfer
Discover credit card
VIP Preferred (e-check)
Play+
Deposit using cash at the MGM Borgata Hotel Casino and Spa
PayNearMe – deposit using cash at 7-Eleven convenience stores
PayWithMyBank
Withdrawal Options
ACH Payments Bank Transfer
PayPal
Skrill
Play+
VIP Preferred
Physical check through the mail
Withdraw in cash at MGM Borgata Hotel Casino and Spa
Banking Methods Comparison
The most popular methods for transaction methods are all accepted by BetMGM. In all likelihood, one of the methods available will suit you if you choose to create an account with BetMGM.
The following table helps to compare the different options:
| Method | Deposit | Withdrawal | Processing Time | BetMGM Minimum Deposit | Max Deposit | Fees |
| --- | --- | --- | --- | --- | --- | --- |
| ACH Payments Bank Transfers | Yes | Yes | Instant for deposits Up to 10 business days for withdrawals | $10 | Can be set by user | No |
| Neteller | Yes | Yes | Instant for deposits Up to 10 business days for withdrawals | $10 | Can be set by user | No |
| Cash at Casino | Yes | Yes | Instant | $10 | n/a | No |
| Visa | Yes | No | Immediate for deposits | $10 | Can be set by user | No |
| Mastercard | Yes | No | Immediate for deposits | $10 | Can be set by user | No |
| Check via mail | No | Yes | Up to 2 weeks | n/a | n/a | No |
| PayNearMe | Yes | No | Immediate for deposits | $10 | $500 every 24 hours | Yes |
BetMGM Account Signup and Registration
We found that signing up for BetMGM sports was a really straightforward process. You can either sign up on the website or directly on the app. You can find the app by visiting the BetMGM website, or search for it in the app store.
If you have played online poker or online casino games with BetMGM before you can simply sign into the app with your existing details. If you need to set up an account, you can choose "Create Account" and follow these simple steps:
Signing up is a four step process. The first screen covers your personal details. You need to put in your name, email address and date of birth. Remember, you must be at least 21 years old to bet using BetMGM sports. When you are ready, click "Continue".
On the next screen you need to choose a username and password. Make sure they are different from each other, and from your real name. You also need to provide your mobile number and the last four digits of your SSN. When you are ready, click "Continue".
On the next screen you need to give your address. In order to bet legally on BetMGM sports you have to be physically in New Jersey, Colorado, Indiana, Nevada, or West Virginia so you need to provide an address in the state. When you have put in your address, click "Continue".
Finally, you need to provide two security questions and answers. Make sure to choose questions that are unique to you, and not easily guessed. You also need to check a couple of boxes, confirming you are at least 21 years old, that your information is correct and that you agree to the terms of service and privacy policy. All of this is standard policy for online sportsbooks.
Most importantly, on this screen you have the option to put in a bonus code. Bonus codes often change, so make sure that you are getting the best deal when you are setting up your account. Use the link on this page to get the latest bonus. Once you have put in the promo code, click "Create My Account", and you are finished.
BetMGM Security and Gaming License
When sports betting was legalized in the state of New Jersey in June 2018, the task of licensing and regulating the sportsbooks was given to the New Jersey Division of Gaming Enforcement.
Many sports bettors in the US may have been using unregulated offshore accounts to bet in the years before the repeal of PASPA. We can safely say that those days of risk are over. Legal sports betting means a whole new level of security, and sophisticated protection of data.
Our experts are happy to report that all of users' personal information and transactions are fully protected on BetMGM. Concerns about security no longer have to be a factor in choosing an online sportsbook.
The New Jersey Division of Gaming Enforcement holds all the sportsbooks it licenses to the highest standards of security, and BetMGM is no different. We are completely happy to recommend signing up and depositing with them.
BetMGM is also a licensed online sportsbook in the states of Colorado, Indiana, Nevada, and West Virginia.
Customer Service
Customer support is important for an online sportsbook. Questions and issues are can arise, especially for first-time users, and responsive customer service can make all the difference.
Our experts found that BetMGM has an effective customer support section. There is a detailed FAQ section dedicated to the sportsbook, and in the opinion of our experts the vast majority of common questions are addressed there.
If you can't find an answer in the FAQ section, you have the option of contacting the sportsbook directly either via email or phone. Both services are available 24/7.
Our only criticism of the customer support is the lack of a live chat option, which would make the user experience even more convenient.
Things BetMGM Is Doing Right
It was our team's consensus that BetMGM ranks alongside the best online sportsbooks currently available in the US.
After extensive testing, these highlights stood out:
The range of bets is very impressive. We can confidently say that there will be something for everyone on BetMGM. We particularly liked the suggested parlays for the top sports, and the number of interesting props available on big games.
We were impressed with the lines and odds, and think there is some great value to be found on the sportsbook. The boosted parlays feature, which picks a couple of parlay bets to receive enhanced odds, is a great way to find value.
We were impressed with the graphics and usability of the app. It can be tricky to make a sportsbook attractive on a mobile device, but BetMGM does it well.
We like how you get automatic access to the BetMGM casino and poker sites when you sign up, and can transfer money between the three.
The range of sportsbook bonuses is very competitive.
Things BetMGM Could Work On
It is always possible to improve, and even though there is a lot to like about BetMGM, our experts did come up with a few things the sportsbook could improve on:
The layout of the bets on the website could be better. The homepage is a little confusing, and we would have liked the different betting markets to be more organized. Overall, we preferred the BetMGM mobile app to the website, which is a little slicker.
The customer support provided by BetMGM is good, but to make it really top class we would like to see the addition of a live chat feature.
BetMGM Company History
BetMGM is owned by MGM Resorts International. The company was set up in the 60's and built up a reputation as one of the gambling heavyweights in Las Vegas.
Some of the most recognizable casinos in the world are owned by MGM, including the MGM Grand and the Bellagio. MGM venues can be found in many gambling-friendly cities across the US, and in overseas gambling hubs like Macau.
MGM venues have operated sportsbooks in Las Vegas for years.
MGM first developed an interest in creating an online sportsbook in the mid 2000's, when the company was developing interests in the United Kingdom. Although it received a sports wagering license, MGM scaled back its interests in the UK market after a number of years.
It wasn't until 2017 that MGM finally developed the online side of its sportsbook, when the company launched a website and mobile sports betting app in Nevada – then known as PlayMGM.
In the wake of PASPA being repealed, MGM looked to expand in the growing sports betting market. Not long after New Jersey legalized sports betting in June 2018, the MGM-owned Borgata Hotel Casino & Spa unveiled its sportsbook, along with its website and dedicated mobile app, BetMGM.
Following the NJ launch BetMGM continued to expand into new territories and is now also licensed in Colorado, Indiana, and West Virginia.
Start Betting at BetMGM Now
BetMGM is doing a lot of things right. In an increasingly crowded online sports betting market, our experts saw enough to really make it stand out from the crowd as one of the best.
All of the popular bets are covered in a variety of sports. Furthermore, if you love prop bets, parlays and other interesting forms of wagering then BetMGM could be a great fit. Our experts would have been happy browsing the range of props for days.
There is also a wide range of different sports available to bet on, and we found the odds and betting lines to be really competitive compared to other legal online betting sites.
We recommend using the app if that's an option for you. It's super slick and easy to use. The close connection to the MGM online poker and casino is likely to really appeal to some bettors. Being able to transfer money between the three is a nice bonus.
The in-play betting is extremely well made and provides and exciting in-play experience for bettors.
Finally, BetMGM has some of the best bonus offers currently available on the market. A very strong welcome offer combined with regular promotions means there is always an opportunity for free bets or bigger wins.
Overall though, our experts had a great time with BetMGM and our scores reflect this. If you decide to sign up, make sure you check out our links to get the best bonus available.
Sportsbook
BetMGM
DraftKings
BetRivers
Rating

⭐ 8/10

⭐ 9/10

⭐ 9/10
Bonus

FIRST BET OFFER UP TO $1000

$1000 DEPOSIT
BONUS
$250 DEPOSIT
MATCH
Top
Features
✔ Parlays with
enhanced odds
✔ Impressive range
of bets
✔ $10 free bet
every week
✔ Great banking
options✔ Access to
fantasy sports✔ Beginner friendly
✔ Wide range of
betting options✔ Top notch
customer service✔ Promo Code
'250MATCH'
States
License In
Currently licensed
in 19 states.
Currently licensed
in 14 states.
Currently licensed
in 11 states
Payment
Methods
VIP Preferred
e-cheque
Visa
PayNearMe
Discover
Electronic Transfer
Online Banking
PayPal
MGM Rewards
Mastercard
Visa
MasterCard
PayPal
American Express
Discover
Online Banking
Play+
Wire Transfer
VIP Preferred
e-cheque
Cash
Visa
MasterCard
ACH Transfer
Online Banking
BetRivers Play+
card
Support
24/7
Live Chat
Email
Email
Phone
Live Chat
Email
Phone
BetMGM FAQ