A Closer Look At Our Top-Rated Live Betting Sites
1. bet365
bet365 started in Europe and has made its way to America, where it is quickly growing into the market. It regularly displays odds more profitable than those found on other sportsbooks and has more opportunities too, both with respect to markets and the options within those markets (such as players that aren't prominent enough to get odds on other sites).
bet365 also has the customary cash-out and parlay options and is extremely responsive with its updates. It too could use a visual overhaul since the all-gray background and simple text don't have the same elegance as FanDuel or Caesars, but it gets the job done and often leads to users taking home a larger profit.
One of the best parts of the bet365 in-play betting experience is the ability to formulate live parlays across multiple sports. And in case you don't know what's in action, the sportsbook has a "live" section, where you can find everything right at your fingertips.
It also has a lives streaming feature and is our favorite place for sports betting. It will be interesting to see how bet365 grows in the American market after becoming a worldwide leader in all other regions. Check out our full bet365 review here.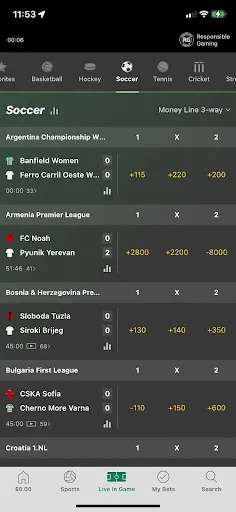 Screenshot taken 15 May 2023.
Pros
Cons
Sign-Up Offer
Click here for $365 in bonus bets with a $1 wager.
bet365 Sportsbook User Ratings
| | | |
| --- | --- | --- |
| Review Site | Rating | No. of Reviews |
| Apple App Store | 4.7/5 | 213,700 |
| Google Play Store | 4.6/5 | 1,630 |
| Trustpilot | 1.3/5 | 3,589 |
2. FanDuel Sportsbook
FanDuel Sportsbook is the leader in sports betting in America. It has the most responsive interface when it comes to placing bets, which is immediately a plus in its favor. However, FanDuel can also change the odds of bets as they are being placed or as they are being processed.
For example, a bettor might place a live bet on the Los Angeles Lakers moneyline at +140, but while it is processing, it might drop to +120. There is an option to always accept live odds movement which enables this to happen, so bettors who want to review every odds change will want to make sure that box is not selected.
FanDuel also has live same-game parlays, which is a feature that many sportsbooks don't have. It also, like Caesars, has live scoreboards and allows bettors to track the value of their bets with ever-changing cash-out values.
Bets are not always available for cash-out, however. Examples would be if a result if the bet is extremely lopsided in either direction (win or lose) or if the odds are being updated.
Overall, FanDuel's speed and array of betting opportunities make it a great source for live betting—one of our favorites at that. It also has some of the best promotions of any sportsbook out there. Read our in-depth FanDuel review to learn more about it.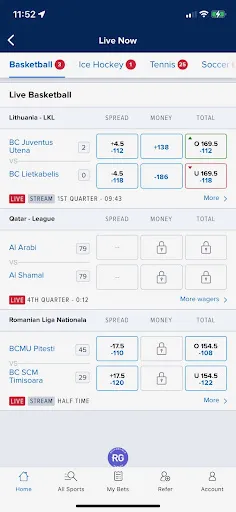 Pros
Rapid, responsive odds updates and interface

Wide selection of betting options
Cons
Sign-Up Offer
Sing-up to claim $150 in Bonus Bets + 3 Months of NBA League Pass using our exclusive link.
FanDuel Sportsbook User Ratings
| | | |
| --- | --- | --- |
| Review Site | Rating | No. of Reviews |
| Apple App Store | 4.8/5 | 1.1 million |
| Google Play Store | 4.7/5 | 209,000 |
| Trustpilot | 1.3 | 182 |
3. BetMGM Sportsbook
BetMGM is one of the four dominant sportsbooks in America, along with Caesars, FanDuel, and DraftKings. It often has more profitable odds than the other sportsbooks mentioned and extends that to live betting.
BetMGM is not unresponsive or untrustworthy, but it has more input lag than FanDuel. That is a consideration that bettors will have to balance when deciding if they want to be at the front of the line or sacrifice speed for potentially better odds.
Live betting can be done with straight bets or parlays, depending on the user's choice. It also has a cash-out feature and live scoreboard menu, on top of an edit my-bet feature. This allows users to make alterations to their bets after they have been placed or even started.
An anecdotal note is that BetMGM does not have some of the same visual features as FanDuel. For example, live scoreboards, odds and cash-out values will just change, whereas there will be colorful effects on FanDuel. That being said, the main features and experience are not that dissimilar.
BetMGM is one of the top sportsbooks for a reason. Its in-play betting section lives up to that standard, and we highly recommend it. You can read our BetMGM review for a deep dive into the sportsbook.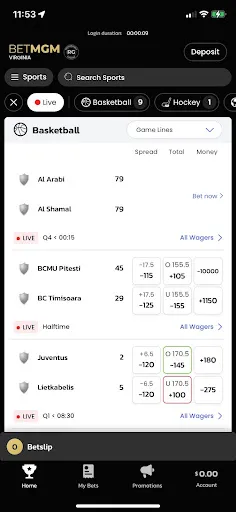 Pros
Competitive betting odds

Lots of betting markets
Cons
Sign-Up Offer
Click here for up to $1,500 back in bonus bets if your first bet misses.
BetMGM Sportsbook User Ratings
| | | |
| --- | --- | --- |
| Review Site | Rating | No. of Reviews |
| Apple App Store | 4.8/5 | 152,500 |
| Google Play Store | 3.6/5 | 19,200 |
| Trustpilot | 1.2/5 | 379 |
4. Caesars Sportsbook
Caesars sportsbook is the child of Caesars Entertainment, a globally-acclaimed entertainment brand that has plenty of experience treating customers with excellence.
The live betting section is not entirely unique in its appearance, but we will still provide an outline of what it looks like so that you have a frame of reference for the upcoming sportsbook reviews.
Users will find in-play betting odds in the live section and also in the particular sport's page. The top events (meaning the more popular ones, such as the NFL, NBA, and MLB) will be on the front in a featured section, as will big-market odds such as spread, moneyline, and total.
Users will notice the odds changing the longer they stay on the page—that's totally normal and is just the oddsmakers reacting to what is happening during the game or event.
Customers cannot place live same-game parlays, which is one downside of Caesars, but it more than makes up for it with over 100 total betting options for in-play betting. It also has live scoreboards for games and a cash-out feature, which allows bettors to withdraw portions of their winnings before the game or event has finished. All in all, Caesars is a premier source for live betting odds and action. For more information, read our Caesars Sportsbook review.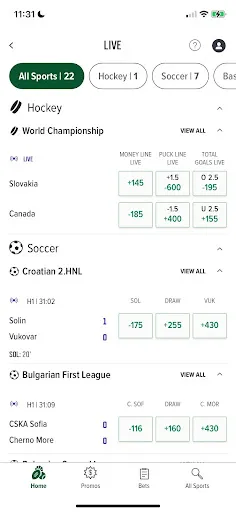 Pros
Cons
Sign-Up offer
Click here for $1,000 bonus bet with promo code WSN1000.
Caesars Sportsbook User Ratings
| | | |
| --- | --- | --- |
| Review Site | Rating | No. of Reviews |
| Apple App Store | 4.6/5 | 42,400 |
| Google Play Store | 4.3/5 | 20,500 |
| Trustpilot | N/A | 0 |
5. DraftKings Sportsbook
DraftKings rounds out the major-player quarter in sports betting. It has a robust live betting feature that includes live-streaming (like several other sportsbooks), although there are a few requirements for customers to access these features.
The actual in-play menu does not have the same visual pop as the other sportsbooks. The all-black menu with a thin green font can be somewhat hard to read for players, but that does not mean that the odds and opportunities aren't excellent.
DK also has a litany of markets available for patronage that are constantly updated with odds changes. It also offers flash betting, which is an uninterrupted form of in-play betting that ensures bettors don't miss out when other sportsbooks might suspend betting to update the odds.
Just like other sportsbooks, cashing out is a prominent feature here and makes sure that bettors are still in control of their money even after putting it up as a stake. It also has a statistics section where it shows a variety of information, such as the average score, average margin of victory, and other pertinent information related to a match or event.
Because of the flash betting element, and because the odds are often better than FanDuel, its major competitor, we give DraftKings two thumbs up. Read the full DraftKings sportsbook review here.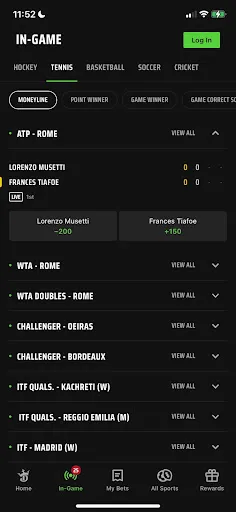 Pros
Cons
Sign-Up Offer
Click here to get $150 after betting $5.
DraftKings Sportsbook User Ratings
| | | |
| --- | --- | --- |
| Review Site | Rating | No. of Reviews |
| Apple App Store | 4.8/5 | 543,700 |
| Google Play Store | 4.6/5 | 87,900 |
| Trustpilot | 1.3/5 | 300 |
6. PointsBet
PointsBet is in an interesting position. It is looking to sell its U.S. operations to a new company but is still accepting bets for all legal sports bettors. Don't let the potential sale detract from your opinion of PointsBet, though.
This sportsbook is always coming up with innovations and opportunities not found on other sportsbooks. An example of this is points betting, which turns every game unit into a financial unit to introduce a boom-or-bust method of betting: For example, a $5 moneyline bet in a game that finished 10 points apart would be either a $50 win or $50 loss, depending on which side the bettor chose. You can read more about Points Betting in our full PointsBet review.
PointsBet's live betting is a top-tier experience at the expense of the visual elements found at other major sportsbooks. Its cash-out values are fair, the bet slip is responsive, and it does not change odds as bets are being processed.
There are also a variety of unique in-play bets that can be found at PointsBet, such as what the quarterback's completion percentage will be or which play will result in a touchdown. It also has live same-game parlays to make it even sweeter.
While our opinion will be updated depending on what happens with the sale of the assets, PointsBet right now is quietly in the conversation for being the best source for in-play betting.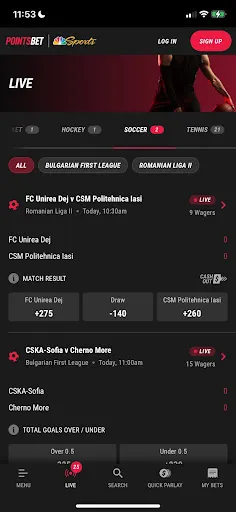 Pros
Cons
Sign-Up Offer
Click here for up to $1,000 back if your first bet misses for 10 days.
PointsBet User Ratings
| | | |
| --- | --- | --- |
| Review Site | Rating | No. of Reviews |
| Apple App Store | 4.8/5 | 39,600 |
| Google Play Store | 4.4/5 | 10,900 |
| Trustpilot | 3.8/5 | 2,762 |
7. Betway
Betway is a reputable sportsbook but is not as popular as the other sportsbooks that have already been mentioned. That is partially because it is only licensed in Arizona, Colorado, Indiana, Iowa, New Jersey, Ohio, Pennsylvania and Virginia, and also because it does not have as many features.
Don't let that fully influence your decision—Betway still has very competitive odds, and its sleek layout is both pragmatic but also stylish enough that it fits casual and serious bettors.
Users can find live odds for major sports such as the NBA, NFL, MLB, and others, and can also cash-out from bets before their conclusion.
What Betway lacks in betting options it makes up for with live-streaming and statistics, making it a one-stop shop for sports bettors.
The bottom line is this: Betway is a more than serviceable option, though it is not widely available in the U.S. and does not have the same opportunities as other major sportsbooks. Check out our full Betway review here.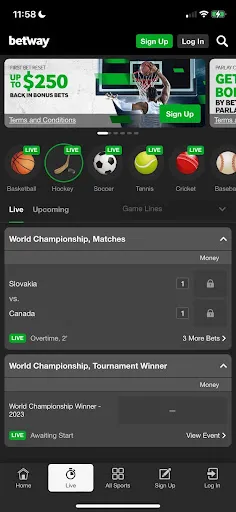 Pros
Cons
Sign-Up Offer
Get a $250 first-bet reset at Betway.
Betway User Ratings
| | | |
| --- | --- | --- |
| Review Site | Rating | No. of Reviews |
| Apple App Store | 4.3/5 | 10,600 |
| Google Play Store | 4.7/5 | 47,000 |
| Trustpilot | 1.4/5 | 14,751 |
8. WynnBET
WynnBET also has live betting, making it a clean sweep on this list of major sportsbooks. Users will find which events are in action in a featured tab on the home screen—WynnBet does not have as many options as the other sportsbooks but still has odds for major events and leagues.
This is a solid location for in-play betting, although there are no major standout features. It has the usual cash-out and live scoreboard to let bettors stay up-to-date with what is going on with their best and the events they pertain to, although there are no live parlays.
WynnBet does have a nice design and very little input lag. It also has a quick processing time and is among the most responsive of all major sportsbooks. Another nice touch is a screen depicting what is going on in the game that is being monitored; for example, a soccer match will have a soccer field and show which team is in possession, where a foul is committed, when a shot is taken, and more.
Bettors looking to wager on more niche events will want to stay away from here, but users that are only interested in the headlining events will have a great time here in what feels extremely user-friendly. Take a look at our complete WynnBET review.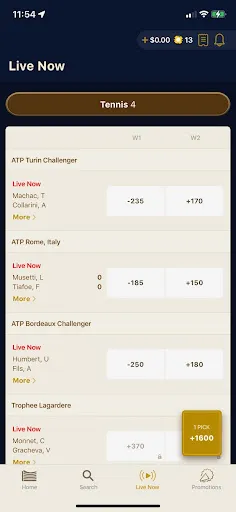 Pros
Cons
Sign-Up Offer
Bet $20 and get $100 in bet credit at WynnBET.
Wynnbet User Ratings
| | | |
| --- | --- | --- |
| Review Site | Rating | No. of Reviews |
| Apple App Store | 4.5/5 | 2,900 |
| Google Play Store | 4.4/5 | 1,340 |
| Trustpilot | 2.3/5 | 7 |
9. BetRivers
BetRivers is a solid sportsbook but one that could also do with a visual upgrade. Its live betting section is the first one that shows up when the app is opened and is filled with events throughout different sports.
Users will find pre-match stats, information, and descriptions or events once they pick a game they are interested in betting on. It is easy to track what is happening with a particular bet because losing bets are shown in red, winning bets are green, and even bets are in yellow. BetRivers has a cash-out feature that is updated regularly, although not always at the same speed as other sportsbooks.
Users will also be able to tune into the action in select sports with the live-streaming section of BetRivers.
This sportsbook is more than solid but is not the cream of the crop like some of the others that we have reviewed. That being said, betting is all about finding the best odds and the best chance to make money (called line shopping), and BetRivers has competitive odds. So although it is not our favorite, it is still recommended as a viable source for sports betting. Check out our detailed BetRivers review for everything you need to know about the sportsbook.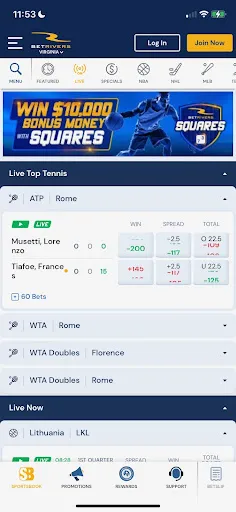 Pros
Cons
Sign-Up Offer
Click here for a $500 second-chance bet.
BetRivers User Ratings
| | | |
| --- | --- | --- |
| Review Site | Rating | No. of Reviews |
| Apple App Store | 4.4/5 | 1,400 |
| Google Play Store | 3.3/5 | 653 |
| Trustpilot | 1.7/5 | 58 |
10. Unibet
Unibet has the worst visual appeal of any sportsbook on this list. It is easy to follow and functional, but it does not breed the same level of confidence or excitement as others on this list.
On the flip side, Unibet has an extremely rapid response time and prioritizes functionality over extravagance. Anyone that is serious about being on top of their game won't mind the trade-off.
The quick turnaround time means that the odds aren't always the most profitable (whereas bettors can capitalize on slow reaction times on other sportsbooks), but they can also steal value in spots where they might not otherwise.
Unibet also live-streams certain events to help ensure that its customers are always in on the action. Similarly to BetRivers, this is a more-than-capable sportsbook, but we have others that we would access first before turning here. You can find more of our thoughts in our full Unibet review.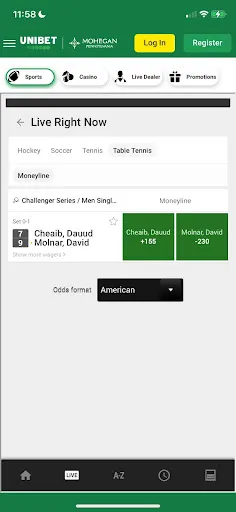 Pros
Cons
Sign-Up Offer
Click here for a $100 second-chance bet.
Unibet User Ratings
| | | |
| --- | --- | --- |
| Review Site | Rating | No. of Reviews |
| Apple App Store | 2.5/5 | 183 |
| Google Play Store | 4.2/5 | 3,910 |
| Trustpilot | 1.5 | 1,250 |
How Does Live Betting Work?
Live betting is exactly what it sounds like—betting on sports events that are already in progress. The advantage to live betting is that users can gauge what is happening by tuning into the games and waiting for the perfect moment to place their bets, if one arises.
Part of finding the right moment comes with the timing of a particular bet. For example, an NBA bettor that is extremely confident in the Boston Celtics would be wise to fire off a moneyline bet on them if they start the game off losing 8-0, since the moneyline value will be greatly inflated compared to what it opened at.
Live bets can be submitted all the way up until the closing moments of the action (so long as it is not a complete blowout or foregone conclusion). They can come in the form of spreads, moneylines, totals, props, or parlays, depending on what the bettor is after.
There are different strategies that go into live betting, some of which work better for a certain group of bettors, while others work better for another. These strategies revolve around different assessments of what is happening in the game—one strategy is to take favorites that are already winning while accepting a lower payout and a greater potential loss, while another is to do the opposite and hunt the big-money bets that are against the run of play.
Whatever approach you choose for in-play betting, start small and make sure that it works for you. Stick to your units and gradually increase bet size only as you grow more comfortable and sure of yourself and your methodology.
Live Betting Features
We already went over a general overview of what live betting is. Now, it's time to dive into the different features that are part of the experience. You do not need to utilize any of these during your experience and can simply get in, place your bets, and get out, but they are available to help you be more informed and engaged in the experience.
Cash-Out
Cash-out is a feature that allows users to withdraw their stake before an event has finished. There are several reasons that a user may opt to do this.
The first is if they are uncertain about the outcome of an event that is hanging in the balance. If the game is tied with a few minutes left, you can withdraw your stake for roughly the same value that it started at, assuming that the initial bet was placed at reasonable odds.
Another time to utilize cash-out would be if you are sure your bet is going to lose and the game is trending in that direction, but your bet isn't completely worthless yet. In this scenario, you would take a loss but be able to recoup a portion of your stake.
On the flip side, you can withdraw a bet that is winning but you are still not totally confident in for a greater amount than you risked. Betting is all about taking wins where you can, and this would help guarantee that.
Live Tracking
You should always be tracking your bets in some form to help assess if you want to utilize the cash-out feature. You can do this in the sportsbook app itself by looking at the live scoreboard, watching the game via the live-streaming function, or simply by being aware of what is going on through other mediums.
A key to live tracking is not being impulsive. A missed shot or incomplete pass does not mean you are guaranteed to lose, just like a three-pointer or a touchdown does not mean that you are guaranteed to win. You will gain a better feel for live betting with experience.
Live-Streaming
Users that want to be fully immersed in the in-play betting experience can do so by watching their favorite game via the live-streaming function in their sportsbook, provided it has one and it is showing the game they are most interested in.
The benefit to live-streaming games from the app is that the bettor is never more than a couple of clicks away from being back at their bet slip, where they can use cash-out or other features we have mentioned, if not submit another bet.
Live Stats
Live stats can be the live scoreboard or live player tracking for prop bets. For example, an NBA game between the Oklahoma City Thunder and Philadelphia 76ers will show the players' points (in certain apps) in the player prop section. That way, users can see how the players are performing and monitor their progress in relation to their prop betting lines.
Prop bets are also available as part of live betting, though these odds can also be locked at different points in the game when they are being updated.
Micro-Betting
Micro-betting is a budding form of live betting that has many industry experts excited for the future, specifically its potential growth. It is a niche form of live betting where, instead of placing bets on the winner of a game or predicting a player's point total, users pick small, individual outcomes, such as if the next pitch will be a ball or a strike.
Micro-betting can be as complex as there will be a touchdown on the eighth play of the next drive or as simple as the method of victory will be knockout. It all depends on what is available on the sportsbook, but be wary, micro-betting is not available on every sportsbook.
Platforms such as Betr are popping up to service the micro-betting-only crowd, but it would not be a surprise to see it integrated into all major sportsbooks in the near future.
How to Place a Live Bet
Placing a live bet involves the same process as any other bet—the only difference is, of course, that the event the bet pertains to is already in progress. Here's an example from FanDuel sportsbook of where to find live betting odds and what they look like.
The top left of the home screen shows a "Live now" tab; click on that to be taken to a menu for all in-play betting odds on that site. Once you have done so, you will see a new screen that now has a list of events and headings of different sports. Find the sport you want, and you will see what games are in progress and available to bet on.
From there, just find your favorite betting line, highlight it, enter a wager amount, and press submit. You will be able to track your bet using the live scoreboard and live stats features in the sportsbook app.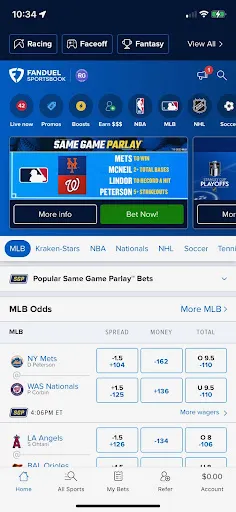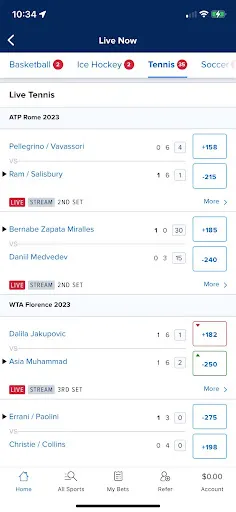 What Are the Benefits of Live Betting?
Live betting gives users a chance to "create" betting odds of their choice. By this, we don't mean that users can manually change the odds, but they can wait until the odds have hit a point that they are comfortable with to submit their wagers.
A perfect example that many bettors usually capitalize on comes from the NFL. Teams that are favored by at least a touchdown don't always receive a lot of support on the spread because of how far behind they are starting, yet the moneyline value is too low to be worth the risk. In this scenario, bettors will often wait to see if the underdog will score a touchdown first and cause the spread and moneyline values to draw closer to even, if not turn into positive odds.
Sportsbooks are also more prone to making mistakes during live betting. Their multi-billion-dollar programs almost always set pre-game odds at the perfect spot, but bettors that are acutely aware of what is going on in a particular event will be able to stop when and where sportsbooks offer odds that don't fully line up with what is going on.
Another benefit of live betting is that users can wait to see how a game starts before risking their money. For example, let's say a basketball team is undefeated when they score 30+ points in the first quarter. Even if that team is losing 31-38 at the end of the first, the bettor will know they are on the right path and always be able to get more favorable odds than they did when the score was 0-0.
Are There Any Drawbacks to Live Betting?
The drawbacks to live betting are that while sharp bettors tend to flourish, square bettors usually crumble. Experience, a level-headed temperament, and game intelligence are important factors to success in live betting.
Live betting also requires bettors to act quickly since odds are changing in matters of minutes and seconds. Learning to separate impulse from rational thinking while under a tight deadline is hard but can be done, again, the more that your practice.
What Sports Can You Bet On Live?
Live betting can occur on most sports that also have pre-game odds. That includes:
In case you are not sure of what is available to you, just navigate to the live section of your sportsbook, and you will see all of the options. You can contact your sportsbook's live support if you have any further questions.
What Kind of Live Bets Can You Make?
In-play betting is not identical but very similar to traditional betting in terms of the types of markets that are available. Spread, moneylines, and totals are the most popular, while player props and, depending on the sportsbook, live parlays are also available.
Exotic markets such as teasers are where the selections begin to flame out. Futures bets will be available but aren't technically considered live betting, even if a game is in progress. Futures odds may be locked or updated live depending on what is occurring in the game.
Click on an event of interest that is in progress to see a full list of the betting markets that are available for the bettor.
In-Play Betting Strategies & Tips
One of the simplest yet most effective live betting tips—and one that might sound like common sense—is to be watching, or at least intently following, the event that you are considering placing a live bet on. Having an understanding of what is going on, how the players and teams are performing, what the atmosphere is like, the influence of the officials, and everything else that goes into a game is crucial.
Another tip is not to place too many live bets. Hedging is an effective strategy, but bombarding your bet slip will likely lead to you taking losses in the long run. Find your favorite live bet or two and stick to them.
Another tip is not to go chasing a profit, especially when you are down for the day. Everyone loses bets, and everyone has losing days. Don't compound your losses with a desperate live bet simply because you had the ability to.
Most bettors have a certain market or sports where live betting works the best for them. Practice with different markets until you have figured out which you are the most consistent with and then stick to it more times than not.
Which States Offer Legal Online Live Betting?
Live betting is available in every state that has a legal sports betting market (37 states). That includes all of the following states:
* Pending judicial review
** Legal, but not operational
Other states are actively debating legalizing sports betting. More information about the latest sports betting news can be found here.
Gamble Responsibly
Always gamble responsibly and remember that sports betting is meant to be a form of entertainment, not a steady income source. Take breaks from betting with cooldown timers, set deposit and loss limits to hold yourself accountable, and don't wager your full account balance in one sitting.
More responsible gambling resources are listed below.
1. The National Council on Problem Gambling (NCPG)
Call: 1-800-522-4700 (24-hour confidential national helpline)

Text: 1-800-522-4700 (24-hour confidential national text service)
4. Gam-Anon