A Closer Look At Our Top-Rated NFL Betting Apps
Here is a full breakdown of our top-rated NFL betting sites.
#1: DraftKings Sportsbook
Any NFL fan will recognize the DraftKings branding because, well, it's everywhere on pregame shows and during games. The app itself is great for NFL betting, which we're about to dive into.
DraftKings uses a cool black and green aesthetic that makes it feel like you're some sort of computer expert that's tapping into the best sports bets. Users have their choice from any of a seemingly endless amount of NFL markets which, aside from the major ones, include parlays, props, exotics, and exciting futures, such as record-breakers. These allow bettors to predict if any records such as most passing yards in a season will fall.
Bettors can also take comfort in knowing that the odds are updated quickly and that there is a very fast turnaround time when placing bets and depositing or withdrawing money (DraftKings was the fastest paying sportsbook in our testing). It also simplifies the betting process by showing the major-market odds right on the home screen so that users don't have to dig within them to find them.
One feature that DraftKings has that others don't is live betting insights that show consumers where the money is going. This can inform them of public opinion but also comes at a price, as bettors have to balance their influence by the public with the "sharp" play, which is often against what the public is predicting. If in-play betting is your thing, then check out our guide to the best live betting sites.
It also has another one-of-a-kind feature in its social section. Here, bettors can form groups with their friends and see what bets each other is placing and tail (follow) them if they choose.
You can read our DraftKings review for a deep dive on the sportsbook and find out why we rated it as one of the best sports betting sites in the United States.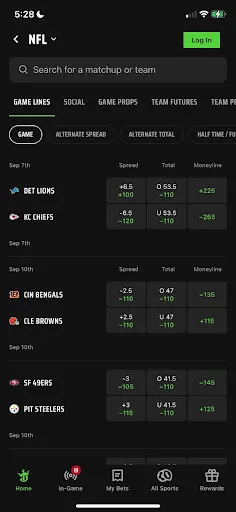 Pros:
Unique betting insights and social features
Quick and responsive
Cons:
Sign-up offer:
DraftKings Sportsbook User Ratings
| | | |
| --- | --- | --- |
| Review Site | Rating | No. of Reviews |
| Apple App Store | 4.8/5 | 543,700 |
| Google Play Store | 4.6/5 | 87,900 |
| Trustpilot | 1.3/5 | 300 |
#2: FanDuel Sportsbook
FanDuel dominates the American sports betting market and for good reason. It has the most responsive interface that we tested, tons of betting options for football, updates its odds with extreme speed, and is extremely easy to navigate and use.
Of those, we believe the responsiveness and speed of the app are crucial. Sports betting is all about pouncing on odds at the perfect time, and FanDuel is willing to update its odds more than anyone. That can lead to greater wins or greater losses, depending on how quickly bettors can react.
As far as the NFL betting options go, users will never be deprived of choice. Their same-game parlay plus is a fan favorite, but they also have lots of NFL futures and player props to round out the entire experience. There's even a parlay builder that will help you quickly assemble a parlay so that you don't have to go digging for picks.
FanDuel also added a feature that depicts what is happening in games. All that you need to do to see this is open the game within the app, and you will have a scoreboard, stats, and an image of the game or field with live updates. FanDuel's app is typically ahead of the ESPN app and other sports media apps, meaning that you can often get faster NFL coverage here.
Read our full FanDuel Sportsbook review for a deeper analysis.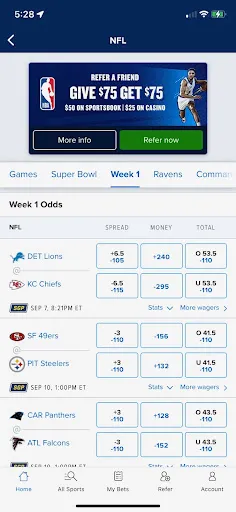 Pros:
Extremely fast and responsive
Great for parlay betting
Cons:
Sign-up offer:
FanDuel Sportsbook User Ratings
| | | |
| --- | --- | --- |
| Review Site | Rating | No. of Reviews |
| Apple App Store | 4.8/5 | 1.1 million |
| Google Play Store | 4.7/5 | 209,000 |
| Trustpilot | 1.3 | 182 |
#3: BetMGM Sportsbook
BetMGM is another of the four main players in NFL betting and American sports betting. It has a well-developed app with all of the desirable features and combines them effortlessly.
Although it is not the most popular betting app, we have mentioned in other betting guides and still believe that it lends itself to profitability more than most other sports betting apps. The odds are almost always very fair and frequently in favor of the bettor compared to other sites. There are also a plethora of markets just as any bettor would hope for.
BetMGM's parlay builder is one of the most unique features of its site. Launching the builder separates different NFL markets and players into a grid and makes it easy to mix and match the exact lines that you are searching for.
BetMGM also has a nice aesthetic to it, though there is some input lag which can slow down the process ever so slightly. Despite that, this app and all of its betting opportunities pass with flying colors. Anyone looking to participate in NFL betting could do a lot worse than using BetMGM as their primary sportsbook.
Check out our in-depth BetMGM review to learn more.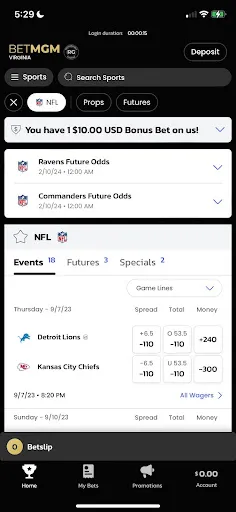 Pros:
Odds that are great for bettors
Parlay builder is excellent
Cons:
Sign-up offer:
BetMGM Sportsbook User Ratings
| | | |
| --- | --- | --- |
| Review Site | Rating | No. of Reviews |
| Apple App Store | 4.8/5 | 152,500 |
| Google Play Store | 3.6/5 | 19,200 |
| Trustpilot | 1.2/5 | 379 |
#4: Caesars Sportsbook
Caesars Sportsbook was formed to serve as the sports betting branch of the global Caesars Entertainment brand. It hit the ground running and quickly became one of the four dominant sports betting sites in America, alongside FanDuel, DraftKings, and BetMGM.
Caesars users are treated to a sleek interface that looks and feels like the luxury the Caesars label portrays. Different sports and leagues are easy to find in the subheadings, and the games within them are easy to locate.
A benefit to betting with Caesars is that every bet helps stockpile rewards points—and while other sportsbooks have a similar system in place, Caesars allows users to redeem their points at different Caesars properties and resorts, meaning they can be used online or in the real world.
NFL betting at Caesars is what any user would hope for from a top betting company. There are tons of markets and opportunities, exciting promotions, and a focus on the user's experience. Clicking on games will also help reveal major markets, futures, props, and exotics.
For more information, read our Caesars Sportsbook review.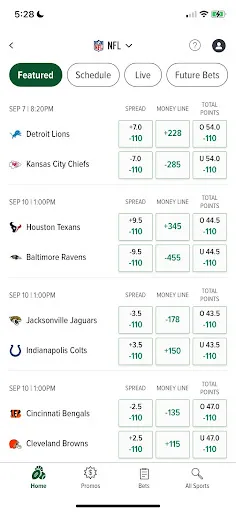 Pros:
Great betting markets
Nice feel and look
Cons:
Sign-up offer:
Caesars Sportsbook User Ratings
| | | |
| --- | --- | --- |
| Review Site | Rating | No. of Reviews |
| Apple App Store | 4.6/5 | 42,400 |
| Google Play Store | 4.3/5 | 20,500 |
| Trustpilot | N/A | 0 |
#5: PointsBet
NFL betting at PointsBet is both like and unlike the other sports betting sites on this list. It is similar in the sense that users can sort through different sports and leagues to find the NFL, pick their favorite game, and then wager on a variety of markets.
It is unlike its competitors because there are also unique betting markets at PointsBet. For example, it has a system called Points Betting, where financial units become game units.
What does that mean? It means that your chances at profit (and loss) are scaled with your input on the game's outcome. So, a winning $10 bet on a team that is favored by three to win by 10 or more will result in $70 profit ($10 x (10-3)). This represents a huge boom-or-bust approach to betting similar to parlays, except it is not as rigid. You can read more about Points Betting in our full PointsBet review.
PointsBet did recently sell its North American assets to Fanatics, which leaves its future somewhat in question. But as long as it is operating the way that it has been up to the time of writing, it is a great source for sports betting.
The app has a cool aesthetic unlike its competitors, game scoreboards, and is very responsive. It will even let users request betting markets if they cannot find the odds they are after. Its biggest selling point is that it is so different from other sportsbooks that it offers users something they cannot find anywhere else.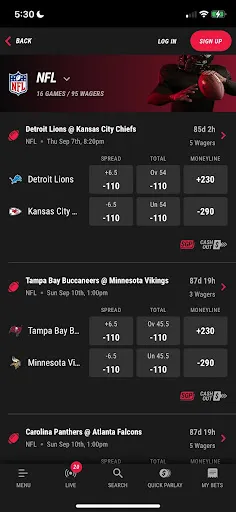 Pros:
Uniqueness and innovation
Tons of betting options
Cons:
Uncertain future
Hard to locate alternate markets
Sign-up offer:
PointsBet User Ratings
| | | |
| --- | --- | --- |
| Review Site | Rating | No. of Reviews |
| Apple App Store | 4.8/5 | 39,600 |
| Google Play Store | 4.4/5 | 10,900 |
| Trustpilot | 3.8/5 | 2,762 |
#6: bet365
bet365 is on the rise in North America. It isn't available in a ton of states (New Jersey, Colorado, Ohio, Iowa, Virginia, and Kentucky), but it is expanding and will soon be a force to be reckoned with.
bet365 is one of the biggest and most popular sportsbooks in the world, and 15 minutes on the app will show you why. Although the gray, dull green, and bright yellow color scheme isn't the most attractive in the world, everything else about the app is excellent - which is why we ranked it as the best sportsbook app in 2023.
There are tons of betting markets within every game, including lines for player props that aren't available in other sportsbooks. That's on top of the major markets and futures that sports bettors and NFL bettors specifically are after.
Above all, bet365 consistently has some of the most competitive odds that sports bettors could hope for. The odds are frequently updated too and still end up being in the best interest of the bettor. Simple line shopping will show that bet365 is almost always among the top sportsbooks to bet with.
As this sportsbook expands in America, don't be surprised to see it take off. It has the international support internally and externally and the product to make it a resounding success. Read our full review of bet365 here.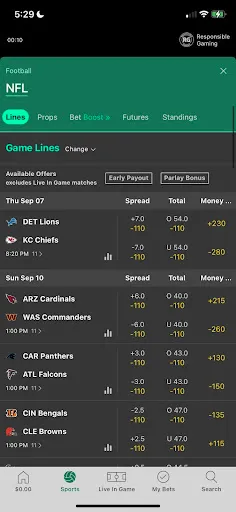 Pros:
Amazing betting lines and odds
Expansive betting markets
Cons:
Sign-up offer:
bet365 Sportsbook User Ratings
| | | |
| --- | --- | --- |
| Review Site | Rating | No. of Reviews |
| Apple App Store | 4.7/5 | 213,700 |
| Google Play Store | 4.6/5 | 1,630 |
| Trustpilot | 1.3/5 | 3,589 |
#7: Betway
Betway does not have the same name recognition or value as many other sportsbooks in North America, but we were pleasantly surprised by what we found during our review. Allow us to tell you why.
Despite only being available in Arizona, Colorado, Indiana, Iowa, New Jersey, Ohio, Pennsylvania, and Virginia, Betway has tons of ongoing promotions for new and returning bettors that make every day as exciting as the last one. For example, they might offer odds boosts on a pair of teams to win their weekend showdowns in the league.
On the contrary, Betway isn't going to offer the same plethora of prop bets and other unique markets (a la PointsBet) as the other sportsbooks. It is more focused on an efficient and streamlined experience that has a friendly visual appeal, which makes it more of a catch-all than a specified space for expert bettors.
Part of that appeal is its live game display, which shows the score, stats, percentages, the weather, and everything else that goes into a football game. That keeps bettors as in the loop as possible.
Although you might not find the most intricate markets, you will be attracted to Betway's aesthetic and will find all of the major betting markets. We definitely recommend this to all non-top-level bettors, and it will certainly do the trick even for those top-level bettors.
Read our in-depth Betway review for more details.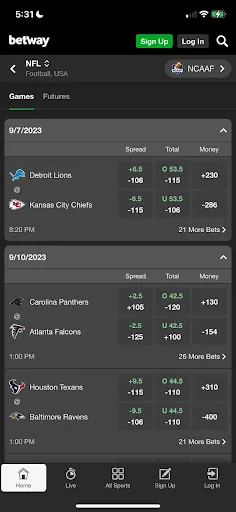 Pros:
Visual appeal and live game display
Easy to navigate
Cons:
Availability
Fewer choices of markets
Sign-up offer:
Betway User Ratings
| | | |
| --- | --- | --- |
| Review Site | Rating | No. of Reviews |
| Apple App Store | 4.3/5 | 10,600 |
| Google Play Store | 4.7/5 | 47,000 |
| Trustpilot | 1.4/5 | 14,751 |
#8: BetRivers
Let us be very clear: All of the sportsbooks mentioned on this list are more than serviceable options for bettors. They are all regulated which also gives customers the basic protections that they would seek in the event a negative situation presents itself.
While BetRivers does a nice job covering the basics, it does not go above and beyond in many areas. The aesthetic is relatively plain and the text doesn't jump off the page or make a bettor want to extend their stay longer than they have to. It can also be hard to spend long hours on the sportsbook because of the lack of visual elements.
One of the sportsbook's best features is that it presents not just leagues and games, but actual betting markets on the home page. So, if you want to see live odds, player props, and futures without ever making a move off the home page, you will be able to do just that and accelerate your betting process.
BetRivers doesn't have the largest array of prop bets and various betting lines, but it does have micro-betting, which is just betting on small events within the game such as if the next play will be a run or a pass, and that is a huge plus.
The bottom line is that while this might not be the most refined betting site, it still has its benefits and features that are above its competitors. Check out our complete BetRivers review for everything you need to know about the sportsbook.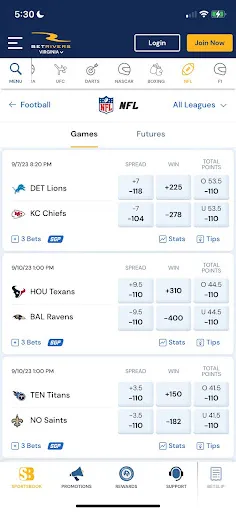 Pros:
Live betting (micro-betting) and live betting stats
Easy to locate odds
Cons:
Needs a visual makeover
Not as many betting lines as other sportsbooks, especially in prop markets
Sign-up offer:
BetRivers User Ratings
| | | |
| --- | --- | --- |
| Review Site | Rating | No. of Reviews |
| Apple App Store | 4.4/5 | 1,400 |
| Google Play Store | 3.3/5 | 653 |
| Trustpilot | 1.7/5 | 58 |
#9: Unibet
Unibet is a decent choice but it is not our favorite. Let's dive into why.
Right off the bat, it looks like the UI (user interface) designer was just clocking in and clocking out. Everything is blocky and chunky and in a bright green that doesn't pop off the page as other sportsbooks' odds do.
Finding the betting odds you are after can also be a little tricky. There are tons of options available in subheadings on the side, but users first have to click sports after launching the app and then can get stuck in different menus as it's hard to locate the back button.
A major plus of Unibet is its game screen, which shows exactly what is going on in the game and is more immersive than, say, ESPN's gamecast. It also has live stats that makes it feel as if you're in the hub of an information center and are always well-equipped to place informed wagers.
To conclude, Unibet purely as a platform for betting is a very strong choice. It is just presented quite poorly, which often creates a bad first impression. And as everyone knows, first impressions are everything. You can find more of our thoughts in our full Unibet review.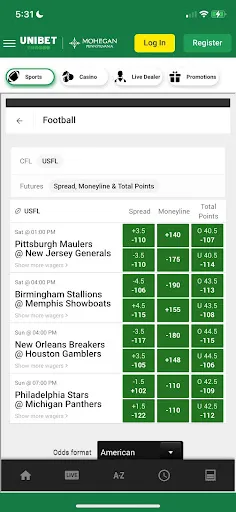 Pros:
Live gamecast
Nice betting markets
Cons:
Takes time to find betting markets
Clunky look and feel
Sign-up offer:
Unibet User Ratings
| | | |
| --- | --- | --- |
| Review Site | Rating | No. of Reviews |
| Apple App Store | 2.5/5 | 183 |
| Google Play Store | 4.2/5 | 3,910 |
| Trustpilot | 1.5 | 1,250 |
#10: WynnBET
WynnBET may be coming in last place in this list, but keep in mind it still made our top 10 football betting sites.
The NFL is king in sports betting and WynnBET has opportunities, but it misses out on markets that are found on other sportsbooks. It can also be tough to locate where the markets, such as futures, are in the first place.
The saving grace for WynnBET is that it also has a game view with stats, visual displays, and pertinent information that keeps the customer right in the middle of the action. Aside from that, though, the app isn't super responsive, the look is a little outdated, and the opportunities aren't quite on the same level as the other options in this list.
We don't have a ton else to say about this particular sportsbook. Keep in mind, every NFL betting site on this list is still a great option to handle your bets, but this just happens to be at the bottom of our personal list.
Take a look at our complete WynnBET review.
Pros:
Basic betting odds
Live gamecast and display
Cons:
Basic and thin
Lacks betting markets and lines
Sign-up offer:
Wynnbet User Ratings
| | | |
| --- | --- | --- |
| Review Site | Rating | No. of Reviews |
| Apple App Store | 4.5/5 | 2,900 |
| Google Play Store | 4.4/5 | 1,340 |
| Trustpilot | 2.3/5 | 7 |
What Our Experts Think
We asked some of our other experts to share their favorite NFL sportsbooks. Here are some of their insights:
As a resident of New Hampshire, my state has a sports betting monopoly with just DraftKings Sportsbook. However, the neighboring state of Massachusetts has opened me up to personally play at more online sportsbooks. Still, DraftKings is my favorite NFL betting site because of the number of NFL player prop bets available for each game throughout the season.
Being a higher volume bettor, PointsBet's rewards program makes them more beneficial to use than most sportsbooks during NFL season. It is much easier to rack up bonus bets there than it is elsewhere, and the boosted odds and reduced juice during their Power Hour can reduce risk or increase profits to make NFL betting just a little easier.
Caesars Sportsbook is my go-to NFL betting site. Their combination of competitive odds and attractive promos is too good to pass up. They also have one of the industry's best rewards programs, including discounted or free stays at their hotels. While other sportsbooks have their advantages, Caesars provides the best overall experience.
Being a New York resident has its ups and its downs. The ups include good food and skyscrapers, and the downs include a sheer lack of sportsbook options. Despite this, I've developed a hearty love for DraftKings. The app is incredibly easy to navigate and comes with a myriad of daily promotions. The sportsbook also offers "crowns" as its in-app currency, which lets you branch into Daily Fantasy and other rewards throughout the company. Caesars also deserves a strong shout-out for its reward system and wide range of betting options.
I almost always use DraftKings when I bet on the NFL. I've had some success with their promos in the past and I feel like they have the easiest platform to navigate. It's simple and intuitive, making it easy to find the exact bet I want or put together a parlay.
Tips for Choosing an NFL Betting Site
We just told you all that you'd want to know about the different NFL betting sites that are available to you. But now the question is simple: How do you choose which to frequent?
Our best advice for picking your NFL sportsbook is to simply try out different options. Think of it as test-driving a new car before you drive it off the lot.
During your experimentation, think about what is most important to you. If you are frequently on the go or in a rush, then you will probably want a sportsbook that has the fastest response time. If you bet on very rare occasions and just want to have the most fun possible, then you will want to find the sportsbook with the largest array of betting markets.
Also, think about how much time you are going to spend on the sportsbook. If you just want to get in and get out, then you won't care much about the visual attractiveness, but if you plan on leaving the app open for extended periods of time (make sure to take breaks and visit reality), then you'll probably want a sportsbook with a nice aesthetic and potentially a live game display.
There is no universal answer as to what the best NFL betting site is. Keep yourself and your expectations in mind and just pick what fits your needs the best.
Banking Options For NFL Betting Apps
Depositing money and withdrawing winnings is an integral part of NFL betting, but often overlooked as a key aspect of sportsbooks in favor of promotions and special features. When it comes to banking, users want two things: a variety of payment methods and fast withdrawals.
Most NFL betting sites these days are on par when it comes to variety. Here are some of the most common payment methods you will find:
Debit and credit cards
Online banking
Wire transfer
PayPal
Venmo
Prepaid cards
Check
In-person
In terms of withdrawal times, in our tests DraftKings and FanDuel come out on top. But all legal sportsbooks payout at reasonable speed and it's not something we would be too concerned about when choosing an NFL sportsbook to sign up with.
Top NFL Sportsbook Promos
Sportsbooks almost always offer sign-up bonuses for new registrants that can earn tens, hundreds, or even thousands of dollars in prizes. But that's just the beginning of sportsbooks promos, especially during the NFL season. Here are examples of deals that are commonplace during football season.
Same-game parlay boosts and insurance: Sportsbooks will give bettors the chance to either boost the odds of their same-game NFL parlays or win back bet credits if that parlay misses by a certain amount.


NFL profit boost: This deal helps bettors take home even more money with winning bets in NFL markets.


Touchdown boost: The oddsmakers are fans of the game too and want to see points scored. They will often boost different markets such as the anytime TD market to let bettors win more prizes if their bet hits.


Special one-time deals: These deals usually come during the biggest game of the year which, in the NFL season, is the Super Bowl. Sportsbooks will offer promises such as win $200 in bonus bets if either team scores a single point in the Super Bowl. Yes, we're totally serious. If we've piqued your interest, take a look at the latest Super Bowl odds here.
This list is only a teaser of what is to come during the NFL season. Users can see what is available to them by clicking on the promotions section of their sportsbook, and they will then be able to activate a variety of deals.
Find the best NFL promos in your state using our guides below:
How to Bet on Football - Popular Bet Types
Moneyline
The moneyline is a straight-up bet on which team will win a particular game. Nothing else matters—not the score differential, if the game went into overtime, where it was played, how the game was won, what the weather was, or anything else.
Al Davis said "Win, baby, win," and that's the easiest way to remember what the moneyline is all about. Learn more about moneyline betting in our guide.
Spreads
The spread accounts for perceived inequalities between teams. Let's say the Kansas City Chiefs are playing the Arizona Cardinals, and the Chiefs are -6 favorites; that means that the oddsmakers believe the Chiefs are roughly six points better than the Cardinals, and so that six becomes the zero point.
If the Chiefs win by more than six, they "cover" the spread and win the bet, but if they win by five or less or lose, then the Cardinals cover and win the spread.
Read our guide on spread betting to learn more. Be sure to also check out our latest NFL picks against the spread which we update every week during the football season.
Over/Under (Totals)
The over/under, also known as the points total, is a bet on the total amount of points that will be scored by both teams in a game. It doesn't matter how the points total gets there, it only matters if the amount finishes above or below the given line.
If the Washington Commanders and Dallas Cowboys have a points total of 45 and the Cowboys win 49-0, then the over won. If the Commanders win 30-16, then the over hit again.
Prop Bets
Prop bets are wagers on events and outcomes that don't directly influence the results of other major markets such as the spread, moneyline, or total. Examples of prop bets are if a player will score a touchdown, if a quarterback will throw an interception, or how many receiving yards a player will accumulate.
During bigger games, the prop betting markets explode to everything from how long will the national anthem be to what color Gatorade will be dunked on the winning coach to who will the Super Bowl MVP thank first in their acceptance speech.
Parlays
Parlays are combinations of bets into one larger bet. The benefit to parlays is that the payouts are significantly higher than just betting every line on its own, but the drawback is that every single bet which, when in a parlay is known as a leg, must hit for the parlay to cash.
So, a 10-leg parlay with nine winning legs and one losing leg will result in a $0 payout. Always pick wisely when constructing parlays and balance opportunity and value with likelihood.
Futures
Futures are long-term bets on events that have not yet happened. Players will often submit their Super Bowl winner futures bet before the season even starts and then kick back to monitor the progress of their bet over the course of several months.
Betting futures can be profitable because odds are usually not as juiced (aka more profitable) when a particular endpoint for the bet is further away. Knowing when to pounce in a futures market is the primary key to success.
Read our futures betting guide to learn more.
Live Betting
Live betting, also known as in-play betting, is exactly what it sounds like. Bettors can submit their wagers while games are still in progress whenever they feel like they have the most accurate gauge of what is going on and what will unfold. Learn more about live betting in our betting guide.
Betting on the Super Bowl
Betting on the Super Bowl is a type of futures bet that we previously touched on. Users simply pick who they think will take home the Lombardi Trophy and then wait to see if it cashes or not.
NFL Line Movement
Odds for NFL games can be released as early as a week in advance. Line movement is the name for the changing of the odds (and in the case of the spread, points total, and different props, the actual betting lines). Line movement can occur because of injuries, changes in weather, or public pressure on a certain side of the bet.
Line movement also happens within every game and is a huge part of live betting.
NFL Betting Strategies
What are some basic keys to success betting on the NFL? Here are a few of our best tips.
First and foremost, always be well-informed. Do plenty of research beforehand to find out what the injuries are, where the game is being played, if there is direct or implicit pressure for a team or player to perform, who has been hot and who has been cold recently, records and performances against their upcoming opponent, and anything else that you can think of.
Many people also have an issue removing their own implicit bias from their betting life. That can mean that, although it's not as fun, refusing to bet on your own team can be a smart play. Fans of teams are often more prone to look upon them favorably in situations where they don't deserve it.
Placing bets on odds shorter (which means less profitable) than -200 is also something that we generally advise against. The risk-reward ratio simply isn't there, and you don't want to have to sacrifice two dollars just to win one.
We also advise bettors not to get caught in the cycle of feeling like they have to make up for losses if that's what ends up happening. Many people panic when they are down and fire off more bets on games they aren't as confident about because they can't stand the thought of finishing the day in the red. Our advice is just to take the loss on the chin and know that you won't win every day and come back better the next day.