A Closer Look at the Best Online Casinos in WV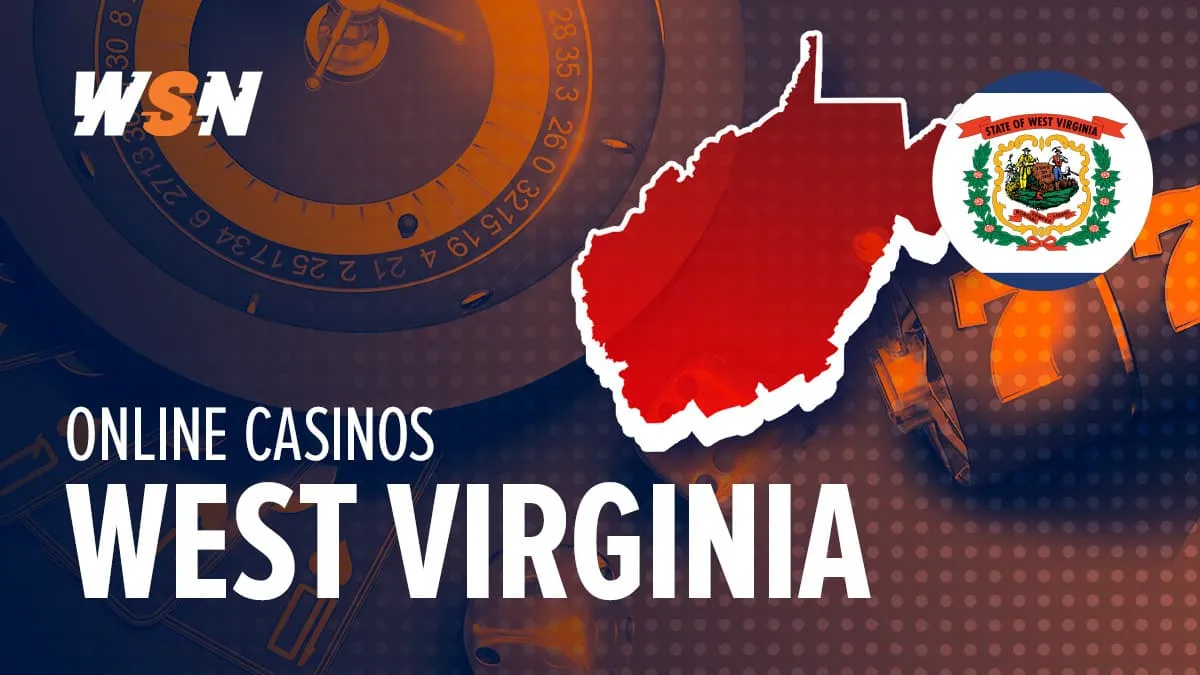 DraftKings Casino
WSN Review Rating: ⭐ 9/10
Welcome Bonus: $35 in bonus play just for registering, and a 100% first deposit match of up to $2,000.
Best for: Software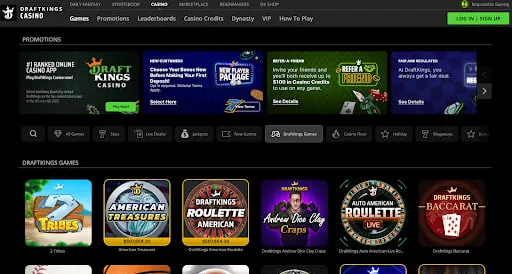 DraftKings is one of the most popular and well-known sportsbooks in the US. In addition to its sports betting offerings, DraftKings also provides a wide selection of live dealer games, slots, video poker, blackjack, and more. While it has yet to launch a rewards program up to the standard of some casinos on this list, DraftKings always has new promos available to customers, including a refer-a-friend offer where you can earn up to $100 when they sign up. With exclusive games and an easy-to-navigate app, DraftKings is a top choice for online casino gaming in West Virginia.
Sign up at DraftKings casino and get up to $2,000.
BetMGM Casino
WSN Review Rating: ⭐ 9/10
Welcome Bonus: $50 in FREEPLAY® & BetMGM matches your initial deposit 100% for up to $2,500 and 50 bonus spins.
Best for: Welcome Bonus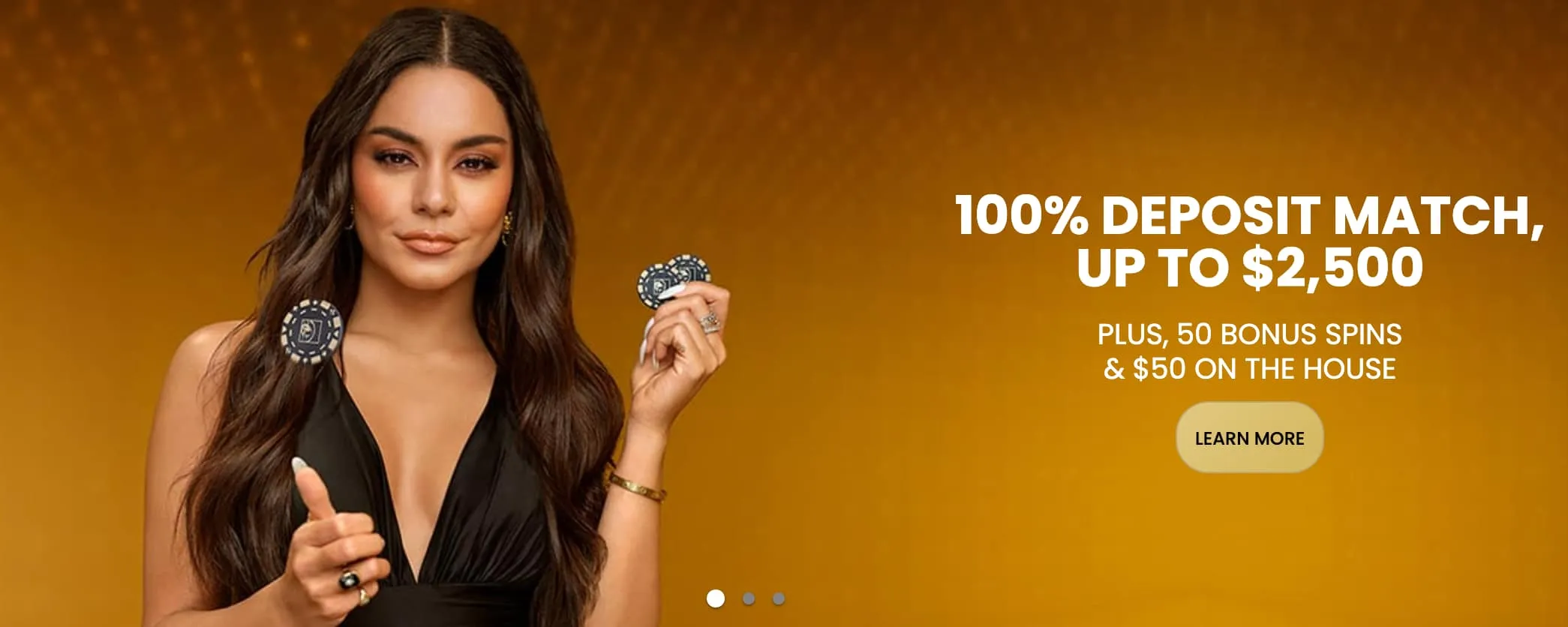 BetMGM is an online casino platform that stands out with its generous welcome bonus package, featuring $50 in FREEPLAY® upon sign-up, a 100% first deposit match of up to $2,500, and 50 bonus spins. The platform's highly-rated mobile app, with an impressive average rating of 4.7 out of 5 on the App Store, ensures a seamless and enjoyable gaming experience on the go.
With a diverse selection of classic casino games and an array of excellent slots from renowned software providers like NetEnt, Lightning Box, and IGT, BetMGM offers high-quality gameplay and captivating graphics. The availability of exclusive games and a VIP reward system further adds to the platform's appeal, providing players with additional perks and benefits based on their gameplay. Overall, BetMGM excels in delivering an outstanding online casino experience that caters to the preferences and desires of players in West Virginia.
Use our exclusive link to sign up to BetMGM Casino today, and get up to $2500.
FanDuel Casino
WSN Review Rating: ⭐ 8/10
Welcome Bonus: up to $1000 back in Bonus Bets if your first bet doesn't win
Best for: Sportsbook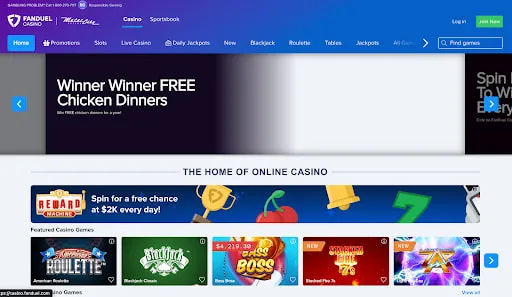 FanDuel is a trusted name in the gambling world, and its online casino offerings in West Virginia are no exception. With FanDuel, you have the choice of receiving up to $1,000 in Bonus Bets if your first bet doesn't win. Additionally, FanDuel offers a full sportsbook, bringing a lot of new wagering options to WV bettors. It also provides a multi-tiered loyalty program called the FanDuel Players Club and has partnered with Scientific Games' OpenBet for its online casino launch. Keep in mind that you cannot claim both the FanDuel Casino and FanDuel Sportsbook welcome bonuses.
Sign up at FanDuel Casino for $1,000 back in bonus bets!
BetRivers Casino
WSN Review Rating: ⭐ 9/10
Welcome Bonus: 100% up to $250 extra on first deposit with promo code CASINO250
Best for: Bingo games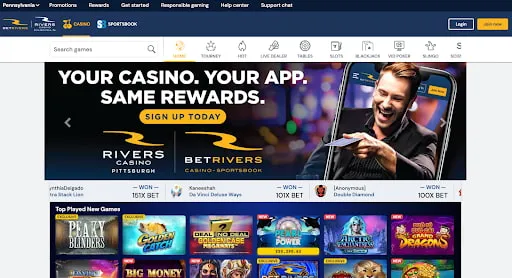 BetRivers Casino is the only operator in West Virginia with a community chat feature, and also has free bingo games, and regular slots tournaments. With competitive odds, live streaming broadcasts, and no shortage of wagering features in its sportsbook, BetRivers offers a well-rounded online gambling experience. The welcome bonus of 100% up to $250 extra on the first deposit is a great incentive for new players. Whether you're a fan of bingo games or looking to try your luck with slots and table games, BetRivers has something for everyone.
Follow our link to sign up to BetRivers casino and get up to $250.
How We Rated the Top WV Online Casino Sites
At WSN, we carefully evaluate online casinos based on various key criteria to provide accurate ratings and reviews. Here are the aspects we consider:
Bonuses: We assess the quality of bonuses, including sign-up offers and regular promotions. We examine the terms and conditions, such as wagering requirements, to ensure transparency.
Customer Support: We evaluate the availability and accessibility of customer support channels. A reliable online casino should provide multiple options for players to seek assistance if any issues arise.
Games: We examine the selection and variation of games offered by the online casino. This includes evaluating the diversity of game types, software providers, and exclusive titles.
Software: We consider the design and functionality of both the website and mobile app. The user experience across different platforms is crucial, and even small differences can significantly impact the overall enjoyment of playing online.
Banking: We assess the deposit and withdrawal processes, focusing on ease of use and speed. A wide range of secure payment methods is preferred to accommodate players' preferences.
Security: We prioritize player safety and legal compliance. We only recommend online casinos that we are fully confident in from a legal and trustworthiness standpoint.
Why You Should Trust Us
WSN is a reliable source of information regarding online casino sites in West Virginia. Here's why you can trust us:
Experience and Expertise: We have a wealth of experience and a long history in the gambling industry. Our team consists of experts who understand the intricacies of online casinos.
Hands-On Testing: We personally test and evaluate the online casinos we review. This hands-on approach ensures that our information is accurate and reliable.
Unbiased Opinion: We strive to provide an unbiased opinion based on our expertise and testing. Our goal is to offer honest assessments that help players make informed decisions.
Expert Analysis: Our team comprises knowledgeable individuals who are well-versed in the world of online gambling. We leverage their expertise to provide insightful analysis and recommendations.
Is Online Gambling Legal in West Virginia?
Since the passing of the West Virginia Lottery Interactive Wagering Act in 2019, all forms of online gambling, including online casino gaming, sports betting, poker, and horse racing, are legal in the state. Additionally, land-based casinos, sportsbooks, and racebooks are also permitted. The West Virginia Lottery Commission oversees the industry, ensuring regulations are upheld.
How to Get Started Playing Online Casino in West Virginia
Here is a step-by-step guide to creating an account and getting started at a WV online casino:
Step 1: Choose a WV Online Casino
Research and choose a reputable online casino that operates in West Virginia. Consider factors such as the casino's reputation, game selection, user experience, and available promotions - and of course, our list of recommended sites above is the perfect place to start.
Step 2: Registration Process
Click on the "Sign-Up" or "Register" button on the casino's website or mobile app to initiate the registration process. Fill out the registration form with the required information, which typically includes your name, date of birth, email address, phone number, physical address, and Social Security Number (SSN). Provide accurate and up-to-date information to ensure a smooth account setup.
Step 3: Identity Verification
As part of the registration process, online casinos may require you to verify your identity. This is a standard security measure designed to protect both the casino and its players. Follow the instructions provided by the casino to complete the verification process, which may involve submitting a copy of your identification documents or answering identity-related questions.
Step 4: Explore Sign-Up Bonuses
Once your account is successfully created and verified, take a moment to explore the available sign-up bonuses and promotions offered by the online casino. These bonuses can enhance your initial playing experience and may include free spins, bonus funds, or other incentives. Pay attention to any bonus or promo codes that may be required to activate these offers.
Step 5: Make a Deposit
To start playing for real money, you'll need to fund your account. Visit the casino's cashier or banking section and choose a preferred payment method from the available options. Common payment methods include credit/debit cards, bank transfers, and e-wallets. Follow the provided instructions to complete your deposit transaction. Deposits are typically processed instantly, allowing you to start playing without delay.
Step 6: Claim Welcome Bonus
If the online casino offers a welcome bonus, ensure that you meet any specified requirements or conditions to claim it. This may include making a minimum deposit or entering a bonus code during the deposit process. Take note of any wagering requirements or restrictions associated with the bonus to maximize its benefits.
West Virginia Online Casino Bonuses
When it comes to online casinos in West Virginia, players can take advantage of various types of promotions and bonuses to enhance their gaming experience. Here are some common types of bonuses you can expect to find:
Welcome Bonus: These are offered to new players upon signing up and making their first deposit. Welcome bonuses often come in the form of a match bonus, where the casino matches a percentage of the player's deposit, up to a certain amount.
No-Deposit Bonus: Some casinos offer a bonus without requiring any initial deposit. These bonuses are typically smaller but provide players with a chance to try out the casino games without risking their own money.
Free Spins: Free spins bonuses are commonly awarded on specific slot games. Players receive a certain number of spins for free, giving them a chance to win real money without using their own funds.
Reload Bonus: Reload bonuses are offered to existing players when they make additional deposits. These bonuses provide extra funds to play with and often come with a matching percentage or a fixed amount.
VIP/Reward Programs: Many online casinos have loyalty programs or VIP schemes to reward regular players. These programs often offer exclusive bonuses, cashback rewards, personalized customer support, and other perks.
To give you an overview of the casino sign-up offers available in West Virginia have a look at our full list of the best WV online casino bonuses and promo codes. Here are some quick examples to give you an idea:
| | |
| --- | --- |
| Casino | Sign-Up Bonus |
| Caesars Casino | $500 "on us" slots |
| FanDuel Casino | up to $1000 back in Bonus Bets |
| DraftKings Casino | $35 in bonus play just for registering, and a 100% first deposit match of up to $2,000! |
| BetRivers Casino | 100% up to $250 extra on first deposit CASINO250 |
| BetMGM Casino | $50 in FREEPLAY® & BetMGM matches your initial deposit 100% for up to $2,500 and 50 bonus spins. |
What Casino Apps Are Available in WV?
In WV, players can download various online casino apps from platforms like Google Play or the App Store. Here are some popular casino apps available in the state:
BetMGM Casino app: It has an average user rating of 4.7 out of 5 on the App Store, with over 30,000 reviews.
Caesars Casino app: Known for its user-friendly interface.
FanDuel Casino app: Offers a wide variety of gaming options.
DraftKings Casino app: Known for its stylish design and reliability.
Popular Casino Games in WV
When it comes to online casino games in WV, players are presented with a rich and diverse range of options that cater to every gambling preference. Whether you're a fan of thrilling slots, classic table games, or the interactive atmosphere of live dealer experiences, online casinos in WV have it all. Let's delve into some of the most popular game categories available in the state's online gambling scene:
Slots
Undoubtedly, slots reign supreme as the most sought-after games in the online casino world. WV players are treated to a cornucopia of slot options, thanks to the presence of multiple software providers. These renowned providers like NetEnt and Playtech furnish online casinos with an extensive library of slot titles, ensuring that players can indulge in an array of themes, features, and gameplay mechanics. Moreover, many online casinos in WV go the extra mile by offering exclusive slot games that can only be found on their platforms. The allure of progressive jackpots adds an extra layer of excitement, as players have the chance to win life-changing sums of money with a single spin of the reels.
Table Games
For those who relish the classic ambiance of table games, online casinos in WV deliver an impressive selection. Among the most popular table games available are roulette and blackjack. These timeless casino staples have garnered a massive following due to their simple yet iconic gameplay. Online casinos strive to provide a comprehensive table game experience, featuring different variations of roulette and blackjack to accommodate the diverse preferences of players. Whether you prefer the suspense of European roulette or the strategic nuances of blackjack, WV online casinos have you covered.
Video Poker
Combining the elements of poker and slot machines, video poker is a beloved game category that adds a unique twist to traditional gambling. While not all online casinos in WV offer video poker, there are select platforms, such as Hollywood Casino, that cater to the demand for this exhilarating hybrid game. Video poker provides players with the thrill of poker gameplay while incorporating the simplicity and accessibility of slot machines. It's a perfect choice for those seeking a fast-paced and engaging gambling experience.
Live Dealer Games
When it comes to recreating the atmosphere of a land-based casino from the comfort of your own home, live dealer games take center stage. Online casinos in WV offer a selection of live dealer experiences that transport players to a virtual casino environment. Through a video link, players can participate in real-time casino games hosted by professional and charismatic live dealers. The interactive nature of these games allows players to engage with the dealer and other participants, fostering a social atmosphere. Whether you're playing live roulette, blackjack, baccarat, or other popular live dealer games, the immersive nature of the experience adds a whole new dimension to online gambling.
In conclusion, the online casino landscape in WV provides an extensive array of game options to cater to the diverse tastes and preferences of players. Whether you're a fan of thrilling slots, classic table games, the strategic allure of video poker, or the immersive environment of live dealer experiences, WV online casinos ensure that every gambling enthusiast can find their ideal game category. With an ever-expanding selection of titles and cutting-edge technology, the online casino scene in West Virginia continues to evolve, delivering an unmatched level of entertainment and excitement for players throughout the state.
West Virginia Online Casino Facts
WV Sports Betting Quick Facts
Slots tax rate
25%
Table games tax rate
25%
Poker tax rate
25%
No. online casino brands
9
No. online poker brands
-
Here are some of the main things you need to know about the online casino landscape in West Virginia:
In the month of May 2023 alone, online gambling in WV generated an impressive total of $78 million in revenue. This substantial figure underscores the popularity and financial viability of the iGaming industry within the state.
Among the myriad online casino brands available in WV, two names stand out as the frontrunners in terms of popularity and market share. BetMGM and FanDuel, esteemed entities in the gambling realm, jointly command an impressive 42.3% share of the online casino market in West Virginia. Their unwavering presence and widespread recognition among players contribute significantly to their market dominance.
WV boasts a noteworthy selection of online casinos, with a total of nine reputable brands operating within its borders. This abundance of choices allows players to explore diverse gaming experiences, catering to a wide range of preferences and ensuring that enthusiasts can find their ideal online casino platform with ease.
When it comes to pioneering the online casino and sportsbook industry in WV, DraftKings takes the lead. This trailblazing brand was the first to launch its online casino and sportsbook offerings in the state, setting a precedent for others to follow.
These facts underscore the dynamic and prosperous nature of the online casino industry in West Virginia. The significant revenue generated, coupled with the dominance of esteemed brands like BetMGM and FanDuel, speaks volumes about the growing popularity and consumer demand for online gambling options.
Moreover, the presence of multiple online casino brands, including the pioneering efforts of DraftKings, highlights the state's commitment to fostering a competitive and thriving iGaming environment for its residents.
History of Online Gambling in WV
Online gambling in West Virginia has undergone remarkable transformations in recent years, fueled by the pivotal Supreme Court ruling in 2018 that prompted over half of the country to embrace gambling in various forms. Building upon this nationwide momentum, WV took a significant step forward by legalizing online casino games and slots in 2019 through the enactment of the West Virginia Lottery Interactive Wagering Act.
However, the gambling roots in WV extend far back into history, with the first landmark legislation in 1933 that legalized horse race betting, paving the way for the establishment of the state's inaugural lottery in 1984. A significant milestone followed in 1994 when Video Lottery Terminals were permitted, enriching the gambling landscape further.
To operate online casinos within the borders of WV, online operators must enter into strategic partnerships with the state's land-based casinos, exemplified by prominent venues like The Casino Club at Greenbrier Hotel.
As of now, a total of 9 online casinos flourish in the state, enriching the gaming experience and catering to the diverse preferences of enthusiastic players. The legalization of online gambling in WV has unleashed a myriad of benefits, beyond mere entertainment. The thriving industry has become a catalyst for economic growth, manifesting in job creation opportunities and substantial tax revenue contributions to the state coffers.
With the proliferation of online gambling, ensuring a safe and fair gaming environment becomes paramount. The West Virginia Lottery Commission diligently shoulders the responsibility of regulating online gambling activities, providing vigilant oversight to maintain the integrity of the industry. Through their robust regulatory measures, players can partake in online gambling with confidence, knowing that stringent standards and safeguards are in place to protect their interests. The comprehensive oversight framework employed by the West Virginia Lottery Commission serves as a testament to the state's commitment to nurturing a secure and transparent online gambling landscape.
The symbiotic relationship between online operators and land-based casinos in West Virginia has resulted in a flourishing online gambling ecosystem, offering residents an unparalleled range of gaming options while reaping substantial economic benefits for the state. Under the watchful eye of the West Virginia Lottery Commission, online gambling in WV has emerged as a secure, fair, and vibrant avenue for entertainment and potential winnings.
How Are Online Casinos Regulated in WV?
The West Virginia Lottery Commission oversees the online gambling industry in WV. The commission is responsible for considering license applications and ensuring that regulations are followed by online operators. To operate legally, online operators must establish market access deals with the state's five brick-and-mortar casinos.
Casinos to Avoid in West Virginia
While the majority of online casinos in WV are reputable and trustworthy, there may be some that are reported to be problematic or unlicensed. Here are a few online casinos that players in WV should exercise caution with:
21 Dukes: Reported poor response to customer complaints and reports of some players not receiving their winnings.
Balzac Casino: Reported slow responders with slow withdrawal times and reports of players getting locked out of their accounts.
Planet 7 Casino: Known for questionable practices and poor customer support.
Responsible Gambling in West Virginia
For individuals facing gambling problems, WV provides resources and assistance. Here are some organizations that can help:
Problem Gamblers Help Network of West Virginia: Contact at 1-800-426-2537.
Gamblers Anonymous: Offers support through meetings and has helped thousands of people throughout the state.
West Virginia Gambling Risk Assessment (WVGRA): Offers responsible gaming resources and support.
Compulsive Gambling Treatment Fund: Administered by the West Virginia Department of Health and Human Resources (DHHR), this fund supports problem gambling initiatives.
Final Verdict
West Virginia has made significant strides in its gambling scene since 2019, allowing for a wide range of games and betting options for players. Even better, the industry seems to only be going in one direction.
With a couple of new online casinos thought to be poised to launch in the state, we anticipate even more positive changes in the future. To get started with online casinos in West Virginia, and to claim your welcome bonus, check out our list of recommended sites provided above.
Our Favorite Sweepstake Casinos in WV
Find some of the best alternatives to online casinos right here by checking the best social casinos in the US. You can play these casino-style games together with other people like for example your social media contacts. Have a look at some of our favorite picks for you below.