Quick Facts about Online Sports Betting in West Virginia
Population:
1,805,832
Median household income:
$43,469
Sports betting legal since:
March, 2018
Licensed sportsbooks:
DraftKings, BetMGM, FanDuel, Hollywood, Mardi Gras, Mountaineer, Wheeling Island, BetLucky
For more information on other states, read our state by state guide to sports betting laws in the United States.
The Current Online Sports Betting Situation in West Virginia
WSN is happy to announce that legal sports betting in West Virginia is now a reality.
For a more in-depth look at sports betting in West Virginia, have a look at our guide "How to Bet on Sports Online in West Virginia"
Let's take a look at the major developments in bullet form and then we'll dig into the details:
WV Sports Betting Laws Summary
Sports betting is legal in West Virginia.
Sportsbooks must have a brick and mortar location within state lines in order to be licensed for legal sports betting.
Statewide mobile wagering is allowed.
Esports betting is allowed but only if participants are 18 years or older.
Betting on pro and college sports is allowed.
Betting is allowed on West Virginia collegiate teams or collegiate games happening in West Virginia.
Betting is not allowed on highschool sports.
The West Virginia Lottery Commission are set as the regulators for sports betting in the state.
A tax rate of 10% of adjusted gross revenue will be levied on gambling
After two unsuccessful attempts to legalize sports betting in West Virginia, sports betting finally moved forward thanks to Delegate Shawn Fluharty and bill S 415 in 2018. The sports betting bill had a sister bill moving through the state senate and both were progressing nicely when the NBA and MLB hired lobbyists to try to incorporate a tax on all sports betting that would go towards their organized sports.
In a five-month stretch in 2018 from March to August, WV managed to become the fifth state in America to join the regulated sports betting industry, pass and sign official legislation to legalize sports gambling, and, as if that wasn't enough, successfully opened its first fully sanctioned sportsbook.
The state took its first-ever legal sports bets on August 30, 2018, and appears to be pursuing aggressive expansion of what will undoubtedly become one of the state's biggest money-makers.
"The idea being that since they were the ones putting the games on that they should also profit from the sports betting. Organized sports are making similar pushes in most states across the US with little success."

Source:West Virginia Senate Bill 415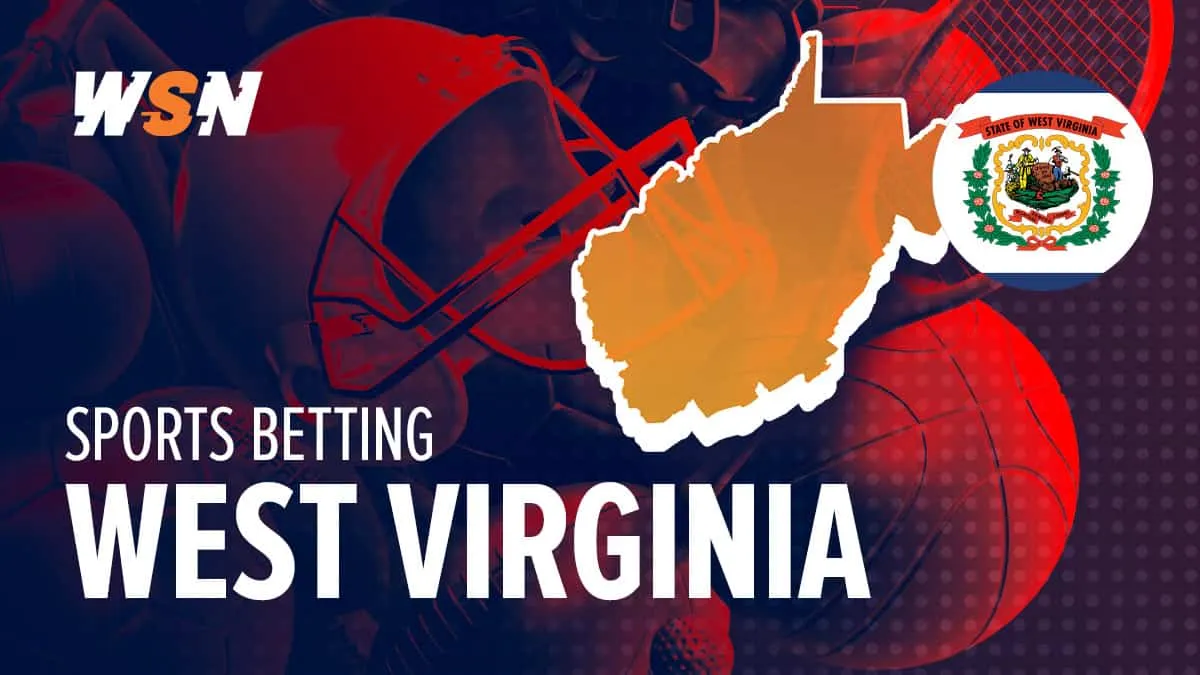 The History of Online Sports Betting in West Virginia
Regulated sports betting in West Virginia didn't happen overnight and has largely been following in the footsteps of New Jersey where the future of sports betting in America has been made.
Before 2018 there wasn't a state in the USA aside from Nevada that allowed legal sports gambling. That all changed on May 14th, 2018 when the Supreme Court ruled in favor of New Jersey's appeal to have the Professional and Amateur Sports Protection Act (PASPA) repealed.
"The West Virginia Legislature enacted a sports betting law in March of 2018 that took effect following the United States Supreme Court's decision to repeal the Professional and Amateur Sports Protection Act in May of 2018. Regulation of the retail and online sportsbooks at all five of the State's casinos falls under the purview of the West Virginia Lottery. West Virginia was the fifth U.S. state to offer legal sports betting and one of the first to allow for online sports betting. Each facility is authorized to operate mobile apps that allow for online sports wagering within the State's borders."

Source: wvlottery.com
PASPA, which was first initiated in 1992, was put in place as a federal law to ban sports gambling across America with only Nevada was given an exemption.
For more on PASPA check out also "PASPA – Everything you need know."
2011 Referendum on Sports Betting
The current status of West Virginia sports betting is where it is at because of the progress made by legislators in New Jersey, a state with a long history of sports betting.
Everything changed for West Virginia in August 2018 when the state followed New Jersey, Mississippi, Nevada, and Delaware to legalize online sports betting as of December 2018.
The bill became state law when Governor Jim Justice (who owns The Greenbrier Resort casino) refused to sign the bill into law and instead allowed it to pass without his signature.
Since State Lawmakers legalized sports betting in The Mountain State sports betting numbers have posted less than stellar numbers. The state expected tax revenue of $5.5 million but the actual revenue of $949,000 in their first year is nowhere near that figure.
The State approved sportsbooks in the state as long as they have land-based partnerships with casinos. Five such partnerships have been announced but there have been some problems with several of the partnerships.
Since the five partnerships have been announced three of them have fallen apart with at least one of the partnerships resulting in a lawsuit between the casino and sportsbook.
In March 2019 Delaware North, a company that owns two casinos in West Virginia had its sportsbooks close indefinitely due to a vendor dispute.
Which Online Sports Betting Sites Are Legal in West Virginia?
Many mobile device sportsbooks in WV have their retail sportsbook locations at casinos or horse racing tracks. Almost every mobile sports betting app will have access to iOS and Android as well.
Since online sportsbooks must have a physical location in WV in order to gain a license all offshore sportsbooks are effectively illegal in the state since they are located overseas. Some bettors have used VPNs to spoof their locations in order to bet in states that have legalized, however, sportsbooks now use location validator apps in order to catch VPN fraudsters. Beware, because location spoofers can be penalized.
Click on any individual WV online sportsbook or sportsbook app to read an expert review. There you can find out if a sportsbook has promo codes or which ones offer perks like risk-free bets as well as information concerning fastest payouts and sportsbook payouts. If you want to participate in online sports betting then check out our best mobile sports betting apps guide and see what is available in WV.
When it comes to fast payout, mobile sports betting payout speed and processing times should be on your mind. You have lots of choices when it comes to fast withdrawal betting sites that offer withdrawal options such as prepaid cards, bank wire, and wire transfers. The elusive fast payout is within reach if you check out our fast payout and sportsbook payouts guide here, visit the site.
"The state's sports betting law allows for the casinos to have up to three management service providers, also known as sportsbooks at their casinos."

Source: wvmetronews
| | | |
| --- | --- | --- |
| Sportsbook | Land-Based Partner | Launch Date |
| Suspended | Mardi Gras Casino & Resort | n/a |
| IGT | Wheeling Island Hotel-Casino-Racetrack | n/a |
| DraftKings Sportsbook | Hollywood Casino, owned by Penn National at Charlestown Races | Aug, 2019 |
| FanDuel Sportsbook | The Greenbrier, White Sulphur Springs | Aug, 2019 |
Wheeling Island and Mardi Gras are engaged in a lawsuit with their former sportsbook partner and will not be available to place wagers until they are resolved.
The Greenbriar, located in the middle of the state and straight down from Pittsburgh, also offers overnight guests access to the Casino Club, where in-person sports betting can take place.
To help stop illegal betting sites West Virginia has commissioned the West Virginia Lottery Commission to regulate gaming in the state of West Virginia.
What Sports Can You Bet on Online in West Virginia? Is Horse Racing Allowed?
Every major sportsbook available in WV will cover the major sports like MLB, NFL, NBA, and NHL. Of course, any sporting event with a minor involved is not allowed to be bet upon, this includes all high school sporting events.
If you're looking to place bets on less mainstream sports such as eSports or ping pong for instance then you're in luck. Many sportsbooks have a large amount of options for you to place bets on.
Bettors in West Virginia will be thrilled that horse racing and dog racing is still a bet-able option in the state. Anyone looking to bet on the Derby or similar races can now take part.
All betting was not created equally with there being several kinds of bets that you can do with a sportsbook. DraftKings sportsbook, for example, offers spread betting, live betting, moneyline betting, futures, prop bets, and more:
Football
Basketball
Baseball
Hockey
Soccer
Boxing/MMA
Auto Racing
And many more
West Virginia Sports Betting Websites' Land-Based Partners
Check out the map below to find the nearest physical sportsbook near you if you want to place bets in an old-school way. Nothing beats the feeling of betting in person at retail sports sportsbooks, something that online gambling at best online casinos just can't compare to.

Sportsbooks are always on the lookout to make deals with the leagues and teams they are betting on. This can lead to individual teams announcing partnerships with sportsbooks.
As of now no direct sponsorships between teams and sportsbooks have been announced in West Virginia yet but that may change. Several New Jersey teams have announced partnerships including the NHL team the New Jersey Devils who have partnered with Caesars Sportsbook, and FanDuel Sportsbook.
The State of Sports in the Mountain State
Horse Racing
Horse racing has a long and historic relationship with The Mountain State where some of the oldest race tracks in America are located. Every year beginning in 1923 the West Virginia Derby takes place at the Mountaineer Race Track. The race is 1 ⅛ miles and the course record is 1:46:29. Many West Virginia racetracks have daily events or are broadcasting live races from around the world.
Football
West Virginia Mountaineers, from West Virginia University, represent the Mountain State in the NCAA and have had 179 players selected into the NFL since 1936. Collegiate sports betting is legal in West Virginia. If you want to bet on football then you'll need to know if betting on the NFL is legal in your state. NCAAF betting? Check out our guide on where you can bet on college football to get started.
Basketball
West Virginia is not represented in the NBA but the state has a vibrant minor league environment with many small rivalries. Check out our guide on legal MLB betting options to learn how to get started.
Baseball
West Virginia is currently without any MLB teams, but many minor league baseball teams make their home in the state including the West Virginia Power team.
Hockey
West Virginia does not have a huge tradition of hockey teams but does have a number of teams competing in the lower leagues. The state does not have any teams in the NHL.
Is Betting on Fantasy Sports Legal in West Virginia?
Yes. West Virginia's sweeping Senate Bill 415 legalized sports betting in nearly every form excluding only high school sports and sports with minors.
Check out the best fantasy sports betting options in West Virginia here.
How to Bet on Fantasy Sports Legally in West Virginia
Daily Fantasy Sports (DFS) is legal all over the place since it is not strictly seen as sports betting but rather a game of chance. There are several ways you can get into DFS in WV.
The easiest way is to use one of the online sports betting sites available in the state since many sportsbooks also deal in DFS.
Betting on DFS can be a fun way to engage with the teams and leagues that you love and is a great way to participate in the games you are watching during the whole season.
How to Bet on Sports Legally in West Virginia
If you're a resident of West Virginia or visiting the state, there are a few ways to place bets on your favorite sports all of which are convenient.
The easiest way is to use one of the WV sportsbooks available in the state. There are several to choose from and since there's major competition, sites offer big bonuses and incentives to entice you into signing up with them and they each have different deposit and withdrawal options.
We have created a complete guide to sports betting bonuses in West Virginia so that you never miss an offer. Be sure to check it out.
If you're in West Virginia, check out our list of recommended sites to easily compare what they offer in terms of sports, bets, odds, and bonuses.
The signup process is quick and easy. After you choose a site you'll have to provide some personal information, choose a username and password and confirm that you're 18 years or older.
If you're a sports betting beginner, make sure to check out our guides to betting for tons of valuable information.
The second way to place bets is to physically go to a casino or sportsbook. There are lots of different options including the ones we listed above that are an affiliate with the online betting sites.
Going to a live sportsbook is a great experience since you can watch the games with a big group of other gamblers. The atmosphere is electric and it definitely adds a different dimension to the gambling experience.
What Kind of Withdrawal Processes are Available in West Virginia?
There are currently three sportsbooks operating in WV.
Each has a different mix of withdrawal processes and withdrawal methods to choose from and some offer a welcome bonus or deposit bonus for you betting online with them.
Check out our Fastest Payout Sportsbooks guide for everything you may want to know about the various payout processes and betting lines.
Back in May of 2018 the Supreme Court decision to overrule PASPA in favor of the State of New Jersey made it possible for individual states, rather than the federal government to make the call as to whether or not legalize sports betting within their boundaries.
This groundbreaking court decision led to the nearly immediate legalization of sports betting in New Jersey and then soon after many other US States, including West Virginia.
West Virginia Problem Gambling Help Resources
The West Virginia Legislature created The Problem Gamblers Help Network of West Virginia to identify and provide services to problem gamblers and their loved ones. The program is funded by the West Virginia Lottery and administered by the West Virginia Department of Health and Human Resources.
Source: npcgambling.org
West Virginia Online Sports Betting FAQs
Here are answers to the West Virginia sports betting questions we are asked most frequently:
Is sports betting legal in West Virginia?
Yes, Sports betting was legalized in 2019 when Gov. Jim Justice (owner of Greenbrier casino) declined to sign the bill into law. The bill became law and brought sports betting to West Virginia's 1.8 million residents.
How old do you have to be to bet on sports in West Virginia?
The minimum age for gambling in WV is 21.
Do you pay taxes on sports betting in West Virginia?
Yes. A tax rate of 10% of adjusted gross revenue will be levied on gambling.
Where can I bet on sports in West Virginia?
Online sportsbooks are now available in West Virginia. This page will tell you which sportsbooks are available and how to sign up.
But keep in mind that since this has only recently legalized that more partnerships will certainly be made going forward.
As it stands the companies currently taking bets with brick and mortar locations include DraftKings Sportsbook (Hollywood Casino at Charlestown)
FanDuel Sportsbook (The Greenbrier)
These online sportsbooks have great options available to make both deposit and withdrawal of your funds a breeze to help you get ready for your first deposit.
Sports betting sites make payout betting simple to get you the fastest payouts possible. College football betting, horse racing betting, and other game betting use bank wire and deposit card technology to ensure fast payout times.
What professional sports can I bet on online in West Virginia?
West Virginia's legalization of sports have included a huge array of sports that have been approved for betting. Nearly every sport you can think of has been approved for betting aside from those with participants that are minors.
College football betting, online sports betting, horse racing, mobile betting and many other forms of betting are allowed. You can bet on all the biggest sporting events in the US and internationally, from the Super Bowl and March Madness to the FIFA World Cup.
What sports are illegal to bet on in West Virginia?
Betting on high school sports or those with minors is not allowed but betting on collegiate games is.
Is it illegal to bet using off-shore sports betting websites?
It is considered a class illegal to engage in gambling with an unlawful bookmaker.
This means that if you find yourself in West Virginia and are tempted to utilize an offshore gambling website you will be gambling with the possibility of breaking the law.
Engaging in offshore sports wagering is also dangerous for bettors who win since there is no enforcement to ensure that you'll even be able to cash out your winnings.
Soon it may be even more difficult to participate in offshore gambling since the FBI has filed a lawsuit against multiple overseas Internet companies.
The current regulated sports betting industry in West Virginia has become robust in record time offering you many different options, not to mention they are all perfectly legal and safe.
What other states besides WV is sports betting legal in?
Legal sports betting is now legal in 11-13 states including:
West Virginia
New Mexico (certain tribes have opened up sports betting in NM)
Oregon (some tribes are operating sportsbooks and it is anticipated that the state lottery will offer a sports betting option in the future)
What Is the Future of Online Sports Betting in West Virginia?
Mobile betting is a huge advantage to the state. Most US states that are legalizing sports betting have introduced limits on the allowance of mobile betting with some now allowing it at all. There is an argument to say that mobile betting is the best way to counteract black-market betting and West Virginia will be a testing ground for its rollout.
Originally there were five sportsbook partnerships operating in the Mountain State but with the ensuing lawsuit between two of the partnerships, West Virginians are now left with three options for sports betting within the state.
It is likely that more partnerships will be announced in the coming years but for now, the three existing ones will service the state.
Racing is big in West Virginia where four racetracks call home and the future of racing there is likely to grow.
References
Bet from West Virginia with These Sportsbooks