There are betting companies of all shapes and sizes competing for customers from around the world, but when it comes to Daily Fantasy Sports it really is a two-horse race. DraftKings and FanDuel are by far and away the most popular DFS sites in the world, and between them account for around 14 million players. Another popular DFS sites are Monkey Knife Fight and OwnersBox.
The duo has been dominant in the world of DFS for more than a decade now, and the competition means that each spurs the other on. Both are constantly innovating and evolving their respective services, as well as signing exclusive sponsorship deals with some of the top sports leagues and teams in the US.
With the arrival of legal sports betting in the US in 2018, both have also expanded into the world of sports betting. DraftKings Sportsbook and FanDuel Sportsbook are some of the biggest competitors in the US sports betting market. While it's early days for both on that front, it's safe to say Daily Fantasy Sports has undergone an incredible transformation in the US since DraftKings and FanDuel arrived on the scene.
Today, players can choose between dozens of sports, hit their share of multi-million dollar jackpots, take part in exclusive contests, earn prizes via loyalty schemes, and much more.
With so much going on at each site, new players inevitably come around to the same question: which one should I choose to play at?
That's where we come in.
We've created this page to explore the differences between DraftKings and FanDuel and help you decide which one to sign up with. We've left no stone unturned, and we dig into topics like:
An overview of Daily Fantasy Sports
The history of each site
Where can you play DFS?
What types of games can you play?
The sports available for fantasy games
And much more
If you decide you want to sign up for one or both of the sites, make sure you do so via our exclusive links to get set up with a welcome bonus. For more sportsbook bonuses check out our list of the best sports betting bonuses and promotions in the US.
DraftKings vs FanDuel: An Overview
Both companies were founded at the beginning of the 2010s, and both enjoyed a meteoric rise over the course of the decade. With sports betting illegal in the US, Daily Fantasy Sports represented a novel way that sports fans could have fun with their expertise, and win real money along the way.
Even though DraftKings was founded later in 2011, today it's the bigger of the two companies with around 8 million players. FanDuel was launched in 2009, and both companies enjoyed exponential growth in the first half of the decade. By 2015, DraftKings had signed a huge $250 million advertising deal with ESPN, while FanDuel was reported to be worth $1 billion.
In 2017, the companies agreed to a merger that would see them join to become by far and away the largest DFS provider in the world – but it was ultimately blocked by the Federal Trade Commission.
Since legal sports betting began to be rolled out in the US, both companies have scrambled to pivot into the new industry, with FanDuel recently acquired by European betting giant Paddy Power Betfair. But Daily Fantasy Sports are still as popular as ever around the country, especially since most states are still waiting for sports betting to arrive.
DraftKings DFS has marginally more sports available than FanDuel DFS and has larger maximum prize pools. DraftKings also has more flexibility in its DFS rules, thanks to the ability to swap around players on your roster up to the moment the game begins. FanDuel on the other hand locks your roster before the round of games begins, meaning it typically requires less micromanaging on behalf of players.
The scoring is also largely more simple at FanDuel, making it arguably more beginner-friendly. On the flip side, DraftKings scoring tends to reward a more technical understanding of the sports.
Both sites also have bonuses for new members, mobile apps for both Android and iOS, and similar sign-up processes – all of which we cover on this page.
Quick Comparison Table
| | | |
| --- | --- | --- |
| | DraftKings | FanDuel |
| Owners | Listed on Nasdaq | Flutter Entertainment |
| Founded | 2011 | 2009 |
| Headquarters | Boston | New York |
| Number of reported users | 8 million | 6 million |
| Number of sports/leagues you can play | 16 | 11 |
| Number of states you can play from | 43 | 43 |
| Pro Sponsorships | NFL, MLB | NHL, NBA |
What Is the Legal Situation Around Daily Fantasy Sports?
That really depends on where you are playing. DraftKings and FanDuel are now available in the vast majority of states in the US, with some exceptions.
The actual legal situation can be loosely divided into four categories:
States where DFS is explicitly legal
States where DFS have not been legally recognized, but where DraftKings and FanDuel operate
States where DFS have not been legally recognized, and DraftKings and FanDuel have decided not to operate
States which have explicitly made DFS illegal
The situation is somewhat fluid, but the overall trend is overwhelmingly towards widespread availability.
DFS enjoyed a huge period of growth from around 2010-2015, largely without legal challenges in the majority of states. At that point, various state lawmakers (most notably in New York) began to question the legality of DFS, and some introduced legislation to explicitly identify DFS as a form of gambling, and therefore ban it.
Legal battles raged around the US, and both DraftKings and FanDuel regularly had to pull out of states at short notice.
The DFS question also became wrapped up in the move to legalize sports betting in the US, which culminated in the removal of the Professional and Amateur Sports Protection Act by the Supreme Court, opening the door to legal sports betting on a state-by-state basis.
Since PASPA was removed, DFS has become even more widely accepted around the US, with many of the new sports betting governing bodies tasked with also regulating DFS.
In What States Are DraftKings and FanDuel Available?
In the past, there has been some discrepancy between the states both sites are available in, but for now, DraftKings and FanDuel have the same availability in the US.
The table below shows you the legal situation for each state.
| | | |
| --- | --- | --- |
| | DraftKings Available | FanDuel Available |
| Alabama | ✓ | ✓ |
| Alaska | ✓ | ✓ |
| Arizona | x | x |
| Arkansas | ✓ | ✓ |
| California | ✓ | ✓ |
| Colorado | ✓ | ✓ |
| Connecticut | ✓ | ✓ |
| Delaware | ✓ | ✓ |
| Florida | ✓ | ✓ |
| Georgia | ✓ | ✓ |
| Hawaii | x | x |
| Idaho | x | x |
| Illinois | ✓ | ✓ |
| Indiana | ✓ | ✓ |
| Iowa | ✓ | ✓ |
| Kansas | ✓ | ✓ |
| Kentucky | ✓ | ✓ |
| Louisiana | x | x |
| Maine | ✓ | ✓ |
| Maryland | ✓ | ✓ |
| Massachusetts | ✓ | ✓ |
| Michigan | ✓ | ✓ |
| Minnesota | x | x |
| Mississippi | ✓ | ✓ |
| Missouri | ✓ | ✓ |
| Montana | x | x |
| Nebraska | ✓ | ✓ |
| Nevada | x | x |
| New Hampshire | ✓ | ✓ |
| New Jersey | ✓ | ✓ |
| New Mexico | ✓ | ✓ |
| New York | ✓ | ✓ |
| North Carolina | ✓ | ✓ |
| North Dakota | ✓ | ✓ |
| Ohio | ✓ | ✓ |
| Oklahoma | ✓ | ✓ |
| Oregon | ✓ | ✓ |
| Pennsylvania | ✓ | ✓ |
| Rhode Island | ✓ | ✓ |
| South Carolina | ✓ | ✓ |
| South Dakota | ✓ | ✓ |
| Tennessee | ✓ | ✓ |
| Texas | ✓ | ✓ |
| Utah | ✓ | ✓ |
| Vermont | ✓ | ✓ |
| Virginia | ✓ | ✓ |
| Washington | x | x |
| West Virginia | ✓ | ✓ |
| Wisconsin | ✓ | ✓ |
| Wyoming | ✓ | ✓ |
The availability of DFS in the US has historically been somewhat volatile, although it has stabilized in recent years. As with sports betting, the signs point to both DraftKings and FanDuel becoming even more widely available in the future.
Types of Games and Special Features
In a broad sense, DraftKings and FanDuel both offer similar products. The overall concept is the same – build your own unique team with a fixed salary cap and compete against other players. The better your players do in real life, the more points you earn.
Within that broad definition, there are different ways you can play against others.
Both sites offer the following fantasy contests for example:
Tournaments including guaranteed prize pools (gpps)
Head to heads
50/50s
Multipliers
Satellites
Private leagues
However, each site has also created its own unique games and special features that we'll get into next.
What Are the Different Features of DraftKings and FanDuel?
At DraftKings, NFL players receive a full point per reception, while FanDuel only awards players half a point – which is a major strategic difference. DraftKings also includes bonus points for players that achieve certain statistical milestones, like a double-double in the NBA matchup. There are other minor scoring differences between the two sites too, which require different tactical adjustments from players.
The NBA rosters are slightly different. FanDuel includes 9 spots on the roster, rotating around the traditional positions. DraftKings has 8 roster sports, including a "utility"player.
As a rule of thumb, the salary cap in FanDuel is higher for most types of games. This means it's easier to assemble a high scoring team at FanDuel, while DraftKings requires more careful managing of your finances. The salary cap also tends to change depending on the game with DraftKings, which requires more tactical flexibility.
Although both sites have satellites, DraftKings probably have more of a focus on providing beginning or low-stakes players with ladders into higher value tournaments.
Of the two sites, FanDuel is arguably the more creative in terms of coming up with new types of games, and generally experimenting with the format. For example, FanDuel created a form of NFL fantasy which ignored player positions entirely, and let you draft any number of players from the same position. Innovations like this are more common at FanDuel.
With FanDuel, your roster is locked from the moment the first game begins. DraftKings allows you to make a late swap right up until the moment the game that the player is involved in begins. In this regard, DraftKings is probably more suited to players who are in a position to constantly monitor team news and make last-minute changes to their team.
Generally, the prize pools on DraftKings are bigger and it currently has a larger player base.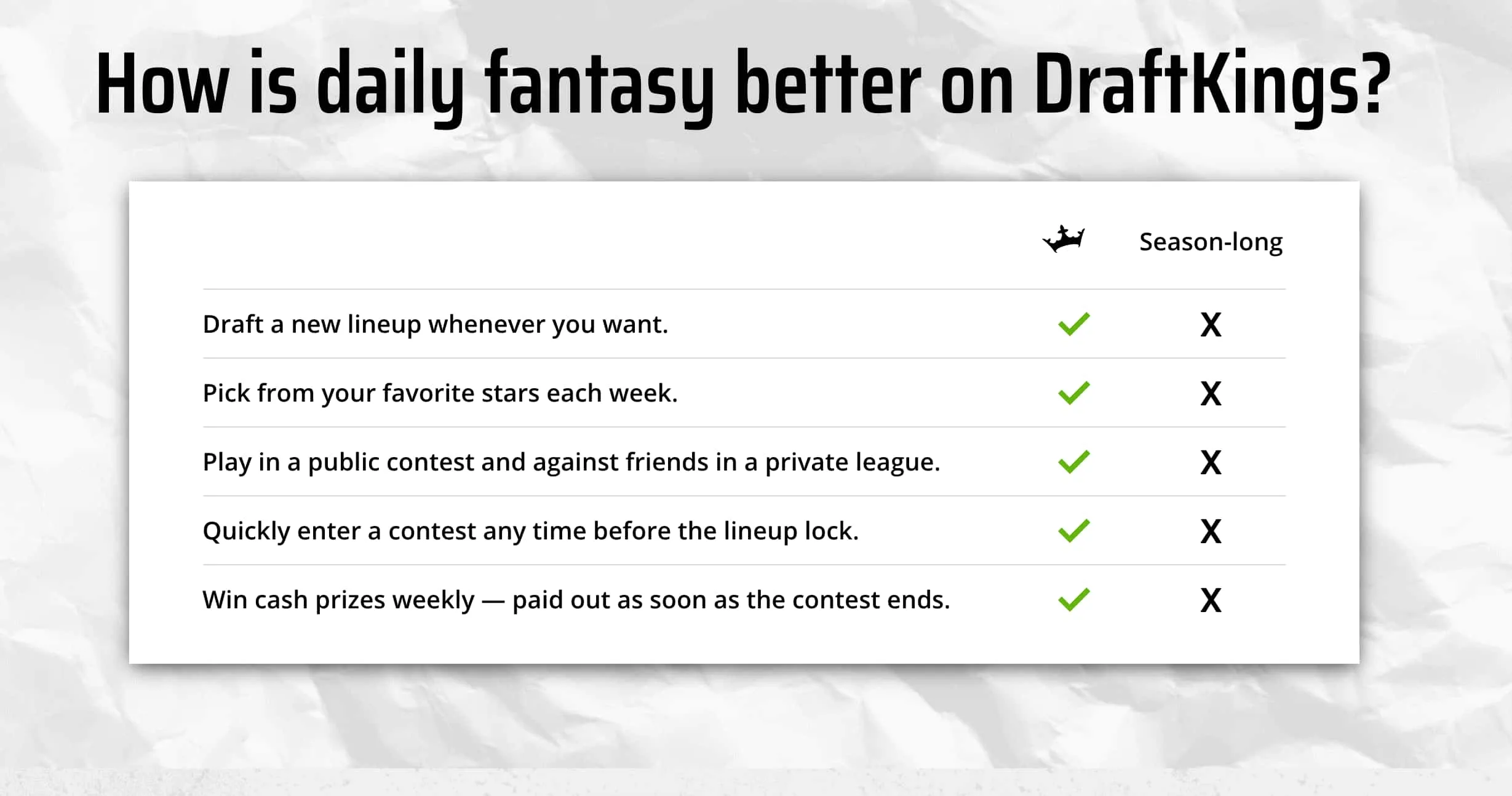 For the most part, none of the above differences are necessarily "better" than their counterpart. Rather, they are just differences and some players will like one format more than the other.