A Closer Look At Our Top-Rated UFC Betting Sites
#1: FanDuel Sportsbook
FanDuel is the largest sportsbook in America. If you have ever placed a bet before—or even heard of sports betting at all—there's a great chance that you have heard of FanDuel.
One of FanDuel's greatest selling points is that it has the most rapid response time, meaning that odds are updated by the minute to reflect the latest news, market swings, and analysis. Betting on FanDuel always feels in the moment because of this attention to the betting odds. Read our full FanDuel Sportsbook review for a deeper analysis.
FanDuel also offers tons of betting markets for fights, including the method of victory, how long the fight will last, if both fighters will go the distance, and more. It also gives bettors the chance to pick a winner via TKO or KO or a "no bet" if the fight goes the distance. For example, a "decision no bet" on fighter A means that if they secure a TKO or KO then the bet cashes, but if it goes to the judges—no matter what happens there—the bettor is refunded their stake.
FanDuel's UFC section puts every fight in a nice column that bettors can easily follow. The fights are topped by headings of which event they are at, such as UFC Fight Night, or even a UFC title fight.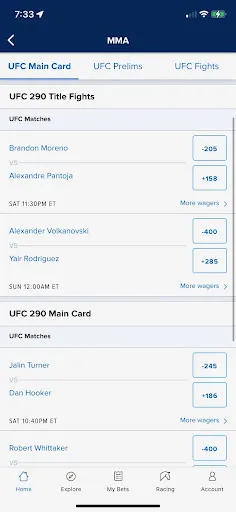 Pros:
Easy to follow with fast processing speeds
Lots of betting markets that help achieve profitability
Cons:
FanDuel Sportsbook User Ratings
| | | |
| --- | --- | --- |
| Review Site | Rating | No. of Reviews |
| Apple App Store | 4.8/5 | 1.1 million |
| Google Play Store | 4.7/5 | 209,000 |
| Trustpilot | 1.3 | 182 |
Sign-up offer:
#2: DraftKings Sportsbook
DraftKings is also among the national leaders in America for sports betting. It occupies the second-largest share of the market, trailing only FanDuel. While it is not necessarily thought of as a UFC betting site, it has a great set of offerings for its fans of combat sports.
What we really like about DraftKings is that, once users have clicked on the UFC menu, they will find all sorts of markets available to them without having to load individual fights. For example, their top menu bar will show fight lines, fight parlays, fight props, and rounds props.
Then, in a menu just under that, DraftKings shows different types of bets. For fight lines, that could be alternate round totals; for roundprops, that could be a fighter winning a particular round; for fight parlays, it might be the two favorites in the co-main event and main event to win.
DraftKings is extremely easy to follow, and every page loads fast. The odds are fair and often more profitable than on other top competitors. You can read our DraftKings review to find out more.
While we like the black and green aesthetic, the only potential problem is that it could be hard to read for prolonged periods. Other than that, we have nothing negative to say about DraftKings as a UFC betting destination.
DraftKings also has an innovative social section that allows bettors to keep track of what their friends are up to, making it feel like you are all gathered around one another throwing down bets together.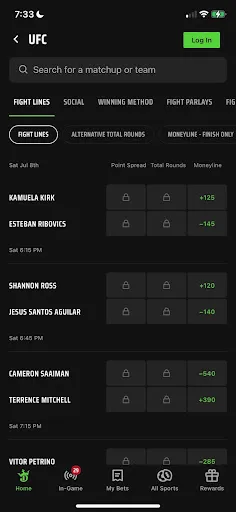 Pros:
Social section
Easy to locate odds and markets
Cons:
DraftKings Sportsbook User Ratings
| | | |
| --- | --- | --- |
| Review Site | Rating | No. of Reviews |
| Apple App Store | 4.8/5 | 543,700 |
| Google Play Store | 4.6/5 | 87,900 |
| Trustpilot | 1.3/5 | 300 |
Sign-up offer:
#3: BetMGM Sportsbook
BetMGM is another one of the leaders in American sports betting. It has the infrastructure and backing of the global MGM Entertainment brand and has created a sleek and well-balanced sportsbook for all sports betting fans.
As far as UFC betting, BetMGM offers users a nice experience. The betting menu and app are decked in white, black, and gold, which makes betting feel like a practice in lavishness.
BetMGM does not quite have the same processing speed or smoothness as FanDuel, for example, but the pages load quickly and are easily accessible. Bettors even have a search bar at the top of the page, where they can search for UFC or look up individual fights.
Unfortunately, this book does not always have a ton of betting markets, which is one of the downsides to this particular UFC betting site. That being said, it has odds for tons of fights and lays them out in an organized manner (by event). They even add the national flags of the combatants next to their names, which is a nice touch.
BetMGM also has future odds for marquee matches, such as title fights or meetings between the biggest names in the sport. That allows bettors to get in on betting lines early before they inevitably shift with the sentiment of the market.
Check out our in-depth BetMGM review to learn more.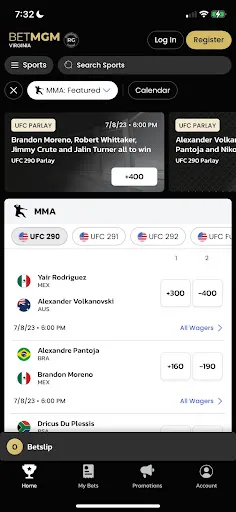 Pros:
Elegant layout
Easy to find fights and events
Cons:
BetMGM Sportsbook User Ratings
| | | |
| --- | --- | --- |
| Review Site | Rating | No. of Reviews |
| Apple App Store | 4.8/5 | 152,500 |
| Google Play Store | 3.6/5 | 19,200 |
| Trustpilot | 1.2/5 | 379 |
Sign-up offer:
#4: bet365
bet365 is one of the most complete sportsbooks that we reviewed. It has odds for all of the headlining and less-viewed fights from all around the world. Bettors can find odds for all sorts of markets, such as the major ones (like the fight-winner), when the fight will end, method of victory, and much more.
bet365 splits its MMA menu into different sections and puts the UFC right at the top. Directly under that is the UFC Fight Night, where some of the biggest events in combat sports take place. Clicking any of these subheadings will immediately launch a new screen with either a fight card or a grid of betting odds for different bouts.
A nice addition to the MMA section is the ability to add a boosted multi-sport parlay. bet365 shows users how to redeem this opportunity directly within the betting screen for MMA and UFC events.
To make the UFC section even better, bet365 places the odds for the top fights right at the top of the screen. That allows users to speed up the betting process if they have pre-determined their favorite betting line. Read our full review of bet365 here.

Pros:
MMA menu displays UFC odds at the top of the screen
Odds in different markets are easy to locate
Cons:
MMA section looks slightly disjointed upon first glance
Not available in many states
bet365 Sportsbook User Ratings
| | | |
| --- | --- | --- |
| Review Site | Rating | No. of Reviews |
| Apple App Store | 4.7/5 | 213,700 |
| Google Play Store | 4.6/5 | 1,630 |
| Trustpilot | 1.3/5 | 3,589 |
Sign-up offer:
#5: Betway
Betway is not as popular as some of the other sportsbooks on this list, but the betting experience is very pleasant. And as far as UFC betting sites go, it is one of the better options on the market.
Just like other sportsbooks, users can locate the odds for UFC fights and events by clicking on the designated button at the top of the home screen. Upon arrival at the new page, users will notice the ability to sort betting odds by the next upcoming UFC event, popular odds, and all betting lines. Fighters are set next to flags of their nationality, which offers just that extra bit of TLC that sports bettors love.
Another major plus of Betway's UFC betting section is that there are more than straight fight result bets, whereas other sportsbooks, even ones with larger market shares, starve users for choice. Betway allows users to pick if the fight will go the distance if the fight will be won by decision, and if there will be an early finish. Bettors can also pick which fighter will secure the result in each of those scenarios.
Betway's interface is clean and runs smoothly with no noticeable delays, and the app is consistently reliable. We recommend Betway with some of the other top UFC betting sites on the market. Read the full Betway review here.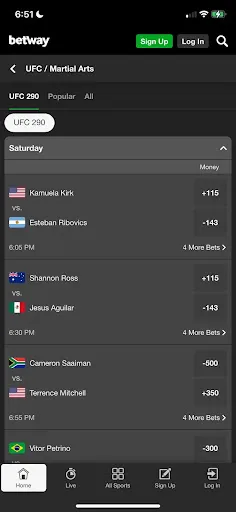 Pros:
Interface is clean and easy to follow
Prop betting markets that give users more choice
Cons:
Betway User Ratings
| | | |
| --- | --- | --- |
| Review Site | Rating | No. of Reviews |
| Apple App Store | 4.3/5 | 10,600 |
| Google Play Store | 4.7/5 | 47,000 |
| Trustpilot | 1.4/5 | 14,751 |
Sign-up offer:
#6: Caesars Sportsbook
Caesars is the last of the top four sportsbooks that dominate American sports betting. As we have tried to emphasize, a sportsbook's market share does not necessarily reflect its quality, though it does give an indication that a large proportion of bettors find it to be a suitable option.
UFC betting at Caesars is straightforward. There is a UFC/MMA button at the top of the home screen that directs users to a landing page that has the top events in the sport, such as UFC Fight Night. If a bettor wants to look at more betting lines, they click the "View All Events" button located just under these premier odds.
Within the UFC section, bettors will find different options for locating betting odds, including scheduled events, live events, and future bouts. These odds are usually in the form of straight moneyline bets, which require bettors to pick which combatant will emerge victorious.
Even if there aren't a ton of betting markets and prop bets available at Caesars, users will be able to access and place bets on live odds once fights are in progress.
The Caesars menu itself has a clean and effective layout. There is a slight lag in the transition between pages, but the app never crashes.
For more information, read our Caesars Sportsbook review.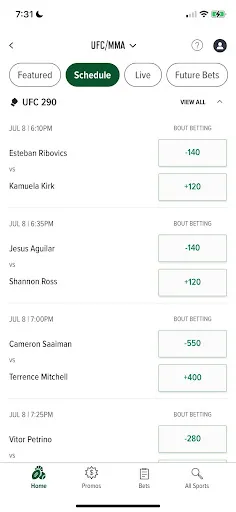 Pros:
Great aesthetic, easy to follow
Easy to find different fights
Cons:
Caesars Sportsbook User Ratings
| | | |
| --- | --- | --- |
| Review Site | Rating | No. of Reviews |
| Apple App Store | 4.6/5 | 42,400 |
| Google Play Store | 4.3/5 | 20,500 |
| Trustpilot | N/A | 0 |
Sign-up offer:
#7: PointsBet
PointsBet is one of the most interesting sports betting sites, and that applies to UFC. It is interesting because it has always been committed to developing new experiences for users, whether that be developing a new points betting system that has the boom-or-bust winnings of parlays for every kind of bet, including major markets, or its ability for users to request betting odds for new markets.
However, there has been a turn in the future of PointsBet. The Australian-based company sold its North American assets to Fanatics, which hopes to use its new capital to launch a sportsbook that can compete with the likes of FanDuel, DraftKings, and the other top competitors (from a market perspective).
With all of that being said, betting on sports on PointsBet is still a great time. The home page has buttons for every sport and event, including UFC, making it easy to locate betting odds.
Betting odds for UFC events are usually all on the fight result or moneyline, and there is no option to sort between live, featured, and future events. Everything loads cleanly and smoothly, but there is not much opportunity for choice as there is on other sportsbooks.
You can find more of our thoughts in our full PointsBet review.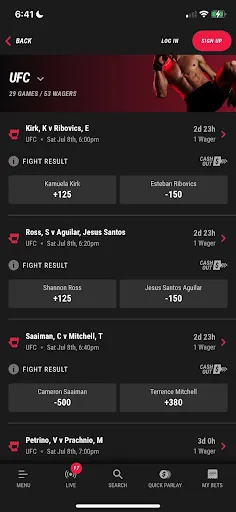 Pros:
Clean layout, smooth transitions between pages
History of commitment to bettors' experience
Cons:
Uncertain future
Lacks diverse betting markets
PointsBet User Ratings
| | | |
| --- | --- | --- |
| Review Site | Rating | No. of Reviews |
| Apple App Store | 4.8/5 | 39,600 |
| Google Play Store | 4.4/5 | 10,900 |
| Trustpilot | 3.8/5 | 2,762 |
Sign-up offer:
#8: WynnBET
WynnBet is another sportsbook that has everything a bettor needs to place bets in a safe and consistent manner, though it is not as sophisticated as other UFC betting sites.
The app loads quickly and never crashes, which is a plus. Users will find UFC odds by clicking the MMA tab at the top of the home screen or searching for UFC in the search bar at the top.
The odds on the MMA page are not presented in the cleanest manner. While it's easy to separate the fights from one another, the actual odds (moneylines) do not do a great job of clarifying which lines are for which fighter.
Things get better once users click a specific fight and load its unique page. They will find clearer moneyline odds, along with round props and anything else that is available. They also have the option to cycle between other fights and look at the full screen for each of those without having to return to the main MMA landing page.
The visual appeal is not the best, but it is not terrible. At the end of the day, WynnBET is a serviceable option for UFC bettors. Take a look at our complete WynnBET review.
Pros:
Moneyline and round odds
Ability to change fight pages without returning to a landing page
Cons:
Landing page odds are displayed poorly
Little visual enhancement
Wynnbet User Ratings
| | | |
| --- | --- | --- |
| Review Site | Rating | No. of Reviews |
| Apple App Store | 4.5/5 | 2,900 |
| Google Play Store | 4.4/5 | 1,340 |
| Trustpilot | 2.3/5 | 7 |
Sign-up offer:
#9: BetRivers
BetRivers has all of the necessities for any sports betting site. It is easy to track down the UFC section from the menu at the top, and the odds load in a reasonable time.
Although there was not as much effort shown to the visual layout as other sportsbooks, the odds on the UFC page are extremely easy to locate and presented in a clean manner. Users also have the option to sort odds by upcoming fights or futures bets.
Odds are not always restricted to moneylines, though that is the standard for a majority of bouts. However, BetRivers has a highly informative "stats" section that gives bettors all sorts of data, such as the fighters' records, the tale of the tape, where the event is taking place, and much, much more, all to help users place the most reasonable bets.
Picking a betting line automatically prompts the bet slip to pop up and keeps the experience streamlined. There is slight input lag, but not enough to cause any real concerns as far as consistency or reliability.
All in all, the BetRivers app is quality and a nice source for UFC betting. Read the full BetRivers review here.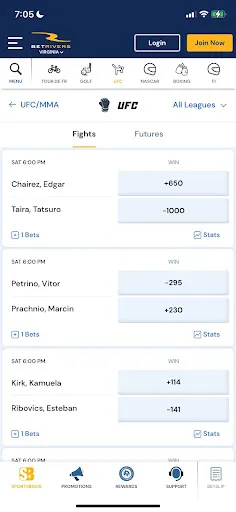 Pros:
Stats and live betting are awesome and provide an immersive experience
Easy to find odds
Cons:
Boring aesthetic
Inconsistent with spread of betting markets
BetRivers User Ratings
| | | |
| --- | --- | --- |
| Review Site | Rating | No. of Reviews |
| Apple App Store | 4.4/5 | 1,400 |
| Google Play Store | 3.3/5 | 653 |
| Trustpilot | 1.7/5 | 58 |
Sign-up offer:
#10: Unibet
Unibet meets the basics for a UFC betting site, but our BetEDGE system is not as high on it as it is on other sites. Allow us to explain why.
First, users have to launch the sports betting section once they have opened the app. That adds on extra time and just complicates the process. It's easy to find the UFC betting section once the sportsbook has been launched, but the odds for different fights are presented in an undesirable manner.
The different font sizes and lack of alignment make it somewhat difficult to read and understand the different betting odds. There is also a lack of betting markets, and most odds are found simply on the moneyline.
Users do have the option to change the presentation of the odds, as far as American, fractional, and others, but that's about as far as the customization and individualization go.
Users that know exactly what they want will be just fine betting at Unibet—but customers that want to spend more time enjoying their in-app experience will likely find more enjoyment at other sportsbooks. You can find more of our thoughts in our full Unibet review.

Pros:
Easy to find the UFC section
Odds load quickly
Cons:
Poor layout and presentation
Missing prop bets
Unibet User Ratings
| | | |
| --- | --- | --- |
| Review Site | Rating | No. of Reviews |
| Apple App Store | 2.5/5 | 183 |
| Google Play Store | 4.2/5 | 3,910 |
| Trustpilot | 1.5 | 1,250 |
Sign-up offer:
Tips for Choosing a UFC Betting Site
Now that we've provided an overview of what to expect at the different UFC betting sites, let's talk about how to choose the one that is best for you.
We understand that every individual is exactly that—an individual. Because of that, our best advice is to consider what it is that would make your individual experience the best.
If you're someone that's on the go, then you'll want a sportsbook that has a fast loading time and updates odds quickly. If you're a sports betting veteran, then you'll probably want the option with the widest array of betting markets. So on, and so on.
Here's a basic checklist to follow to help you determine which UFC sportsbook will best serve your needs.
Compile a list of your three-five favorite options

Decide what factors are the most important to you

Check out each sportsbook, whether via mobile or web app

Narrow your list to the top two selections

Poke around those top two options even further

Take those top two for a "test drive"

Decide which one fits you the best
Don't be afraid to change your sportsbook allegiance after settling on a particular site; in fact, users should always practice line shopping, which is the act of cross-referencing odds across multiple betting sites to find the best value. However, we know that it's always nice to have a fallback, and following the above steps should help you arrive at one.
Top UFC Sportsbook Promos
UFC sportsbook promos come at different times but are frequently centered around marquee events. They can go hand-in-hand with sign-up bonuses or can be standalone opportunities specifically for UFC betting.
An example of a sign-up bonus that includes UFC action could be a bet up to $1,000 on UFC Fight Night and get your stake back if it misses. Another would be bet $5 on the money line and win $150 in bonus bets if your bet hits.
As far as standalone UFC promos, they can also come in different forms. For example, a sportsbook might offer a UFC parlay boost, where users can win even more money with parlays on the same fight card.
Another example could be boosted odds for the main event on a card at a major event. Of course, these are just examples, but they are examples that we have taken from previous offers from sportsbooks.
At the end of the day, sportsbooks can provide any type of promos and bonuses they wish, which is another exciting part of being a sports bettor.
How to Bet on UFC - Popular Bet Types
Moneyline
The moneyline in a UFC fight deals simply with which fighter will win the bout. This is the most popular betting market for UFC fights and is what is displayed on the main UFC section in sportsbooks (before the individual fight page is maximized). Learn more about moneyline betting in our guide.
Round Totals
The round total is basically the over/under of UFC betting. The only difference is that instead of betting on whether there will be more or less than a certain amount of points, users predict whether the fight will go beyond or end before a certain amount of rounds.
Method of Victory
The method of victory bet deals with how a winner of the fight will be determined. This could be a TKO (when the referee ends the fight because they believe one combatant cannot safely continue) or knockout (when one of the fighters is knocked unconscious), a submission (when an opponent "taps out" of the fight), or a decision (when the fight makes it through all of the rounds and the judges decide who won).
Prop Bets
Prop bets are available for UFC fights. They can be in markets such as the winner of a particular round, which fighter will secure a particular method of victory if there will be a tie or not, and much more.
Decision No Bet
You've heard of tie no bet, where tickets are voided if there is a tie—well, decision no bet is similar. In this case, tickets are voided if the fight makes it to the judges' scorecard. They are either cashed or lost if a fighter wins via TKO/KO or submission.
Parlays
UFC parlays can be placed in all sorts of markets, and even across markets. Parlays represent more risk than straight bets because they require all parts of the parlay to hit for the ticket to win, but they also yield more profit than straits if they do win.
Futures
UFC futures can be placed on fights that are far away. Read our futures betting guide to learn more.
Live Betting
Live betting is available during UFC fights. It is usually for moneylines but can be found in other markets depending on the sportsbook. Live betting changes the odds for fighters based on what is happening inside the octagon.
UFC Line Movement
Line movement is the term for the changing of odds in events—in this case, UFC fights—before they begin. Line movement is a representation of the influence of the betting public, along with updates and news. If it comes out that a particular fighter is sick or has not been training well, then there will likely be line movement, and their odds will lengthen (meaning they are less likely to win the fight).
UFC Betting Strategies
There are different arguments about the best ways to achieve profitability in UFC betting. Different players also have different markets they feel the most comfortable in and have the best chance of winning.
That said, there are general tips and principles bettors should adhere to when they are formulating their bet sheet.
The number one rule for any type of sports bettor is to conduct as much research as possible for a particular event. That includes going over the details of the fighters careers' the tale of the tape (aka their measurements), their history in a particular venue or location, previous head-to-head encounters, fighting style, and other pertinent information.
Analyzing fighters' recent results can also give an indication as to what kind of form they are in and how their confidence levels are heading into a particular bout.
Reading or listening to interviews with coaches and the fighters themselves can also shine some light on what their approach will be. Bettors can use that information in combination with their understanding of the opponent to predict what type of fight it will be, whether that be a stand-up kickboxing-style match, a ground-and-pound, or something else.
Analyzing the betting odds is also a must for sports bettors. No matter how confident you are in a particular bet coming through, there is a certain point where the juice on the odds makes the bet not worth it to place. "Juice" is the term used to refer to the amount bettors have to risk to win back a dollar.