A Closer Look At Our Top-Rated MLB Betting Sites
#1: bet365
bet365 is one of the world's premier sportsbooks but is only just starting to really take off in America. But while it may not enjoy the same market share as the big four sportsbooks, it very well could soon with all that it has to offer.
Right off the bat, any bettors that are looking for the "prettiest" and most aesthetic sportsbook will just want to skip this section. Not that bet365 is ugly, but the gray and green are relatively plain. However, if you are willing to look beyond the color scheme, you will find what just might be the best sportsbook on the list.
bet365 is stuffed with ultra-competitive (and often profitable) betting odds and rarely ever locks off markets, whereas other major sportsbooks will close or simply not offer them. Live MLB betting is also very easy to follow and presents users with a cash-out feature which, while present on other sportsbooks, once again has great value here.
Unlike Betway, this sportsbook is great for users of all levels because of its inclusion of everything that sports bettors could want and need.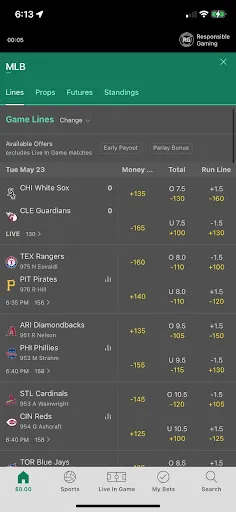 Pros:
Great betting odds and market diversity
Infrastructure to grow even larger
Cons:
Only available in a few states
Boring aesthetic
Sign-up offer:
#2: FanDuel Sportsbook
FanDuel is the leader in American sports betting and has a stranglehold on many different betting markets, of which MLB is no exception. It is a favorite partially because of its constant advancements and lucrative promotions, such as bet $5 to win $150 in bonus bets no matter the outcome.
One of FanDuel's best selling points, however, is its speed and responsiveness. Users often experience the least input delay which may feel like a secondary issue, but it keeps the experience snappy and more engaging than it would if you had to wait like you were using dial-up internet back in the day.
Inside FanDuel's MLB betting menu users will find a breakdown of markets similar to Caesars, albeit with different names and focuses. One of the first is a "parlay builder" which shows users what bets are available to quickly build same-game of same-game-plus parlays (a parlay of multiple same-game parlays). There is also a range of futures bets and other smaller markets within each game.
FanDuel has the sleekest menu and tends to update its odds the quickest, although that means that the odds are not always the most profitable. All in all, this is great for new and experienced bettors.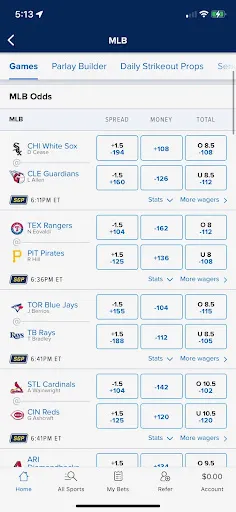 Pros:
Great visual appeal
Excellent betting markets and responsiveness
Cons:
Sign-up offer:
#3: BetMGM Sportsbook
BetMGM is another one of the dominant four sportsbooks in America (alongside FanDuel, Caesars, and DraftKings). It has arguably the best design with its black and white interface with gold accents and makes sports betting feel like a dip into luxury—especially when the bets are coming up green.
BetMGM has a unique component to its MLB betting menu. While it only has subheadings for scheduled events and futures, it has the option to change traditional game lines to five-inning lines, allowing bettors the chance to easily speed up the duration of their wagers. This can work both ways since five-inning results do not always equate to the final score but can work well for informed players.
Just as you'd expect, the inside of a BetMGM MLB event is rife with markets such as innings, half-innings, race-tos, player props, and much more. BetMGM also has a consolidated parlay menu where different bets are available on one screen so that users don't have to shuffle through different subheadings to add in their favorite props.
This is definitely one of the best places to make your MLB bets, whether they be ahead of time or live. And in case you're interested, you can even build a live MLB parlay at BetMGM.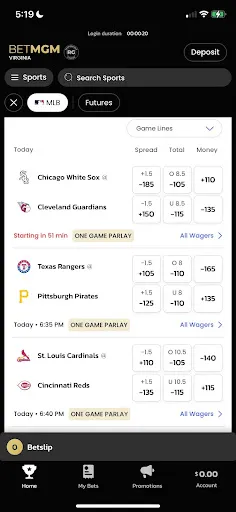 Pros:
Very easy to use
Competitive betting odds
Cons:
Sign-up offer:
#4: DraftKings Sportsbook
DraftKings has a strange welcome screen where all of its sports and leagues are dumped into one pool, but once you have found the MLB option, everything opens up. The sportsbook presents game lines, and same-game parlay options, and even has a new social screen for customers to frequent.
DraftKings also makes it so that bettors don't have to dig within individual games to find markets such as a game or series props, parlays, and first-inning results, and also has the standard team and league futures bets.
Another unique point of this sportsbook is that within each event, DraftKings provides insights as to who the public is riding with. For example, on the day that this betting guide is being created, 55% of users are picking the Cleveland Guardians to win, while 45% are riding with the Chicago White Sox. That works both ways since public opinion typically exists for a reason, but it's also often profitable to fade (or go against) the public.
DraftKings is most exciting because of the unique features we mentioned that don't appear on other sportsbooks.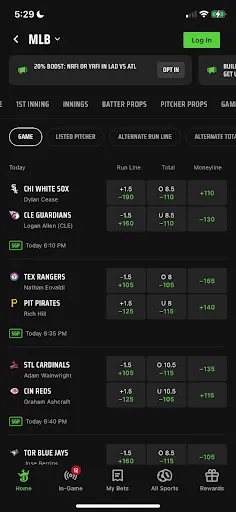 Pros:
Cons:
Sign-up offer:
#5: Caesars Sportsbook
Caesars Sportsbook is the sports betting arm of the world-famous entertainment brand Caesars Entertainment. It entered the market later than some of the other industry giants but quickly became one of the top providers and remains a leading innovator in the industry.
Betting on MLB games at Caesars comes with a level of expectation that the sportsbook meets at every level. It has all sorts of betting markets, solid odds, a wide array of games (not just from the MLB but also other baseball leagues and competitions), plus promotions that apply strictly to or can be redeemed in MLB markets.
The general MLB screen is broken into subheadings separating live events from those that are upcoming, futures bets, and featured events. Clicking on a particular game brings up betting options for that specific event, such as popular markets (like the spread, moneyline, and total), hits, home runs, strikeouts, and plenty more.
Caesars displays games a full day in advance (if odds are available) to ensure that customers can get their bets in with plenty of time to spare just in case they are going to be on the move the next day—or might just be forgetful (not you, of course, you're perfect).
Pros:
Effective layout
Great markets
Cons:
Sign-up offer:
#6: PointsBet
PointsBet is known as a sportsbook that is devoted to offering deals and betting markets that cannot be found on other sportsbooks. For example, it has a system called points betting, where game units are turned into financial units. That means that a $10 moneyline bet would become a $100 win if the selected team won by 10 runs, or $50 if they won by five runs, and so on.
However, PointsBet recently sold its North American assets to Fanatics, leaving its future somewhat in question. But never fear, it is still in operation for now and is not going to suddenly foreclose with no warning.
In the meantime, PointsBet is a great option for MLB betting. It is easy to identify where the MLB bets are because of the league's huge logo on the home screen, and PointsBet also shows how many games and markets are available for users at any given time.
Click any game to see the wide variety of bets that are available to you—just keep an eye on the timer, which shows how long you have to make these wagers before some markets are locked.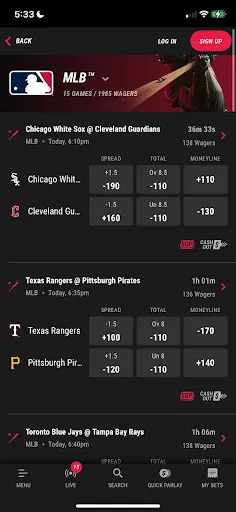 Pros:
Unique betting opportunities
Ability to suggest a market if it is not available
Cons:
Sign-up offer:
#7: Betway
Betway is not among the most popular sportsbooks in America, nor is it among the most widely available—it only has jurisdiction in Arizona, Colorado, Indiana, Iowa, New Jersey, Ohio, Pennsylvania and Virginia. But it is still a strong option when it comes to MLB betting.
The biggest knock on Betway is that it doesn't have many promotions or an expansive sheet of betting options within games (it has prop and parlay markets, but not even close to as many as other sites). But what it fails to provide in those areas it compensates for with daily odds boosts, such as both the New York Yankees and Boston Red Sox winning, and a sleek, efficient layout.
Even better, it has an impressive live display of the game that shows everything from the score to weather conditions, where a ball was hit, and what inning it is. It very much feels like a set destination for the overall sports fan rather than one of many apps.
This app may not be the best for the diehard sports bettor that doesn't care about smaller details and simply wants as many betting odds as possible, but we still highly approve of this sportsbook, especially for novice-intermediate sports bettors.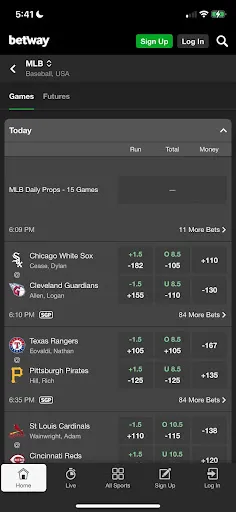 Pros:
Engaging, immersive visual effects
Easy-to-locate markets and odds
Cons:
Lack of diverse betting markets
Not available in many states
Sign-up offer:
#8: BetRivers
BetRivers covers all of the basics of an MLB sportsbook but leaves some room for improvement, starting with the visual layout. The all-white background with little color diversity is pragmatic but can make prolonged stays on the sportsbook feel draining—although the live odds updates come with red and green colored font changes, depending on which way the odds are moving, which is a nice touch.
BetRivers shows scheduled and live games, futures, and player props all on the homepage for the MLB. It also has a drop-down menu that allows bettors to search for other baseball betting odds in leagues outside of the MLB.
The sportsbook gets a point in its favor because, within each game, it presents side-by-side stats and analysis of teams in areas such as batting average, home runs, slugging percentage, and more. Each stat comes with a sideways bar chart that makes it easy to tell which team has the advantage in a particular category. It also has records, player stats, and an injury chart.
BetRivers might not have the same amount of props as other sites, but it has live betting, or betting odds for small outcomes (such as if the next pitch will be a ball or a strike). So although it may not come off as strong as other sportsbooks, it is in contention for one of the most well-rounded MLB betting sites.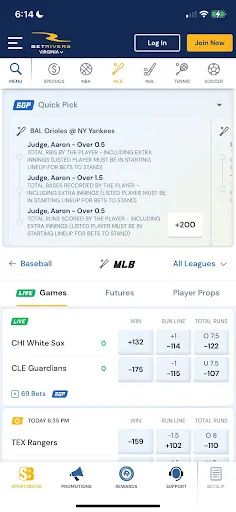 Pros:
Stats and live betting help it stand apart from competitors
Easy to navigate
Cons:
Boring appearance
Lacks betting options in prop/parlay markets
Sign-up offer:
#9: Unibet
Unibet is a serviceable but not top-of-the-line sportsbook. It has betting odds for major markets, live betting, props, and other small markets, but it takes a long time to load, does not have a great visual appearance, and feels clunky.
What Unibet does have going for it is a pitch tracker that shows if pitches are balls, strikes, or hits, and even has a pitch grid to show where each pitch went. That makes it feel like a mini-ESPN app inside the sportsbook.
Navigating the sportsbook can be tricky. Bettors first have to pick sports once they launch the app, and then getting out of events can be tricky because of the small back arrow that blends in with the background. On the bright side, there are lots of betting options in broken-down subheadings that make it easy to know what is available as a bettor.
All in all, this sportsbook has a lot of what bettors want, it just isn't packaged in the most optimal way. If you're willing to put up with that and only care about action, then this will work great for you.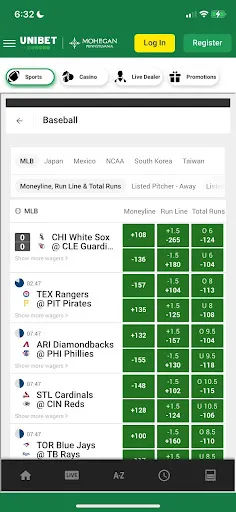 Pros:
Live betting and live-tracking features
Pitch screen/grid
Cons:
Input lag

Difficult to navigate
Sign-up offer:
#10: WynnBET
WynnBet is a basic sportsbook that is bereft of opportunities on other sportsbooks, such as live betting on player props. It's also tricky to locate futures odds and other basic aspects of sportsbooks that are commonplace at other MLB betting sites we reviewed on this list.
On the bright side, WynnBet has a live game view that makes it easy to follow along with the games. It also shows live odds updates as they are happening and displays them in red and green font.
There's not a whole lot else to say about this sportsbook. It has the basic necessities but doesn't delve into much more and isn't particularly better for a certain type of bettor based on their experience level. This is a pretty basic option that is a stepping stone to a more robust sportsbook.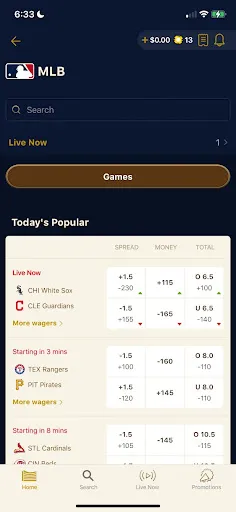 Pros:
Meets basic criteria for betting odds
Live game view
Cons:
Lacks many betting markets and options
Could be designed and filled out better
Sign-up offer:
Tips for Choosing an MLB Betting Site
Are you experiencing sensory overload? Not quite sure what to do with the information you were just provided? Let's simplify it.
Every bettor has different backgrounds, expectations, and end goals. Player A might want a nice-looking, simplified sportsbook that they can use to blow off steam after a long week, whereas Player B might be ultra-competitive and willing to risk visual elements for the best up-to-date odds and intense experience.
Determining what your primary use for MLB betting is is crucial to starting your process of choosing a sportsbook. Once you have figured out your intentions, key in on what matters the most to you. Is it the ability to place grandiose parlays? Finding a one-stop shop for information, live-streaming, and betting? Any answer is fine, just make sure that it fits you.
After this period of self-reflection, go back over all of the information that we have provided for each baseball betting site and see which one is most closely aligned with your standards. We also encourage you to visit most, if not all, of the sites that stand out as ones that may interest you.
You may also want to take the betting site for a test drive before deciding on your permanent favorite.
Top MLB Sportsbook Promos
Just like sportsbooks offer new-user sign-up offers and recurring promotions, baseball betting sites also have MLB-specific offers that can increase the excitement of sports betting and also increase your profits. Here are a few examples of promos that have been and could come available at different MLB betting sites.
MLB same-game parlay insurance: This type of promo ensures that customers that place losing same-game parlays of a certain amount of legs will receive bonus bets up to a certain amount. Bonus bets are essentially credits that can be used only at that sportsbook but that can be turned into cash with winning bets.
MLB Odds boost: An odds boost is exactly what it sounds like—better odds for your favorite MLB bet. This may apply to just a game or prop or may be available for any general MLB bet, depending on the terms and conditions.
MLB profit boost: Profit boosts are tokens that lead to higher payouts for winning bets in the MLB market. This is often a 50% increase but can be anything the betting site wants it to be.
MLB stepped-up same-game parlay: This is just like an odds boost, just for same-game parlays on the MLB schedule. Build your favorite multi-leg bet and get better odds than ever by using this deal.
Sportsbooks do not have to use these formats for promos and can create anything they want, though these are the most common MLB promos.
How to Bet on Baseball - Popular Bet Types
Moneyline
The moneyline is the market for picking the straight-up winner of an MLB game. Favorites are denoted by a "-" in front of the number value of the odds, whereas underdogs are denoted by a "+". The moneyline doesn't care about anything other than the final score and can be live bet all throughout the game until the very end (assuming the market hasn't been locked).
Run Line
The run line is just another team for the spread but means specifically the spread of a baseball game. It is almost always set to -1.5 or +1.5 (following the same rules of "+" for the underdog and "-" for the favorite) because of how low final scores are compared to leagues such as the NFL and NBA. Run line odds have more variability than spreads in other sports, which makes them all the more interesting.
Over/Under (Totals)
Over/under is another word for total, points total, or runs total (in baseball specifically). This market deals with the total number of runs that are scored during a game and if that total is higher or lower than the number provided by the sportsbook. One thing to note is that extra innings are fair game—if you bet under 8.5 total runs and there were eight runs at the end of nine innings but the game finished with 12 total runs, you will have lost the bet.
Prop Bets
Prop bets are wagers on secondary markets, such as which player will hit a home run, how many strikeouts there will be, and if there will be any runs scored in the first inning. These bets don't directly correlate to the final score like the run line, moneyline, and over/under, but they are influential and are also a fun way to dive into other areas of the game.
Parlays
Parlays are a combination of picks into one larger bet. Parlays can be very rewarding because odds are multiplied together to create exponentially higher payouts, but every part (known as a "leg") of a parlay must hit for the parlay to cash. That means that a 10-leg parlay is worthless if nine legs hit but one misses since you need to hit all 10 to receive a payout.
Futures
Futures bets can be placed on all sorts of events and races, such as the future World Series champion, MVP, All-Star Game MVP, strikeouts leader, Cy Young winner, and more. Futures bets offer bettors a chance to place long-term bets and also earn better value (usually by placing the bet long before it is decided).
Live Betting
Live betting deals with placing a bet while a game is in-play. Live betting can be done in a variety of markets, though the exact types depend on which baseball betting site the player is using and which markets are locked at that time.
Betting on the World Series
Betting on the World Series is a futures bet. Players will usually be able to find World Series futures in subheadings called "World Series" or "Champion" or can just search for them in the sportsbook's search bar.
MLB Line Movement
Line movement is a term used to describe changes in odds leading up to and during a game or event.
MLB Odds are typically released the day before games and as the current day's slate is coming to a close. Factors that influence the odds are the team's recent and historical performances, weather conditions and game venue, hot and cold streaks, starting pitchers, injuries, and external motivations (such as player rivalries, race for playoff position, etc.)
Part of being a successful bettor is knowing when to pounce on the odds. Bettors can run the risk of waiting to see if the odds swing to give them a greater chance at profitability but must be wary that it could have the opposite effect.
MLB Betting Strategies
As entertaining as betting on MLB games can be, there are general principles and strategies that can make it a more profitable experience. So, here are a few approaches to use when placing your baseball bets.
The most important strategy is to always do your research. Find out everything from how the teams have performed in their recent games and against one another in the past to which players have reasons to step up that day, pitching matchups, and much more.
As far as placing actual bets, placing moneyline bets at odds shorter (meaning less profitable) than -200 is not sound advice because of the negative risk-reward ratio. At the same time, placing a ton of underdog bets every chance you get is not your ticket to profitability.
Run line bets are typically a more consistent way to seek profitability because the odds don't vary as much as the moneyline odds do. Just remember that if the favorite wins by one run, they don't actually cover (or win) the run line bet.
Finding out which player prop bets to take can be done by doing research on how that player has performed recently, against the pitcher they are facing, against their opponent, and other factors such as injuries, motivations, and weather conditions.
Line shopping is always a great tip. This simply means picking your favorite bet and then consulting odds across multiple sportsbooks to see which one, if any, is offering the best deal.
The more that you bet, the more consistent you will become in your approach and find what works for you. Don't be afraid to experiment with different betting markets and different approaches until you land on something that works the best for you. Once you have found that, don't deviate from it too much, or else you are doing yourself a disservice.