After starting in baseball and playing in little league for most of his childhood, Californian Matt DiBenedetto began to show an interest in auto racing at the age of 8.
Shortly thereafter, baseball became an afterthought.
Matt's father Tony raced in his earlier days, and soon helped Matt get into go-karting. It was a obvious right away DeBenedetto had incredible racing skills. Fast Forward almost two decades and Matt DiBenedetto become a fixture at the sport's highest level: NASCAR's Monster Energy Cup Series.
Keep reading to learn more about Matt DiBenedetto background, racing career, highlights, stats, bio and more.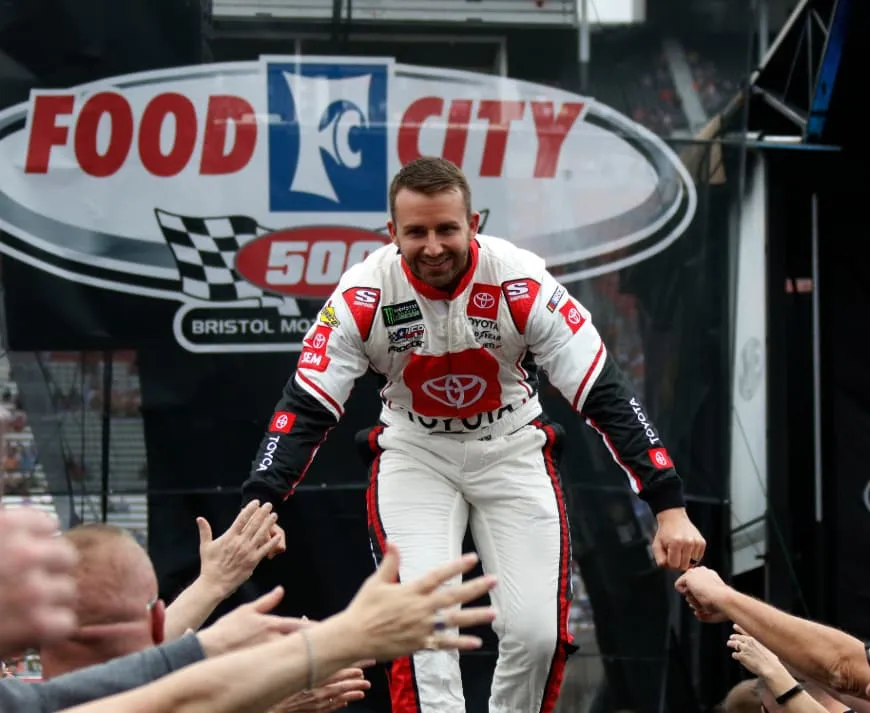 Fast Facts:
Birthdate: July 27th, 1991
Birthplace: Nevada City, California
Hometown: Grass Valley, California
Parents: Sandy and Tony DiBenedetto
Wife: Taylor Carswell
Current Home: Hickory, North Carolina
Career Highlights:
4th place standings finish in K&N Pro Series (2010)
Earned a 10th place finish in Xfinity Series at 18 years old
6th place finish at Ford City 500 (first top-ten finish in Cup Series)
3 top-ten finishes in his last two Monster Energy Sprint Cup seasons.
Matt DiBenedetto Bio
After ditching baseball for go-karts at a young age, Matt DiBenedetto started winning races and soon moved up to racing late models in the UARA-Stars racing series.
It wouldn't be long until DiBenedetto started showing his worth in NASCAR. In 2009, DiBenedetto got on to the NASCAR K&N Pro Series, where he had two wins in seven races in his first season. He was just 17 at the time. The next year, DiBenedetto had one win in 11 races, but he finished in the top ten nine times.
His performance in the 2009 season earned him a shot in the Xfinity Series. At just 17 years old, he opened eyes by finishing 14th in that race.
The next year, he got six races in on the Xfinity circuit. He had one tenth-place finish in his firt race and earned another top-ten bid by finishing ninth. Not bad for an 18 year old who only raced six times in Xfinity that year.
Still, a run of poor performances in 2010 as an 18-year-old left DiBenedetto without a car and without sponsors. He was out of the spotlight for a while, racing only sporadically until 2014.
DiBenedetto Moves Up the Ranks
In 2014, DiBenedetto replaced Jeffrey Earnhardt after Earnhardt fractured his collarbone. He drove for Jeffrey Earnhardt in the following races, and finished 11th and 13th in races later in the season.
That sparked his jump to the Monster Energy Sprint Cup Series, where he started driving full-time in 2015. His first season was an eventful won, as he was in the running for Rookie of the Year, and got into a heated exchange with Tony Stewart following a collision.
In 2016, he earned his first top ten finish in the Cup series, finishing in sixth place during the Ford City 500 event. It remains his best finish to date, ad he's earned three more top-ten finishes during his last two full seasons in the Sprint Cup series.
After driving Ford cars for most of his Sprint Cup career, DiBenedetto made his intentions of switching public in September, 2018. He said that he would be switching to Leavine Racing family in 2019. For them, DiBenedetto will be driving the Np. 95 Toyota Camry.
DiBenedetto's Life Outside of Racing
Joining a new age of racing stars, Matt DiBenedetto is an example of a driver who utilizes social media to promote the sport.
His followers are loyal as well. In 2017, he was almost voted in the All-Star vote thanks to his following, despite having a fraction of the followers on social media compared to some of the big guns in the sport.
DiBenedetto also notes the physical nature of the sport in one interview with SB Nation. He says he sweats out 15 pounds during a race. Early in his life he was small for his age. At 16 years old, DiBenedetto was winning races even though he was only 5'1" and 75 pounds at the time.
Now, he's hoping to move up the standings as he enters his fifth season in the Monster Energy Sprint Cup Series in 2019.