There are a plethora of talented drivers who make it to NASCAR but often, the mark of a smart NASCAR driver is one who is able to create business opportunities out of success.
That's exactly what Florida native BJ McLeod has done during his racing career. After winning more than 100 races as a youngster in karting and super late model series races, McLeod has seen spot duty on both the Xfinity and Cup Series NASCAR circuits since 2010.
Over the last few years, McLeod has focused on building up his company, BJ McLeod Motorsports. The organization has seen its drivers enjoy success in recent seasons and has expanded its driver roster as recently as 2018.
Keep reading to learn more about BJ McLeod, including a comprehensive biography along with career highlights, stats and more.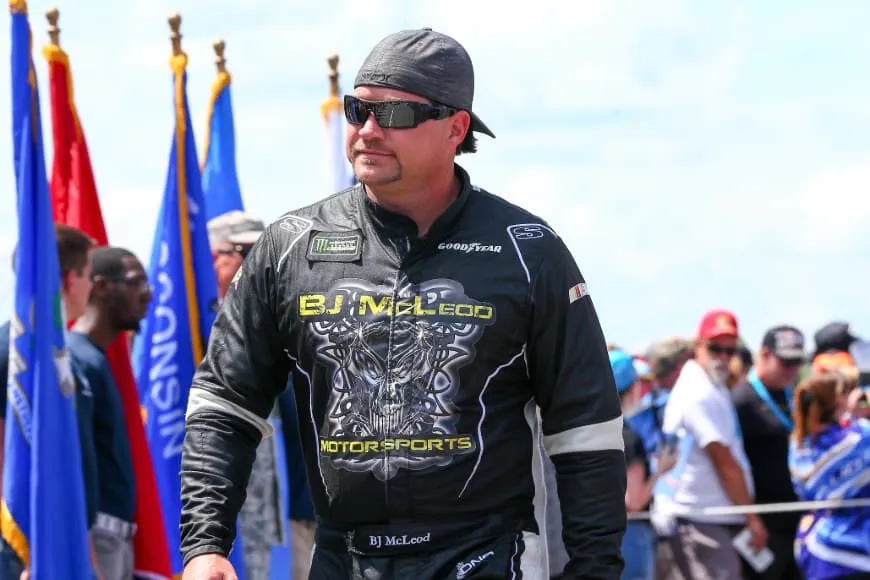 Fast Facts:
Born: November 17th, 1983
Birthplace: Wauchula, Florida
Wife: Jessica McLeod
High School: Highlands Country Christian School
Owner of BJ McLeod Motorsports
Career Highlights:
Over 300 go-kart wins at regional, state, and national levels
Youngest super late model (SLM) race winner at age 13
Youngest driver to compete in American Speed Association-sanctioned race
Gander Outdoors Truck debut in 2010 (17th place finish)
Xfinity debut in 2015 (Best finish, 25th overall at Kentucky)
Sprint Cup debut in 2015 (34th place at New Hampshire)
BJ McLeod Motorsports makes his debut on Xfinity circuit in 2016
B.J McLeod Bio
Before NASCAR and entrepreneurship, BJ McLeod was getting his start in racing by zooming around on ATVs at the age of three. By age five, McLeod traded in his ATV for a go-kart and started the long ascent that would eventually see him reach NASCAR's most elite division.
As a youngster in the Southwest, McLeod dominated on the go-kart circuit. During the early period of his career, he was a champion at regional, state, and national levels at one time or another.
McLeod's talent was evident from a young age as he continued racking up wins even before puberty came along. At age 13, he became the youngest winner on the super late-model series at Orlando Speed World. He continued his rise by becoming the youngest driver to compete in an American Speed Association race.
McLeod Makes NASCAR Debut
Although McLeod dominated at such a young age, it took him a bit of time to actually make his NASCAR debut. He competed in his first NASCAR event in 2010 on the Gander Outdoors Truck Series. His debut was a solid one though, as he finished 17th overall.
McLeod raced sporadically on the Gander Outdoors circuit for five years, nabbing two more top-20 finishes at Bristol Motor Speedway (15th) and Miami (19th). Then, in 2015, McLeod made his debut in the Xfinity Series.
However, by the time McLeod joined the Xfinity circuit in 2015, he was already working on something bigger and better for the future. After living through the reality of bouncing around teams as a driver just trying to make it, BJ McLeod decided that the best course of action was to create his own team.
The Rise of BJ McLeod Motorsports
BJ McLeod Motorsports started in 2013 while McLeod was racing trucks. He worked on building the team and in 2014, a couple of trucks started racing under BJ McLeod Motorsports.
In 2016, McLeod's company took a big step forward by joining the Xfinity Series on a full-time basis. He raced the No. 78 car himself for all 33 races that season. McLeod also had the No. 8 car racing for his team that season and a number of different drivers hopped behind the wheel at different times.
McLeod soon added a third car to his arsenal at the end of the 2016 season and all three cars were able to compete in a full slate of races during 2017. McLeod enjoyed one of the most memorable moments of his career that year when he finished 11th overall at his hometown track: Daytona.
2018 was a good year for McLeod both on and off the track. He raced in a career-high 14 races in Cup Series and built up his business by purchasing a 15,000 square foot training facility equipped with racing simulators and a new gymnasium.
McLeod is expected to continue racing and building his team during 2019.