Bristol Motor Speedway
is absolutely iconic in NASCAR racing. Part of what makes it so beloved amongst fans and drivers is its long list of unique and exciting features.
Not only is it considered one of the loudest tracks in the business, it also boasts intense racing action thanks to its incredibly steep banking turns and full concrete track surface.
Depending on what you're interested in as a fan, you'll love or hate Bristol. While some might argue that it's tight and slow due to its length, others will laud its steep banks, exhilarating atmosphere and more challenging racing qualities.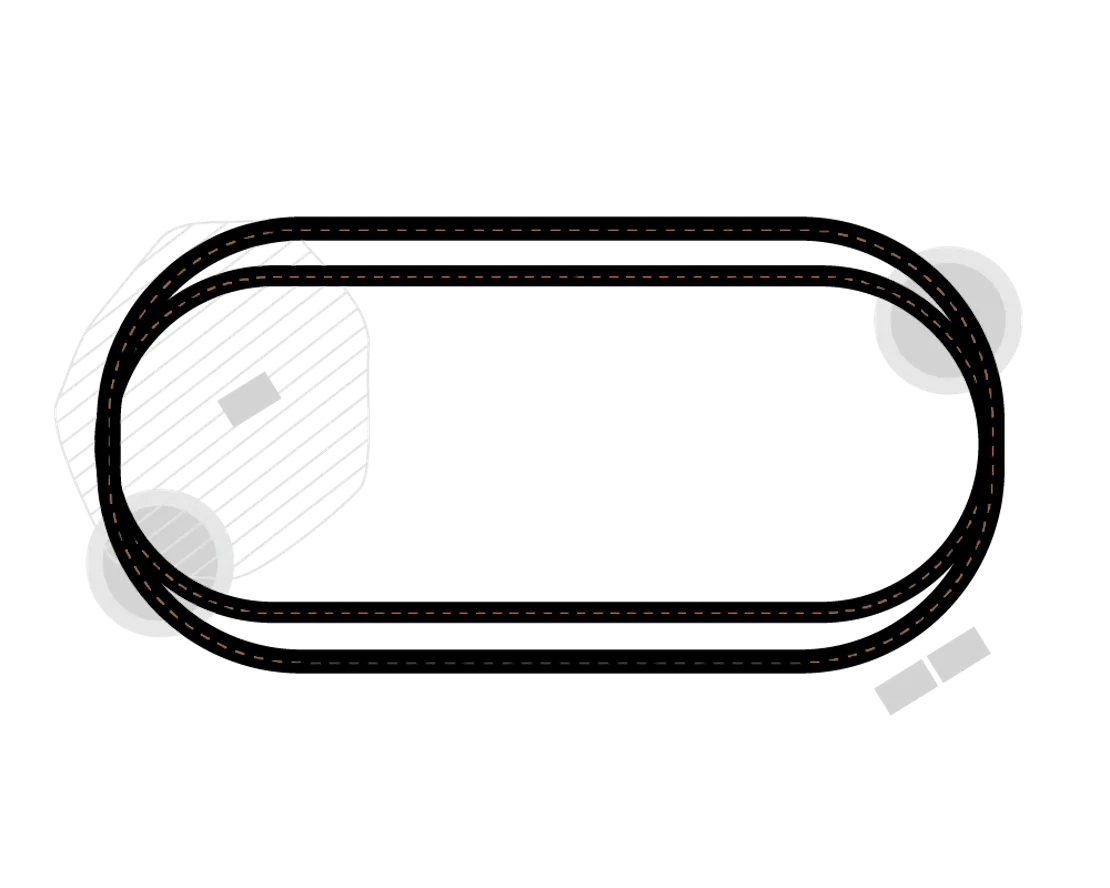 Fast Facts:
Location: Bristol, Tennessee
Built in: 1961
Owned by: Speedway Motorsports Inc.
Track Type: Oval (clay), temporary dirt oval (clay).
Track length: NASCAR oval is 0.533 miles (0.858 km)
Turns:4, banked 26-30 degrees
Straightaways: banked 6-10 degrees
Race lap record: Brian Gerster, 12.742 s [150.585 miles per hour (242.343 km/h)] October 1, 2011
Capacity: 162,000
Major Events: Monster Energy NASCAR Cup Series (Food City 500, Bass Pro Shops NRA Night Race), NASCAR Xfinity Series (Alsco 300, Food City 300), NASCAR Gander Outdoors Truck Series (UNOH 200)
Major Non-NASCAR: Battle at Bristol (NCAA Football), US Nationals for short-track racing
Bristol Motor Speedway At a Glance
We mentioned that driving at Bristol can be challenging. In fact, Bristol is so well known for having an especially high amount of yellow-flag cautions that a special ruling called the Beneficiary Rule (also known as the Lucky Dog or Free Pass rule) was instituted in 2004 which allows the closest lapped driver to the front of the field to gain back a lap on a caution.
Being one of NASCAR's shorter tracks, plus having stadium style seating, the in-your-face fan experience at Bristol is part of what has kept droves of spectators coming back for decades.
Plus, the venue itself is just massive. With a capacity of more than 162,000, Bristol is the 7th biggest sporting venue in the world and 3rd biggest in America.
Of course, not everyone loves the tightly congested and slower paced track of this older-school speedway. Instead, tracks like Bristol tends to be prefered by racing traditionalists. Much of the sports newer generation of fans (and drivers) who have grown up enjoying the faster speeds of superspeedway tracks tend to view tracks like Bristol as obsolete and trending the way of the dinosaur.
It's like comparing an old Yankee Stadium to billion dollar modern day MLB megastructures. Whichever way your preferences point, there is no denying the breadth of history and tradition that Bristol brings to the table.
Bristol Motor Speedway History
Bristol Motor Speedway, which over the years has accumulated many nicknames, was originally called Bristol International Speedway, and then Bristol International Raceway.
Funnily enough, the track wasn't even originally intended to be in Bristol at all. The first proposal was to build the venue in nearby Piney Flats, Tennessee.
The venue in Bristol is built on what was formerly Gray's Dairy, which at the time was one of the largest dairies in the US. Construction, which broke ground in 1960, took just one year to complete and the inaugural drive around the track was by Tiny Lund on July 27, 1961.
One of Bristol's most iconic distinctions is its night race. The night race began in 1978 which is also when they changed the name to Bristol International Raceway. The popularity of the night race was immediate and continues to gain momentum. These days the night race is one of the most anticipated Monster Energy NASCAR Cup Series events on the calendar
Another significant distinction of the track, but one less revered by teams and drivers, is that it's extra small track size leaves very limited space in the interior for crews. Before changes were made to the interior to allow for a tightly arranged fleet of crew teams and equipment, teams were isolated on the interior and unable to get any equipment for their cars during the race.
A lot of work was done to the track throughout the 90s and 2000s and with it came a continually growing seating capacity.
In total the site can host more than 162,000 attendees. When you have that many people in one place, you might as well set your sights on some sort of world record, right? Well, in 2008 that's exactly what happened when Bristol Motor Speedway entered the Guinness Book of World Records for the largest completed crowd wave in history.
Not to be outdone, the crowd duplicated the feat one year later while also setting a second record for largest group karaoke performance ever.
A Need For More Than Just Speed
The speedway has also played host to many non-racing events over the years including many large-scale fundraising events.
One of the most famous is the annual Pinnacle Speedway in Lights which is a holiday fundraiser that invites visitors from far and wide to enjoy a Christmas lights extravaganza that extends five miles around the venue and culminates in a lap around the racetrack itself.
Another endearing community endeavor held at the speedway that has run annually since 2010 is the Remote Area Medical. The event offers free health care check ups for those who can't afford insurance.
In a similar vein, and perhaps inspired from it, the location was used as a temporary school facility in 2002 when a black mold outbreak infiltrated a nearby high school.
And on a non-racing but sports-related note, several pro and college level football games have been held at the site dating back as far as the track's inaugural year in 1961 when the Philadelphia Eagles and Washington Redskins played a preseason game in the infield.
In 2016, in a game dubbed the Battle of Bristol, the University of Tennessee Volunteers played against the Virginia Tech Hokies on the grounds. The game had been in the making for years but continually fell through. Once they finally did manage to make it happen, the game obliterated the previous NCAA attendance record by more than 40,000 as 156,990 were there to witness the historic event.
Nicknames and Dominance
Over the years, on top of its multiple official name changes, the track has also been given several endearing nicknames.
It's been famously dubbed "The Bullring", "The World's Fastest Half-mile", and it has a dragstrip called "Thunder Valley". But perhaps most famous of all, it's been called the "The Last Great Colosseum" due to its full oval-sized stadium seating.
The two most dominant drivers that hold the most records at Bristol Motor Speedway are Darrell Waltrip and Richard Petty. Waltrip has the record for most wins with 12 and the two are tied for most top-5 finishes with 26 each.