Pocono Raceway is unique in many ways.
First off, they call it the "Tricky Triangle" because it's more of a triangle than an oval and because none of the straights are the same length and none of the turns are the same degree.
A NASCAR race having three turns instead of four is definitely an anomaly.
Secondly, it's one of just three speedways that isn't owned by either Speedway Motorsports, Inc. or International Speedway Corporation. Rather, it is independently owned and operated by Mattco Inc.
In case you were wondering, the other two speedways not owned by the big two are Dover International Speedway and Indianapolis Motor Speedway.
Another interesting feature that comes with being the only three-sided superspeedway is that the infield, which is huge, can support three separate road courses, each with its own strip of the main triangle included in it. This is highly popular amongst local racing leagues in the area who often make use of the facility when it isn't being used for major NASCAR or IndyCar Series events.
But that's not all. The track has many more idiosyncrasies.
The designer, Rodger Ward, a two-time Indianapolis 500 winner, made each of the three turns in a likeness of another famous track.
Turn 1 is modeled after Trenton Speedway.
Turn 2 is modeled after Indianapolis Motor Speedway.
Turn 3 is modeled after the Milwaukee Mile.
Drivers and their teams both enjoy and scoff at the challenges presented at Pocono.
With the way the track is configured, some say it's a bit more like a "roval" (road course + oval) than an oval and the differences in the straights and turns requires much more gear shifting than at other tracks. Because of this, the vehicles endure much more wear and tear in a typical race and the teams are forced to make quicker decisions and repairs.
Before we dive any further into the superspeedway's unique attributes and storied history, let's check out some of the most important facts and stats about Pocono Raceway.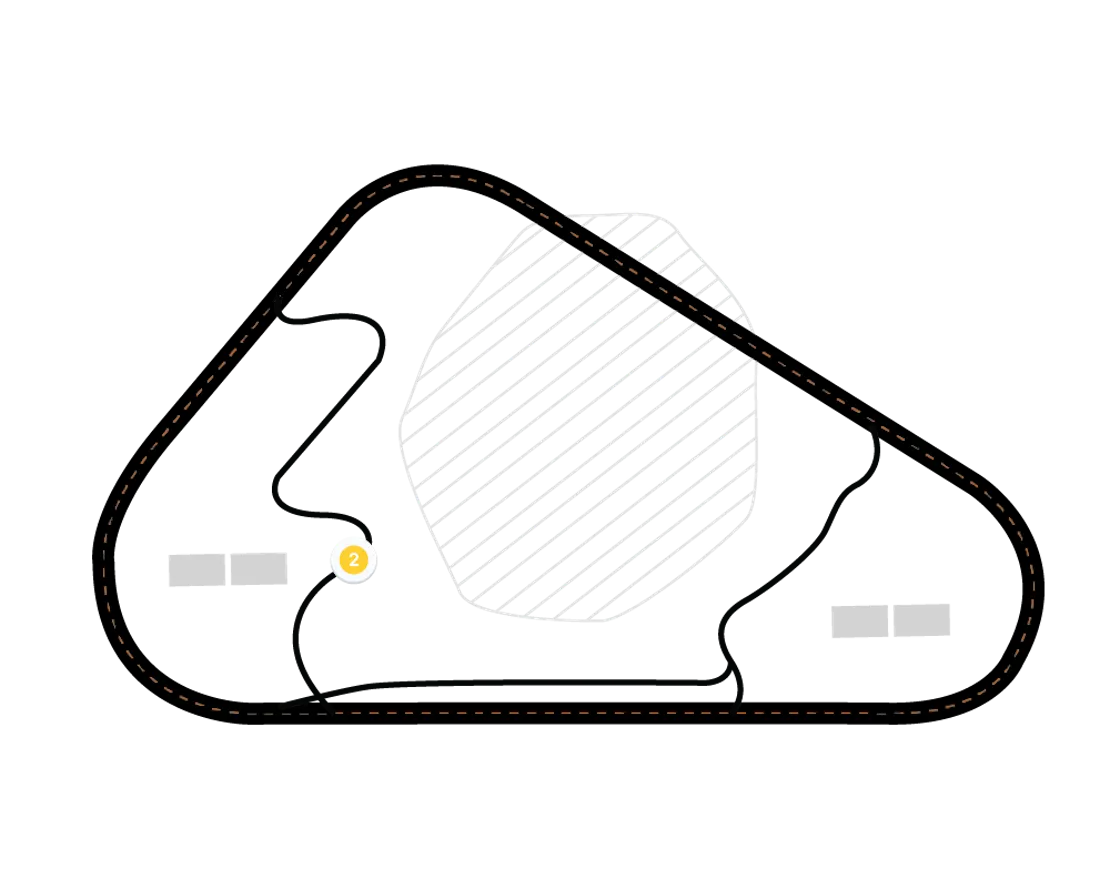 Fast Facts:
Location: Long Pond, Pennsylvania
Built in: 1971
Owned and operated by: Mattco Inc
Track Types: Triangle, Roval, Tri oval
Oval turns: 3; Turn 1 banked 14 degrees, turn 2 banked 9 degrees, turn 3 banked 6 degrees
Race lap record: 223.871 mph Juan Pablo Montoya with Penske Racing (IndyCar Series) 2014
Capacity 76,812
Major Races – Monster Energy NASCAR Cup Series: Pocono 400, Gander Outdoors 400 | NASCAR Xfinity Series: Pocono Green 250 | NASCAR Gander Outdoor Truck Series: Gander Outdoors 150 | IndyCar Series: ABC Supply 500
Pocono Raceway History
When racing kicked off at Pocono in 1971, the top billed races were USAC and CART IndyCar Series events.
This trend continued for nearly two decades before hitting an abrupt stop in 1989 when IndyCar racing ceased at Pocono.
More than two decades later IndyCar racing returned to Pocono and when it re-debuted in 2013 it was part of a new Triple Crown promotion. The idea behind the Triple Crown was that $1,000,000 would be awarded to any driver who could win the Indianapolis 500,MAVTV 500 and Pocono IndyCar 400 all in the same season.
On the NASCAR side of things, Richard Petty took home the very first Pocono 500 trophy on August 4, 1974. He would go on to repeat the feat just two years later. Bill Elliott, however, would go on to become the all-time winningest driver of the race with four total wins.
In 2006 Denny Hamlin would become the first driver ever to win both Pocono Cup Series races in the same year as winning Rookie of the Year honors.
Truck Series races debuted at the track for the first time in 2010 with Elliott Sadler coming out victorious. In its short history since, Kyle Busch has the early Pocono Truck Series lead with two trophies to his name.
2011 saw a big change in the track's Cup Series structure as NASCAR announced both of the superspeedway's races would be converted from 500 miles to 400. That same year marked the track's first resurfacing since 1995.
After seeing the success of bringing in Truck Series races in 2010, Pocono and NASCAR officially debuted Xfinity Series racing in 2016 with the Pocono Green 250. Kyle Larson was the race's first ever winner.
Shifting Like No Other
Because Pocono has such a unique configuration with differing straightaway lengths and turn angles, some drivers began experimenting with various new gear shifting techniques.
The first NASCAR driver to attempt a shifting down on the long straight was Mark Martin in 1991. His team's approach was to keep the car mostly in third gear throughout most of the race and turns but shift to fourth on the long front stretch.
The idea was to gain a more efficient RPM range that would help lower his car's output and keep his average track time down. His approach was so successful that other drivers quickly followed suit.
By 1993 everyone was shifting in this manner and Jerico transmissions were now a hot commodity used by every team that allowed easy gear shifting without needing to use the clutch.
The strategy, however, was not greeted graciously by all. Some drivers like Rusty Wallace and Terry Labonte criticized the move and micro-evolution of the sport that was developing from it.
Since its first use in 1991 the idea of shifting has gone through a gamut of debate and rule change. In 2005 NASCAR changed shifting rules to take away the effectiveness of shifting but then augmented the rulebook once more in 2011 and effectively rendered shifting at Pocono useful once more.
Pocono Solar Farm
We have yet another track idiosyncrasy to tell you about. This time it's in the form of an environmentally friendly "solar farm" that was built on the Pocono Raceway land in 2010.
Covering more than 25 acres of land and holding nearly 40,000 solar modules, the energy produced from the panels is enough to power the entire facility as well as 1,000 neighboring homes and buildings. In fact, after just four months in operation the farm eclipsed the prestigious one million kilowatt hour marker.
The goal for the system is to produce more than 72 million kilowatt hours by the year 2030. In relative carbon footprint terms, that would offset more than 3,100 metric tonnes of carbon dioxide per year.
Upon completion of the 3 megawatt solar photovoltaics system, Pocono Raceway became the world's largest solar-powered sports complex.