Elliott Sadler's career has had equal part success, fame, and popularity. Even as a teenager he had more than his fair share of victory with over 200 karting and Late Model car wins..
Now, at 43 years of age, Sadler is proud to be just one of 27 drivers who has won at all three of NASCAR's top levels.
He's also popular amongst fans as proven by his four separate Most Popular Driver awards in 2011 (Nationwide Series) and 2016, 2017, and 2018 (Xfinity Series).
But things weren't always smooth sailing for Sadler and in 1995, at the age of 20, he decided to buy his own stock car and race independently when no teams made any offers for his services despite his impressive track record.
It was a bold move that ended up paying off as he ultimately found sponsorship later that year.
The next 23 years have been a continuously expanding resume and in this article we'll take a closer look at Elliot Sadler's career history, highlights, stats, bio and more.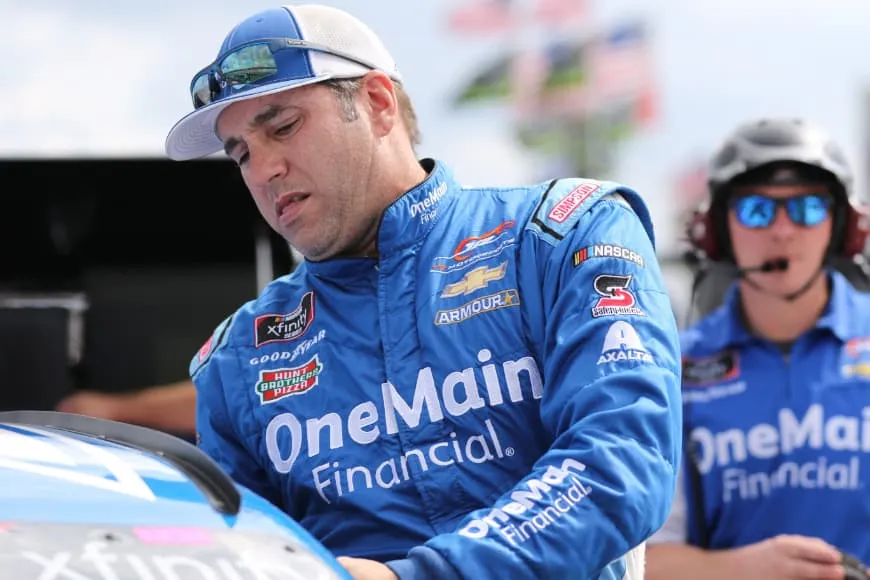 Fast Facts:
Full name: Elliott William Barnes Sadler
Born: April 30, 1975
Hometown: Emporia, Virginia
Height: 6'2"
His older brother Hermie Sadler also raced in NASCAR.
He and his wife Amanda have two children, Wyatt and Austyn.
1984 Virginia State go-karting champion
1992 North Carolina Gold Cup champion
Biggest Results:
2001 – Food City 500 at Bristol
2004 – Samsung / Radio Shack 500 at Texas Motor Speedway
2004 – Pop Secret 500 at California Speedway
2011, 2016, 2017, 2018 – Nationwide (Xfinity) Series Most Popular Driver
2017 – Xfinity Series season champion
Elliott SadlerBio
There are many highlights in Sadler's career that we can pinpoint and discuss but being voted Most Popular Driver four different times, an Xfinity Series record, is perhaps the most telling.
Fans and other drivers love Elliott Sadler. It's one thing to be a champion at every level you compete at, and it's another to be revered by fans and peers at the same time.
As someone who grew up excelling at practically every sport he tried, it's no wonder his journey into race car driving has taken him so far. He was a six-sport athlete in high school playing soccer, baseball, basketball, cross country, football and golf.
20 different schools offered Sadler a scholarship to play basketball and if not for a bad knee injury at the start of his freshman year, it is likely he would have had a successful college career at James Madison University in Virginia.
NASCAR Xfinity Series and Monster Energy NASCAR Cup Series
Sadler has been successful everywhere he's gone. He has 3 wins and 8 pole positions at the Cup Series level. That career has spanned 16 years and 438 races.
His Xfinity Series numbers are even more impressive with 13 wins, 18 poles, and 226 tp-10s in a historic 21 year span.
With his one Truck Series race win, he joins an elite group of NASCAR racers who have won at all three top levels.
First NASCAR Win
Sadler's first career win came just a month after his 22nd birthday in a NASCAR Busch Grand National Series race.
His first Cup Series win came in 2001 at the Food City 500 in Tennessee.
Somewhat surprisingly, and a bit backwards, he earned his first Truck Series win much later than the other two career firsts. It came in 2010 at the Pocono Mountains 125 in Pennsylvania.
Career-Best Season
2012 was by far Sadler's best statistical season at the Nationwide (now Xfinity) Series level.
He won four races and had 24 top-10s and fifteen top-5s. However, in a technical sense, 2017 will be deemed better in the history books considering he won the Xfinity Series season championship.
In Cup Series competition Sadler's best year was 2004 when he had two race wins, 8 top-5's, and 14 top-10 results.
That season he took home more than $6.2 Million in race earnings from Winston Cup Series races alone.