AJ Allmendinger is an American race car driver who has been competing in NASCAR since 2006 but his roots in racing go much further back than that.
Starting with BMX racing at the incredibly young age of five, Allmendinger has been winning races in a wide range of different vehicles and competitions ever since.
In addition to racing, Allmendinger is a racing analyst on NBC and was married to Canadian model and 2003 Miss Molson Indy Canada Lynne Kushnirenko.
Keep reading for more information on AJ Allmendinger including career highlights and a detailed biography.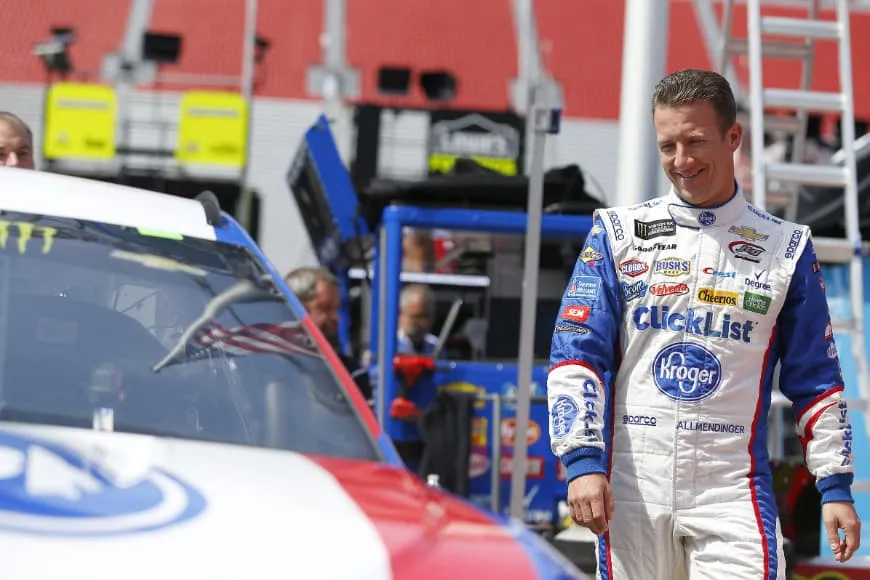 Fast Facts:
Full name: Anthony James Allmendinger
Nickname: AJ
Hometown: Born in Santa Clara, California. Raised in Los Gatos, California.
Date of birth: December 16, 1981
Height: 5'6"
Married to: Lynne Kushnirenko (Divorced in 2012)
Biggest Results:
2012 Rolex 24 at Daytona
2014 Cheez-It 355 at The Glen
2008, 2014, 2018 Monster Energy Open
2003 Champ Car Atlantic champion
2002 Barber Dodge Pro Series champion
Awarded the 2004 Champ Car World Series Rookie of the Year Award
2-time International Kart Federation
AJ Allmendinger Bio
Given that AJ Allmendinger was racing bikes as young as age five, it's safe to say speed was in his blood from the beginning.
Growing up in Los Gatos, California, Allmendinger got his first taste of the winner's circle while racing in the International Kart Federation where he won the Grand National Championships twice. In 2002 he competed in the New Zealand Formula Ford Championship and went on to win the Barber Dodge Pro Series championship the same year.
Champ Car Series and NASCAR
In 2004 Allmendinger started racing in the Champ Car World Series and won the Roshfrans Rookie of the Year Award thanks to a string of six top-six finishes he scored near the end of the season.
In 2006 he switched from Carl Russo's RuSport team and began driving for Forsythe Championship Racing where he replaced Mario Dominguez. The same year Allmendinger got engaged to Canadian model Lynne Kushnirenko.
In his first Champ Car race for Forsythe Allmendinger won the Grand Prix of Portland and went on to win two more consecutive races that included the Grand Prix of Cleveland and the Grand Prix of Toronto.
Allmendinger won two more races that season which earned him a spot on Redbull's NASCAR team.
Allmendinger made his NASCAR debut in 2006, competing in the Craftsman Truck Series at the New Hampshire International Speedway. He also raced that year at the Talladega Superspeedway, where he finished fifth, and attempted to compete in the Nextel Cup Series and the race at the Texas Motor Speedway but failed to qualify for both.
First NASCAR Win
Despite a less-than-stellar first year in NASCAR, Red Bull chose Allmendinger to drive for them again in 2007. That year he made the transition to stock cars but failed to qualify for a string of races, including the 2008 Daytona 500. Red Bull temporarily replaced Allmendinger with more experienced driver Mike Skinner but Allmendinger returned a few months later and won the Sprint Showdown at Lowes Motor Speedway.
Despite some success, Red Bull let Allmendinger go that year. He then joined Michael Waltrip Racing and eventually made his Daytona 500 debut in 2008 where he finished third. It was the fourth-best Daytona 500 debut in history.
Career-Best Season
Also in 2008, Allmendinger was arrested for drunk driving and put on probation by NASCAR. However, over the next three years he would go on to have some of the best and most consistent results of his career. In 2011 he had his career-best year with ten top-ten finishes and an average finish of 16h.
In 2012 Allmendinger was part of the Michael Shank Racing team that won the Rolex 24. He also got divorced from his wife the same year. In 2014 at Watkins Glen he scored his first ever Sprint Cup Series win after 213 starts. In 2016 Allmendinger finished second to Kyle Busch in the STP 500 by just 1.547 seconds.
In 2017 Allmendinger tied his best-ever performance at the Daytona 500 with another third-place finish and also scored a top-ten finish there one year later in 2018.
Also in 2018, Allmendinger announced plans to become an analyst for NBC Sports' racing coverage and also became a contributor to NBCSN's NASCAR America.