For some people, going to Daytona International Speedway is like a pilgrimage to the holy land of stock car racing.
Built in 1959 and most famous for hosting the legendary Daytona 500, the speedway is incredibly versatile and home to many other sporting and non-sporting events.
Along with its well-known NASCAR tri-oval track, the venue also includes two infield road courses, a supercross dirt track, a flat track, a kart track and a newly refurbished short track for lower-tier NASCAR races.
As if that wasn't enough, the complex even has a massive body of water in the infield called Lake Lloyd that hosts powerboating competitions.
In its inaugural year Daytona hosted several high schools' football games for a full season. About a decade and a half later they extended that idea into collegiate level football when the local Bethune-Cookman Wildcats played games there in 1974 and 1975. And, as recently as 2014, track owner Joie Chitwood wrestled with the idea of having more games played on site.
Located in beautiful Daytona Beach, Florida, and lauded for its banked track that really enhances the spectator experience, Daytona Speedway has never had a problem attracting spectators.
For all the love and praise the track receives, however, it also carries with it an unfortunately lengthy list of tragedies seen over the decades. Daytona International Speedway has seen 40 fatalities over the past sixty years including what many NASCAR fans consider the sport's most notable of all; the tragic death of Dale Earnhardt on the last lap of the Daytona 500 in 2001, also sometimes referred to as NASCAR's Black Sunday.
This article will take a closer look at the past, present and potential future of Daytona International Speedway. We'll also cover the track's key facts including length, capacity and lots more.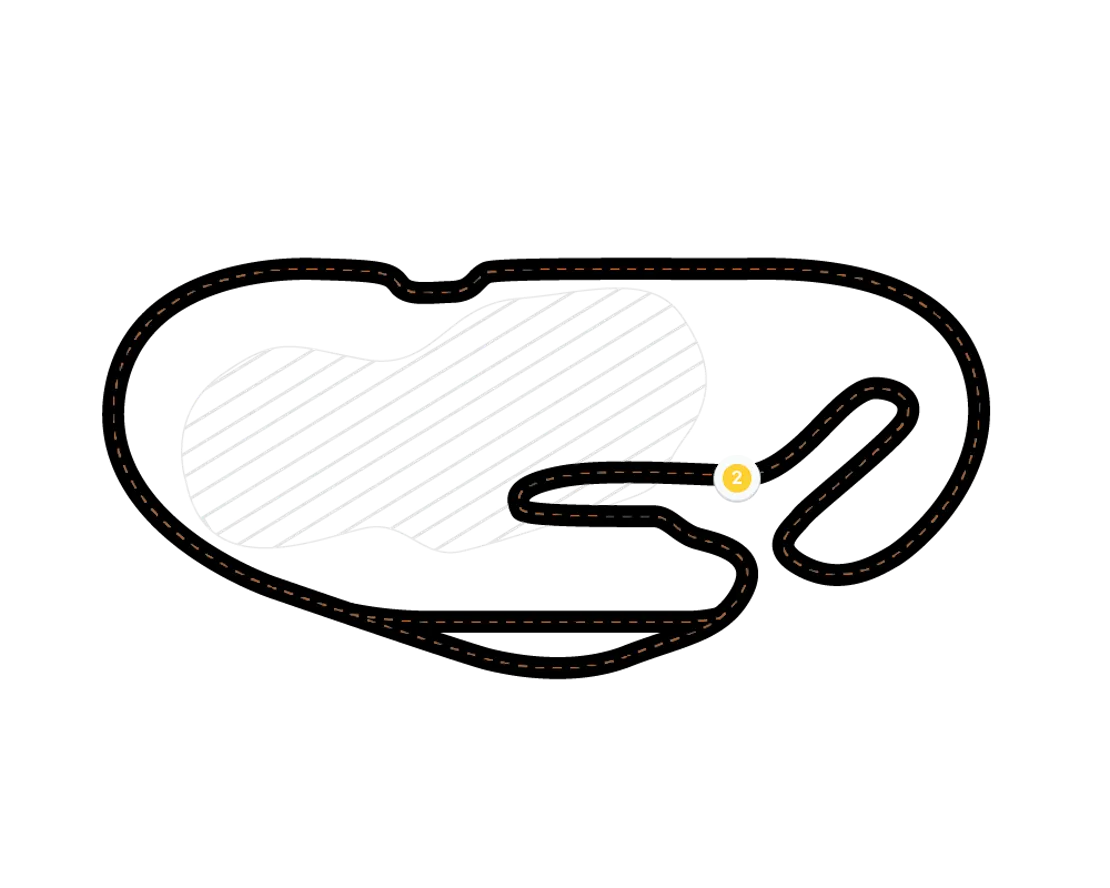 Fast Facts:
Location: Daytona Beach, Florida
Built in: 1959
Owned by: International Speedway Corporation
Track Types: NASCAR Tri-Oval, Sports Car Course, Motorcycle course, Dirt Flat Track, Short Oval
Main Track Type: NASCAR Tri-Oval (asphalt)
Track length: 2.5 miles (4.02 km)
Turns: 4, banked 31 degrees
Tri-Oval: banked 18 degrees
Backstretch: banked 2 degrees
Race lap record: 0:40.364 Colin Braun, Michael Shank Racing (Qualifying)
Capacity: 101,500
Monster Energy NASCAR Cup Series: Daytona 500, Coke Zero Sugar 400, Advance Auto Parts Clash, Gander RV Duel
NASCAR Xfinity Series: NASCAR Racing Experience 300, Coca-Cola Firecracker 250
NASCAR Gander Outdoors Truck Series: NextEra Energy 250
IMSA WeatherTech SportsCar Championship: Rolex 24 at Daytona
ARCA Racing Series: Lucas Oil Complete Engine Treatment 200
AMA Daytona SportBike: Daytona 200
AMA Motocross: Daytona Supercross by Honda
Daytona International Speedway History
Even though ground was officially broken on the site in 1957, the idea and inception for how the track should look started much earlier.
In 1953 William France, Sr., one of the original founders of NASCAR, had been thinking about a new facility to replace (or compete with) the Daytona Beach Road Course. His main priority was to maximize speed and spectator visibility via the use of as much banking as possible.
To help him in his pursuits he met with local engineer Charles Moneypenny to discuss his plans in detail. Together the two men developed a plan and got approval from the Daytona Beach city council. The alliance became known as the Daytona Beach Speedway Authority.
During construction of the facility and the high banking track, more than a million square yards of soil were excavated and due to the area's high water table, the infield flooded with water. That now infamous body of water was name Lake Lloyd in honor of one of the six founding members of the Daytona Beach Speedway Authority. More than just pleasing to the eye, the lake serves as a base for speed boating events and competitions.
As one of the earliest venues to use such high banking, the engineers and construction crews had to be very creative and technical with each element of the multi-purpose sports complex. They would connect heavy bulldozers at the top of the bank to paving equipment below in such a manner that prevented any slipping or rolling of the machinery.
Once the track was finally ready for racing, the gates officially opened to 42,000 spectators at the first ever Daytona 500. As if foreshadowing the success to come, the race had one of the most spectacular finishes in racing history as Lee Petty defeated Johnny Beauchamp in a finish that was so close it took three days for officials to determine a winner.
If we skip forward 60 years and check the present day Daytona 500 stat sheet, we'll see that the event's all-time winningest driver is Lee Petty's son Richard who has popped champagne on top of the podium seven different times. The apple as they say, doesn't fall far from the tree.
Thrilling from the moment it opened, the speedway has never failed to live up to expectations. From the first race in 1959 it was the fastest venue in all stock car racing and they proudly boasted that fact for a decade until Talladega came along.
Daytona Video Game
Sega's 1994 video game Daytona USA, perhaps the most successful and popular racing video game ever made, is based on Daytona International Speedway.
Since then numerous gaming companies have built and designed virtual driving games based on the venue and have utilized special equipment to scan the premises for precise detailing for the games.
Playstation 3 features the game in Gran Turismo 5 and 6 while Xbox features the track in Forza Motorsport 6 and 7.
Fun For Fans
A huge part of the venue's allure, aside from the highspeed vehicular intensity, comes from their amenities and unique viewing experiences.
An area called the UNOH Fanzone, sponsored by the University of Northwestern Ohio since 2016, was built in 2004 and gives fans access to the track's infield with a "fandeck" that allows viewing of the pit crews in the garage from above through a glass ceiling.
Fans young and old can also pass memorabilia through windows for autographs in the fanzone.
Another fun feature for fans is a tunnel built beneath turn number 1 that allows both vehicles and pedestrians to pass through.
The architecture and design was a big challenge for engineers as the location passes beneath the Lake Lloyd bed of water. Upon completion the area received an award for engineering excellence from the Design-Build Institute of America and the work has inspired other speedways such as Las Vegas Motor Speedway and Kansas Speedway to attempt equally ambitious upgrades to their respective fanzones.
After 2015 a huge stretch of the concourse was upgraded thanks to a $400 million redesign known as the Daytona Rising Project. The project includes increased seating sizes, sixty added luxury boxes, improved viewing as well as doubling the number of restrooms and tripling of the number of concession stands.
Before the restructuring in 2015, the backstretch of the track was famous for its Budweiser Party Porch which had amazing viewing and stellar atmosphere. It also held the largest sign in all of motorsports at 227' high by 33' wide.