'Dega, as many fans endearingly like to call Talladega Superspeedway, is the longest track of its kind in all of NASCAR at 2.66 miles. And because it's such a massive track it allows for the cars to really get their motors chugging.
In fact, Rusty Wallace has an unofficial NASCAR speed record at Talladega when he got up to 216.309 mph. The record came on a radio test drive rather than a sanctioned NASCAR event so technically speaking the claim-to-fame still remains with previous record holder Bill Elliott.
From legendary races to feature spots in major Hollywood movies, Talladega truly is one of the most iconic race tracks in the world.
In this article we'll explain everything you need to know about Talladega Superspeedway including the key races, history and important stats and facts.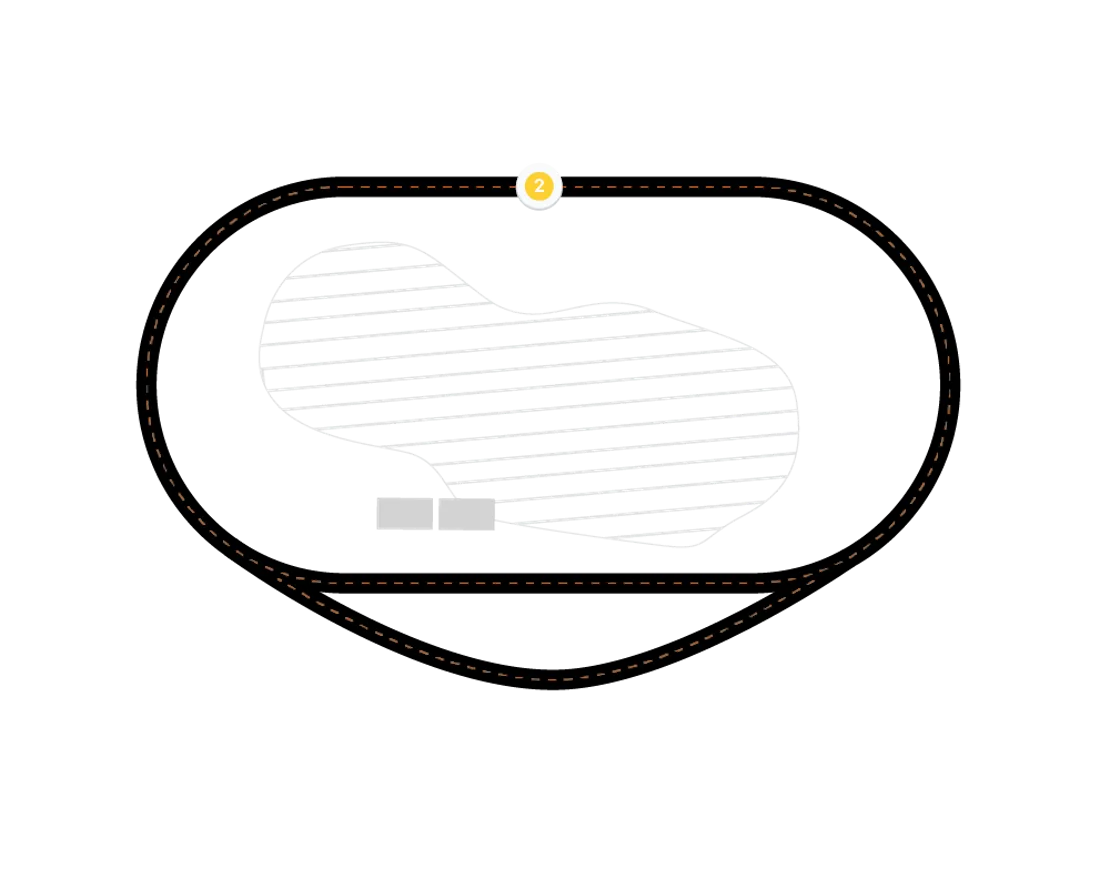 Key NASCAR Races at Talladega
Every season Talladega hosts two big NASCAR weekends adding up to a total of two Cup Series races and one each of Xfinity Series, Truck Series, and ARCA Racing Series competitions.
The first big weekend in April showcases all three NASCAR divisions.
The General Tire 200 ARCA Racing Series race will kick things off on the Friday night and Saturday afternoon will see both the Xfinity Series MoneyLion 300 and qualifying laps for Sunday's main draw, the Monster Energy NASCAR Cup Series race the Geico 500.
The second weekend in October has the newly renamed Sugarland 250 Truck Series race and the track's second Cup Series race of the year, the 1000Bulbs.com 500 which is a key race in the Cup Series playoffs.
The 1000Bulbs.com 500 is infamous for being ultra competitive and averages more than 40 lead changes per race. A main reason for the consistent high congestion is due to rule change for safety made to reduce cars' maximum speeds.
Because the track is so fast, all vehicles in both of Talladega's Cup Series races are required to use to restrictor plates.
Talladega seems to bring the best out of everyone, especially young drivers looking for their first career win. All told, 12 different drivers have won their first ever race at Talladega. For half of them it was their only Cup Series win ever.
But when it comes to track dominance, the Earnhardt family owns all the crowns. Dale Earnhardt Sr. has the most wins (10), top-5s (23), top-10s (27), and most laps led (1377) ever. His son, Dale Earnhardt Jr, holds the record of most consecutive wins with four from 2001-2004.
Fast Facts:
Location: Lincoln, Alabama
Built in: 1969
Owned and operated by: International Speedway Corporation.
Track Types: Tri-oval 2.66 miles (4.281 km)
Oval turns: 4.
Turn 1 & 2 banked 33 degrees; Turn 3 banked 32.4 degrees; Turn 4 banked 32.5 degrees; Tri-oval banked 16.5 degrees
Backstretch banked 3 degrees
Race lap record: 0:44.998 seconds Bill Elliott with Melling Racing (MENCS) 1987
Capacity 80,000
Major Races – Monster Energy NASCAR Cup Series: Geico 500, 1000Bulbs.com 500 | Xfinity Series: MoneyLion 300 | Truck Series: Fr8 Auctions 250 | ARCA Racing Series: General Tire 200
Talladega Superspeedway History
Bill France, Sr., most famously known as the founder of NASCAR, is also Talladega's original founder and owner.
Initially his intention was to build a superspeedway in North Carolina that would be larger than Daytona. When that plan fell through he tried Atlanta and Birmingham and anything else he could think of along Interstate 20.
As destiny would have it, he ultimately found and chose an old air field in Lincoln Alabama. And the rest, as they say, is history.
For the track's first 20 years it was called the Alabama International Motor Speedway which doesn't quite have the same ring to it as Talladega Superspeedway
While famous for being a mecca for NASCAR racing, the track also had a large 4-mile infield road course that hosted events until 1983. In fact, during the 70s Talladega was the venue for six IMSA GT Racing Championships. .
In 1990 Bill France, Jr. opened the International Motorsports Hall of Fame in a building next to the track.
The Course is Cursed
In its 50 years of existence, Talladega has had its fair share of the ominous, mysterious, unexplainable, and downright spooky occurrences. It's actually gotten to the point where many people believe the track is cursed.
The stories about the origin of the curse are as varied as the inexplicable events themselves.
Some believe the "bad juju" stems from the ghost of a Native American tribal chief who was killed in a horse racing event in a nearby valley several decades prior. Others postulate that Talladega was constructed upon an ancient Indian burial ground.
Stories about voodoo vexing the track are not uncommon and neither are conjurings of ghostly presences. During the Talladega 500 in 1973, not long after a fatal crash killed Rookie of the Year Larry Smith, fellow driver Bobby Isaac suddenly stopped his car, exited the vehicle, and declared that he was retiring and done with driving.
He said that he heard a voice urging him to quit and that he felt the only thing to do was follow through with its guidance.
Maybe more people should have tried listening to the cryptic voices of the Talladega spirits. Even those who weren't behind the wheel of a stock car have come into danger, repeatedly.
Danger at Talladega
Several crewman have suffered catastrophic, if not fatal, injuries in the pits at Talladega.
In 1975 Richard Petty's brother-in-law Randy Owens died from an exploded air tank in the pits. One year before that Team Penske crewman Don Miller required amputation to a leg that became pinned between a wall and a car that was accidentally driven into the pit lane.
And that's just the tip of the iceberg.
Driver Bobby Allison, whose high speed crash at Talladega in 1987 led officials to introduce the restrictor plate rule, suffered yet another horrific misfortune just six years later when his son Davey Allison, a skilled aircraft pilot, crashed his newly purchased helicopter while going for a testrun in Talladega's infield.
The curse, it seems, applies even when it's not a race weekend.
In 1997, the president of the Automobile Racing Club of America, Bob Loga, died in car accident while exiting Talladega's parking lot. 20 years earlier, the mother of driver David Sisco was killed in the infield when she was struck by the side-view mirror of a passing pickup truck.
Stuff like this just doesn't happen at other speedways. Frankly, it doesn't really happen anywhere.
For a darkly humorous cinematic breakdown of Talladega's mysterious history, check out Terry Gilliam's 2010 short film The Legend of Hallowdega.
Captured On The Big Screen
The famous Talladega asphalt has had more than just 15 minutes of Hollywood fame.
The most notable would have to be the 2006 comedy blockbuster Talladega Nights: The Ballad of Ricky Bobby starring Will Ferrell, John C. Reilly and Sasha Baron Cohen.
The movie featured several cameos from NASCAR racing alumni such as Jamie McMurray, Dale Earnhardt Jr, Mike Joy, Larry McReynolds, Darrell Waltrip, Bill Weber, Wally Dallenbach Jr., and Benny Parsons.
Fans of racecar films from an earlier era of filmmaking likely have fond, albeit unfortunate, memories of Burt Reynolds as Stroker Ace. Sadly for Reynolds, the film was a critical flop and regrettably sunk his career.