For Dale Earnhardt Jr., being the son of one of racing's biggest legends of all time didn't automatically mean he'd also be a successful driver.
The junior Earnhardt worked his way up through the ranks just like any other driver, proving himself worthy of competing against the sport's best.
Dale Jr. was part of a family dynasty in the racing world was among the hardest hit by the devastating loss of his father in a fatal crash in the Daytona 500.
Now a legend in his own right, Junior is an icon of the sport in the same way his father and grandfather were. In this article, we'll take a closer look at Dale Earnhardt's story including his bio, career highlights, stats and lots more.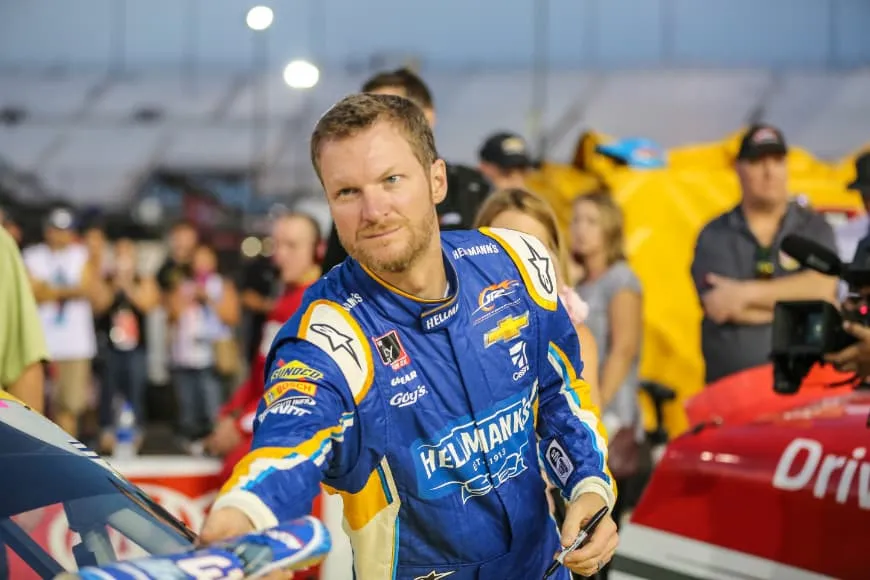 Fast Facts:
Given name: Ralph Dale Earnhardt Jr.
Nicknames: Junior, Little E, Junebug, Pied Piper of Daytona
Born: October 10, 1974
Hometown: Kannapolis, NC
Height 6'0"
Has been featured on MTV's Cribs and True Life, I'm a Racecar Driver
Has a personal party zone called Club E in his basement on his dad's property
Voted most popular driver by fans for 15 consecutive seasons (2003-17)
Dale Earnhardt Jr. has an estimated net worth of over $400 Million
Became the only ever third-generation NASCAR champion (grandfather Ralph Earnhardt was 1956 NASCAR Sportsman champion and father Dale waon seve Cup championships)
Biggest Results:
1998-99 Busch Series Champion
2004 & 2014 – Daytona 500 winner
5-time Xfinity Series champion 2004, 2005, 2014, 2017, 2018
Four straight wins at Talladega (2001-2003)
First rookie to win The Winston (2000)
Combined 50 wins in Cup Series and Xfinity Series
Dale Earnhardt Jr. Bio
Unfortunately for NASCAR fans, their unanimous favorite driver is nearing the end of his career and by 2017 was already officially semi-retired from racing. The good news, however, is that he plans to join NBC Sports Group to be one of the lead commentators for a majority of races.
Junior's success is matched only by his popularity. To be truly revered and respected by one's peers is an indication of a competitor who brings integrity and passion to the sport and makes everyone around him better at the same time.
Add to that his innate driving expertise plus a cunning entrepreneurial savvy and you have one of sports most successful businessmen the racing world has ever seen.
NASCAR Xfinity Series and Monster Energy NASCAR Cup Series
In 22 years of Xfinity competition, Dale Earnhardt Jr. entered 140 races and finished in the top-10 92 times. He won pole position in ten of those races and popped champagne on the podium 24 separate times.
On the Cup Series side of things, we're looking at 631 races over 19 years. In those races, he took home 26 first place finishes, 15 poles, and 260 top-10s.
These are truly remarkable numbers.
First NASCAR Win
Having 50 combined wins at the sport's highest level, you have to think that Junior's first ever win still holds a special place in his heart.
For that, we need to go back more than two decades, to the 1998 Coca-Cola 300 at Texas Motor Speedway. Not only did he go on to win the Busch Series championship that year, he repeated the feat the next year as well. Quite a debut into the sport's top level.
His first career Cup Series win also came at Texas Motor Speedway. It was in 2000 at the DirecTV 500 and it just so happened to break a record previously held by his father for fewest starts at the Cup Series level before taking home a win.
Career-Best Season
2004 was Junior's best career season as he won six Cup Series races and earned nearly $9 Million.
That season also holds a special place in NASCAR history that will be remembered forever. On February 15, exactly six years since his father won his only Daytona 500, Junior took home the checkered flag.
It was a bittersweet moment as three years earlier, on the same course, Dale Earnhardt Sr. died in a horrific crash.
Junior would take home a second Daytona 500 win a decade later in 2014.