The Best NFL Tailgates
Forget the Super Bowl, the rankings below separate the best from the rest when it comes to the NFL's top tailgates.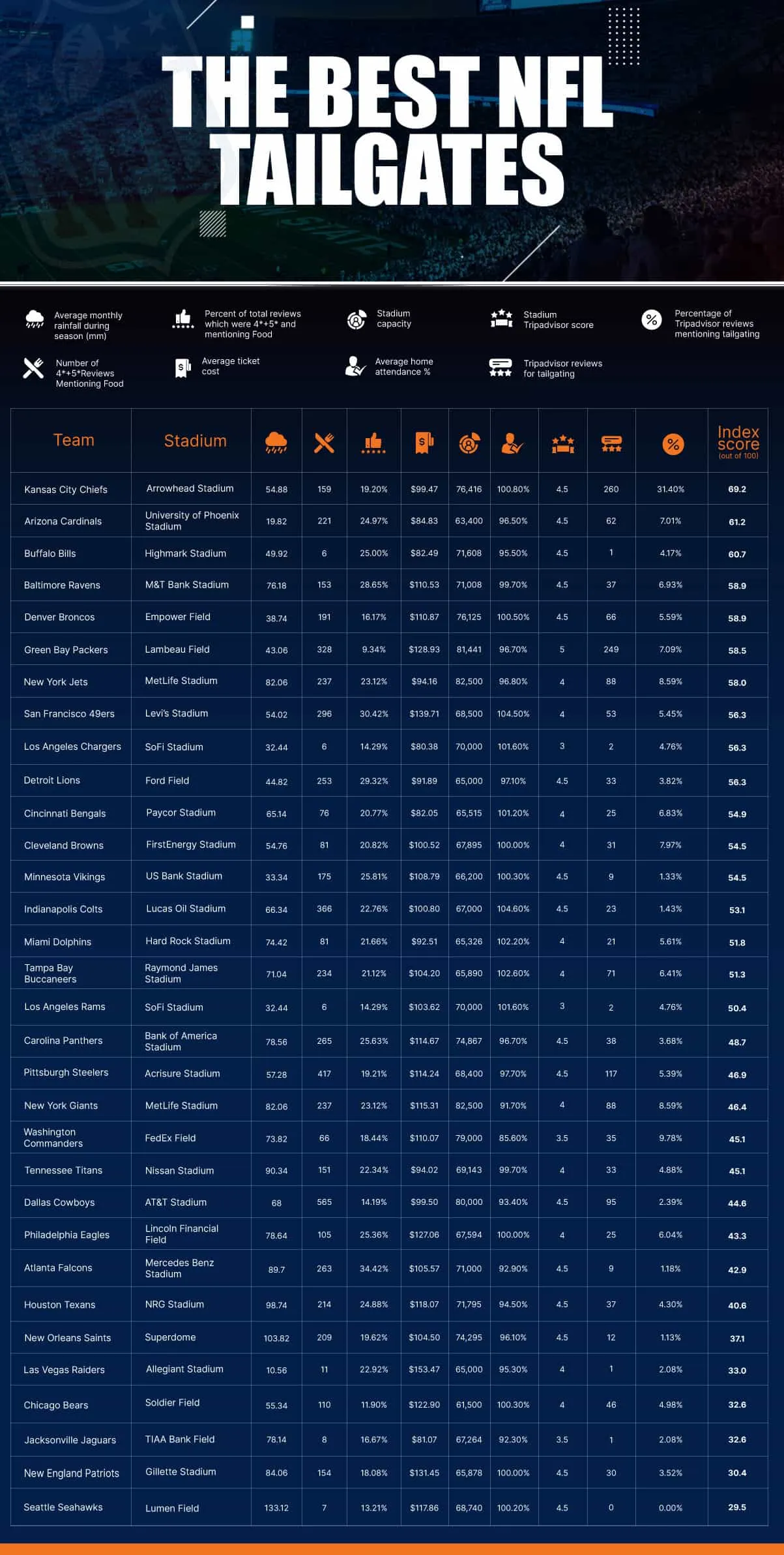 1. Kansas City Chiefs
Congratulations Chiefs Kingdom, you're officially the top tailgaters in the NFL. Yes, according to our research, the asphalt around Arrowhead Park is home to the league's best parking lot parties, a feast of football that's awash with red shirts, beer, and some of the best BBQ on the planet. The party here gets started around dawn and continues well after the game is actually finished. But even that's not long enough to enjoy the sheer scale of festivities which features everything from live music in elaborate teepees to chili cook-offs.
WSN's research saw Chiefs revelers score highly when it came to metrics like home attendance and Tripadvisor reviews on its way to scoring an impressive 69.2 (out of 100) on our tailgating index. It's no wonder then that pre-gaming at Arrowhead has become something of a bucket list item, a sporting spectacle that every football fan should experience at least once.
2. Arizona Cardinals
Cards fans are lucky enough to spend their Sundays in one of the league's best facilities. But the sumptuous surroundings of the State Farm Stadium aren't the only attraction on game days. That's because Arizona was the surprise runner-up in our ranking of gridiron's greatest tailgating experiences.
Though they may lack the iconic traditions and passionate fan bases of other franchises, the pre-game festivities in Glendale scored highly on our index thanks to affordable ticket prices and a comfortable climate, which means during football season, fans can soak in some sunshine while the rest of the league shivers in sub-zero temperatures.
3. Buffalo Bills
Home of the legendary "Bills Mafia," the hardcore fans who support their team through thick and thin, Buffalo's tailgating has to be seen to be believed. Home to table slamming (when fans literally slam each other through folding tables), the Kummelweck (a local kind of kaiser bun) and the now legendary figure of Pinto Ron (a die-hard superfan whose been establishing tailgating traditions since the 1980s) - Highmark Stadium is the place to be for the most boisterous pre-game atmosphere in America.
Sadly WSN's statisticians didn't have a metric for cooking pizzas in filing cabinets or dousing partygoers in condiments (both of which you're likely to find at every Bills game). But they did rank Buffalo tailgaters highly for affordable ticket prices, attendance and average TripAdvisor scores.
4. Baltimore Ravens
Scoring 58.9 on our index, the Baltimore Ravens tailgate is officially one of the best in the entire league. Just a short stroll from the inner harbor, M&T Bank stadium is located in the heart of downtown Baltimore. But the team's central location doesn't take away from the tailgating experience, if anything it adds to it.
Here fans can also enjoy some of the best food in the league, but we're not talking about your usual football fare like hot dogs or nachos. Instead, according to the huge number of five-star reviews that mention the incredible eats, tailgaters can chow down on everything from crab cakes to oysters as part of the pre-game fun. Yum!
5. Denver Broncos
What can be better than tailgating at 5,280 feet above sea level? Mile High City isn't just home to some of the league's best tailgating, it's home to some of its highest. But the altitude isn't all that's on offer here in Colorado. With more than 150 microbreweries in Denver alone, the pre-game refreshments are pretty great too.
6. Green Bay Packers
Those cheeseheads sure know how to tailgate! No matter how frigid the game-day temperatures get in Wisconsin (Green Bay was home to the infamous Ice Bowl where players took the field at 13 below zero) the welcome is always warm from tailgaters who set up their stall in the shadow of Lambeau Field.
Known for their title-winning teams, Green Bay can also lay claim to one of the NFL's best tailgating experiences. According to WSN's research, the Packers top the charts in terms of Tripadvisor reviews with more five-star accolades than any other franchise.
7. New York Jets
Jets fans haven't seen their team lift the Vince Lombardi trophy since 1969. But even though their on-field fortunes show no sign of improving anytime soon, the Gang Green can at least lay claim to one of the NFL's best tailgate experiences.
It's the food in New York that really elevates the experience - after all where else can you enjoy a whole lobster before kickoff? But perhaps the most interesting thing about the pre-game experience at Jets football is the weather. At 82.06mm, MetLife Stadium has the highest amount of precipitation of anywhere in our top 10, not that these tailgaters will let that rain on their parade.
8. San Francisco 49ers
One of football's greatest-ever dynasties, the Niners trophy cabinet is groaning under the weight of the accomplishments they collected during their heyday. But to their list of achievements, these Californian giants can now add another accolade - a coveted spot on our countdown of the NFL's best tailgates.
9. Los Angeles Chargers
The food, the beer, the crazy traditions - there are many things that make tailgating great. But above all else, the best pre-game festivities bring fans together. And nowhere is this more true than at Sofi Stadium, the new home for the long-suffering Chargers. Sure the California climate and those West Coast vibes also help to make this a great game-day experience, but after years stuck in the San Diego suburbs Bolts, fans deserve something to cheer about.
10. Detroit Lions
Detroit have been so bad for so long that you'd forgive the Lions faithful for staying at home on game day. And yet thousands of fans in Michigan make every Sunday fun day thanks to a raucous tailgate that shuts down the streets around Ford Field.
For those in the know, Brush Street is the place to go. Here Coney Dogs and cold brews go hand-in-hand, so it's perhaps no wonder that the Lions were one of the best-performing teams on our ranking for game-day food reviews.