The Current Online Sports Betting Situation in Missouri
Missouri is a great place to be if you love to gamble.
Current gambling laws in Missouri permit a state lottery, 13 land-based casinos, bingo, and riverboat gambling. While they offer a variety of table games, neither the casinos nor the riverboats are able to operate a sportsbook because sports betting is currently illegal in Missouri.
However, things are changing in Missouri and all over the US following an absolutely game-changing Supreme Court decision in May 2018. The decision overturned a 26-year-old federal ban on sports gambling in all states other than Nevada.
The original law called the Professional and Amateur Sports Protection Act (PASPA), was challenged by the state of New Jersey in hopes of rejuvenating it's once-thriving Atlantic City gambling scene.
New Jersey won the lawsuit and was one of the first states to introduce legal sports betting.
With PASPA struck down, other states, including Missouri, are in various stages of legalizing it too.
Missouri currently has three sports betting bills on the table in the House, while three more currently in the Senate. The bills, if passed, would legalize sports betting in riverboat casinos and online.
While not exactly leading the charge, Missouri is miles ahead of most states. Keep reading for a detailed look at the state's legislative plans and some of the buzz we're hearing from state lawmakers and politicians.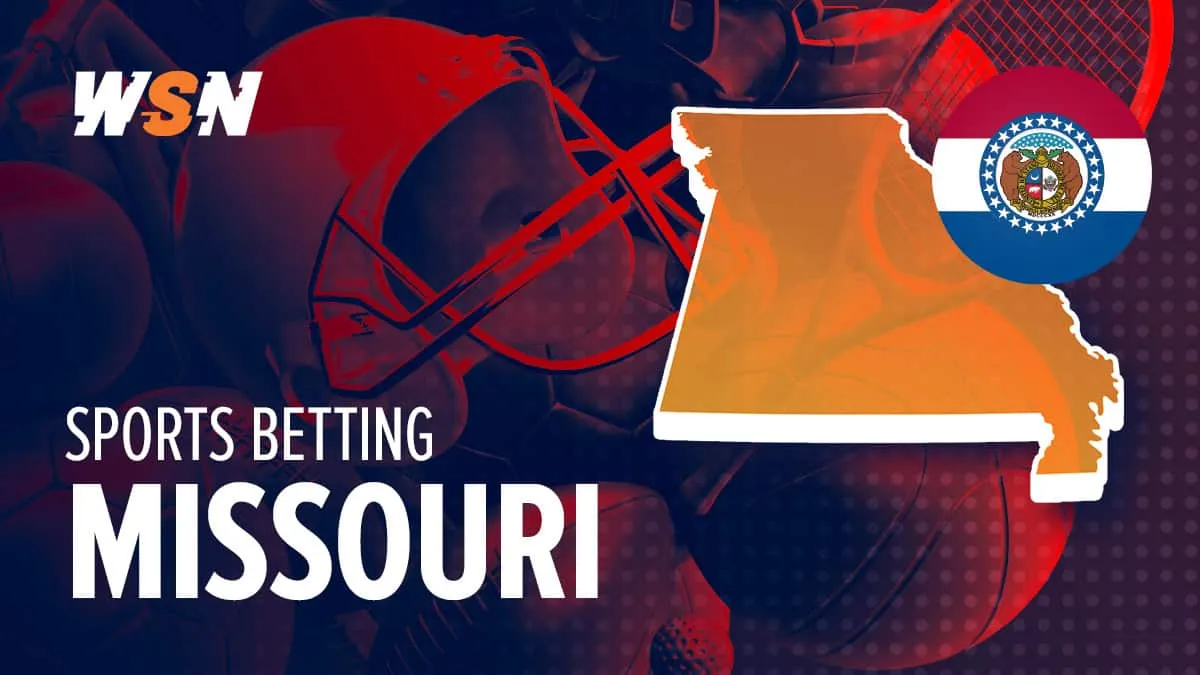 What is the Future of Online Sports Betting in Missouri?
We believe Missouri's future includes legal sports betting and these are the biggest clues we've found to support that prediction:
Significant tax revenue that will be used to fund educational programs.
A population that loves sports and gambling
Thriving casino and riverboat gambling industry already operating.
Sports betting bills in various stages of development.
Plans to discuss the issue in the House and Senate in 2019.
Sen. Denny Hoskins, R-Warrensburg, has said that a legal sports gambling industry in Missouri could generate $18 million to $40 million in revenue for the state. Casino industry representatives, meanwhile, have said it would add $60 million to annual casino revenue in Missouri. Those are numbers that are hard for anyone to ignore.
In Missouri, all money that's generated for the state by the casino industry must be spent on educational programs and the same will almost certainly be true for the tax revenue from sports betting.
Rep. Dean Plocher, R-Des Peres, has also voiced a positive attitude towards regulating an activity that has been happening under the table in Missouri.
"Let's be honest, the Supreme Court let the cat out of the bag on that one," Plocher said regarding legal sports betting. "There might as well be some continuity to it in how it's regulated and enforced."

"I certainly anticipate it being out there for discussion before the House and the Senate," Plocher continued.

Governor Mike Parson hasn't spoken out publicly on the matter but a spokesperson said that he is not opposed to bringing legal betting to his state.
Key questions to iron out include whether there will be an integrity fee paid to nearby pro sports leagues including the St. Louis Cardinals and Kansas City Royals to prevent tampering, as well as who would oversee the regulation of this new industry.
The Missouri Gaming Commission (MGC) who currently oversee the handling and taxation of the state's 13 land-based casinos is the obvious choice.
2019 is going to be big for Missouri and we expect to see sports gambling bills introduced and hopefully voted on. Best case? The Show-Me State starts accepting legal bets online and at riverboat casinos before 2020.
The History of Online Sports Betting in Missouri
Sports gambling has always been illegal in Missouri, despite the fact that other types of gambling are legal.
If you rewind all the way back to the 1800s, there was a thriving riverboat gambling industry. That lasted until the end of the century and what followed was a very long period with no legal gambling to speak of in Missouri.
Pari-mutuel betting on horses was legal but with no racetracks in the state, wagering was only available at special events that included races.
Fast forward to 1980 and Missouri was legalizing bingo and raffles for charitable purposes. In 1986 the state introduced its first legal lottery. These would turn out to be the first steps in the long march of gambling progress in the state.
In 1992, the same year the federal government passed PASPA and banned sports betting, Missouri passed a law that made riverboat gambling legal. When the law was first passed, riverboat casinos had to be moving. Safety concerns caused lawmakers to rethink that approach and now all 16 casinos in the state are permanently docked.
The original laws included a maximum $500 loss limit for each gambler but that was canned in a 2008 referendum that also increased the taxes paid by casinos to the state.
The riverboat casinos already operating are going to be a key element in how legal sports betting is rolled out in Missouri in the months or years to come.
Which Online Sports Betting Sites are Legal in Missouri?
There are no legal sports betting sites in Missouri, yet. The good news is that the bills already in development do include an online sports betting component.
That means that when legal betting does arrive, you'll be able to bet on sports online and mobile in Missouri.
When that happens, check back on this page for reviews and special bonuses for the best Missouri online sportsbooks and sports betting sites.
What Sports Can You Bet on Online in Missouri?
As of now, there are no sports you can bet on legally online. However, if sports betting does become legalized in the state of Missouri, it'll bring with it a whole slate of professional and amateur sports to wager on.
Missouri is home to many popular and vehemently supported sports franchises. With Kansas City hosting the revamped Chiefs and the 2015 MLB World Series-winning Royals, plus St. Louis boasting the Blues and the 2011 World Series Champion Cardinals, there is a vast history of sports success in the Show-Me state.
If we do see legalized sports gambling in Missouri people will be able to bet on all manner of sports including the NFL, NBA, NHL, MLB, and less popular and international sports like tennis, golf, MMA, e-sports and much more.
Tigers fans will be excited to know that betting on NCAA college sports will also be on the table, giving residents an opportunity to bet on dozens of college sports games each weekend.
Is Betting on Fantasy Sports Legal in Missouri?
Yes. Daily Fantasy Sports (DFS) have been federally deemed a game of skill over chance which means it's generally exempt from gambling laws. As such, many states who don't allow traditional sports gambling do allow residents to be legally on DFS.
In May of 2016 Missouri became the sixth state to legalize and sanction fantasy sports and now it is governed by the Missouri Gambling Commission.
Is There No Deposit Sports Betting in Missouri?
Given that online sports betting is still illegal, there are no bonuses of any kind available. However, in the event that online sports betting becomes legal, residents of Missouri can expect a similar approach to what sites in other states are currently offering.
In states like New Jersey and Pennsylvania, gamblers can take advantage of lots of different deals and promotions. There are traditional match bonuses that add money to your account when you deposit, and there are so-called "no-deposit" bonuses that let you make free bets without depositing at all.
Bonuses always come with terms and conditions so make sure to read the fine print before making a decision.
When legal sports betting gets here we'll have comprehensive reviews of all the best sites to bet on sports in Missouri, as well as exclusive deals and offers.
Will Online Sports Betting Ever Be Legal in Missouri?
We don't have a crystal ball but we are confident saying that online sports betting will one day be legal in Missouri. Even better, we think that day is coming soon.
There's been too much groundwork laid, too many influential politicians speaking optimistically about the opportunity sports betting presents and too much money up for grabs for this not to happen.
Make sure to check back on this page as things get rolling in 2020 to see when and how you can expect to make legal sports bets in the Show-Me State.