The Current Online Sports Betting Situation in Alabama
The Professional and Amateur Sports Protection Act (PASPA), which has been enshrined in law since 1992 and prevented legal sports betting, was overturned by the Supreme Court on Monday the 14th of May, 2018. The Court found in favour of New Jersey in their attempt to allow sports betting in their own state, which effectively removed the ban on sports betting across the entire United States.
Now every state including Alabama has the power to choose their own laws regarding gambling and sports betting. And Alabama does not have to look very far to see an example of a state taking advantage of this.
Mississippi, bordering Alabama to the west, has wasted no time in determining for themselves how to proceed with sports betting in their own state. On August 1st, 2018, barely three months after the repeal of PASPA, legal sports betting was launched in Mississippi.
In Mississippi you can gamble on sports as long as you're 21 years old and on the grounds of a licensed casino. So far, the Mississippi Gaming Commission has restricted sports betting to in-person wagering but they have said that online mobile sports betting will be considered at a later date.
In Alabama, however, just one state away, there are currently no legal options for sports betting. But, as state Senator Jim McClendon has stated in a recent press release:
"Every time I go back to my district, the message is clear: people want to have the right to vote on a state lottery and gaming."
That's good news for fans of making wagers and playing games of chance, but bad news for the Alabama Republican Assembly, who, as the 'conscience of the Republican Party' is fundamentally against the proposed gaming amendment.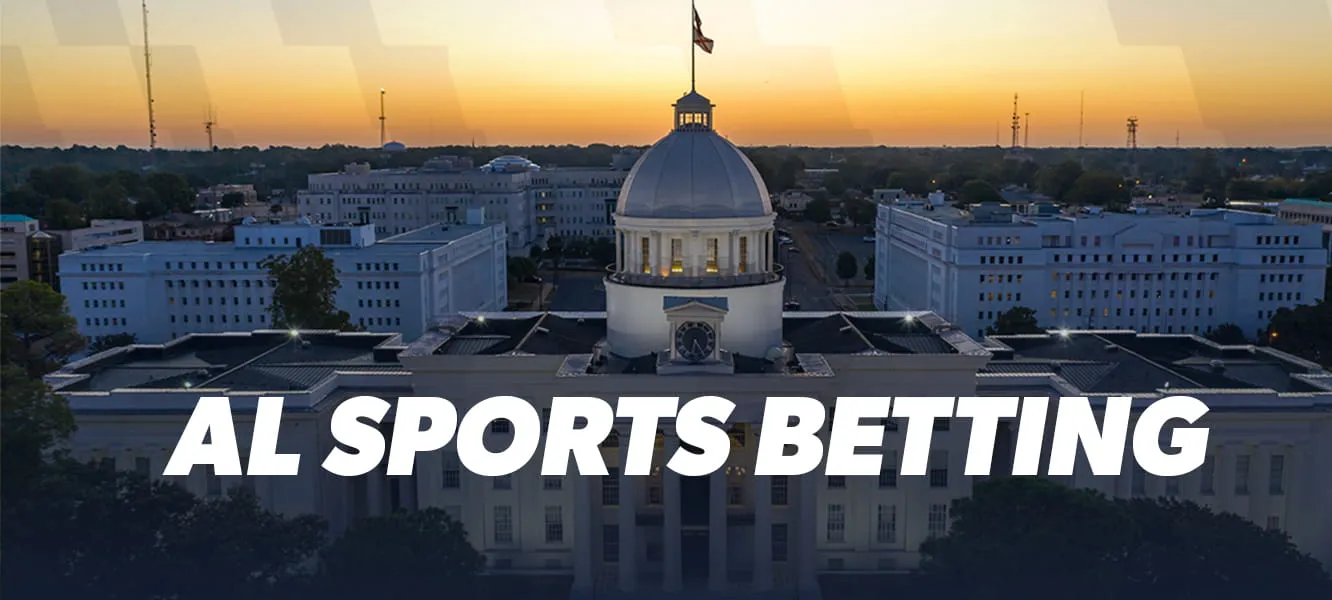 The History of Online Sports Betting in Alabama
While many Alabama residents are no stranger to betting a couple of bucks on an Auburn game, up to now there has been no way to do so with a legally regulated sportsbook in the state.
The state of Alabama, just like the vast majority of states, was governed by the Professional and Amateur Sports Protection Act (PASPA). This act was signed into law in 1992 and prevented states from regulating and taxing sports betting.
Since then, gambling in Alabama has largely been confined to the small number of Native American run tribal casinos that exist in the state, where slots and bingo are available. Sports betting has been illegal in Alabama since PASPA was signed. Situated in the heart of the Bible Belt, Alabama has historically had less of a culture of gambling and sports betting in the state than others across the US. This could be changing though – with a sports betting legislation on the horizon.
While Alabama doesn't have a long history of betting, it does have a proud tradition of sports and sports fans. Alabama is not currently home to a professional sports franchise, but the state has a rich tradition of minor league baseball teams, greyhound track racing, other semi-professional sports teams and of course college sports. College football takes its pride of place among sports in the state of Alabama, with the University of Alabama represented by the Crimson Tide.
To understand the love of sports in the state look no further than the Crimson Tide, one of the most iconic and decorated teams in the history of the NCAA.
So while sports betting has been slow to grow in Alabama, sports has always been a big part of the identity of the state. Gambling in the state has historically come down to only a few options:
Spending an evening on the slots at your local casino.
Betting an informal few dollars with your buddies before the local game.
Betting mobile on sports online using offshore sportsbooks. Since they are not strictly legal or regulated, sites like this can be considered a bit of a grey area. Although gamblers in the US have never been prosecuted for using them, these sites can be considered at least a bit of a risk.
However, the current situation is beginning to look a little different.
What Does SCOTUS Decision Mean for Alabama?
Mississippi's moves towards a regulated sports betting market can really be seen as food for thought for Alabama, and indeed many other states around the US. A few others have also already taken steps towards legalization, like Delaware and New Jersey. With self-determination around this issue available for the first time, it is likely that few states will choose to be left behind.
This is the position Alabama finds itself in today. With a population of almost 5 million sports-savvy people, a multi-billion dollar opportunity already being exploited by their next-door neighbors, and a nationwide growth in gambling interest the state will be asking itself some very interesting questions.
That's not to mention the potential tax revenue that's currently being funnelled out of the country by off-shore casinos and sportsbooks taking quasi-legal sports bets from people in Alabama.
Here is the potential financial breakdown of what the state could be taking in:
Lottery: $200 million–$300 million
Casino Gaming: $300 million–$400 million
Sports Betting: $10 million
Potential Total: $510 million–$710 million
Sports bettors at least want the chance to vote on this issue, which is included in the amendment that is now up to the lawmakers, i.e. Alabama House of Representatives to approve.
What makes it most frustrating is that everyone knows sports betting in Alabama is already happening, just not legally so that possible income for the state is lost.
This amendment is an opportunity for the state to generate significant revenue from a population ready to embrace legal sports betting.
As public opinion softens towards gambling and the amount of money in the industry becomes harder to ignore, we expect Alabama to follow the lead of Mississippi, Tennessee and others.
Which Online Sports Betting Sites Are Legal in Alabama?
At the moment there are no legal options for online sports betting in Alabama. However, the times are changing, and they can change quickly if the state's bettors are permitted to vote on the issue. It is now up to the lawmakers to decide.
Check back on this page for more information as the situation develops.
Is Fantasy Sports Betting and DFS Legal in Alabama?
Betting on fantasy sports through sites like DraftKings and FanDuel is unfortunately not available legally in Alabama, despite it being available in almost all other US states.
DFS has been widely legalized thanks to an important distinction made between fantasy sports wagering and traditional sports betting. Fantasy sports was found to be a game of skill by the US courts while regular sports gambling has been designated a game of chance.
Games of skill are not subject to anti-gambling laws like PASPA and therefore have been available to US players in almost all states for a number of years already.
Alabama, however, has been avoided by the major DFS sites because of a largely negative legal climate. Fantasy sports was available in Alabama until 2016 when Attorney General Luther Strange issued cease and desist orders to online sportsbooks DraftKings and FanDuel.
Attempts have been made in the state to create legislation to allow fantasy sports betting but so far they've all been unsuccessful. Most recently Senator Paul Sanford sponsored a bill, but the Senate declined to bring it to the floor for a vote.
What Sports Can You Bet on Online in Alabama?
As we have noted, sports betting (including live betting and mobile betting) is not currently legal in Alabama, similar to its southern neighbor Florida. Alabama is also one of the remaining five states to not have an Alabama lottery. That said, when legal online gambling does make its way here it will find a state with a vibrant sporting tradition and passionate bettors. The following is just a taste of some of the sports betting that could be available to Alabama residents soon:
College Football
The Alabama Crimson Tide program which represents the University of Alabama is one of the most iconic football teams in the history of the NCAA. With 17 National Championships and a Heisman winner as recently as 2015, The Crimson Tide have always cast a long shadow on college football. The team is a consistent provider of players to the NFL draft and a lot of players from the state of Alabama are really successful in the NFL. The rivalry between the Crimson Tide and Auburn University is one the fiercest around. When the two meet it is known as the "Iron Bowl" – expect a lot of money to be riding on that game when sports betting is legalized in Alabama.
Baseball
Although the state has no MLB teams there is a proud tradition of baseball in Alabama. In the minor leagues the state is represented by the likes of the Montgomery Biscuits and the Birmingham Barons. When regulated sports betting arrives in Alabama it will hopefully be possible to bet on minor league teams in a variety of ways.
Of course, you will always be able to bet on MLB teams too. From World Series winners to batting averages, there will be no shortage of ways to gamble on baseball if sports betting is legalized in Alabama.
Basketball
The Auburn Tigers and the Crimson Tide are two of the biggest college basketball teams in Alabama, and both teams have a healthy tradition of providing NBA draft picks. The legalization of sports betting in Alabama would make it possible to bet on both teams, as well as the NBA. Point spread betting is a good way to bet profitably on basketball, and this could be a consideration as legal sports betting gets closer.
Other Sports
From hockey teams like the Huntsville Havoc to soccer teams like the Birmingham Hammers, Alabama has a variety of other local sports teams waiting to be bet on. If you want to look further afield, the legalization of sports betting in Alabama would make it possible to bet on all kinds of sports from around the US and the rest of the world, from Tiger Woods to Tom Brady.
Is There No Deposit Sports Betting in Alabama?
Right now there are no legal sports betting options in Alabama, either online or live.
While there are some offshore online sportsbooks that offer no deposit sports betting bonus offers like Bovada and Betonline, your best option is to wait until online sports betting is legal and regulated in Alabama.
What Is the Future of Online Sports Betting in Alabama?
While the immediate future of sports betting in Alabama is unclear, assuming the proposed gaming amendment is approved by the House of Reps, it will be up to the citizens to decide in November 2022 if they want sports betting to be made legal in the state.
The Supreme Court overturning PASPA has created a multi-billion dollar opportunity. With neighboring Mississippi and others already making moves to take advantage, it can't be long until the Yellowhammer state's lawmakers follows suit with a sports betting bill.
Legalizing gambling in AL is also backed by Gov. Kay Ivey, who commissioned a 2020 gaming study that found the Southern gem could rank up to $300 million in annual lottery tax revenues, plus $400 million from casinos as well as $10 million from sports bets.
Alabama is an interesting case because, despite the sporting history of the state, many of the strongly Christian communities have historically been against gambling. As recently as 1999 the state rejected the introduction of a state lottery. The times are changing, however. A new love and appreciation for sports betting is sweeping across the United States, and Alabama is not immune.
Sports betting is a multi-billion dollar industry, and Alabama won't want to get left behind. The first step toward that new reality will be for the state congress to put a comprehensive gaming and lottery bill on the ballot for voters in November 2022.
For now, online sports betting with unregulated offshore online sportsbooks is the only option in Alabama. But as more and more states move towards safe and legal sports betting, that surely won't be the case for too long.
Will Online Sports Betting Ever Be Legal in Alabama?
There is no guarantee that sports betting will be legal in Alabama, but it is clear that the tide is turning in that direction.
Make sure to check back on this page for updates on any major developments that bring Alabama closer to legal sports gambling. We're standing close by until the state of Alabama has a sports betting bill, just like Mississippi and Tennessee.
Is Alabama Sports Betting on the Horizon?
Sports betting is growing in popularity across the United States. Even though Alabama has a great tradition of sports teams and sports fans, the historically conservative state has been a little slower than others to come around to sports betting. It looks like this won't be the case for too long – with the Alabama Gaming Commission taking bids on licenses for casinos and operators as a possible solution.
The repeal of PASPA has created an opportunity that is too good to pass up. Alabama is a budding market of sports fans, just waiting for their chance to bet with legal and regulated sportsbooks, especially on mobile.
Hopefully it won't be long before Alabama follows its western neighbor Mississippi as well as its northern neighbor Tennessee and moves to legalize sports betting. When it finally happens, it will be a glorious day for sports fans in the South.