Colorado Legal Sports Betting at a Glance
Quick Facts about Online Sports Betting in Colorado
Population:
5,759 million
Median household income:
$72,331
Online sports betting legal since:
May 1, 2019
Licensed sportsbooks:
DraftKings, FanDuel, BetMGM, BetRivers, Caesars Sportsbook, PointsBet, SportsBetting, Unibet
The launch of legal sports betting in Colorado has been a long time coming.
After a tentative 2018, the process of legalization kicked into gear in 2019. With the prediction of millions of dollars in potential tax revenue up for grabs, demand for a public vote grew over the course of the year as lawmakers debated the topic.
Eventually, the summer of 2019 saw the state legislature approve a sports betting bill, known as Proposition DD.
The bill, which was framed as a way to fund the state's water project, was put to a public vote the following November. With more than 1.3 million votes cast Proposition DD just got over the line, passing by a mere 20,000 votes.
Since then, the state has been busy setting up the necessary framework in preparation for launching legal sports betting, which finally occurred on May 1st 2020.

The Current Online Sports Betting Situation in Colorado
Although legal sports betting is now officially live in Colorado, it's still early days.
The May 1st launch date simply refers to when the state regulation is ready, not necessarily when all sportsbooks open for business. Most likely, we will see a steady stream of sportsbooks opening in Colorado in their own time from now on.
However, four Colorado sportsbooks have successfully launched on the May 1st launch date. DraftKings, FanDuel, betMGM, and BetRivers have collectively won the race in Colorado, with each of the online sportsbooks launching the very first-day sports betting became legal.
The body tasked with granting licenses to prospective sportsbooks, as well as regulating all sports betting, is the Colorado Limited Gaming Control Commission. Since Proposition DD was passed, the Commission has announced that it has received an eye-watering 51 separate applications for sports betting licenses.
Only some of those who applied for licenses have been reported publicly, but the list unsurprisingly includes big names like Betfred and PointsBet.
With a relatively large population of 5.6 million, teams in all four major pro leagues, and a healthy network of land-based casinos already operating in Central City, Black Hawk, Cripple Creek, and the Four Corners region, sports betting is poised to really take off in the Centennial State.
However, it's not as simple as just picking up a license from the Commission and immediately starting to book bets. Colorado's new sports betting laws were meticulously designed, which is why many sportsbooks are taking their time in launching.
March 16, 2020 saw Colorado's thirty-five casinos shut down to visitors due to concerns over the coronavirus pandemic. This made mobile sports betting more important than ever with people stuck at home turning to their mobile devices to place sports bets. Luckily for Colorado residents, all major sports betting apps are available on ios and android.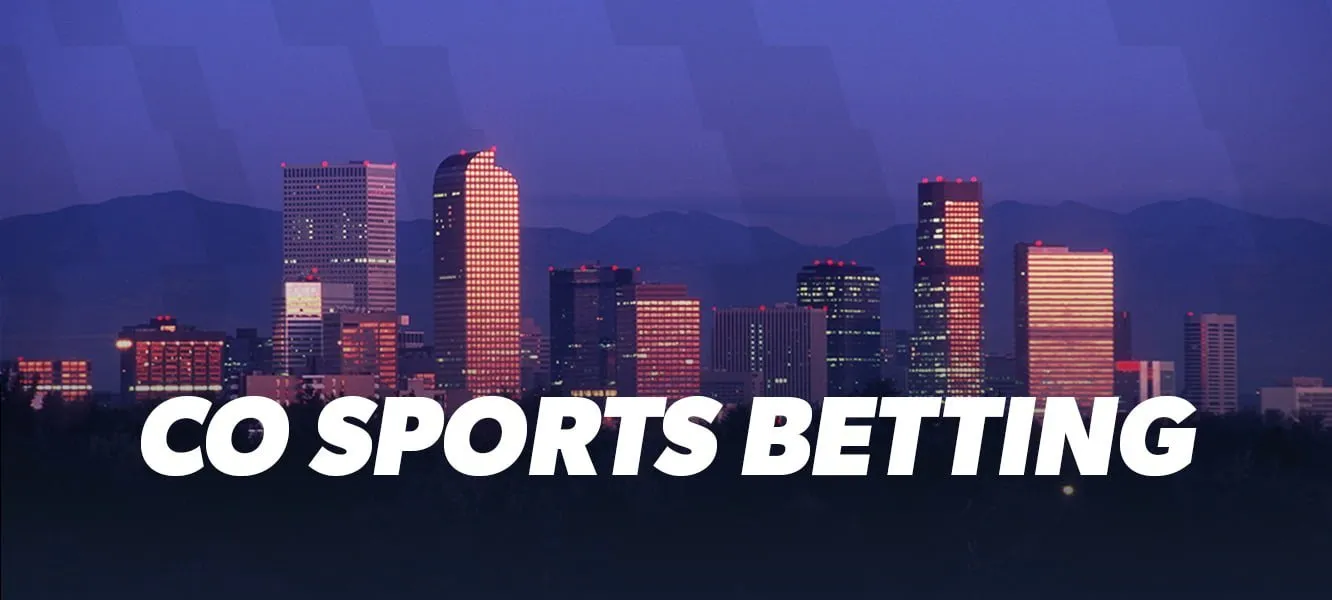 Which Online Sports Betting Sites Are Legal in Colorado?
Right now, four different sportsbooks have opened for business in Colorado.
We collected all the best sports betting bonuses and promo codes in Colorado so you can choose the right sportsbook for you.
DraftKings with Golden Mardi Gras Casino
DraftKings is one of the biggest gaming companies in the US, and it's no surprise that it's one of the first sites to launch in Colorado. The company has landed with a splash – offering all new players the chance to claim their share of a $1,000 prize pool for correctly predicting the weather.
DraftKings has partnered with Golden Mardi Gras Casino, which is owned by Twin River. Both the website and mobile app went live on May 1st.
Read our full review of DraftKings Sportsbook here.
FanDuel with Golden Gates Casino
DraftKings' biggest rival in the world of DFS has also wasted no time in launching its own Colorado sportsbook – and has also teamed up with a Twin River property in Golden Gates Casino.
FanDuel's deal means we can also expect to see a physical sportsbook appear at the casino in the beautiful mountain town of Black Hawk.
Check out our comprehensive FanDuel Sportsbook review.
BetMGM with Midnight Rose Hotel and Casino
Although this sportsbook has launched under the MGM banner, it is in fact a joint venture between MGM Resorts and GVC Holdings. The Midnight Rose Hotel and Casino, where BetMGM will be based, is owned by Triple Crown Casino in Cripple Creek.
See more information on BetMGM's sports betting site and app.
BetRivers with J.P. McGill's Hotel and Casino
The illustrious prize of being the very first sportsbook to launch in Colorado goes to BetRivers, which went live at 10am. With a greatly reduced sporting calendar at the moment, bettors could choose between a limited number of sports including Russian ice hockey, Korean baseball and darts.
Take a look at our BetRivers Sportsbook review.
In addition to the four sites above, some other betting companies are considerably closer to launching than others.
There are 33 physical casinos in the state, and any online sportsbook would need to be associated with a physical sportsbook in order to legally accept bets.
So far, a handful of other operators have already announced partnerships with physical casinos, meaning you can expect retail sportsbetting at these locations too. These partnerships include the following:
PointsBet with the Double Eagle Hotel and Casino
Betfred with Saratoga Casino
BetAmerica with Full House Resorts
Wynn with Full House Resorts
Circa with Century Casino
theScore Bet with Jacobs Entertainment
Each of the above are in different stages of their application processes, but things are likely to move relatively quickly from May 1st onwards.
In addition to those who have already announced partnerships, there are a number of other sportsbooks we would not be surprised to see in Colorado before too long. Many are already active in other US states further down the legalization road, such as New Jersey.
Below, we've compiled a list of US and international companies who could potentially appear in Colorado:
For now, there are some types of betting that have already been live in Colorado for some time: horse and greyhound racing. People in Colorado have two options for online betting.
TVG.com – This online betting platform gives gamblers access to over 150 race tracks around the world and even lets you watch the races live within the app.
BetAmerica.com – Another website to bet on live horse racing, and they match your first deposit up to $100 dollars. The user interface is friendly to those who aren't used to using horse race betting websites.
Using a sports betting operators sports betting app has never been easier. The betting market is such that many sportsbooks and betting apps offer promo codes and incentives to add your credit card to your account. Keep checking back with WSN to see the current promos.
What Sports Can You Bet on Online in Colorado?
People in CO will be able to bet on all major North American leagues, college sports and other popular leagues and teams from all over the world.
We know that betting on high school sports is not permissible under the new laws, and that although college sports are legal to bet on, proposition bets on college sports are not allowed.
We expect the same massive list of betting options that we're already seeing in other states that have legal sports betting.
There are also a number of local sports franchises that are sure to attract a ton of betting action. Colorado is home to the:
Denver Nuggets (NBA)
Denver Broncos (NFL)
Colorado Avalanche (NHL)
Colorado Rockies (MLB)
The state also has teams in lots of other sports and leagues like the NCAA, MLS soccer, the Central Hockey League, rugby, lacrosse and minor league baseball.
People in CO will be able to bet on all major North American leagues, college sports and other popular leagues and teams from all over the world including college basketball, college football.
What Sports do People in Colorado Bet On?
Legal sports betting is a new activity to Coloradans with it being legalized in early 2020. In a state with such a newfound interest in sports wagering what are they choosing to bet on and will the preferred sports bet on change as the industry matures in the state?
In this table we see the top ten sports Coloradans wagered on in July 2020.
| | | | |
| --- | --- | --- | --- |
| Top 10 Sports by Total Wagers | Retail | Online | Total |
| Baseball | $120,774.69 | $9,096,568.24 | $9,217,342.93 |
| Soccer | $42,940.04 | $7,558,560.90 | $7,601,500.94 |
| Table Tennis | $9,769.61 | $5,099,432.23 | $5,109,201.84 |
| Golf | $9,795.00 | $4,820,346.41 | $4,830,141.41 |
| Basketball | $142,552.56 | $3,192,267.40 | $3,334,819.96 |
| MMA | $22,445.87 | $2,621,530.11 | $2,643,975.98 |
| Tennis | $6,406.92 | $2,079,881.19 | $2,086,288.11 |
| Motorsports | $948.00 | $460,812.24 | $461,760.24 |
| Hockey | $5,477.75 | $389,091.78 | $394,569.53 |
| Boxing | $1,053.00 | $292,094.08 | $293,147.08 |
| Parlays | $199,066.07 | $8,439,415.27 | $8,638,481.34 |
| Other | $21,585.18 | $14,550,805.19 | $14,572,390.37 |
| TOTAL | $582,814.69 | $58,600,805.04 | $59,183,619.73 |
Statistics sourced from CO Dept. of Revenue July report
How to Bet on Sports Legally in CO
Although it's early days for betting in Colorado right now, we know from experience in other states how betting in Colorado is likely to work.
We expect the majority of players in Colorado to bet online, either using their phones or laptops. In order to do so, you'll need to sign up to the sportsbook and deposit funds to bet with.
All the top sportsbooks these days make this process extremely easy.
Signing up generally involves a couple of steps. Regardless of which sportsbook you choose, it will probably look something like this:
Choose a unique username and password, and provide your email address.
Give some personal information, including your full name and date of birth.
You'll need to give your address and possibly some digits from your SSN, which are used to confirm your identity.
You'll need to confirm you accept the sportsbook's terms and conditions, and confirm the information you've provided is accurate.
That's generally it, and it normally only takes a couple of minutes to complete. You can check out some of our reviews of sportsbooks in other states to get a more complete picture of the sign up and deposit process.
Alternatively, you will be able to place your bets in Colorado in one of the physical sportsbooks, when they open. This is even easier and can be done in cash by talking to the teller in the sportsbook.
Real books also have the added fun of watching games live as you bet with other sports fans.
Sports betting operators are managed by Colorados Division of Gaming. Legal sportsbooks must comply with the division of gaming ensuring that CO sportsbooks and betting operations are managed and operating legally. This means that sports betting apps operating in CO are operating legally for any Colorado bettor.
To get started betting on your favorite sports read up on the links below to get started today:
Is Betting on Daily Fantasy Sports Legal in Colorado?
Colorado has already legalized access to daily fantasy sports betting sites such as DraftKings and FanDuel. The legislation came down on June 10th, 2016, and it specifically made it legal to bet on DFS in Colorado.
Fantasy sports betting is available for betting on the NFL, NBA, MLB, and NHL but does not include NCAA college sports.
The last thing to note is that DraftKings and FanDuel are the only two daily fantasy sports websites that are approved and legalized for use in the state of Colorado.
While some people won't like the monopolized aspect of having only two options available, the reality is that these are your best options until other websites can be legalized and approved by the state. We do not recommend using illegal websites for daily fantasy sports betting.
Colorado Sports Betting Laws Summary
In this section we're taking a closer look at how the new sports betting laws work in Colorado.
Colorado's sports betting bill was drawn up in the summer of 2019, and passed into law by a public vote in November of that year.
There are different types of licenses that can be applied for via the Colorado Limited Gaming Control Commission.
The most important is the Master License, for which every physical casino in Colorado is entitled to apply. A Master License allows its holder to operate a retail sportsbook.
The physical casino can then partner with an operator to run its retail sportsbook, for which the partner requires a separate license. Unlike the physical casinos which can apply for Master Licenses, these operators don't need to be Colorado based. Instead, you can expect to see plenty of top US and international sports betting companies run many of the sportsbooks in Colorado, like DraftKings and FanDuel.
Additionally, the operator can apply for an internet license, which allows them to offer online and mobile betting in addition to the physical sportsbook.
In simple terms, all online sportsbooks wishing to operate in Colorado must partner with a local physical casino and must be granted all the necessary licensing by the Gaming Control Commission.
Here are some of the other main rules surrounding sports betting in Colorado:
You must be at least 21 years old and physically located in Colorado to place a bet.
All sports betting proceeds are taxed at 10%.
Betting on high school sports is not legal.
Betting on video games that have been sanctioned by a sport's governing body is legal, but betting on other esports is prohibited
Betting on college sports is legal, but somewhat restricted. Proposition bets are not allowed in college sports.
Mobile betting is allowed.
The History of Online Sports Betting in Colorado
While some states have a long, drawn-out and varied history regarding sports betting, there haven't been a ton of events in Colorado that are specific to the state. It's sufficient to say that sports betting in Colorado wasn't at the forefront of public discourse until the last year or two.
That being said, there are some quirky laws in Colorado that have affected the sports betting landscape. Let's take a look at some of the federal activity and state-specific activity that brought us to the current situation in Colorado.
1910 – Ban on Gambling
Leading to the federal ban in 1910, gambling was starting to become more popular in the stats. As settlers made their way to the United States, they brought along table and card games for the common citizen to bet on. Often, these gambling setups were unlawful, unregulated and unfair.
There were also a number of lotteries across the United States that were outright scams. These were both problems for decades leading into the 20th century, which led to the Western ban on all types of gambling in 1910.
1930s – Gambling Comeback
After the great depression, gambling slowly made its way back into Colorado. In 1933, limited forms of gambling were once again legalized in the state in bars.
1991 – Legal Colorado Casinos
In November of 1990, Colorado legislators set their sights on casino gambling and in 1991, the state allowed casinos to be built in three towns: Black Hawk, Cripple Creek, and Central City.
All three are considered historical towns. The decision to limit casinos to these three locations was meant to reinvigorate the historic sites and raise money for the state through taxes and regulations.
1992 – PASPA Stops Colorado Sports Betting
Legal gambling was on the rise in Colorado but sports betting was never included thanks to a key law passed by the federal government in 1992. The Professional and Amateur Sports Protection Act basically banned sports betting everywhere in the United States save Nevada.
2014 – Racetrack Gambling Bill Fails
Gambling was only legal in Casinos in Black Hawk, Cripple Creek, and Central City and a bill was introduced to expand those locations to include racetracks in other parts of the state. It was put to a vote and the proposal lost by a huge margin with 70% of voters objecting.
May 2020 – Legal Sports Betting Goes Live
Almost exactly two years after PASPA was repealed, sports betting is finally legalized and Colorado prepares to book it's first sports bets.
What Is the Future of Online Sports Betting in Colorado?
The future of online sports betting in Colorado is very bright indeed.
As of May 1st 2020, online sports betting is totally legal in the state, and now it's simply a matter of waiting for the sportsbooks queueing up to put their finishing touches together and start booking bets.
DraftKings, FanDuel, betMGM and BetRivers are all live and booking bets already, and we expect to see a steady stream of further sportsbooks arrive to the Centennial state from now on.
In our view, it's basically a case of the more the better. We're excited to see how the new betting platforms of the sites already announced look, and to see which of our predicted sites makes it to Colorado.
Having many different sites on offer also means a greater variety of everything: sports, types of bets, bonuses and promotions, banking options and more.
In addition to the online betting just around the corner, we can't wait to see how the physical sportsbooks turn out in Colorado. We're hoping for big screens for watching live sport, bars and restaurants and a place for people to hang out and have fun betting together.
Before the bill was passed, lawmakers estimated that sports betting could generate $20 million a year in tax for the state. Given the rate is 10%, that suggests we're looking at the curtain going up on a brand new $200 million industry,
It really is an incredibly exciting time for sports fans in Colorado. If you love betting on football, have a look at the best Denver Broncos promo codes!
Sports Betting in Colorado is Live
It's been a long road for Colorado, but the wait is finally over.
The debates have been settled and the votes cast, and the residents of Colorado have decided to join the list of states to embrace legal sports betting in the US.
Four sportsbooks are live, several other top sports betting companies are already well on the way to launching their online platforms, while still more of the 33 physical casinos in the state are in the process of acquiring licenses from the Colorado Limited Gaming Control Commission
It's still early days, but it looks like there are going to be no shortage of betting options in Colorado.
After almost two years of will-they-won't-they, we are predicting that things finally start to move fast in Colorado now that sports betting is officially legal.
Check back for updates regularly, and enjoy placing your bets.
For more information on sports betting laws in other parts of the country, check out our state by state legal sports betting guides.
References
Colorado Sports Betting FAQs
Here are answers to the New Jersey sports betting questions we're asked most frequently: