Tennessee Legal Sports Betting at a Glance
Recent developments in Tennessee have made it so that sports betting went live on November 1st, 2020. Four sportsbooks had plans to launch on the day that legal sports betting was approved in the state but one of the four, Tennessee Action 24/7, had some speed bumps with its licensing and as a result was not set to launch alongside the other three, DraftKings, BetMGM, and FanDuel.
The state's gaming history is nonexistent given that it permits very few kinds of gambling. There's a state lottery, and daily fantasy sports is legal to bet on and people in Tennessee can also place bets on the TVG horse race betting app.
Tennessee Online Sports Betting: Legal TN Sportsbook Apps [Video]
Professional sports bettor Bill Krackomberger looks at the sports betting scene in Tennessee and tells you which sportsbooks have the best betting apps, payment methods, and much more. For more states, head to WSN's YouTube channel.


The History of Online Sports Betting in Tennessee
Tennessee's gambling history is sparse. The state has had some of the most uncompromising gambling laws in America and, up until recently, it had been extremely reluctant to budge from its zero-tolerance stance.
There were very few gambling options which include the state lottery, which Tennessee introduced in 2003, daily fantasy sports (DFS) which was legalized in 2016, and pari-mutuel betting on horse racing via the TVG betting app.
The lottery, set in place primarily to raise funds for the state's educational system, has been a massive source of revenue, generating $2.6 billion dollars for educational programs alone and over $6 billion in prize earnings.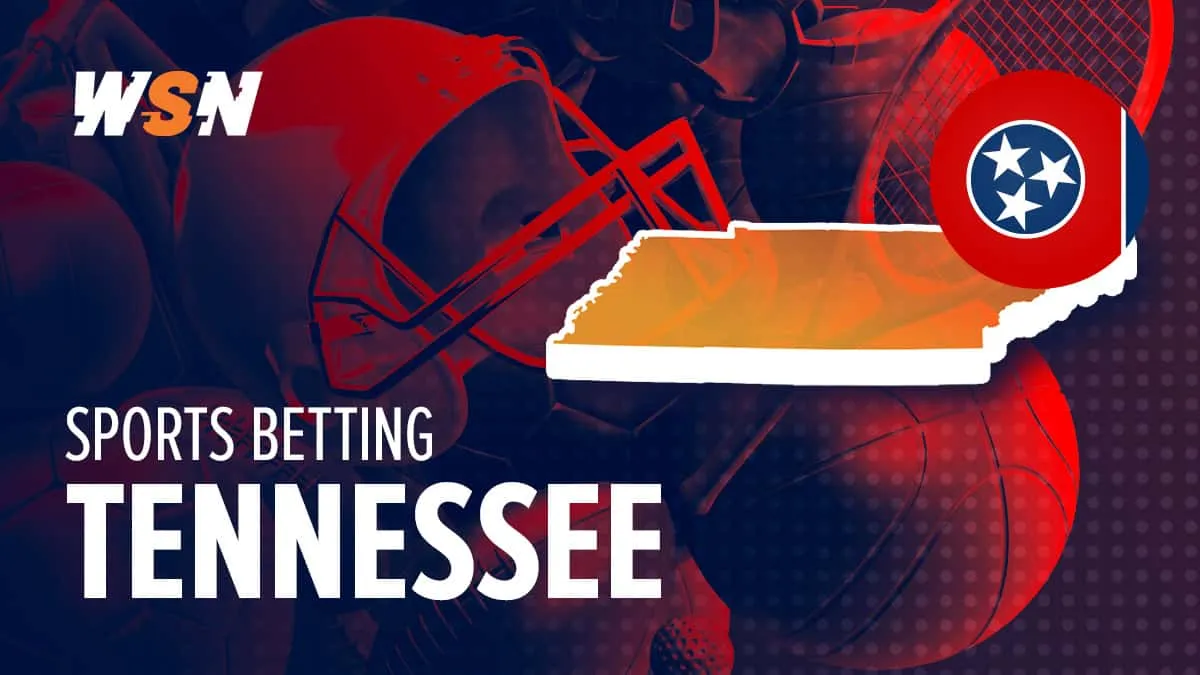 The Repeal of PASPA Makes Waves in TN
In 1992 a countrywide law was introduced called the Professional and Amateur Sports Protection Act (PASPA) that prohibited sports gambling in every state save for Nevada. In the spring of 2018, thanks to a successful appeal of PASPA by the state of New Jersey, the Supreme Court overturned the ruling and gave each state the autonomy to decide for itself if it wants legal sports gambling.
Everything changed for the Volunteer State in 2018 when the Supreme Court ruled for the repeal of PASPA, the law that made it so sports betting was illegal in most of the US. The repeal of this law made it so that individual states could decide for themselves, whether or not to legalize sports betting.
A New Bill Is Introduced to Legalize Online Sports Sportsbooks
In November 2018, a new sports betting bill called the Tennessee Sports Gaming Act was introduced that eventually led to the legalization that TN has adopted since. The bill states that sports betting would be deemed legal in areas where it is approved in local elections. Much like the state lottery, the tax money would go towards educational programs in the state.
Here are the main points from Tennessee's first legal sports betting bill and where the taxable revenue will be allocated towards:
A 10% tax on all sports gambling revenue.
40% of the tax goes to the fund for general appropriations.
30% to Tennessee colleges of applied technologies and community colleges for equipment and capital projects.
30% to local governments for education and infrastructure.
Rick Staples, the House Representative that filed the bill, predicts that this new industry will generate $2.2 million for the state in the first year, $5 million the year after, and should continue increasing in years to come.
Here is a breakdown of the developments that led to the legalization of sports betting in the Volunteer State
May 2019 – TN Gov. Bill Lee gave back Tennessee House Bill 1 (the Tennessee Sports Gaming Act) without signing it in effect allowing legal sports betting in TN to move forward.
Fall 2019 – The TN government designated a group to oversee the sports betting rollout in the state. This group is known as the Sports Wagering Advisory Council.
November 2019 – An early look at what realistic online sports betting would look like in the form of the first draft on rules and regulations. This was seen as a speed bump as many issues had to be resolved before realistically approving Tennessee sports betting.
August 2020 – For the first time, it is announced that legal sports betting will be brought to TN by Nov. 1st, 2020. It is also announced that a hold will be placed on wagers made in the state and that the amount of the hold will be 10%, pushing the burden of the taxation on betting upon the bettors themselves.
September 2020 – Sports betting operators and online sportsbooks are announced.
November 2020 -On November 1st sports betting launched in TN with three operators ready and licensed to take bets. DraftKings Sportsbook, FanDuel Sportsbook, and BetMGM Sportsbook being the three.
The Current Online Sports Betting Situation in Tennessee
With legalization having rolled out on Nov 1st, 2020, here are some of the Tennessee sports betting rules set in place.
Age Limit – In order to legally bet in TN or even to sign up for a sportsbook you must be at least 21 years of age.
Geolocation/Geo-Targeting – In order to place bets in Tennessee, you must be located in TN. Most legal sports betting in the United States rely on geolocation to ensure that the bets placed in states are done legally. This is done because sports betting is not yet legal in all fifty states. In order to sign up for and conduct sports betting in the Volunteer State, you must be physically located in TN. This does not mean that you cannot travel to TN to place sports bets on TN mobile apps, mobile sports betting sites, and online sportsbooks in TN.
10% Hold Percentage – Tennessee sports betting is coming with some controversial strings attached. First in focus is the 10% hold. This needs some explanation, a hold is a percentage of gross revenue divided by the dollars wagered. In simpler terms, this means that the state of TN will cap the amount that you can win at 90% of your original bet.
Oversight – The state has mandated that the Tennessee Education Lottery Corporation, which already oversees the Tennessee Lottery, acts as regulators for sports betting in the state. It is the Tennessee Education Lottery Corporation (TELC) who is in charge of retail sportsbooks licensing fees, which brings us to our next term.
Application and Licensing Fees – A retail sportsbook cannot just move into TN and set up shop. You must first pay a $50,000 application fee and then another $750,000 annual licensing fee in order for a licensee to be accepted by the regulators. These licensing fees are earmarked to go towards the Tennessee Promise Scholarship fund. Earmarks like this are implemented in order to get the necessary votes to legalize sports betting in some states since there is usually pushback from some representatives. These sports betting license fees are among the highest in the nation.
Additionally, TN has decided that unlike other states there shall be no limit to the number of operators that may apply for licenses, unlike some states that have a limit on the number of sportsbooks that operate within their boundaries.
Minor Betting – Just because sports betting is legalized in TN doesn't mean that you can bet on anything that you want to. There are some sports betting laws when it comes to sports that have minors participating in them including all High School sporting events and College level athletics that have participants under the age of 18. This in effect limits the types of sports you can wager on to professional sports.
Entertainment and Political Betting – Betting in TN is subject to another restriction. Bets placed in TN must be pertaining to sports. That cuts out betting on politics such as who will be the next President and entertainment such as what will be the Best Picture next year.
Tennessee Sports Betting Options
So betting is legal in Tennessee and you want a piece of the action? Here are the legal forms of sports betting approved by the sports wagering committee in charge in TN. Check out also which are the best sportsbook bonuses available in Tennessee.
Proposition/Prop Bets – A prop bet is one where you are trying to call the outcome of any event in the future. A prop bet can be which side of the coin toss in the NFL Super Bowl game will come up.
Moneyline Bets – A moneyline bet is one of the main and most popular forms of betting. In a moneyline bet you are predicting the winner of a match with the odds adjusted so that the favored team pays out less. In moneyline betting the underdog has a higher rate of payout since they are less likely to win the match.
Parlay Betting – A parlay bet is a single wager or several combined into one bet. The payouts are often greater since you must meet several criteria in order to win your wager. Try our parlay calculator.
Futures Betting – A futures bet is a wager placed on the outcome of an event taking place sometime in the future. For example, a bettor may place a wager on the winner of the NFC East, or the player to finish top scorer in the Premier League. Check out the latest NFL futures picks and predictions. To learn more about futures betting check out our guide on futures betting.
Check out other types of betting on our betting guides page where you can view descriptions of all the most popular forms of betting offered by Tennessee online sports betting sites.
Which Online Sports Betting Sites Are Legal in Tennessee?
On Nov 1st, 2020 Tennessee residents became eligible to place legal sports wagers. There were three sportsbooks that went live in time for Tennesseans by the rollout date of November 1st, 2020. These sportsbooks are listed here:
DraftKings Sportsbook – DraftKings Sportsbook is among the largest sports betting operators in the US sports betting industry with one of the best sports betting apps available.
BetMGM Sportsbook – MGM Resorts is well known for its chain of high-end casinos located in New Jersey and Las Vegas, but in recent years has spent a considerable amount of time and resources to develop one of the most competitive sportsbooks in the sports betting market. BetMGM sportsbook is a great addition to the sportsbooks in the TN sports betting scene
FanDuel Sportsbook – FanDuel is famous for their daily fantasy sports, but they also operate a sound sportsbook that will be available to Tennesseans.
Tennessee Action 24/7 – Tennessee Action had plans to enter the market of available sportsbooks by the November 1st grand opening but due to operator license delays will not be an immediate betting option. Check back here for updates on their license.
What Sports Can You Bet on Online in Tennessee?
North American and international sports leagues are fair game including betting on the NFL, NBA, NHL, MLB, UFC, EPL, Esports, and many more.
Tennessee sports fans will be excited to know that college sports will also likely be on the table for betting as long as participants are over 18 years of age, giving residents an opportunity to bet on dozens of college sports games including college football each weekend.
We expect the NCAA Memphis Grizzlies supporters to make a big splash in the sports gambling waters and the recently dominant Nashville Predators, whose fans nearly got to see them raise a Stanley Cup, would certainly garner some betting action.
Of course, we can't move on without mentioning the Tennessee Titans who are obviously a crowd favorite in TN cities such as Nashville, Knoxville, and everywhere else in the state.
Is Betting on Fantasy Sports Legal in Tennessee?
In 2016 Tennessee became the third state, behind Indiana and Virginia, to legalize and regulate daily fantasy sports (DFS).
It may have come as a bit of a surprise given the state's historical aversion to most forms of gambling activity but since DFS was deemed an act of skill more than chance at the federal level, Tennessee lawmakers allowed it.
Quite interesting to note, in terms of the legislature's ruling, is that not only was the state's attorney originally opposed to allowing DFS in the state but was also then overwhelmingly voted against in the Senate by a landslide 27-2 margin in favor of passing the ruling.
If you're interested in Daily Fantasy Sports then you should look into starting an account with FanDuel over other sportsbooks. FanDuel has spent a lot of time and money to ensure that its sportsbook caters specifically to fantasy sports, making its platform a niche for this activity. You can also do regular sports betting with FanDuel, but when it comes to DFS no one does better. If you're not sure which DFS site to choose, have a look at our side-by-side comparison of FanDuel and DraftKings DFS sites.
Is There No Deposit Sports Betting in Tennessee?
Given that online sports betting is now legal, there is soon to be a flood of sportsbook signup bonuses and incentives to open an account with one over another. Check out our bonuses page to find out if there are any bonuses for you to take advantage of, it is helpful to be able to compare these offers against one another in order to get the best bang for your sign-up-buck.
As far as no deposit sports betting goes, most sportsbooks, including the ones available in TN, are all operating on deposit-only systems. Sportsbooks do offer a wide range of deposit and withdrawal methods that use such payment methods as Paypal and others.
What Is the Future of Online Sports Betting in Tennessee?
With the recent legalization of Tennessee sports betting the state government decided to empower the Tennessee Education Lottery and the Tennessee Education Lottery Corporation to oversee the sports betting operators given the past financial success of the state lottery was a big positive argument in favor of legalizing sports gambling.
With legal sports betting being approved and launched on Nov. 1st, 2020 WSN anticipates a rush of sports betting operators to flood the market despite the 10% hold (much larger tax rate than other states) that is speculated to dissuade operators from entering the state. There is also a large first time and annual licensing fee for entering into the market which may act to dissuade smaller online sportsbooks from entering the state.
With that in mind keep a lookout for the state-wide sports betting industry fighting to gain your sign-ups. This can take the form of sign up bonuses and risk-free betting bonuses in an attempt to gain your business. This situation is likely to evolve and peak at some point in the future.
Tennessee Sports Betting FAQ
Now that sports betting rules in Tennessee allow for the sports betting industry to operate legally within its boundaries there are many questions for Tennesseans looking to bet on their favorite sports teams.