While many states have some flexibility in legalizing sports betting, Wisconsin actually has anti-sports gambling laws written right into its constitution. That means even if the movement gains momentum, an amendment to the state constitution will probably be necessary before legal betting can begin.
The good news is lawmakers have already touched on the topic of adding sports gambling to the 2019 agenda.
Wisconsin has 19 tribal casinos that offer a full range of slots, casino table games, and bingo. Having a land-based casino infrastructure can definitely make legalizing sports betting more straightforward.
If a sports betting bill eventually passes, along with an amendment to the state constitution, we expect in-person sportsbooks to start popping up at existing casinos. Depending on the state's decisions towards online betting, we'd then see those same sportsbooks start to release online betting sites and apps.
The Current Online Sports Betting Situation in Wisconsin
It is not currently legal to bet on sports in Wisconsin and given the state's slow reactions in the past, legal sports betting is going to take some time.
Thanks to a landmark Supreme Court ruling in May of 2018, every state has the freedom to create its own laws around sports gambling.
Many states already had sports betting legislation in the works and were able to start accepting legal bets right away. Other states got off to a slower start but eventually filed sports betting bills of their own. The last group of states, including Wisconsin, hasn't even left the gate.
The biggest challenges include developing the necessary legislation plus a resolution to amend the constitution. This would also require a public referendum on whether Wisconsinites actually want legal sports betting.
The main factor working in favor of legal sports betting is financial. Other states that have nurtured their new sports betting industries are bringing in huge amounts of new revenue through taxes and licensing fees.
Wisconsin Betting Laws Summary
Sports betting is currently illegal in Wisconsin.
A bet is defined as "a bargain in which the parties agree that, dependent upon chance even though accompanied by some skill, one stands to win or lose something of value specified in the agreement."
No current bills are in motion to legalize sports betting.
There are 19 tribal casinos and 0 state-run casinos.
Must be at least 21 years of age to gamble.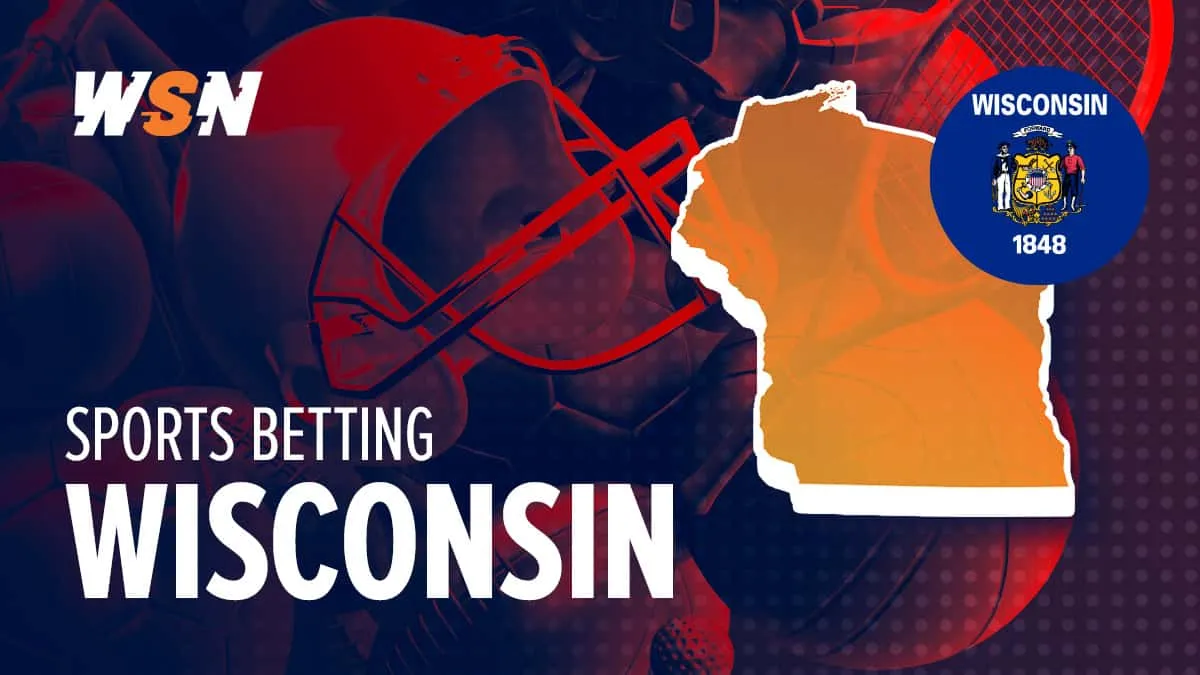 The History of Online Sports Betting in Wisconsin
Wisconsin has always been a bit behind its neighbors when it comes to gambling. While most states had established horse and greyhound pari-mutuel wagering industries by the mid-1930s, Wisconsin didn't join the party until 1987. And that's just one example of how it's been slow on the draw.
Check out the following key points in Wisconsin's gambling history and you might spot a trend:
1973 – The state makes charitable gambling legal which extends to bingo and raffle type games.
1987 – The first legal pari-mutuel horse and greyhound racing track open to Wisconsinites. While still legal to this day, there are no more venues in the state to bet at. The last one shutting down operations in 2009.
1987 – A state lottery is officially sanctioned.
1988 – The lottery sells its first tickets.
1991 & 1992 – Tribal/state compacts agree to terms with Wisconsin tribes to open casinos on tribal lands.
1992 – Changes to the state lottery make it such that only pull-tab and scratch-off games are available.
2007 – The state tries once again to pass legislation to build and operate a state-run casino but it is rejected by then-Governor Kim Doyle.
2009 – Wisconsin lottery becomes included in the national PowerBall and Mega Millions.
Which Online Sports Betting Sites are Legal in Wisconsin?
Currently, there are precisely zero places to make legal bets on sports, regardless of whether you want to bet in person or on the internet.
Since Wisconsin has an extensive network of casinos already, it's unclear whether the state will choose to allow online betting. Some states have restricted sports gambling to in-person wagering at physical sportsbooks while others have included online betting options as well.
One common practice is for existing casinos to partner with companies that are already well-established in the online sports betting world. We've seen this happen to a large extent in New Jersey with worldwide online betting brands like BetStars and 888sport.
What Sports Can You Bet on in Wisconsin?
Since sports betting is illegal, sports fans in Wisconsin can't bet on any sports at all. It's particularly painful for Wisconsinites who are absolutely mad about their local teams, especially the Green Bay Packers who are currently rebuilding the franchise under general manager Brian Gutekunst's strategic drafting strategies.
If legal betting does become available, gamblers in Wisconsin will be able to bet on an extensive menu of sports, leagues, and teams, including:
NFL Football
NCAA Football
NBA Basketball
NCAA Basketball
NHL Hockey
NCAA Hockey
MLB Baseball
NCAA Baseball
Australian Rules
Boxing
Cricket
Formula 1
Golf
MMA
Nascar
Rugby
Soccer (MLS, Premier League, Champions League, La Liga, International Competitions and more)
Tennis
Non-sports Entertainment
On top of having the Packers, Wisconsinites are also passionate about Milwaukee's BrewCrew and its revamped Bucks squad.
If the future has sports betting in the cards, and they strike negotiations with the NCAA, there is no doubt that the Badgers basketball, football, and baseball teams will see plenty of betting action thrown their way as well.
Is Betting on Fantasy Sports Legal in Wisconsin?
Right now it's not legal to bet on daily fantasy sports (DFS) in Wisconsin. The good news is that DFS betting is quite a bit further along in terms of legislation.
A bill has already been filed in an attempt to license and sanction DFS but it has yet to be signed into official law.
State lawmakers have expressed an open attitude towards legal DFS betting, provided it's regulated by the state. Check back for updates as things develop in 2019.
Is There No Deposit Sports Betting in Wisconsin?
If and when online sportsbooks start accepting players from Wisconsin there will be lots of special bonuses and promotions. Offers may include free bets and no deposit bonuses but we'll have to wait and see how things develop.
What Is the Future of Online Sports Betting in Wisconsin?
As more states see legal sports betting explode in popularity, the financial opportunity that this new industry represents is becoming more apparent.
However, at the moment all we know for sure is that legalized sports betting will be a topic of discussion at assembly meetings and among lawmakers at the beginning of 2019.
Even with big incentives, Wisconsin has its work cut out for it. Big obstacles include passing legislation, amending the constitution and holding a state-wide referendum.
On the other hand, there's also the outside chance that the entire issue of legislation and constitutional amendment could be side-stepped by the tribal casinos renegotiating their agreements to include sports betting.
This has happened in other states and could be an option since tribal lands are not subject to US gambling law in the same way.
Wisconsin Legal Sports Betting Is a Longshot
The way we see it, there are really three possible outcomes at this point.
It's entirely possible that nothing at all will change as a result of the 2018 Supreme Court decision.
State lawmakers pass legislation and successfully amend the state constitution to legalize sports betting.
Tribal casinos circumvent state laws to allow sports betting at their casinos and potentially online. This has happened in other states including New Mexico so there is a precedent for this option.
Regardless of how this story plays out, you'll be able to stay up to date by checking back on this page.
If you're wondering about the sports betting laws in other parts of the US, check out our complete state guides.