As your friend who's hooked on a management sim will tell you, mobile football games are getting better all the time.
But which ones are most worthy of your commute or lunchbreak?
Here's our definitive countdown of the best mobile football apps for android and iPhones out there:
5. Score! World Goals
Kicking off our list of the best football apps for iPhones and Android, Score! World Goals challenges you to recreate a thousand of football's best goals from the last forty years.
So you get to try your hand at that insane free-kick by Roberto Carlos against France in '97 or Maradona's dribble against in England in '86.
On this mobile football app developed by First Touch Games, you swipe to pass or shoot, and all the action is rendered with decent graphics.
4. Powershot Challenge
Another free football game for Android and iOS worth checking out is this penalty shootout challenge.
In the Powershot Challenge soccer app you have to score to win real prizes like visits to training grounds and signed shirts.
So far the game has won the right to feature players from nine European clubs, all rendered as cartoon characters. These teams include the likes of Barcelona, Chelsea, AC Milan and Real Madrid.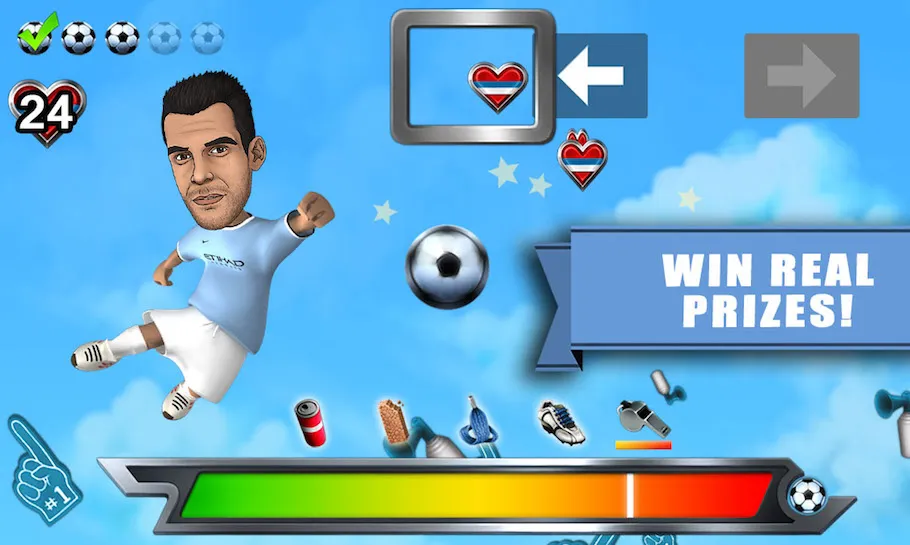 3. FIFA 15 Ultimate Team
The addictive portable management game from FIFA gives you control of more than 10,000 players from 33 leagues.
Developed by EA Sports, FIFA 15 Ultimate Team is one of the top football games for mobile phones, allowing you to put together a dream team of the world's best players.
As gaffer you make the transfers, pick formations, style of play and even the kit. And once you've honed your gameplan you'll be able to pit your wits against your friends via Facebook.
On the Flick Kick Football app, developed by PikPok, you have to work the ball up the pitch with quick swipes.
You'll only have a split-second to pick your shot or thread a pass. Avoiding opponents and finding teammates or the back of the net is tougher than it looks.
It's the simpleness and retro comic style of the game that ranks it near the top of the best football apps for android and iPhones. Flick Kick is easy to pick up but difficult to master, and even harder to put down once you've started.
The ultimate mobile football management game developed by Nordeus, Top Eleven puts you in charge of almost every aspect of your team's progress: you have to devise training sessions, pick the right strategies, sign players and make important in-game decisions as the match is simulated in 2D.
You can choose from 29 different leagues, and some of the official emblems from the Premier League, La Liga, Bundesliga and Serie A have been licensed.
You can also face off against your mates to see who's got the makings of a Guardiola.
Post-Match Analysis
It was a close thing, but the detail and usability of Top Eleven puts it top of the table for iPhone or Android soccer apps. It's the best social football game going.
After all, the small-screen format is probably best-suited to strategy and management games. Unless the control system is really intuitive, like Flick Kicks, action games can be a bit clunky or repetitive on the go.