The History of Online Sports Betting in Connecticut
Historically, the State of Connecticut has been governed by the same act, PASPA, that had prevented the vast majority of states in the US from offering legal sports betting.
PASPA, short for the Professional and Amateur Sports Protection Act, was signed into existence in 1992 and has made it illegal to operate regulated sportsbooks in Connecticut and almost all other states.
Even though sports gambling was never technically legal in the state, it does have two tribal casinos that offer different gaming options (including some sportsbooks), and there is a state CT Lottery. Horse and dog racing also exist in Connecticut but not in the off-track betting capacity.
This means that while sports betting has not historically been legal in Connecticut, residents of the state are no strangers to recreational gambling. Casual bets among friends have probably been the height of sports betting in the state so far, a far cry from the sports betting situation in New Jersey.
And it is clear there has been a growing appetite for sports betting in the state. As early as 2017, Connecticut introduced a law anticipating its possible legalization. The law, which required a change in federal law to come into effect, paved the way for the regulation of sports betting.
Finally, in May 2018 the Supreme Court made the decision to repeal PASPA which effectively lifted the ban on sports betting and gave every state the opportunity to decide for themselves.
Keep reading to see how Connecticut lawmakers are reacting to possible gaming expansions.
The Current Online Sports Betting Situation in Connecticut
With the legalization of sports betting, Nutmeggers have officially beat neighboring Massachusetts in the race across the finish line and just in time for the 2021 NFL season.
There are currently three sportsbooks in the state, and these are legalized by partnerships with various entities in the states such as tribal nations and the State of CT itself. Here are your options as a Nutmegger right now.
If mobile sports betting is not your style then you can engage in retail sports betting at these associated locations:
The tax rate for sports betting in Connecticut is at 13.75%.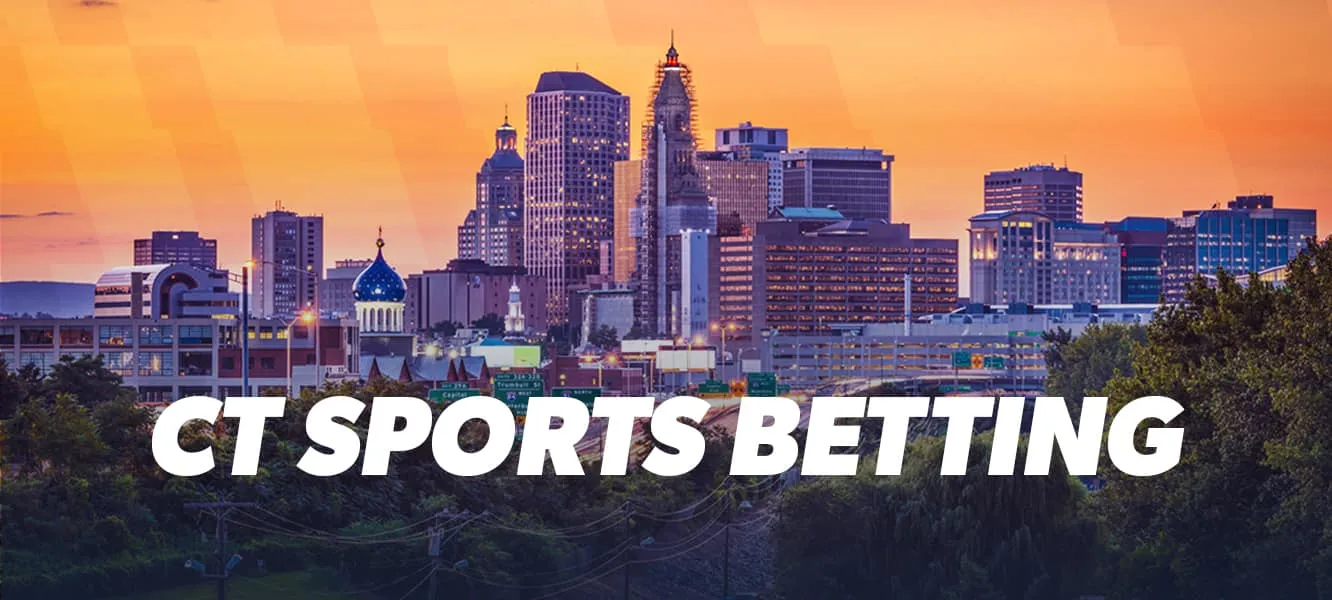 Which Online Sports Betting Sites Are Legal in Connecticut? – Online Sportsbooks in CT
At the moment, Connecticut bettors have a few good options. There are some retail and online options connected to the sports bookmakers. As a person located in Connecticut you can bet on any sports which are available to you on your platform of choice, as stated above here are three Sportsbooks you can play with at the moment. These sportsbooks are connected to such landbased locations such as the Connecticut Lottery and the Mohegan Sun tribe casino.
If you're in a state where sports betting is legal, take a look at the top sports wagering apps that allow you to seamlessly bet from your mobile.
What Sports Can You Bet on Online in Connecticut?
There are plenty of rabid sports fans in Connecticut and due to the state's location, there are lots of teams that potential gamblers will be interested in betting on.
In this section, we'll explore the sports landscape to see what kinds of sportspeople in Connecticut will be most excited to bet on once legalized sports gambling becomes available in the near future.
NFL Football in Connecticut
Although no NFL teams make their home in the Nutmeg state, college football is really popular. And no wonder. Connecticut is home to some of the most prestigious universities in the entire country.
The Connecticut Huskies represent the University of Connecticut in the NCAA Division 1, and they have plenty of conference titles to their name.
The Yale Bulldogs meanwhile represent the Ivy League school, and every two years New Haven hosts one of the most hotly contested college football rivalries anywhere when the Bulldogs take on the Harvard Crimson.
At the moment it is unclear whether it will be possible to gamble on college sports once sports betting is finally legalized, but if it were it would certainly generate plenty of interest.
MLB Baseball in Connecticut
In Baseball, Connecticut does not currently boast an MLB franchise, but the Hartford Yard Goats and the Connecticut Tigers both have plenty of Minor League street-cred. There are also the New Britain Bees who play in the Atlantic League of Professional Baseball.
Of course, once sports betting is legalized it will also be possible to bet on MLB teams from across the US, from individual games to World Series winners.
Basketball in Connecticut
Although Connecticut has no representative in the NBA, The Connecticut Sun women's basketball team represents the state in the WNBA and has a great record in the league. The Suns have made the playoffs in eight of their last fourteen seasons up to 2018.
Hockey in Connecticut
No NHL teams currently reside in Connecticut, but in the AHL the state is represented by the Bridgeport Sound Tigers and the Hartford Wolf Pack, both of whom are affiliated with New York NHL Franchises. Once sports betting is legalized both AHL and NHL will be free to bet on.
Other Sports in Connecticut
In golf, the Travelers Championship is a PGA tour event held at the TPC River Highlands course just outside of Hartford.
The New England Black Wolves represent Connecticut in the National Lacrosse League. Lime Rock Park in Salisbury hosts a variety of NASCAR and other racing events throughout the year.
Overall, there are plenty of sports teams and devoted sports fans to be found in Connecticut, and very soon they are going to have the chance to bet on the sports they love.
Is Betting on Daily Fantasy Sports (DFS) Legal in Connecticut?
Yes. You can bet on DFS in CT.
At the end of October 2018, after months of negotiation, the Connecticut General Assembly finally passed a bill designed to legalize and regulate daily fantasy sports.
The bill mimics those that have been introduced in other states in the wake of PASPA:
The minimum age for players will be 18.
The DCP will have regulatory oversight.
Operators will pay an annual fee of $15,000 or ten percent of the revenue generated from Connecticut players.
The revenue tax rate is set at 10.5%.
There is a potential hiccup that could occur once the new sports gambling bill is signed into law by Gov. Lamont, most likely by July 1, 2021. That new law will require fantasy sports sites like DraftKings and FanDuel to undergo a licensing process.
This means that once the bill becomes law, these sites will have to withdraw from Connecticut until they are officially licensed, which unfortunately will not happen overnight.
Is There No Deposit Sports Betting in Connecticut?
Check out all the above offers and promos with sportsbooks in the states o CT. Sportsbooks want your business and constantly revolve around different promos and sign-up offers. Check this page above to see the deals that are available to you especially when it comes to online gambling.
There is a state lottery run by the Connecticut Lottery Corporation
What Is the Future of Online Sports Betting in Connecticut?
After much discussion, debate, and compromise, Connecticut's tribal and state interests have finally become aligned and now There is online sports betting available.
Now that Gov. Ned Lamont has signed the approved gambling bill into law regulated online platforms have come to Connecticut. Look in the coming years for even more sports betting platforms to come to the state as the market matures.
A New Era of Sports Betting for Connecticut
The repeal of PASPA in 2018 opened up the door to a new world of sports betting for every state in the US. Out of the gate, Connecticut has already proved itself to be one of the more industrious states, in that it made steps towards legalization quickly.
Now, neighbors all around the Nutmeg State have overtaken them in the legalization process. Rhode Island, New York, and Delaware have all successfully passed bills. Now that Connecticut's own bill has become law, it's just a matter of waiting for the U.S. Department of the Interior to review the amended gaming compacts, which it has 45 days to do.
Once that takes place, sports betting in Connecticut will be fully legal and regulated. This is an exciting time for both sports fans and betting fans across the US and it looks like people in Connecticut have great reasons to believe they'll soon be in on the action.
To stay up to date on everything that's happening, browse our state-by-state guides to US sports betting laws.
Connecticut Sports Betting FAQ
Is sports betting legal in Connecticut?
Yes, sports betting is legal in CT, three sportsbooks are available that can take your bets. Check this page to see the best offers available.
How many sportsbooks are available in Connecticut?
At the moment there are three sportsbooks setup in connection state's Native Tribes and the state lottery.