What Are Iowa Sports Betting Bonuses?
Sports betting bonuses are promotional offers created by sportsbooks to encourage players to sign up and bet with them. They come in different forms, but they always represent an opportunity to save some money or get some extra value.
Today, there are six active sportsbooks in Iowa. Bonuses, especially welcome bonuses for new members, are a big part of how each one appeals to potential customers. We can think of sports betting bonuses as marketing tools – albeit very valuable marketing tools from our perspective!
This page is your complete guide to the betting bonuses up for grabs in Iowa. We check out the different types of bonuses on offer, how to claim them, terms and conditions to be aware of, and much more.
Everything you need to get hooked up with an excellent bonus in Iowa is right here.
Who Qualifies For a Betting Bonus in Iowa?
Anyone who can legally sign up and bet with a sportsbook qualifies for a sports betting bonus. In Iowa, this means you must be at least 21 years of age and physically located within the state lines.
Although you can create an account from anywhere, you need to be physically in Iowa to place bets using your bonus.
There aren't really any special conditions that need to be fulfilled to claim a bonus in Iowa. As long as you're legally entitled to bet, you should have no issues getting your bonus.
How Do I Claim My Iowa Betting Bonus?
Generally, you can claim a welcome bonus by typing in a bonus code at some point during the registration process. Look out for an optional bonus field when you're signing up.
Sometimes the sportsbook will let you type in the code afterwards instead, in the cashier. Some sportsbooks don't even require you to use a bonus code, and just credit new users with a welcome bonus automatically.
Before signing up for any sportsbook in Iowa, we recommend you check out our full sportsbook reviews. We take a close look at the bonuses on offer at each one, and if you sign up using our links you can be certain you won't miss out.
You can also have a look at which sportsbooks have the fastest withdrawal process and which sportsbooks accept PayPal.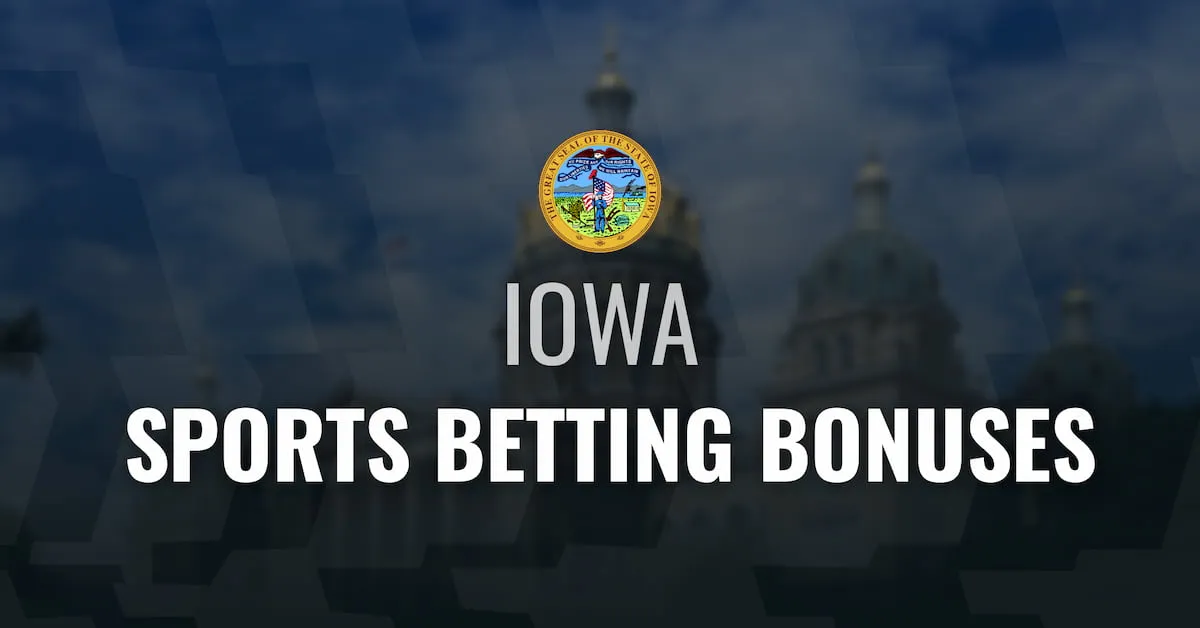 What Are the Different Types of Betting Bonuses Available in Iowa?
Iowa has six active sportsbooks, which means plenty of competition for sports betting bonuses. Every sportsbook is different, and you can generally expect both welcome bonuses for new players as well as on-running promotions to keep existing members happy.
You can check out our in-depth guide to betting bonuses for more detailed information. Below, we have listed some of the most common bonuses that you read about in the guide.
Free Bet Bonus
Money-Back Bonus
Sign Up/Deposit Bonus
No Deposit Bonus
Reload Bonus
Enhanced Odds
Parlay Bonus
Real Prizes
What Are the Terms and Conditions for Iowa Betting Bonuses?
As valuable as betting bonuses are, there are always terms and conditions to be aware of. Often these are comparatively hidden in the small print, so you should make sure you seek them out in advance and be fully aware of how each bonus works.
Unfortunately, it's all too common to come across an amazing sounding bonus that turns out to be much less valuable than it seemed, thanks to some strict conditions.
You can read more about bonus terms and conditions in our full bonus guide, the most common of which we have listed below:
Rollover Requirements
Minimum Odds
Maximum Bet Size
Restricted Markets
Expiry Date
Which Iowa Sportsbooks Have the Best Bonuses?
This is a hard question to answer, chiefly because everyone bets differently. What might be an extremely valuable bonus for one player may not appeal much to another.
If betting on the NHL is your thing, you are unlikely to be too excited by some amazing offers on NBA betting. Some players love to receive a small amount of totally free bonus cash when they create an account, while others would prefer to have their first deposit enhanced. Everyone is different.
Iowa has six active sportsbooks, and each one comes fully loaded with interesting bonuses. To give you a flavor of what's on offer, we've collected three of the potential bonuses in this section.
To get a more in-depth look at the specific bonuses at each sportsbook, you can check out our reviews.
DraftKings
DraftKings is one of the biggest names in US sports betting, having originally made its name in the world of Daily Fantasy Sports. The welcome offer is a potentially very valuable one, even if it's a bit more suited to players with larger bankrolls.
The bonus is split between a boosted 20% on your first deposit worth up to $500, and a Risk-Free Bet also worth up to $500. This means you have the potential to save an amazing $1,000 in total.
The deposit bonus comes in the form of bonus cash, which has wagering requirements attached. Every time you bet $25 in the sportsbook, $1 of the bonus is released.
The upper limit of $1,000 is great, but to get maximum advantage of that enhanced deposit you would need to inject a hefty $2,500 of your own money on your first deposit.
Get a $1,000 Bonus with DraftKings!