During the November 2020 election season, many local elections took place and ballot measures quietly passed around the country, including in Louisiana. As a result, sports betting is now legal in Louisiana, but that doesn't mean you can bet yet!
After some political delays, in July 2021 Governor John Bel Edwards finally named former state senator Ronnie Johns chairman of the Louisiana Gaming Control Board. The gaming board regulates sports gambling in the state and will now begin to set the betting rules for the 55 of 64 parishes where Louisiana voters agreed last November to allow legal sport betting in their districts. Louisiana parishes that have approved this are Lafayette areas, Baton Rouge, Evangeline and more.
Despite these positive steps forward, a launch date for the legalization sports betting in the Bayou State still looks doubtful for 2021 and now isn't expected to happen until early 2022. That leaves a lot of sports fans waiting and looking at the calendar in the meantime.
For a state that's known for parties, celebration, and high-scoring football games, Louisiana has surprisingly had some of the harshest gambling laws in the entire country. However, like so many other US states, the move towards legalized sports gambling has begun to take shape.
In this complete guide to Louisiana online sportsbooks and sports betting laws, we'll dig into:
How LA sports betting laws are changing after the 2018 Supreme Court decision.

When and how people in Louisiana will be able to bet on sports legally online.

If it's legal to bet on daily fantasy sports (DFS) in Louisiana.
We'll do our best to put all the pieces together for a clear picture of what to expect in terms of legal sports betting in Louisiana in 2021 and beyond.
Louisiana Legal Sports Betting at a Glance
While its possible legal sports betting in Louisiana won't officially launch until early 2022, at least the hard part is over, and now it is up to the Louisiana Gaming Control Board to hammer out the details.
Here are some of the most important facts and developments so far:
The American Gaming Association estimates Louisiana's potential tax profits from a legal sports betting industry to be between $50 and $60 million per year.

Late in November 2020, Louisiana residents overwhelmingly approved sports betting in 56 of 64 Louisiana parishes as a ballot measure leaving it up to the state legislature to hammer out the fine details when they return in 2021.

In July 2021 Governor John Bel Edwards names former state senator Ronnie Johns chairman of the Louisiana Gaming Control Board.

In the second half of 2021, the LA gaming board will set the betting rules for the 55 of 64 parishes where sports betting is now legal.
In the next section, we'll go into more detail about how things currently stand in Louisiana and what's happening to move the legal sports gambling agenda forward.
The Current Online Sports Betting Situation in Louisiana
The state of Louisiana hasn't always been warm and cozy with the idea of legal sports betting but that all changed in 2018 when the US Supreme Court repealed a country-wide ban on sports gambling that had been on the books since 1992.
Before the 2020 ballot measure passed, Pelican State lawmakers were already talking about a sports betting bill, including Governor John Bel Edwards.
Edwards had voiced his concern that since nearby states including Mississippi and Tennessee were already accepting mobile sports, it puts the Louisiana casino industry at risk. "I don't think that's in our best interest," said Edwards. "There are many different ways that sports betting can be undertaken," he said. "We're trying to figure out what works for Louisiana."
Right now in Louisiana, there are 15 riverboat casinos like Harrah's, four Native American tribal casinos, and one land-based casino in New Orleans, plus four racetracks all accepting legal gambling wagers in the state. That bodes well for in-person sports betting since the infrastructure is already in place to build physical sportsbooks.
What's less clear is how online sports betting in Louisiana will work.
Now the Louisiana Gaming Control Board is tasked with carving out a legal space for online betting. In addition to the over $50 million annual projected tax revenue, proponents of legal sports betting also point to other big economic benefits that places like Mississippi and Tennessee are already enjoying, like increased employment and growth in local retail sales. There are many different regulatory systems for mobile betting, such as hybrid-model states like New Jersey – which can definitely be an inspiration for how things could look in Louisiana in the future.
Experts estimate that legal sports betting may be available in Louisiana sometime in early 2022 when legislators can agree on the details.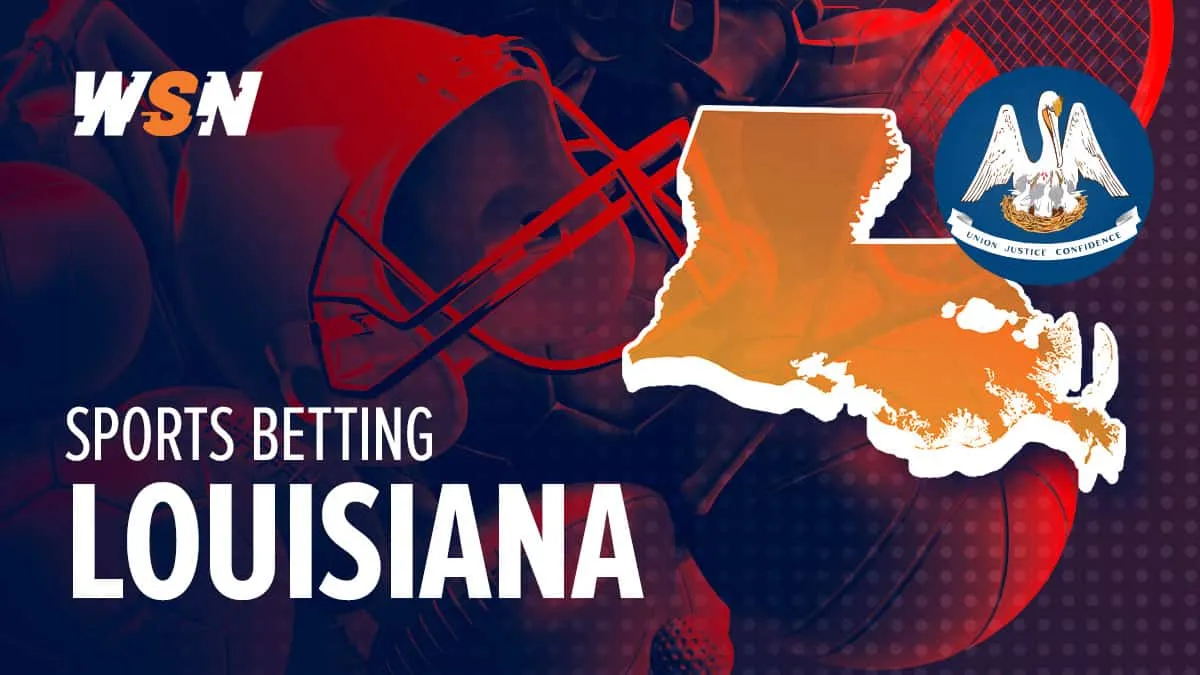 The History of Online Sports Betting in Louisiana
Louisiana doesn't have the richest gambling heritage in the country but there are a few key dates worth getting familiar with:
The early 1700s – Settlers construct cabarets and billiard halls before building the first church, the St. Louis Cathedral, which was originally constructed in 1727.

1753 – Louisiana Governor Louis Billouart de Kerlérec opened the first state-sponsored casino, located in New Orleans.

1812 – The federal government banned gambling in Louisiana with the exception of New Orleans.

1866 – The first Louisiana State lottery was created. By 1890, the Louisiana Lottery Corporation was operating in almost every US state with 90% of its sales coming from outside Louisiana. However, facing political opposition, the lottery was shut down in the early 1890s.

1920s – Pari-mutuel betting on horse racing became the only legal gambling activity in Louisiana.

1991 – The state lottery was reinstated.

1991 – Louisiana approves 15 riverboat casinos located in Shreveport-Bossier City, Lake Charles, New Orleans, and Baton Rouge.

1993 – Three Native American bands open tribal casinos, with a fourth to follow.

2018 – 47 out of 64 parishes voted to legalize and allow DFS but interruptions on the taxation side of the bill made for long delays.

2020 – A parish-by-parish referendum vote on ballot measure approves sports betting in LA.

2021 – DraftKings announces in mid-July that it has gone live with daily fantasy products in Louisiana.

2021 – In July, Governor John Bel Edwards names Ronnie Johns chairman for the Louisiana Gaming Control Board.
Which Online Sports Betting Sites Are Legal in Louisiana?
Here are some of the best online sportsbooks you can bet at in Louisiana:
What Sports Can You Bet on Online in Louisiana?
Aside from daily fantasy (see below), there are no sports you can bet on online right now. However, once sports betting rules are finalized in Louisiana, it'll bring with it a whole slate of professional and amateur sports to wager on.
Louisiana is home to some of the world's most iconic sports teams and athletes.
The New Orleans Saints are a force in the NFL and an absolute sensation in Louisiana. Expect tons of local action on the Saints once online gambling has launched, though sports bettors may miss out on the upcoming 2021 season. The Southern gem is also home to various Division I college sports teams, including the LSU Tigers and Louisiana Ragin' Cajuns.

On the hardcourt, the New Orleans Pelicans will attract its own share of wagering as soon as Louisiana's legal betting industry gets up and running.
The list of sports that people in Louisiana will be able to bet on is huge. We're talking major and minor North American leagues as well as action from all over the world.
These days, if you want to bet on it, there's usually a site ready to take your action, regardless of the sport, and now Louisiana will soon join in on all that fun.
Is Betting on Fantasy Sports Legal in Louisiana?
Yes! After a legislative session, DraftKings announced in mid-July 2021 that it has gone live with daily fantasy products in Louisiana.
In November of 2019, a ballot initiative to legalize daily fantasy sports (DFS) in Louisiana passed, with nearly 92% of the state's population voting in favor of the legislation.
Now that DraftKings (with FanDuel being their competitor) has settled in, Creole State punters can enjoy those popular contests with even more options most likely planned for the near future.
Is There No Deposit Sports Betting in Louisiana?
There are no deposits or bonus offers of any kind available just yet. However, we fully expect online sports to offer a full menu of valuable bonuses to Louisiana bettors once its operations are officially launched.
Check back on this page to find out when sports betting is starting and to get exclusive access to the best Louisiana sports betting bonuses.
What is the Future of Online Sports Betting in Louisiana?
With the huge success of the DFS initiative (including the DraftKings launch) and the state gaming control board now with a chairman, there's plenty of momentum behind legal sports betting within Louisiana. Plus, with Mississippi right next door already accepting bets, the heat is on for Louisiana policy makers to move fast and keep sports wagering money inside the state.
Estimates are that there's over $50 million per year in tax revenue just waiting for Louisiana once it gets its sports betting operation fully launched.
When that happens, we expect online sports betting, especially mobile betting, to be tied to the land-based sportsbooks that will probably start popping up in existing casinos. We also expect that sports betting, online and otherwise, will be taxed at 10-15%.
Louisiana Legal Sports Betting Coming Soon
Louisiana gambling industry experts hope legal sports betting is launched by early 2022 in the state. Of course, sooner would be better, at least financially, since that later date means they would miss out on most or all of the upcoming (and lucrative) NFL season including the super bowl, as well as a good chunk of the NBA season.
If you live in Louisiana and want to stay up to date with everything that's happening, bookmark this page and check back soon. We'll post major developments and how they affect Louisiana's online sports betting launch date.
If you want to check out what's happening with the laws in other parts of the country, refer to our state by state legal sports betting guides.