NoLimitCoins Casino Rating
Promotions and bonuses: ⭐ 8/10
Features: ⭐ 8/10
Banking options: ⭐ 8/10
Games: ⭐ 8/10
Security: ⭐ 8/10
Customer support: ⭐ 9/10
Mobile app: ⭐ 7.5/10
Social casinos are exploding all over the US and NoLimitCoins is the latest new kid on the block. Already available in 47 states in the US (Washington, Idaho, and Wyoming are the odd ones out), it's been a strong start to life in the social casino industry for NoLimitCoins.
There's a lot of buzz around this platform, so we thought we'd better ask our team of experts to perform a full review. Everything you need to know about NoLimitCoins is here, from info about the games and software to a sign-up guide and how to claim your welcome bonus.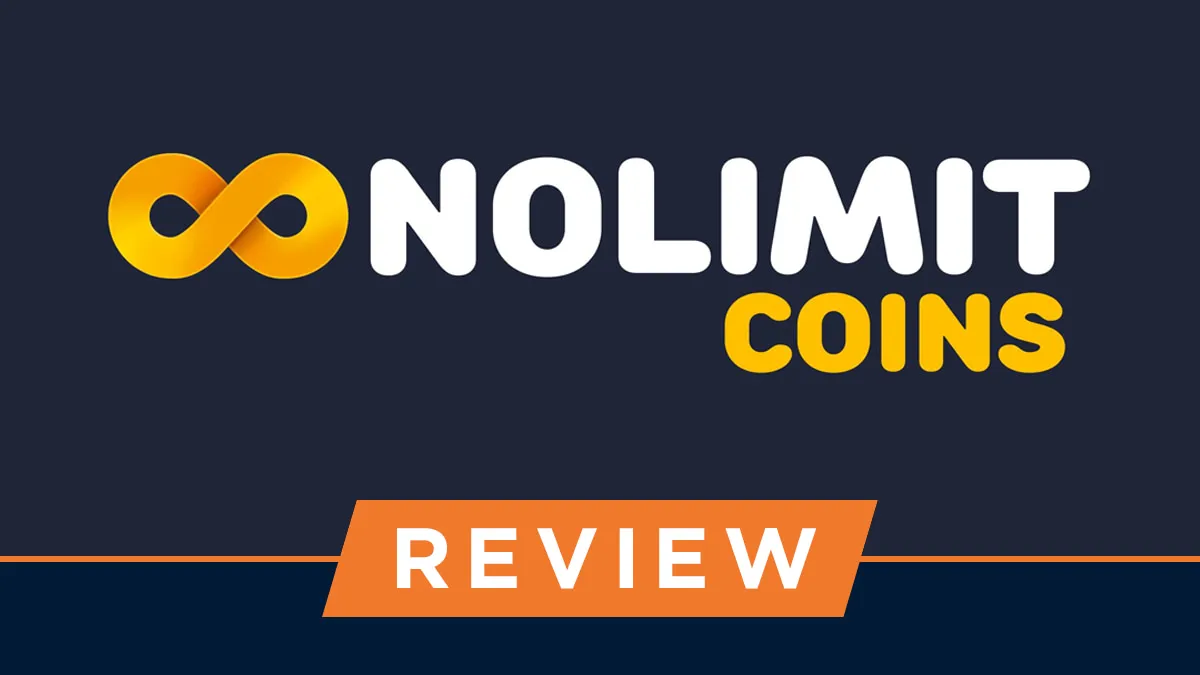 NoLimitCoins Quick Facts
NoLimitCoins Key Facts

Legal states
47 (Not WA, WY and ID)
Sign-up offer
100,000 GCs + 1,698 SCs
Promo code
None
Minimum deposit (or banking options if a min deposit is not necessary)
$4.99 minimum purchase
Real Money Casino
No
Mobile app
No
Games
~70
Minimum age
18
WSN rating
⭐8/10
URL
https://nolimitcoins.com/
NoLimitCoins Casino Promotions and Bonuses
NoLimitCoins is getting an ⭐8/10 for its bonuses and promos. There are a lot of interesting offers on the site, including daily coin bonuses and on-running promos. We're going to cover them all here.
Welcome Bonus 100,000 Gold Coins
First off, all new players get 100,000 Gold Coins as soon as they create their account, so you can start playing in GC mode immediately. Social casinos and sweeps casinos are also required to verify the identity of everyone who plays on the site, by checking their personal information against a copy of their ID. As soon as you complete this step, you'll receive 1,698 Super Coins.
If you decide to purchase additional coins, there is also a special offer available for brand-new players. You can get a 33% boost on your first purchase, by paying $29.99 for 1,050,000 Gold Coins - and you'll also get 3,999 Super Coins as a free bonus.
Lucky Wheel
The Lucky Wheel is NoLimitCoins' version of a daily login bonus. Rather than give you a set amount of coins per day, instead you'll get a random prize by spinning the Wheel. It could be a number of Gold Coins, Super Coins or a combination of both.
We kind of have mixed feelings about this. On the one hand, we enjoy the element of mystery and suspense from spinning the wheel, and it feels more interactive than simply logging in and claiming coins. On the other, if maximizing your supply of free Super Coins is your priority, it's not ideal as there is a decent chance that you'll only receive GCs. Some social casinos provide daily sweeps coins as part of a login bonus, but not NoLimitCoins.
Refer a Friend
NoLimitCoins have a solid refer-a-friend promo, which can earn you both free GCs and SCs. All you need to do is send your friend a unique sign-up link, and if they use it to create an account and purchase some coins you will receive 900,000 Gold Coins and 2,500 Super Coins.
NoLimitCoins Features
There is a lot going on at NoLimitCoins, and we're giving it 8/10 for this section.
NoLimitCoins is a social casino that also supports sweepstakes-style games. All the games are available to play totally free, using either Gold Coins or Super Coins.
Gold Coins are similar to play money at real money casinos. You get a healthy supply for free as soon as you sign up, as well as regular top ups. Gold Coins are exclusively used to play the games at NoLimitCoins. They can't be redeemed or converted into prizes, no matter how much you win. You can also purchase extra Gold Coins if you want.
Super Coins, on the other hand, can never be purchased. You can receive free Super Coins in a variety of ways: by spinning the Lucky Wheel, via giveaways on social media, through a handwritten request via mail and as a bonus when you purchase Gold Coins packages.
When you play in Super Coin mode, you can redeem your winnings for cash and other prizes. You can request a gift card redemption worth $25 when you win a minimum of 25 Super Coins. You need to win at least 100 Super Coins to request a redemption of cash sent directly to a nominated bank account, provided it matches up to the personal details of your account.
You can flip between playing in Gold Coin and Super Coin mode using the button at the top of the screen.
Daily Tournaments
As well as the full menu of games, which we're going to come onto in a later section, NoLimitCoins hosts daily tournaments where you can boost your coin winnings. Each day, certain games are chosen to receive a prize pool of coins. Players then have a set amount of time to win as much as possible, with the top ten winners receiving a share of the prize pool at the end.
Weekly Email Lottery
Each week, NoLimitCoins sends you an email with a simple question. All you need to do is respond to be entered into a draw, with a chance to win extra coins.
NoLimitCoins Banking and Payment Options
NoLimitCoins is getting ⭐ 8/10 for us in its banking options.
There are two main options for purchasing Gold Coins. You can use bank cards like Visa, Mastercard, and Discover, or you can make a purchase using a bank transfer which is processed via Trustly. You'll get a 5% boost on your purchase if you choose Trustly too.
Whichever method you choose, the process is very easy and beginner friendly. You can click the "Buy" button to get started, and then choose the package of Gold Coins you want to purchase. The options range from $4.99 to $199.99. Then it's just a matter of picking your payment method and following the instructions. The payment will be processed instantly and the coins will hit your account right away. NoLimitCoins doesn't charge any fees for purchases either.
As for redeeming your Super Coin winnings for prizes, requests are generally processed within 24 hours. Gift Cards should arrive immediately after that, while bank transfers are subject to further processing periods, depending on your bank.
Games at NoLimitCoins
The gaming menu at NoLimitCoins is very fun and has some decent variety, although it's not the largest compared with some social casinos we've reviewed. We're giving it a score of 8/10.
All the games are designed by Netgame. It's not the most well-known software provider out there, but we're happy to say we're very impressed with their work. The graphics and effects, the variety of bonuses, and the different gameplay features are all top-notch. Each game feels unique and interesting in its own right - which is not always the case.
In total, there are around 70 different games available, and they are pretty much all types of slots. As mentioned above, the variety in terms of the different themes and features is good - with classic fruit machine games like Royal Fruits and games with more of a story involved, like Thunder Fishing. There are around 20 games that have some kind of jackpot attached too.
The actual menu is well-designed. You can filter the games by new additions, all-time most popular and which games are hot right now. You can also save your favorites in a special tab, by clicking the little heart icon beside the game.
In terms of improvements, it's fair to say that NoLimitCoins is pretty slot-heavy. The addition of table games like blackjack and roulette, or bingo games, would be welcome and mean more variety.
NoLimitCoins Slots Security
NoLimitCoins is new on the scene and there isn't a huge amount of detail available on its ownership or track record in terms of security. That said, we're happy with everything we've seen so far, so we're giving NoLimitCoins an 8/10 for now.
As a social casino, NoLimitCoins doesn't require a gambling license to operate its games. It does have certain legal obligations, however - including verifying the age and identity of its players - which it carries out effectively. All the personal data stored on the site is protected by SSL encryption, and not shared with third parties. As I said, I'm perfectly happy with it for now.
NoLimitCoins Customer Support
NoLimitCoins is getting ⭐ 9/10 for its customer support.
Our number one preferred customer support channel, no matter what site we play at, is always 24/7 live chat support. It's the most convenient and most practical way to get fast answers when you run into any issues - and that's exactly what NoLimitCoins provides. Any time I had a doubt or question during our NoLimitCoins review, the staff was on hand to answer it basically right away.
For more complex issues, you can also get email support via the form on the website or at [email protected]. You can call +1 (208) 974-5349 for payment-related questions in the US.
The only thing that we're taking a mark off for is the lack of FAQs. The "How it Works" section is good for explaining the sweepstakes model, but we'd still like to have some articles providing info on the most common basic questions, about things like banking methods or prize redemption.
NoLimitCoins Mobile App
We're going with ⭐ 7.5/10 in this section, and we'll explain why.
First up, and most significantly, There is no NoLimitCoins app you can download. It's pretty early days for the platform, so we wouldn't be surprised if one was developed down the line. But if a mobile app is a priority for you, there are other social casinos out there that do have them.
The good news is that you can still play using your cell phone. For our NoLimitCoins mobile review, we tried the website using different devices, including iPhone and Android phones. The mobile site looks great when you access it using your browser, with all the same features and options you'll find on the desktop.
Netgame's software works perfectly too, and the games really pop on the smaller screen.
All in all, NoLimitCoins actually performs very well on mobile devices - even without an app. But I'd still like to see one added.
Where is NoLimitCoins Legal?
A big part of the popularity of social casinos and sweepstakes casinos is their widespread availability, in contrast to real money online casinos which are only available in a handful of US states.
NoLimitCoins is available for anyone in any state in the US with three exceptions - Washington, Idaho, and Wyoming.
How to Sign-Up for NoLimitCoins
Signing up to NoLimitCoins is a breeze. The first thing you'll be greeted with when you open the website is the sign-up screen, although you can also start the process by clicking the "Register" button.
There is a very short sign-up form to complete to get your account set up. You just need to type in your email address and a password, and check some boxes to confirm your age, and location and that you accept the terms and conditions.
There is also the option to create an account using your Facebook or Google login details, which will link your account. It's a good option too: for one it's convenient to keep your login consistent, and you can also keep up to date with the latest promos and offers which get published on social media, including claiming extra super coins.
That's all you need to get your account set up, but it's worth noting that at some point (if you want to redeem Super Coins for prizes down the line) you'll also need to verify your identity. This is a pretty simple process but does take a little bit of time. You'll have to send details about your home address to the team at NoLimitCoins, and also send them a copy of your ID to make sure your info matches up.
As soon as you're signed up, you'll find 100,000 Gold Coins waiting in your account, and when your account is verified, you'll get 1,698 Super Coins.
All in all, I'm very happy with the registration process at NoLimitCasino. It's quick and beginner friendly, and there are no promo codes to worry about to unlock your free coins.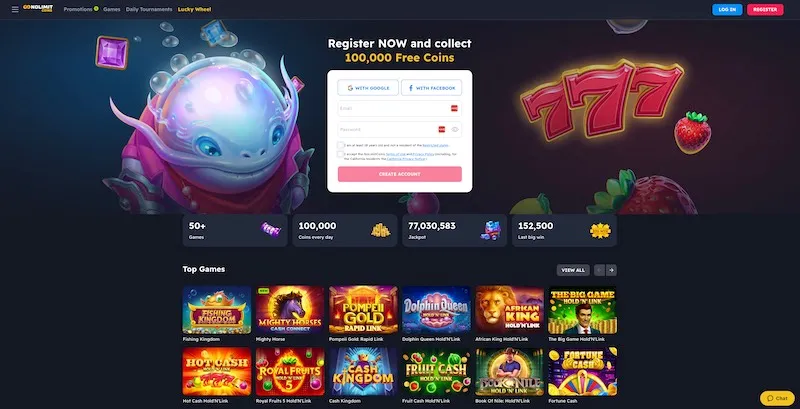 NoLimitCoins Final Verdict
All in all, our team are big fans of NoLimitCoins. It feels like social casinos have really taken some leaps forward in the last couple of years, and NoLimitCoins is the perfect example of that.
The website is very well designed. We absolutely love the 24 hour live chat support, which makes a huge difference to the convenience and overall user experience. The games are excellent, with an impressive variety of graphics and special features so that it never feels too samey. That said, we would like to see the addition of some non-slots games to take the menu to the next level.
In terms of other improvements, a mobile app would be an obvious addition. We're split on the daily Lucky Wheel too: while it's fun to spin for a random prize, it could be argued that a guaranteed daily injection of Super Coins would be preferable, rather than risking not getting any.
Like most social casinos, NoLimitCoins is available in almost every single state in the US. We're happy to recommend giving it a try for yourself.
How We Rate Social Casinos
Our process for rating social casinos is very simple: we sign up and play. The team here at WSN.com aren't just experts, we're fans. We were all over online gambling in the US in 2018, when legal sports betting and online casino games began to make their way around the country. The same is true about social casinos: we've been on board since day 1, testing out each new platform as it arrives and watching in real time as the technology adapts and improves.
We consider things like software, games, customer support, payments, prize redemptions, bonuses and promos, mobile play and more.
NoLimitCoins Compared to Similar Social Casinos
Use the table below to compare the casino to two other US sweepstake sites.


NoLimitCoins
TaoFortune
WOW Vegas
Chumba Casino
Rating
⭐ 8/10
⭐ 8/10
⭐ 8/10
⭐ 9/10
Bonus
100,000 GCs + 1,698 SCs
88,800 Tao Coins
5,000 WOW Coins + 1 Sweeps Coin
2,000,000 free GC + 2 free SC
Top Features

Live chat support
Great game design and software
Daily leaderboards

24-hour live chat support
Tao Quest leaderboards
Daily mystery prize

Excellent software
Almost 350 games
Great payment options

Diverse selection of games
Lots of banking options
Easy to make redemptions

States

License In

All except WY, WA, and ID

All except WY, WA, and ID

All except WY, WA, and ID

All except WA

Payment

Methods

Bank cards
Bank transfers
Skrill
Apple Pay

Bank cards
Bank transfers
Skrill
Rapid Transfer

Support

24-hour live chat support

24-hour live chat support

Email support

Email support / social media
Responsible Gambling
Responsible gambling is a priority for us here at WSN.com. We understand that any time you are playing casino-style games online with cash prizes involved, there is a serious risk that needs to be taken seriously - including in the case of social casinos and sweepstakes casinos like NoLimitCoins. Although you're not actually gambling with real money, social casino players need to be careful and mindful of their activity too.
First and foremost we recognize that:
Online casino-style games are a form of entertainment, not a legitimate way to earn or win money.
Both real money online casinos and social casinos are businesses and exist to make a profit, and there is no cheat code to win.
You should never spend any money at online social casinos that you aren't totally happy to lose.
If you feel like you are losing control of your gambling, there are a lot of resources out there that can help. The Responsible Gambling Council and Gamblers Anonymous both have lots of practical advice and support for anyone who needs it.