TaoFortune Quick Facts
TaoFortune Key Facts

Legal states

All except WA, WY and ID

Sign-up offer

88,800 Free Tao Coins

Promo code

None required

Minimum deposit (or banking options if a min deposit is not necessary)

$5 minimum purchase

Real Money Casino

No

Mobile app

No

Games

~50

Minimum age

18

WSN rating

⭐ 9/10

URL

https://taofortune.com/
TaoFortune Casino Promotions and Bonuses
We've given TaoFortune ⭐ 8.5 out of 10 in this category, with some great promos available but also some room to improve. We're going to go into more detail about how it works in the next section, but remember that all the games at TaoFortune can be played using either Tao Coins or Secret Coins.
Welcome Bonus 88,800 Tao Coins
New players to TaoFortune will find 88,800 Tao Coins ready and waiting in their account, right away. You can add an extra 10,000 TCs to that as soon as you verify your email address too. There's no promo code required to claim this welcome offer - which is great - and the number of coins is more than enough to play lots of games for free without worrying about topping up. Use our exclusive link to sign up to TaoFortune and claim your welcome bonus.
On the downside, you won't get any Secret Coins for free as part of your welcome bonus. There are plenty of social casinos out there that will give you at least a small amount of Sweeps Coins as part of their welcome bonus, so we'd love to see TaoFortune add this too.
Magic Boxes
TaoFortune does have a way to get SCs right off the bat however, thanks to its Magic Boxes. This is basically the equivalent of a daily login bonus, although the actual prize you receive is random. Every day, you get to open a new Magic Box which could contain Tao Coins, Secret Coins or a combination of both.
A word of warning though - before you qualify for Magic Boxes you need to complete your profile by verifying your identity. This is a legal requirement for social casinos that offer sweepstakes style games, as TaoFortune does. You'll have to provide some personal information including your address and SSN, and potentially send a copy of some documentation to be verified.
First Purchase Offer
Brand new players also qualify for a boost on their first purchase of Tao Coins, which normally come with some free Secret Coins too. $10 will get you 300,000 TCs and 1,300 free SCs, while $35 will get you 1,225,000 TCs and 4,550 free SCs.
Invite Friends
TaoFortune has a refer-a-friend programme too. You'll get a special link connected to your account, and if your friend signs up to TaoFortune via that link you'll receive 500,000 TCs and 2,000 SCs - as long as they also make a purchase worth $20 or more. Your friend gets some bonus extra TCs and SCs too, so it's worth it for everyone!
TaoFortune Features
We've given TaoFortune a score of ⭐ 8.5/10 in this section.
First things first, we need to explain some of the basics. All of the games at TaoFortune can be played for free, using two different types of virtual currency. The first is called Tao Coins, which is similar to what are often referred to as Gold Coins at other social casinos. You can get TCs for free in lots of ways, including via a welcome bonus, through daily Magic Boxes and other promos. You can also get more TCs by purchasing them, using a bank card or bank transfer.
The other virtual currency at TaoFortune is called Secret Coins, which let you play the games in Secret Mode. Secret Coins are similar to Sweeps Coins at other sites. Like TCs you can get free Secret Coins through various promos, like Magic Boxes. You can also send a written request for free SCs once a day via mail. You'll find exact instructions on what you need to include in the "How it Works" section of the menu.
Plus, you can also receive free Secret Coins as a bonus when you purchase Tao Coin packages.
If you win additional Secret Coins, you can redeem them for real prizes. This is not the case with Tao Coins, which have no value or use apart from being tokens to play the games at TaoFortune.
Now that that's out of the way, let's get into the fun stuff: the games! In total there are around 50 different games on the menu, all of which are different types of slots and designed by Netgame. It's a good selection, although a little smaller than the best social casinos. We go into more detail on the games in a later section.
Tao Quests
The Tao Quest feature is a nice touch, which is not widely available at social casinos. Every time you complete a new achievement at TaoFortune - like playing 50 times in ten minutes, or winning 30,000 Tao Coins - you earn extra bonus coins and Stars. If you earn enough Stars, you'll climb the leaderboard and get the chance to claim a share of different prize pools.
TaoFortune Banking and Payment Options
TaoFortune is getting ⭐ 9.5/10 for its banking options.
Purchasing coin packages is very simple. TaoFortune supports two main payment methods: bank cards like Visa and Mastercard and bank transfer via Trustly. Choosing Trustly also gives you a 5% boost on your coin package.
All you need to do is click the "Buy" button, choose your package and method and follow the instructions. The payment is processed immediately, with no extra fees, and your TCs and free SCs will appear in your account right away. The minimum coin package costs $5 and gets you 50,000 TCs and 500 SCs.
Tao Coins have no value or purpose outside of playing games at TaoFortune, but Secret Coins can be redeemed for prizes. Before you can request a redemption you need to have made at least one Tao Coins purchase, and you need to have verified your identity.
Your SCs can either be redeemed for a gift card (which comes with a minimum redemption of $25) or as a cash prize which gets sent straight to your bank account (which has a minimum redemption of $100). These limits are pretty standard for social casinos.
Redemption requests are processed within 24 hours. Digital gift cards are sent immediately after point, while bank transfers may take up to another 7 days to be processed, depending on your bank.
Games at TaoFortune
We're giving the gaming menu at TaoFortune ⭐ 8.5/10. With around 50 games available, the total is a little smaller than some other social occasions. Plus, there are no table style games like blackjack or roulette, only slots. That said, the games that are here are very impressive.
Slot Games
The diversity in the slot menu at TaoFortune is good. There are lots of different themes, from classic fruit machines and gem slots to Egyptian, Greek gods, jungle settings and more. Some games are clearly inspired by popular slots from more established software providers, like the Book of Nile which has more than a hint of the Rich Wilde and the Book of Dead from Play'n'Go.
The design of the games is great, with excellent 3D graphics and lots of fun bonus features. They feel modern and artistic - much more so than the options at some other popular social casinos that have a more retro feel. You can save your favorite games in one place by clicking the little star in the menu, which is a nice touch.
Jackpot Games
There are around twenty games out there with jackpots, including Frosty Fruits, Diamond Shot and Dancing Lanterns. There are also Tao Quests which are basically TaoFortune's version of leaderboard contests, where you can earn a share of a prizepool when you play certain games.
Hold'n'Link Games
There are around a dozen games with the novel Hold'n'Link feature, which is a fun bonus game that gets triggered when you hit a certain number of scatters. The whole grid turns into a new set of reels with hidden multipliers landing in different slots at random.
TaoFortune Slots Security
TaoFortune is getting ⭐ 9/10 for site security.
To put it simply, we have no real complaints or concerns about TaoFortune from a security perspective. It's a pretty new site and all the evidence so far is positive - although it's fair to say that it's early days and TaoFortune hasn't yet built up a trusted reputation over a long period of time.
As a social casino which offers sweepstakes style games, TaoFortune is available in every state in the US save for three. It's not a real money gambling platform, and doesn't require a gambling license to operate. That said, it does need to comply with the regulatory framework in each state - including verifying its players' ages and identities - which it does diligently. All personal information collected is protected by SSL encryption and not shared with any unauthorized third parties.
TaoFortune Customer Support
We're giving ⭐ 9/10 for customer support in our TaoFortune review.
This is an interesting one. First of all, there is effectively no help section or FAQs anywhere on the site. This is an obvious red flag, and something that we would like to see added. FAQs are important for explaining the nuts and bolts of any platform, especially the intricacies of playing in social mode or sweepstakes mode. However, that's not the full story.
What TaoFortune does have is a 24 hour chat box available for support. At first, it's an electronic bot that responds to keywords in your questions (which isn't that helpful and is actually a little buggy). However, after the first question you can choose to be connected to a real person, which is much better.
Everyone we talked to at TaoFortune via this method was great: friendly and helpful, providing the correct information we required instantly. Plus, it's available 24 hours.
So to sum up, the human support staff were 10 out of 10. We'd just like it to be a little easier to access them and the addition of an FAQ section.
TaoFortune Mobile App
We're giving TaoFortune ⭐ 8.5/10 in this section.
First of all, there is no TaoFortune app available for now. Having spoken to the customer support team, it's something they expect to be developed in the future. But they lose some points in the mobile review right off the bar for that.
The good news is that you can still play using your phone, via your browser. TaoFortune looks and feels great on the smaller screen. Having a gaming menu on the smaller side is a double edged sword: obviously it's nice to have more options but having fewer games to choose from can be nice on mobile, where sites can feel crowded.
Pretty much everything you can do on desktop you can also do on mobile, including signing up, purchasing coin packages and redeeming prizes. The games performed perfectly on our cell phone too.
Of course, it would be nice to have a TaoFortune mobile app. But the mobile website is definitely an acceptable substitute for now.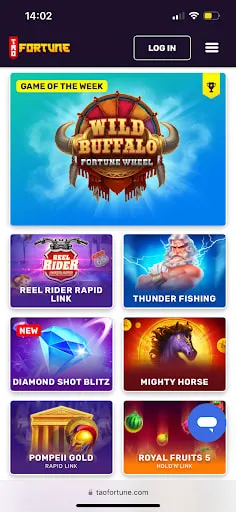 Where Is TaoFortune Legal?
One of the main reasons that social casinos have taken the US by such a storm is how widely available they are. Almost every single state in the US allows some form of social gambling or sweepstakes games - considerably more than currently allow traditional real money gambling.
In the case of TaoFortune, you can sign up and play in every single state in the US with just three exceptions, which are Wyoming, Idaho and Washington.
How to Sign-Up for TaoFortune
With every site we review we like it to be as simple as possible to register for an account and start playing - and that's exactly the case with TaoFortune. You can click the green "Sign Up" button to get started.
You can choose to create an account using your Facebook or Google logins, which will automatically link your TaoFortune account to those platforms. It saves a little time, but if you prefer not to you can also type in your details manually.
All you need to register initially is your email address and a password, and to also confirm you accept the TaoFortune terms and conditions. You'll be given 88,800 Tao Coins to start off, so you can start playing right away. As soon as you verify your email address, by clicking the link that gets sent, you'll get another 10,000 TC.
All in all, we're very satisfied with the sign up process at TaoFortune, which is as smooth and beginner friendly as any social casino we've joined so far. During our tests, it took less than a minute to create an account. We like that you can use Facebook and Google too, although we also appreciate the option to sign up manually.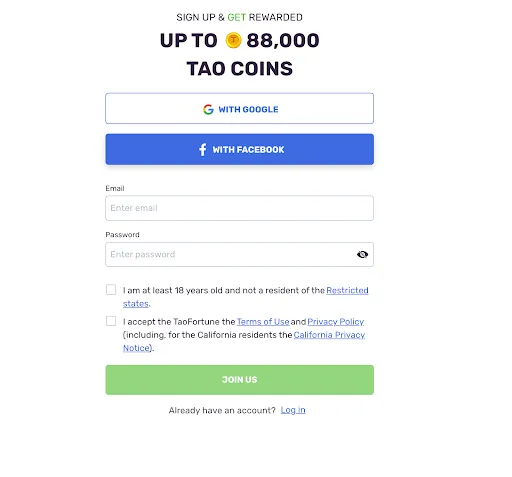 TaoFortune Final Verdict
There is an awful lot to like about TaoFortune, and some room for improvement too.
Overall, we're giving it ⭐ 9/10.
First the good stuff. The website is very well designed, fun and easy to use. It's modern and interesting in a way that a lot of social casinos just aren't, and we like the consistency of the Eastern theme across the site. Creative touches like the Mystery Boxes and Tao Quests really add to the experience. The games are great, with lots of variety in terms of special features and in-game bonuses.
We love the 24 live chat support, and making purchases and redemptions is nice and easy.
In terms of improvements, the total number of games could be improved. We'd like to see some non-slot options added, like table games, poker-style games or bingo. We definitely want a help section or FAQ list, and a dedicated mobile app would be good too.
Overall, it's already a very impressive platform and only likely to improve in the future.
How We Rate Social Casinos
Our team at WSN has been in the business of online gaming and gambling for decades. We've been through our fair share of real money online casinos and in recent years our attention has been firmly grasped by the brand new social casino scene sweeping the US.
We've been on the ground floor since day one. We understand the legal stuff, we love playing for free and we also know how to get the most out of prize redemption. The sweepstakes model is interesting and unique, and one which many people don't fully grasp the intricacies of at first. We make sure we explain exactly how it works for each site individually, in every social casino we review.
There are lots of other factors we consider too: the software and usability of the platform, the games, customer support, banking methods, safety and security, bonuses and promos and much more.
TaoFortune Compared to Similar Social Casinos



TaoFortune

Rating

⭐ 9/10

⭐ 9/10

⭐ 9.5/10

⭐ 9/10

Bonus

88,800 Tao Coins

Top

Features

24 hour live chat support
Tao Quest leaderboards
Daily mystery prize

Excellent software
Almost 350 games
Great payment options

Diverse selection of games
Lots of banking options
Easy to make redemptions

Multiple promotions and bonuses every day
Win iPads and TVs
Live chat support

States

License In

All except WY, WA and ID

All except WY, WA and ID

All except WA

All except WA and ID

Payment

Methods

Bank cards
Bank transfers
Skrill
Apple Pay

Bank cards
Bank transfers
Skrill
Rapid Transfer

Support

24 hour live chat support

Email support

Email support / social media

Live chat
Responsible Gambling
Even though social casinos like TaoFortune don't technically fall under the umbrella of real money online gambling, it's just as important to practice responsible gambling when you play on these kind of sites. Ultimately, the games at social casinos can feel pretty similar to regular casinos, and the ability to purchase coins means you need to make sure you are playing and spending within your means.
Take regular breaks and remember that social casinos should be a fun form of recreation. They are certainly not a viable way to earn money or consistently win cash prizes.
Check out organizations like the Responsible Gambling Council and Gamblers Anonymous for more info. There is a lot of support out there if you need it.