FanDuel Casino
FanDuel is a popular choice for bettors due to its wide array of games designed to suit diverse preferences. Whether you enjoy sports betting or casino games, FanDuel has something for everyone. Their highly-rated app provides a user-friendly interface that enhances the overall betting experience. Additionally, FanDuel offers a welcome promotion called "Play it Again," which allows you to claim up to $1,000 on losses during your first day of play. This offer provides a safety net for new players and encourages them to explore the platform without fear of significant losses.
One of the standout features of FanDuel is its commitment to ongoing promotions. The Reward Machine, for instance, gives players a chance to win up to $2,000 every day. This exciting opportunity allows you to try your luck and potentially boost your winnings without any additional cost. By offering such regular promotions, FanDuel keeps the betting experience engaging and rewarding for its users.
The combination of a diverse game selection, a highly rated app, and attractive promotions makes FanDuel a top choice among bettors.
Pros:
Low wagering requirements.
Plenty of promotions.
Easy navigation.
Cons:
Click this button to get your FanDuel Promo.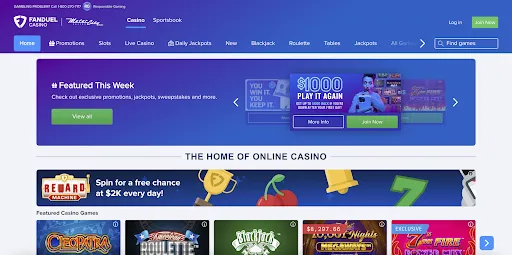 Borgata Casino
Borgata online casino, owned by MGM Resorts, provides a seamless eCheck deposit method through VIP Preferred™, ensuring secure and swift transfers. With a vast selection of over a thousand games, including access to their online poker platform, Borgata offers a diverse gaming experience. One of the standout features of Borgata is its unique Borgata Bucks, where selected games feature special prize pools that change daily.
There are several notable advantages to playing at Borgata. Firstly, their extensive game library encompasses over 1,000 titles, ensuring that players have a wide range of options to choose from. Additionally, Borgata offers an excellent rewards program, allowing players to earn exclusive benefits and perks based on their gameplay, which can be used at real MGM resorts. Moreover, the casino features exclusive games that are not available elsewhere.
While Borgata excels in many areas, it is worth mentioning that the interface could benefit from improvements to enhance user experience. That being said, with its seamless eCheck deposit method, extensive game selection, exciting Borgata Bucks feature, rewards program, and exclusive games, Borgata offers a fairly complete gaming experience for players seeking entertainment and potential rewards in the online casino realm.
Pros:
Over 1,000 games
Rewards program
Exclusive games
Cons: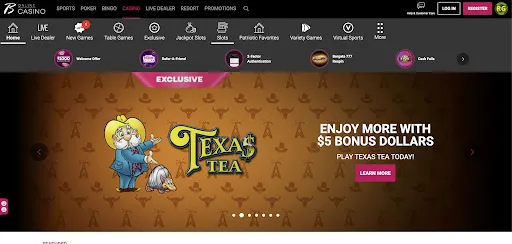 DraftKings Casino
DraftKings is a favored destination for bettors, offering a wide variety of live betting options and exclusive games that are designed in-house. The site welcomes new players with a bonus that matches 20% of their initial deposit, up to a limit of $1,000. Additionally, for every $25 wagered, players receive $1 in bonus funds, providing an extra incentive to enjoy the betting experience. DraftKings has plenty of daily odds boosts and promotions, giving players the opportunity to max-out their winnings.
To sum it up, DraftKings provides a great betting experience with its diverse live sports betting options, exclusive games, and rewarding bonuses. While there is room for improvement in customer support, the platform's popularity among bettors speaks to its appeal and overall quality.
Pros
Wide variety of live sports betting options
Highly rated mobile app
Plenty of daily odds boosts and promotions
Cons
Claim your welcome bonus here.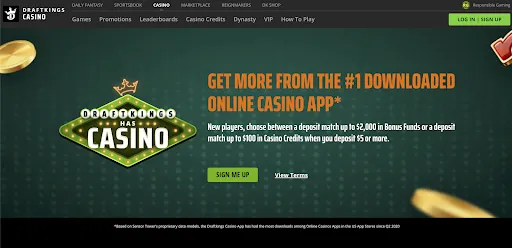 Unibet Casino
Unibet is a viable betting option for those looking to use eCheck as a payment method. It provides a straightforward and streamlined platform that prioritizes simplicity and ease of use. Although Unibet may have a smaller selection of games compared to some of its competitors, it compensates by offering excellent sports betting options and establishing a strong reliable reputation in the industry, built up over many years from its roots in Europe.
One notable feature of the Unibet sportsbook is its "Bet Builder" tool, which allows users to create parlay bets according to their preferences. This feature enhances the betting experience by providing customization and flexibility. Additionally, Unibet's welcome bonus includes a $500 Second Chance Bet, which is a decent offer for new users.
In summary, Unibet is a convenient eCheck-friendly betting option that offers a simple and streamlined platform.
Pros
Easy-to-navigate platform
Great live betting options
Strong reputation
Cons
Take advantage of the sign-up offer Unibet Promo.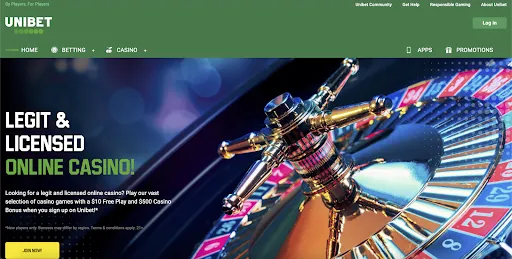 BetMGM Casino
BetMGM, the online betting platform affiliated with MGM Resorts, provides VIP Preferred™ e-Check as the preferred deposit method for users. The site boasts a wide range of games, catering to both experienced bettors and beginners alike. With its collection of exclusive content and over 1,000 games, BetMGM offers a diverse and varied betting experience.
The welcome bonus at BetMGM consists of a deposit match bonus that can reach up to $1,000, providing an opportunity for players to enhance their initial deposits. Additionally, there is a $25 no-deposit bonus available, which allows users to explore the platform without requiring an initial investment. BetMGM has established a solid reputation in the industry, positioning itself as a reputable platform for online betting.
In summary, BetMGM remains a trusted platform for online betting enthusiasts and is a great option if you prefer e-Checks for payments and deposits.
Pros
Great for beginners
Exclusive content and games
Over 1,000 games
Cons
For a detailed review of BetMGM and to claim the sign-up offer, visit our dedicated page.
Make sure to check out BetMGM sign-up offer.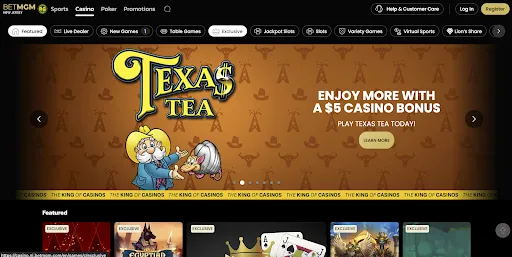 BetRivers Casino
BetRivers provides the option of eCheck withdrawals, which typically take 3-5 banking days to process. The platform also introduces a unique feature called RushPay, a patented system aimed at expediting the withdrawal process for faster access to funds. This innovative system ensures a more efficient and convenient experience for users.
In addition to its withdrawal options, BetRivers offers different welcome bonuses and the platform provides a parlay-building tool. This allows users to customize their parlays with filters for different sports, timeframes, and bet types. This tool enhances the flexibility and personalization of betting strategies.
BetRivers features a well-designed interface that contributes to a user-friendly experience. With a solid range of games available, users have ample options to explore and enjoy. While the app design could benefit from updates to enhance its overall appearance, BetRivers remains a reliable choice for online gambling due to its reputable standing in the industry.
In short, BetRivers is a reliable option for e-Check payments and is making progressive moves to improve the withdrawal systems with their feature RushPay.
Pros:
Good on-running promos
Generous welcome bonuses
Solid range of games
Cons:
Make sure to avail of the BetRivers Promo.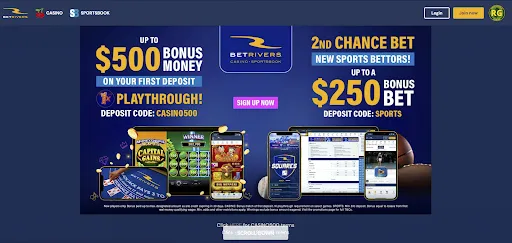 Golden Nugget Casino
Golden Nugget presents a VIP Preferred™ e-Check option, ensuring convenient and secure transactions for its users. The platform has an extensive selection of over 1,500 games, including slots, table games, live dealer games, and specialty games, catering to a range of preferences.
New players are greeted with a welcome bonus, which includes a deposit match of up to $1,000 and 200 bonus spins on the popular slot game 88 Fortunes Megaways. This bonus package provides a good opportunity for players to explore the platform and potentially boost their winnings.
Golden Nuggets is a good option for e-Checks and an excellent choice for players who are looking for a wide selection of games.
Pros:
Huge range of games
Impressive welcome bonus
Simple and easy to use
Cons:
Make use of the available Golden Nugget Promo.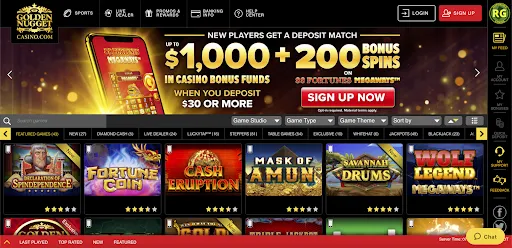 Virgin Casino
Virgin Casino provides the convenience of VIP Preferred™ e-Check as both a withdrawal and deposit option. Owned by Gamesys Group and exclusively available in New Jersey, Virgin Casino stands out with its specialization in bingo, offering new 90-ball bingo games every 30 minutes from 10 am to 11 pm.
Another thing that sets Virgin Casino apart is its dedicated section for free games, a feature not commonly found among many top mainstream casinos. This allows users to enjoy the thrill of gameplay without the need to make a financial commitment.
If you are looking to spend however, the unique welcome offer at Virgin Casino presents an opportunity for players to claim up to $100 back in cash if their net losses within the first few days exceed 90% of their initial deposit. This cashback feature adds an extra layer of protection and reassurance for players.
As a reputable name in the industry, Virgin Casino continues to provide a trusted and enjoyable online gambling experience.
Pros:
Excellent bingo options
Reputable name
Claim back your losses in cash
Cons:
Our Virgin Casino review is over here.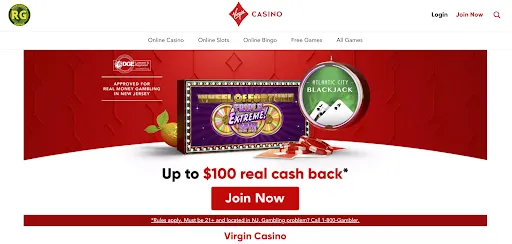 Hard Rock Casino
Hard Rock online casino is known for bridging the gap between online play and real-life experiences, offering benefits that connect with its in-person locations. The site presents nice promotions, including opportunities to win real-life prizes, adding an extra level to the gaming experience. For new players, Hard Rock provides a good welcome package, which includes a deposit match bonus of up to $1,000 and 50 free spins. This offer allows players to kick-start their gaming journey with added funds and spins, increasing their chances of winning.
While the desktop software may have a more traditional and old-fashioned feel, Hard Rock compensates for it by offering great promotions tailored for higher stakes and higher volume bettors. These promotions cater to the needs and preferences of experienced players, adding value to their gameplay.
Pros:
Win real-life prizes
Great promos for higher stakes and higher volume bettors
Detailed reward program
Cons:
Tipico Casino
Tipico, a well-known betting brand in Germany, has expanded its operations to the US market. With the inclusion of eCheck as a secure and swift deposit method, Tipico ensures seamless transactions for its users. The platform boasts an easy-to-navigate app and website, allowing for a user-friendly betting experience.
Tipico goes the extra mile to provide enhanced odds and regular offers, adding value to the overall betting experience. These features contribute to the platform's appeal, attracting both new and experienced bettors. For new players, Tipico offers a welcome offer, presenting a 150% deposit match up to $250 and 200 free spins. This welcome package provides players with additional funds and spins, allowing them to explore the various betting options available on the platform.
While Tipico's presence in the US market is somewhat limited compared to its European roots, the platform still delivers a solid betting experience. With its user-friendly interface, secure payment options, and attractive promotions, Tipico is a reliable and novel choice for online betting enthusiasts in the US.
Pros
Regular offers
Easy-to-navigate app & website
Enhanced odds
Cons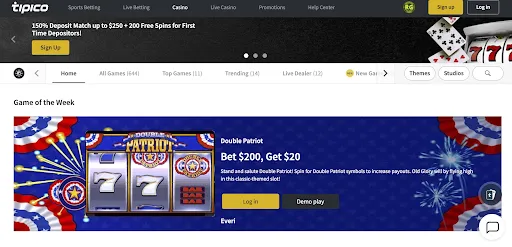 New eCheck Casinos
We've also got a couple of honorable mentions in the form of some newer sites that are worth considering for their eCheck options:
WynnBet Casino
WynnBet presents the option to deposit funds using eCheck (VIP Preferred), offering users a convenient and secure payment method. Withdrawals made through eCheck may take approximately 3-5 business days to complete, ensuring the reliability and proper processing of transactions.
The platform maintains a user-friendly interface, allowing for a seamless betting experience. With a diverse selection of casino games, WynnBet caters to a wide range of preferences and interests. You can enjoy both sports betting and online casino games at WynnBet, along with some interesting exclusive partnerships and promotions.
SI Casino
SI Casino, an emerging eCheck casino, brings in new players with a $1,000 deposit bonus and $50 in free play. This welcome package provides a strong foundation for players to explore the various betting options available on the platform.
One of the standout features of SI Casino is the "Spin to Win" feature. This feature allows players to spin the SI Casino prize wheel every 24 hours, presenting them with a chance to win exciting prizes. These prizes range from free spins and bonus cash to sportsbook bonus bet tokens and even Sports Illustrated gift certificates. The "Spin to Win" feature adds an element of excitement and surprise to the overall betting experience.
What Are the Advantages of Using eCheck at Online Casinos?
There are several advantages to using eChecks as a payment method at online casinos. Let's explore them:
Convenience: eChecks offer a convenient way to make transactions directly from your bank account without the need for physical checks or credit cards. The process is typically straightforward and can be completed from the comfort of your home, providing ease and convenience in managing your gambling funds.
Security: When it comes to financial transactions, security is of utmost importance. eCheck transactions employ encryption and other security measures to protect your sensitive financial information. This significantly reduces the risk of fraud or identity theft, ensuring a safe and secure gambling experience.
Wide Acceptance: One of the great advantages of eChecks is their wide acceptance among reputable online casinos. Most well-established casinos accept eChecks as a payment method, giving you a broad range of options to choose from when selecting an online casino. This means you'll have ample choices available to find a casino that aligns with your preferences and offers the games and features you enjoy.
Fast Processing: While the exact processing times may vary depending on the specific casino and your bank, eCheck transactions are generally processed quickly. Once the funds are cleared, they are typically made available in your casino account without significant delays. This allows you to start playing your favorite games promptly and enjoy a seamless gambling experience.
In summary, using eChecks as a payment method at online casinos offers several advantages. These include convenience, enhanced security measures, wide acceptance among reputable casinos, and fast processing times. Considering these benefits, eChecks provide a compelling option for players looking for a safe, convenient, and efficient way to manage their gaming funds.
What Are the Disadvantages?
When considering eChecks as a payment method at online casinos, it's essential to be aware of some potential disadvantages. Let's take a closer look at them:
Privacy: some people, for a variety of reasons, prefer not to make direct transfers between their online casino accounts and their bank accounts, and prefer not to have their gambling spending appear on their bank statements. This is not the case with eCheck transactions, which occur directly between your casino and your bank. Alternative methods like e-wallets can provide a natural separation between the two.
Verification Process: Some casinos may require additional verification steps to ensure the legitimacy of eCheck transactions and prevent fraud. This may involve providing personal identification documents or supporting documentation to verify your identity and financial information. It's important to understand that this verification process is in place to protect both the casino and the players, but it may add an extra step to the transaction process.
Insufficient Funds: It's crucial to have sufficient funds in your bank account when using eChecks for transactions. If your account lacks the necessary funds to cover the eCheck transaction, it may result in bounced checks or additional fees imposed by your bank. To avoid any inconvenience or financial penalties, make sure to maintain adequate funds in your account when utilizing eChecks.
Slower than average withdrawals: While eCheck deposits are generally processed instantly, withdrawal speeds vary and are often a little slower than the fastest methods. On average, you can expect to wait at least a few days before the money hits your account.
In summary, while eChecks offer numerous advantages, it's important to consider the potential disadvantages. By weighing these factors against the advantages, you can make an informed decision and maximize your gaming experience while ensuring smooth and secure payment transactions.
How to Use eCheck to Deposit and Withdraw
Using eCheck to deposit and withdraw funds at online casinos is a simple process. Follow these steps to get started:
1. Create and Fund an eCheck Account:
Sign up for an eCheck service through your bank or a payment processor.

Provide the necessary payment details and verify your account.

Ensure that you have sufficient funds in your bank account to cover your desired deposits.
2. Register to an Online Casino and Make a Deposit:
Choose the online casino where you want to play.

Create an account and complete the registration process.

Go to the cashier or banking section of the casino's website.
3. Select eCheck as the Deposit Method:
In the cashier or banking section, choose eCheck as your preferred deposit method.
You may need to select "Bank Transfer" or a similar option to access Check.
4. Provide Bank Details:
On the following page, input your bank name, bank account number, and bank routing number.
Enter the amount you want to deposit, ensuring it meets any minimum deposit requirements set by the specific casino.
5. Confirm the Issuing of Funds:
Once you've entered your bank details and deposit amount, the casino will contact your bank to confirm the availability of funds.
You may be required to provide additional verification or authorize the transaction through your bank's security measures.
6. The Bank Issues an eCheck to the Casino:
After confirming the availability of funds, your bank will issue an eCheck to the online casino.
The eCheck serves as a secure and electronic representation of your payment.
7. Funds are Deposited and Ready to Play:
Once the eCheck is processed and cleared, the funds will be deposited into your online casino account.
You can now start playing your favorite games with the deposited funds.
Remember to check the specific terms and conditions of both the eCheck service and the online casino regarding processing times, transaction limits, and any associated fees.
Can You Use eCheck to Claim Casino Bonuses?
Yes, you can absolutely use eChecks to claim casino bonuses. Most online casinos offer various promotional offers, including welcome bonuses, deposit bonuses, or free spins, which are available to players regardless of their chosen payment method. When using eCheck to make a deposit, you can still take advantage of these bonuses without any restrictions.
Occasionally you may find a casino that offers a bonus tied to a specific payment method, but the vast majority of the time the welcome offers for new players are available no matter what payment method you choose.
eCheck Compared to Other Casino Payment Methods
| | | | | |
| --- | --- | --- | --- | --- |
| Payment Method | Average Deposit Speed | Average Withdrawal Speed | Fees from Casino? | Ease of Use / Beginner Friendly |
| Bank Cards | Instant | - | No | 5/5 |
| E-checks and Bank Transfers | Instant | 3 - 7 business days | No | 4/5 |
| PayPal | Instant | 24 – 48 hours | No | 3/5 |
| Skrill | Instant | 24 – 48 hours | No | 3/5 |
| Paysafecard | Instant | 3 – 5 days | No | 3/5 |
| Play+Card | Instant | Up to 24hrs | No | 3/5 |
Final Verdict
eChecks make a lot of sense as a secure and convenient payment method at online casinos, and you can find some of the best ones right here on this page. Each casino on our list offers its own unique features and benefits, ensuring a diverse range of options for players.
eChecks are normally available for both deposits and withdrawals. You need to create an account with an eCheck service, provide your payment details, and then select eChecks as your preferred method at the online casino's cashier. You can also use eChecks to claim casino bonuses without any restrictions.
There are a couple of potential downsides too, however. While eChecks offer instant deposit speed, they may have longer withdrawal times compared to other payment methods. Some players may prefer to avoid direct transactions between their casino and their bank, which is the case with eChecks.
For lots of people, however, eChecks tick all the boxes. Don't forget to use our sign-up links if you decide to join one of our recommended eCheck casinos, to claim your welcome bonus today.