If you're looking for the best US online sportsbooks that accept PayPal, or you have questions about how PayPal can be useful for betting on sports online, this guide is perfect for you.
In this in-depth article we'll explain the ins and outs of using PayPal for sports betting, including:
How to make deposits and withdrawals using PayPal
Advantages and disadvantages of using PayPal to bet on sports
Legal US online sportsbooks that accept PayPal as a banking option
We'll also touch on the kinds of processing times you can expect for PayPal deposits and withdrawals, as well as the fees and extra costs associated with this banking option.
If PayPal isn't a good option for you, refer to our comprehensive guides to other popular online sports betting payment methods to find alternatives to PayPal.
Table of Contents
List of Legal US Sports Betting Sites Accepting PayPal
What Are the Processing Fees When Using PayPal at Sports Betting Sites?
Sports betting sites that offer PayPal will not charge you any processing fees when you deposit using PayPal and the service itself is free.
However, you will have to pay PayPal fees when depositing via a debit or credit card. This fee is currently 2.9% of the total amount deposited.
If you only use an existing PayPal balance to deposit or fund your PayPal account via bank transfer, no processing fees will be charged.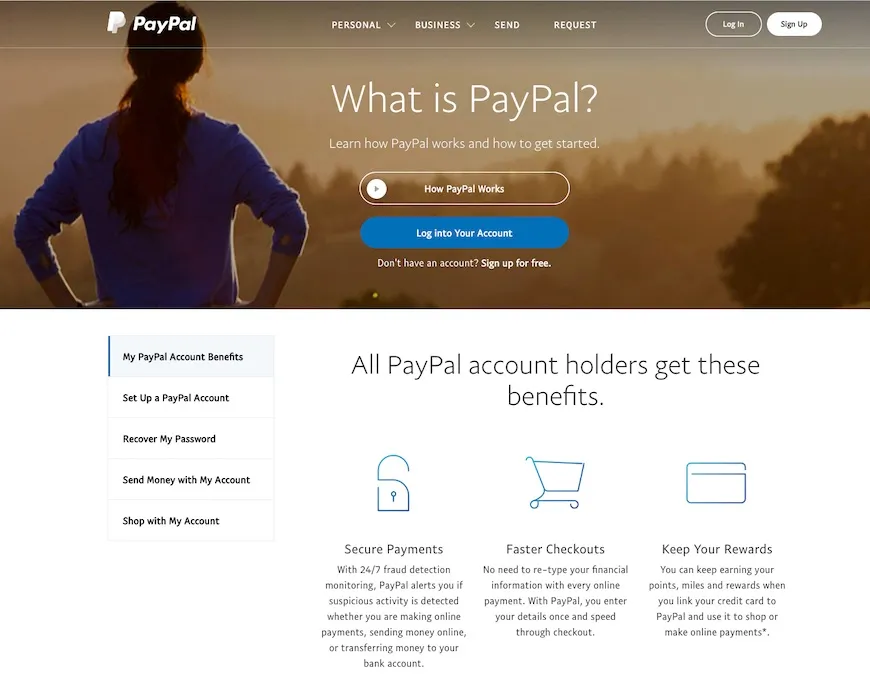 What Are the Benefits of Using PayPal at Online Gambling Sites?
PayPal provides gamblers with a deposit or withdrawal method that is:
The main benefit of depositing with PayPal is not having to disclose your credit card or bank account information, which gives some users more peace of mind.
Moreover, despite online sports betting being legal in states like New Jersey, some major US banks like BofA, Capital One, Wells Fargo, and TD Bank still refuse to process transactions to and from gambling sites. Using PayPal can help you bypass that hurdle, especially if your bank has a no gambling transaction policy.
Being an e-wallet, PayPal also allows you incredible speed when depositing funds into your betting account.
All these benefits together contribute to PayPal being the payment method of choice for online gamblers.
An added benefit is that PayPal is useful for all sorts of online transactions, not just gambling.
What Are the Disadvantages of Using PayPal at Online Sportsbooks?
The only disadvantage of using PayPal lies in the processing fees associated with depositing with a credit card.
Like we said before if you already have funds in your PayPal account, or you're able to fund it using bank transfers, you won't have to pay any fees at all.
Can I Withdraw My Gambling Winnings with PayPal?
Yes. You can use PayPal as a withdrawal method provided that you have already made a successful deposit with the same PayPal account.
In general, online sportsbooks always prefer that you withdraw funds using the same method you used to deposit. If you need to withdraw using another method you'll usually have to contact the site's security department to make special arrangements for a different withdrawal option.
Just go to your online sportsbook's cashier and make sure the site allows you to cash out using PayPal.
What Is the Processing Time for Deposits with PayPal?
PayPal deposits at sports betting apps happen instantly. This is one of the biggest advantages of choosing PayPal as your banking option and it's reason the service is so popular for betting on sports in the US.
Most of the time people don't want to wait around for days before being able to place their first bets. Using PayPal means you'll be able to start wagering seconds after making your deposit.
What Is the Processing Time for PayPal Withdrawals?
As with all payment methods, PayPal withdrawals will usually take a couple of days to get processed by most sportsbooks.
The reason for this is the additional checks and verifications that need to be performed on the transactions. The processing times for PayPay withdrawals varies a bit from site to site. If fast cash outs are important to you, make sure to read the sportsbook's fine print before you sign up.
For more information check out which are the best online sportsbooks for payouts and withdrawals.
Are There Any PayPal-Specific Bonus Codes?
Currently, none of the sportsbooks offer PayPal-specific bonuses for which you would need a special bonus code. If any of the betting sites accepting PayPal start offering this option, we will make sure to update this section with all available bonus codes.
Meanwhile, check out our sports betting bonus guide for the latest sportbook promo codes and offers.
Can I Use PayPal at Offshore Gambling Sites?
No. Generally speaking PayPal can only be used in jurisdictions where gambling is regulated, such as New Jersey.
Moreover, you can only use PayPal to deposit and withdraw from licensed sports betting sites and online casino sites, as well as daily fantasy sports sites and horse racing sites.
Not being able to use reputable payment processors like PayPal is just one of the reasons to steer clear of unregulated offshore betting sites. Since these sportsbooks are not licensed in the US, they are not subject to the same laws and oversight.
That means if something goes wrong with a transaction, or the company runs into trouble with their business, you might not get your money back.
Choose from our list of recommended legal US PayPal betting sites above to make sure your gambling experience is safe and secure.
How to Use PayPal for Legal US Online Sports Betting
Getting started with PayPal is really easy so even if you don't have an account, you won't have any problem using this banking option for online sports betting.
Like most e-wallets, PayPal acts as an intermediary between your bank account or credit cards, and the online sportsbook, allowing you to make a deposit or withdrawal without entering your banking information.
In this section, we'll explain how to move money on and off your online sports betting account using PayPal.
Depositing at Online Sportsbooks Using PayPal
Depositing with PayPal is a two-step process.
First you have to sign up for a PayPal account. Next, you must fund your PayPal account.
Signing Up for a PayPal Account
Visit the PayPal website and click on the "Sign Up" button to get started.
Choose the option to set up a personal account, not business.
Enter your personal information including name, email, mailing address, and phone number, and then agree to the terms and conditions.
Verify your account by following the link in the verification email sent to you by PayPal.
Continue to the next section to fund your PayPal account.
Funding Your PayPal Account
Link a bank account or credit card to your account by using the "Link a bank or card" option in your PayPal account profile.
Bank transfers are free but the downside is that it takes three or four days to process the transaction.
Credit card transfers cost 2.9% of the total amount you want to transfer but the advantage is that they happen instantly.
Once you have funds in your PayPal account, go to your online sports betting site and choose PayPal from the list of deposit options.
Cashing Out from Online Sportsbooks Using PayPal
When it's time to cash-out money from your sports betting account, just follow the same process as depositing but in reverse.
First, withdraw the money to your PayPal account using the online betting site's cashier.
Once the money is in your PayPal account, there are four main ways to get your hands on it:
Bank Transfer (Free) – As long as you can wait a few days, this is the best withdrawal method since it's completely free. It's especially easy if you used this method to fund your PayPal account in the first place since your account will already be linked.
Visa or MasterCard Debit and Prepaid Cards ($0.25 fee) – This is also a great option since it's cheap and the withdrawals take less than an hour.
Check (Free) – Having a paper check mailed to you is appealing to some people but it does take longer, usually around two weeks.
PayPal MasterCard Debit – If you use PayPal regularly, this is a really good option. PayPal actually issues its own MasterCard debit cards that you can use just like a regular debit card, wherever MasterCard is accepted. You can spend money directly at retailers or withdraw up to $400 per day from ATMs.
Bet on Sports with PayPal for Fast, Secure Transactions
There are lots of reasons PayPal is a great option if you need to get money onto your online sports betting account.
The biggest reason right now is that even though betting on sports is legal in New Jersey and lots of other US states, many banks and credit cards still don't let you make transactions with gambling sites.
Until this changes, third-party payment processors like PayPal will continue to be the best option for safe and convenient sports betting deposits and cash outs.
Check the list above for the best sportsbooks that accept PayPal and use the links in our reviews to get a great bonus when you sign up.