Vermont Legal Sports Betting at a Glance
Basically in Vermont, if it's not for charity, you can't bet on it. That goes for everything from poker to casino games which means sports betting is nowhere near being legalized.
In May 2018 the Supreme Court removed the federal ban on sports betting in the US, which had previously applied to every state in the US apart from Nevada. Once the ban was removed, each state was given the opportunity to determine their own sports betting laws for themselves. Since that date, many states have joined Nevada in offering legal sports betting.
Vermont, however, has made no discernible moves on the matter.
Significant to Vermont is that the east coast has been one of the most active parts of the country in terms of passing legal sports betting bills. Rhode Island, Pennsylvania and New York are among the states who have already passed legislation. Unfortunately, for the moment at least, Vermont seems to be in no rush to follow suit.
The Current Online Sports Betting Situation in Vermont
As we touched on already, the US Supreme Court decision to repeal PASPA gave each state the green light to introduce legal sports betting.
Many were poised to take advantage. Some, like New Jersey and Pennsylvania had pre-approved bills that were ready to come into effect once the federal ban was lifted. Other states have been proactive in the wake of the decision, with new debates opening up in new states every day.
There are literally pro-sports betting lawmakers across the country working on new bills.
Still more states have proceeded more slowly, preferring to wait and see how the new the situation pans out before making any serious moves towards legalization themselves. Vermont is firmly in the latter category.
While lawmakers in Vermont have not dismissed the idea, they have also not exactly embraced it. Governor Phil Scott for example, when asked whether access to the new sports betting market could be the answer to financial worries in the state, replied that legalized sports betting "is not the answer to Vermont's fiscal issues, but I am willing to listen."
This attitude is fairly typical for stakeholders in the Green Mountain State. Vermont is not rushing to get on board but instead observing with an open mind.
The situation was summed up well by Danny Rachek, executive director of the Vermont Lottery, when said, "I don't know of anybody who is pushing for this in Vermont."
Vermont Sports Betting Laws Summary
Sports betting is currently illegal, both online and offline.
Charitable gambling, the state lottery, daily fantasy sports and pari-mutuel wagering on horse racing are the only legal forms of gambling.
Since May 2018, the state has the freedom to create new sports gambling laws.
Vermont may towards legalization but probably not in the immediate future.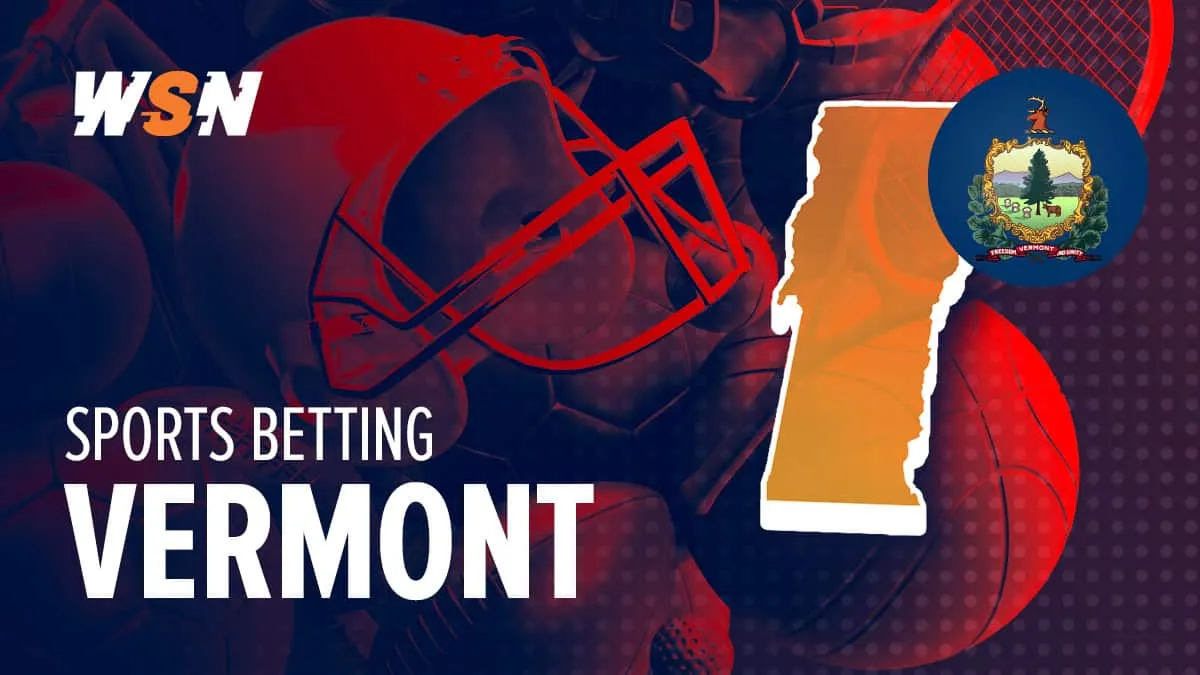 The History of Online Sports Betting in Vermont
Sports betting has been federally banned in Vermont since PASPA was signed in 1992. Since that time, there has not been much of an appetite to push for legalization in the Green Mountain State, in contrast to the likes of New Jersey and New York.
Vermont has had comparatively little interest in both legal sports betting and gambling in general.
Vermont is one of the few states with no active casinos. Lawmakers and sports fans alike have shown little interest in pushing for legal gambling options. Vermont had a brief period with legal horse racing, but interest was limited and the last track closed in 1991. Today, betting on horse races remains legal but not active in the state.
People in Vermont can bet on horses using the TVG app that accepts players from most US states.
The only form of gambling that has sustained in Vermont is the state lottery. Created in 1978, the lottery continues to be popular today.
Historically, residents of the Green Mountain State with an interest in casino gaming had to travel to nearby casinos in New York. With legal sports betting just around the corner in NY, this is also likely to be the best option for Vermont residents wanting to bet on sports in the near future.
Vermont does not have the gambling history of other states, and that is reflected in the way they are taking their time over the question of legalizing sports betting.
Which Online Sports Betting Sites are Legal in Vermont?
Right now, there are no legal online sports betting sites in Vermont. It might be possible to access online sportsbooks which are hosted offshore. However, these are unregulated and not strictly legal.
Vermont residents wanting to be online will soon be able to do so if they make the trip to Pennsylvania, but for now, there are no legal online betting options in Vermont.
The closest thing to online sports betting is daily fantasy sports (discussed in more detail below) and the TVG horse race betting app that lets you bet on races at over 150 racetracks around the world.
What Sports Can You Bet on Online in Vermont?
At the moment, you can not bet on any sports in Vermont. However, that may not be the case forever. Here's an idea of the kind of sports that might attract bets in the Green Mountain State if and when legalization arrives:
Football
Vermont has no major football teams. Due to this, support can be found for professional teams from around New England. The New England Patriots, one of the most successful NFL teams of the modern era, have plenty of support in the Green Mountain State.
Basketball
Vermont has had no major professional basketball team since the Vermont Frost Heaves of the Premier Basketball League folded in 2011.
Today, interest in basketball within the state is centered around the Vermont Catamounts college basketball program, who compete in the NCAA. Support can also be found in Vermont for nearby pro teams including the Boston Celtics.
Baseball
Vermont does not have a representative in MLB but the Vermont Lake Monsters, an affiliate of the Oakland A's, play in the minor leagues. The Boston Red Sox are also popular in Vermont.
Hockey
There has been no professional Hockey team in Vermont since the Vermont Wild was both established and folded in 2011. College hockey remains popular, with the Catamounts having appeared in the Frozen Four of the NCAA twice since 1996. NHL teams from neighboring states are also popular in Vermont
Winter Sports
Vermont is one of the most popular destinations in the US for winter sports, so it is no surprise that the state has produced some of the most successful winter athletes in the world.
While Vermont is light on professional sports teams, there are plenty of teams around New England for residents to follow, and they would likely attract a lot of betting interest from sports fans.
Is Betting on Fantasy Sports Legal in Vermont?
Yes. Perhaps surprisingly given the state's lack of interest in other forms of gambling, Vermont was quite proactive in moving to legalize fantasy sports. The bill introduced in June 2017 makes fantasy sports legal for anyone over the age of 18.
DraftKings, FanDuel, Yahoo and Fantasy Draft are all available for real money wagering when you're in Vermont.
What Is the Future of Online Sports Betting in Vermont?
Vermont has so far shown little indication that the state will move to legalize sports betting. However, the are some reasons for optimism for the future of sports betting in the Green Mountain State. One is the activity of neighboring states.
2019 is expected to be a big year for eastern states when it comes to legal sports betting.
The likes of Rhode Island, New Jersey, and Pennsylvania have already introduced legal sports betting. New York, Connecticut, Massachusetts, and others don't look far behind.
Gov. Phil Scott in Vermont has said that while there are no plans to legalize sports betting, he is willing to listen. With millions of dollars in potential tax revenue up for grabs, we're confident there will be people interested in talking about it.
That said, don't expect sports betting to arrive in Vermont any time soon. The legalization process tends to be protracted, between getting enough people on side, researching and designing a bill, and finally voting on it.
The future of sports betting in Vermont is about observing the activity of other states and generating interest in replicating it.
In the meantime, take a look at the best sports betting apps and online sportsbooks available in states where sports betting is legal.
A Long Road Ahead for Vermont
Sports betting is growing all around the US. Since PASPA was repealed the buzz around sports betting has steadily grown and it's becoming deafening, especially on the East Coast. Lawmakers across the country are debating and drafting bills, and public interest is growing every day. Seven states have so far joined Nevada in offering legal sports betting, and more are on the way.
Given the mood, it is likely that Vermont will move in the same direction. The Green Mountain State appears receptive to the idea, but it is certainly not in any rush. The decision to legalize fantasy sports can be seen as a positive sign that Vermont is open to new gambling laws.
Sports fans in Vermont may have a long way to go before they can place their bets, but for the first time in the Green Mountain State, it looks possible.
Check back on this page for updates on any major developments that change Vermont's outlook in terms of legalized sports gambling.